Explore our library of printable attention activity worksheets.
Welcome to a world of enhanced productivity, laser-sharp concentration, and improved cognitive abilities. Our attention worksheets for adults in PDF format are your key to mastering the art of focused thinking. In truth our carefully crafted worksheets may empower you to reclaim your focus and thrive in today's fast-paced world.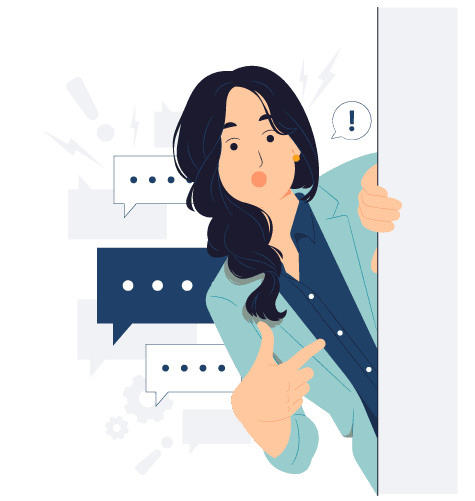 We release free worksheets via our bi-monthly newsletter. Make sure to join our mailing list always to get the newest free minis!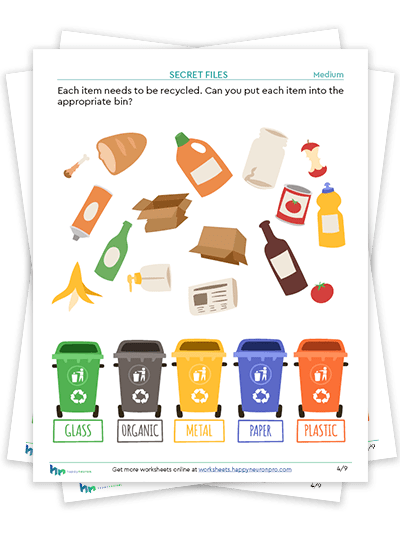 Based on our digital exercise Secret Files, this recycling activity packet will be fun and educational for everyone. Help teach your patients, clients, students, and kids the difference between recycling cans and this packet. This packet will test their semantic knowledge and visual attention by sorting various waste items into color-coordinated bins. The more bins there are, the more specific the thing that can and should go into it. This attention-based worksheet packet is an excellent activity to do for Earth Day or as a bridging activity. Preschoolers and Seniors will enjoy this color-filled recycling worksheet packet today!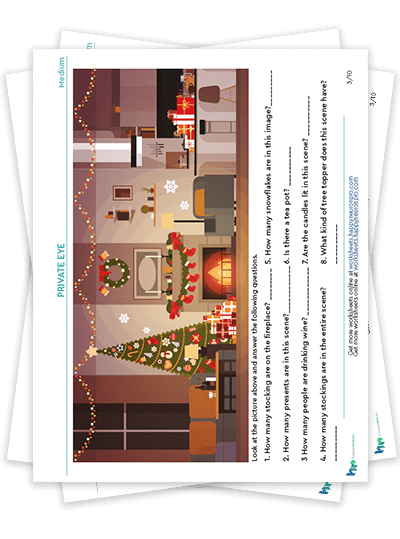 Feeling festive and a little like Sherlock Holmes? In each holiday scene, find the hidden presents and decorative items. Clients will focus on various executive functioning skills as they complete the worksheet. This exercise requires attention to detail, which will help you be a better holiday card writer, be more organized, and be able to catch miswrapped gifts!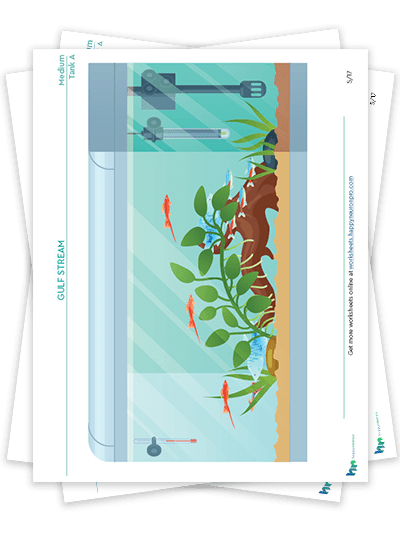 Use this packet to challenge your patient's or your ability to remember fish. This memory worksheet packet will make you want to go to the aquarium and buy some fish. This packet is adaptable and has the ability to use in combination with other Memory worksheets or to make your own more complex or simpler aquariums. Clients will learn about using skills such as working memory and paying attention.
Included inside: 8 worksheets and bridging questions.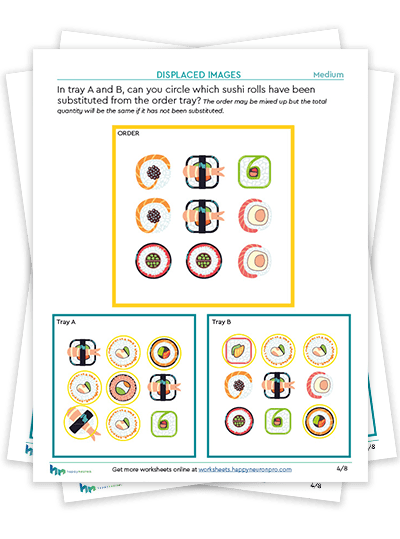 Comparing and contrasting information can be a difficult task for anyone. In this exercise, you must compare and contrast images in two sets to see which images have been substituted. Clients will be able to differentiate between items and analyze information better. This exercise requires extensive attention to detail, which will help you complete tasks such as correctly taking medication, responding thoroughly to work emails, and becoming more conscious of your environment.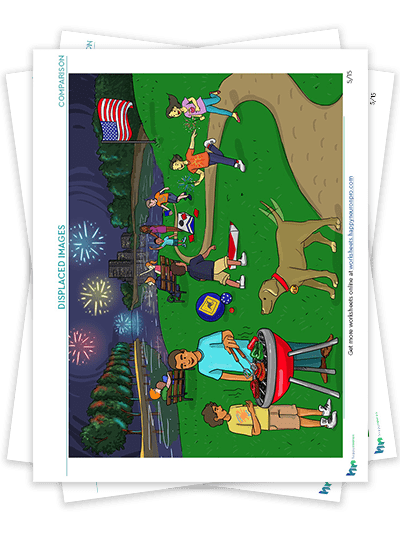 Comparing and contrasting information can be a difficult task for anyone. Many people struggle with analyzing and processing the difference in items. In this exercise, you must compare and contrast images in two sets to see which images have been substituted. This exercise requires extensive attention to detail, which will help you complete tasks such as correctly taking medication, responding thoroughly to work emails, and becoming more conscious of your environment.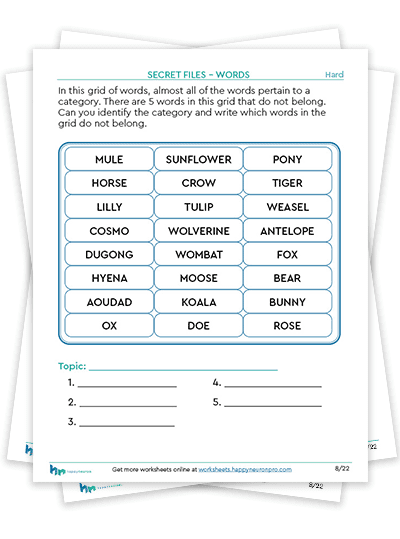 We designed this packet to stimulate visual skills related to verbal attention. The goal of this packet is to engage all aspects related to verbal and visual attention skills. We believe Verbal and visual attention skills are essential to all cognitive functions, especially those around social cognition and language. This packet will start by challenging your patients with two different adaptations of our digital exercise Private Eye. In this first exercise, your patient will have to find perfect circles. The following exercise will challenge their ability to recognize the correlation between words and their meaning to determine which words do not belong. The following exercise is a modification of Elephant Memory. This modification requires your patient to study a scene and answer questions.
The last two exercises are focused directly on verbal attention. This last section starts with an adaption of Restaurant. This adaption aims to engage your patient's ability to compare and contrast two recipes. Looking side by side, your patient will identify what was different between the recipes. Finally, your patient will have to read a passage and find the typos and errors in this modified version of This Story is Full of Blanks.
This packet is an excellent resource for teachers who want to challenge their students' ability to process visual-verbal information. Therapists have also used this packet to help stimulate patients with brain injuries that affect their verbal attention skills or aphasia.
Included Inside: 13 pages and bridging questions.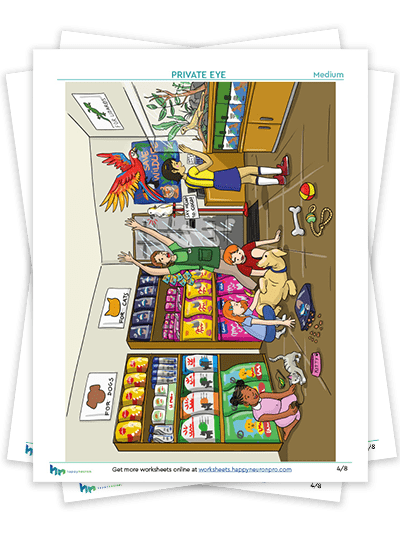 Attention is greatly impacted post injury. For many people, staying focused is an ongoing issue they have to work with. In this packet, you must become a detective and find the odd character out of a set of characters. This challenges clients to work on analytical as well as processing abilities. By working on these skills, this exercise will help you learn strategies that will help you pick out anomalies as well as relevant information from a set.
Memory is one of the most impacted cognitive functions post-injury. In this mini-packet, you will have to recall various shapes and their colors that you have previously memorized. By practicing this, clients will be able to improve their cognition and memory skills for both social and academic settings. This exercise will help you learn strategies to better retain visual information that you come across, such as when you view signs as you walk through a city or town.
Subscribe to get new packets!
We release a new packet monthly, and you can subscribe to get them directly in your inbox.
Answer a few questions about yourself and get a $15 credit for your first purchase !
Become a member and get free worksheets!
Attention is a cognitive process that involves focusing one's mental resources on a specific aspect of the environment, information, or task while filtering out other competing stimuli. It is the ability to selectively concentrate on certain inputs, thoughts, or actions while ignoring distractions or less relevant information. It plays a crucial role in various cognitive functions and daily activities.
Why use our Attention Worksheets & Activities?
Our worksheets engage several different cognitive dimensions of attention. Here are a few that they may engage.
Visual Focus:

All of our attention worksheets are creatively designed to challenge your ability to focus on unique details. These activities may require you to identify subtle differences, enhancing your visual attention and observation skills.

Auditory:

Sharpen your listening skills and selective attention with the auditory-based activities we offer. These exercises may help individuals better identify specific sounds within a complex auditory environment.

Sustained Concentration:

With all of our worksheets, they will require time to complete. In view of our fast-paced world, these worksheets might just boost your ability to sustain attention over longer periods. This skill is crucial for tasks that demand prolonged focus.
Advantages of our Attention Worksheets PDF:
Our attention-enhancing worksheets are available for download in PDF format, allowing for easy access anytime, anywhere. With a variety of exercises included in each packet, we aim to prevent monotony and promote comprehensive cognitive growth. You'll never find the same combination of exercises in any of our packets, as we are dedicated to providing you with the variety you need. Our worksheets are backed by science and developed using our digital tool that's rooted in research.
Scientifically Backed: Our digital tool inspires all of our worksheets. And our digital tool is rooted in science. Want to see more about our research? check out all of our research here →
Who can use these Attention Activities?
Initially designed for professionals, these worksheets can be used with all ages to practice and work on attention skills.
With this purpose, we aim to support the community of healthcare professionals, teachers, and school educators who help individuals with their attention skills by regularly adding new and different attention-based resources.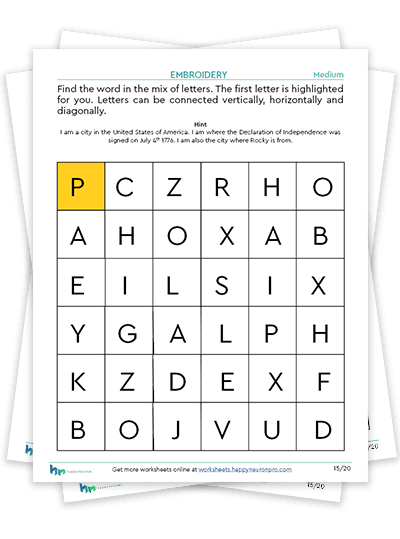 Are you looking for language activities for dementia patients? Language is a complex cognitive skill. It involves executive functioning, memory, and visual and auditory processing skills. Sometimes, people with dementia struggle with one or more aspects of language, such as word retrieval. That is why we developed this packet. We wanted to create a packet to help improve language skills that are often inhibited in individuals with dementia.
In this workbook, we have provided 4 exercises that target different cognitive skills involved in language skills. We have a verbal memory exercise, Words, Where are you? We have a visual attention exercise, Private Eye. Additionally, we have a word-categorizing activity, Secret Files, and lastly, a language-inferring activity, Embroidery.
This packet will be great to be used for seniors, anyone looking for printable activities for dementia patients, or anyone looking for language-based activities. If you love this packet, we highly recommend you try our digital program. Each one of these exercises is even better on the digital program. 
Included inside: 13 worksheets and bridging questions.