Social Cognition Worksheets
Social Cognition Worksheets
Explore our social cognition inspired worksheets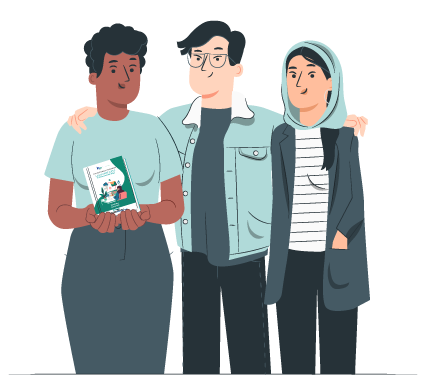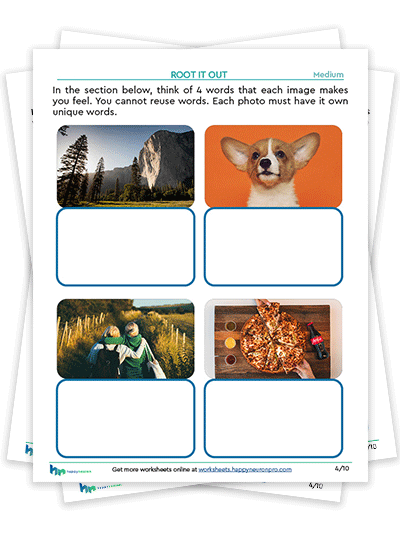 This packet takes our digital exercise, Root it Out, and adds a fun twist! We've taken Root it Out and added a social cognition aspect. Your patients will love decoding scrambles of letters, expressing the feeling words images give them, and decoding words that make people smile. All of these exercises will work on your patient's verbal recall abilities. This packet has tasks for all cognitive abilities and all ages. We found the last puzzle challenging for even our master puzzle solver.
We hope your patients will enjoy this happiness-themed verbal recall packet. There is something in this packet for everyone. We recommend this packet for groups, adults, and anyone seeking a language challenge.
Included: 5 worksheets and bridging questions.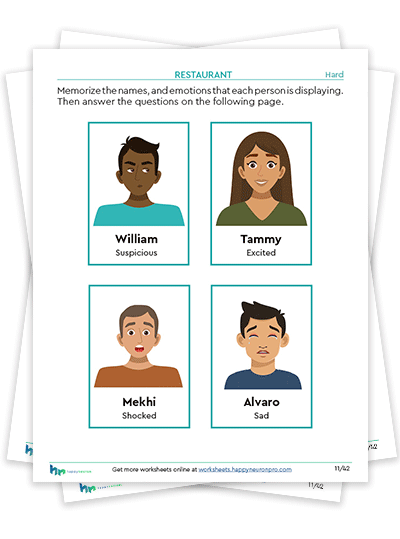 Social Cognition and Memory are the focus of this worksheet packet. This worksheet packet is packed full. 21 unique exercises span 38 pages in the packet. The key theme of this packet is emotions.
This packet will start by focusing on individuals and their emotions. Your patient must recognize emotions in each person's face to correctly pick them out from the word box. Next, your patient will have to sort a list of emotional words alphabetically. This may help their memory recall emotion-based words in a normal sentence. After they review the bunches of emotional words, your patient will then have to memorize a list of emotions and find it in a mess of other emotions. This will use help to engage their verbal working memory. Lastly, your patient will have to do 3 different variations of root it out. The first is an unscrambled version. The second is a fill-in-the-missing letter. The last exercise is like the digital exercise Root it Out, except your patient must recall emotion-based words that start with a given letter. 
From remembering people's names and emotions to recalling emotional words, your patients will enjoy this packet. We recommend this packet for kids aged 8+ and individuals who want to work on their emotions. 
Included inside: 38 worksheets and bridging questions.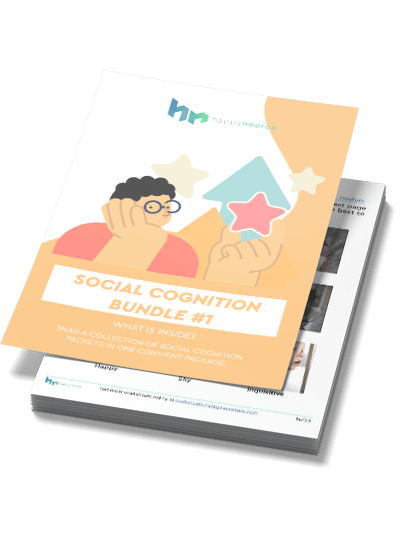 This bundle contains our first series of social cognition-based worksheets. We wanted to bundle these worksheets together so you could buy more for less. Social cognition skills are essential for human interaction as they help individuals understand the emotions of the people around them.
Bundle + Save
Bundles are a great way to buy more and save more! If you were to buy all of these packets separately, you would pay more than $30. Because we've bundled it, you're getting an instant saving of over 20%! Our bundles are designed to help you buy workbooks for your patients.
What's included inside: Instant PDF downloads of 2 packets and 2 minis or 31 unique worksheets.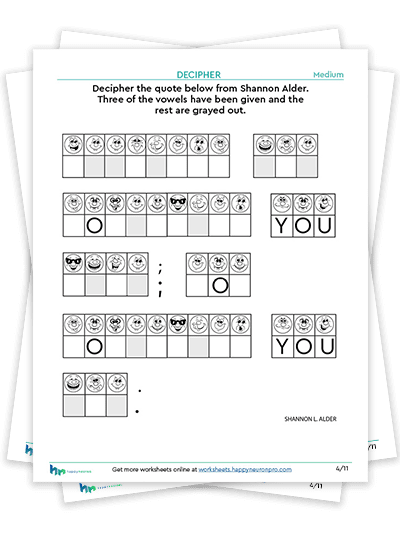 Are you a problem solver? Use deductive reasoning to solve quotes that apply to different emotions. Skills like emotional control and self-monitoring are used in this exercise. Clients can apply these to real life situations such as learning how to express themselves in different environments.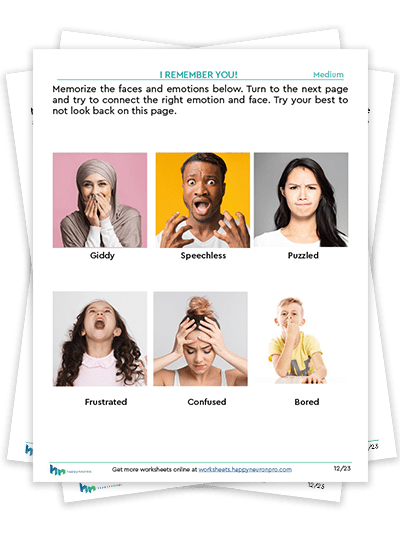 Recognizing emotions in others can be difficult. For clients with psychological disorders as well as developmental disabilities, this can be a challenge. We designed this packet to be focused on recognizing and understanding emotions.
The first activity in this packet will focus on sorting faces based on whether they are smiling. This basic skill is needed to understand facial reactions within a social situation. The next exercise section is correctly naming and placing the emotional emoji on one side of the chart. This may work on a person's ability to carry visual information from one section to another. Next, your patient will have to remember emotions with individuals expressing them. This may help them to learn how to categorize emotions and be able to recall them later on. The last section focuses on verbally understanding words and how they relate. Your patient will have to sort a list of words into certain categories.
From sorting faces based upon emotion, recognizing emotions, and being able to sort them, we hope your patient enjoys these emotion-centered worksheets today! This packet will be great for individuals with low social cognition skills. Preschoolers and children will also enjoy using this packet.
Included: 19 worksheets and bridging questions.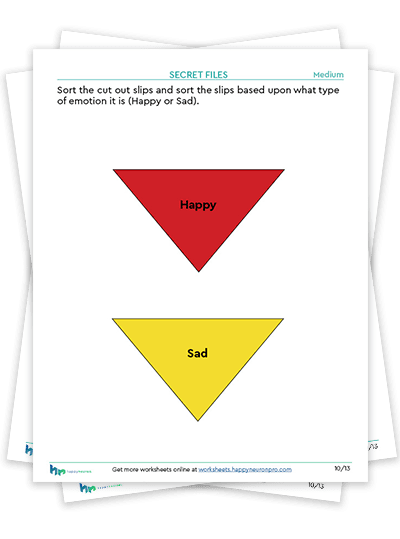 Feelings are hard. Try sorting emotions into categories in this social cognition packet. Clients will learn how to utilize skills such as self control in order to balance emotions. This packet will help you learn skills to better understand and express your emotions in everyday life. By working to sort and understand emotions, clients will feel more comfortable expressing emotions in different environments.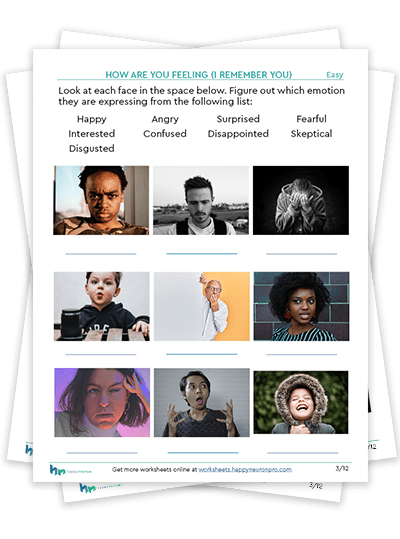 Social cognition involves awareness and accurately interpret others' thoughts, feelings, and expressions. People may have difficulty with social understanding due to experiencing psychosis or a brain injury. Using this worksheet, you can work with your client on cognitive exercises related to understanding and comprehending emotions. We've adapted exercises like I Remember You and Restaurant to have a unique social cognition flare. We love how Secret Files may help individuals consider what emotive words are associated with each other.
This packet is great for anyone working on learning, practicing or understanding different emotions. You could use this packet with kindergarteners or aging seniors! The uses are limitless when it comes to implementing this worksheet into your therapy toolbox.
Included inside: 6 pages and bridging questions.
Get a Packet or 2 for Free!
Answer a few questions about yourself and get at $15 credit for any purchase!