These packets include at least 4 different exercises with each having several difficulty settings and bridging activities. Each packet focuses on a cognitive function, a medical condition, or a theme. 
We release a new packet once per month and you can subscribe to get them directly in your inbox.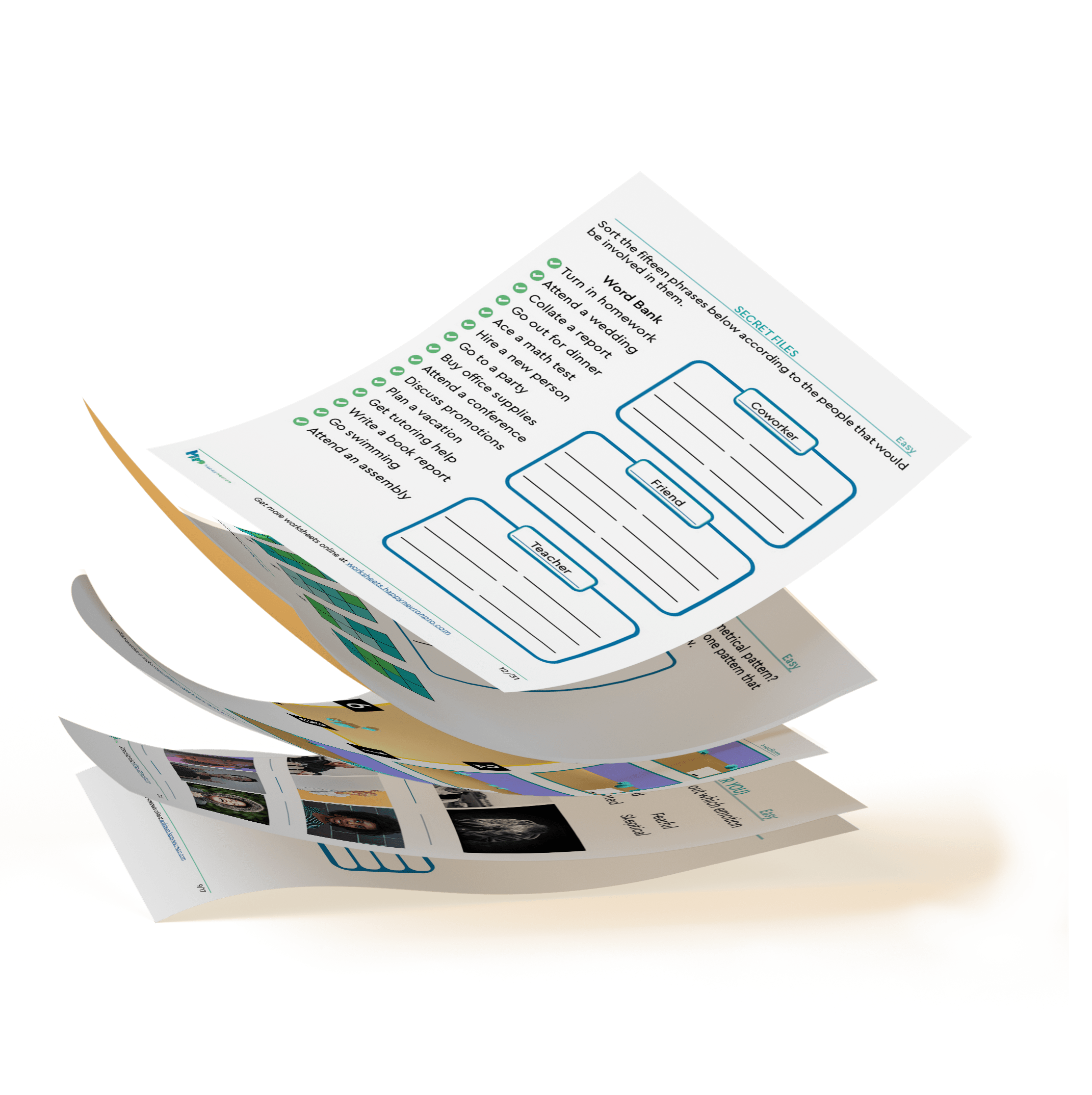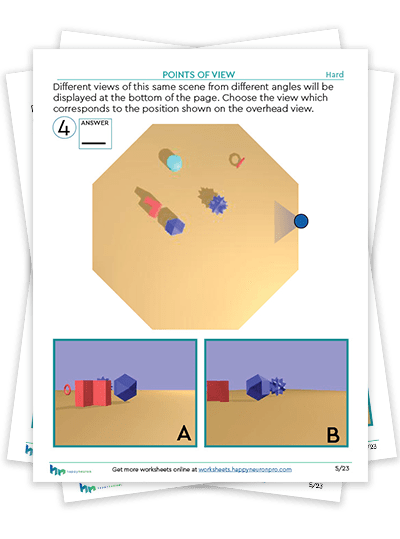 Visual-spatial skills help us rotate objects and understand spatial relations. This packet will challenge your client to learn effective strategies to manipulate visually and spatially compare objects mentally. The first exercise will challenge their ability to place themselves in relation to critical objects on a map. Next, they will have to label a hand in motion appropriately. They will then have to use their visual separation skills to break apart a series of images to uncover what the hidden objects are within an entangled figure. The last exercise will combine all three skills engaged in the packet. Your patient will have to study a series of images and uncover which image is the reflection of the others.
This packet is great to use with children. It is perfect to use with kids who are not reading or reading. Individuals who struggle to tell apart their left and right hand will find the packet helpful. This packet is also ideal for lower-functioning individuals. The packet will leave everyone feeling they had fun and accomplished a semi-difficult task.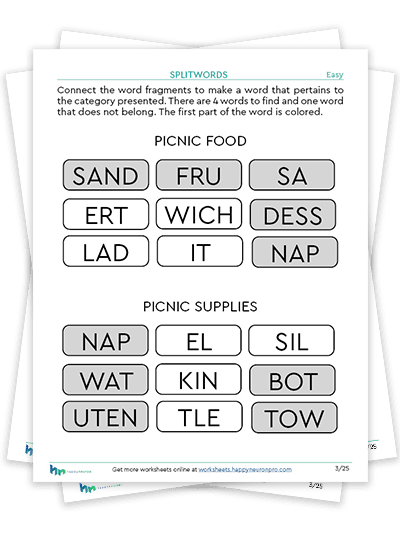 Developing vocabulary and being able to use it requires verbal memory. The cognitive ability to recall and use words also uses verbal memory. We understand the importance of that. That is why we developed this verbal memory packet. The goal of this packet is to challenge your ability to remember and recall words. The first exercise will challenge you to word fragments together to make logical words. In the next exercise, you must produce words with only a set letter or letter combo. The second to last will fully engage both verbal and memory. You will have to recall words and their location on a grid. The final exercise will combine all of the strategies work on previously in the packet. This print version of Restaurant will challenge you to recall names and orders.
This packet will help you learn techniques needed to recall details from an article or story you have read, notes from a work meeting, or information from an email. This packet is great for individuals with aphasia or students eight years or older.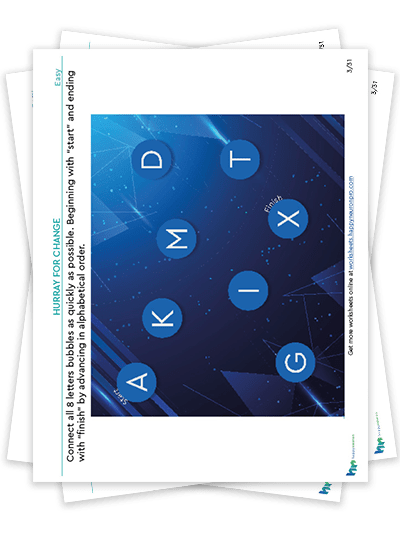 When we read or do math, we use reasoning to be able to complete and understand sentences that we read or to solve equations with missing variables. This packet will test your ability to use deductive reasoning to complete sentences in a paragraph, place words into categories, correctly sequence numbers, and use clues to find words within a sea of letters. This packet will help you learn strategies you need to think critically, use information at hand, process information effectively, and take action.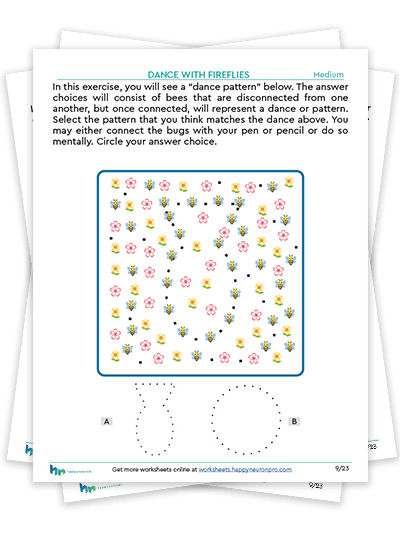 Attention, planning, and decision making are all skills that we need to get through our day successfully. In this packet, you will be challenged to complete attention based skills. You will practice staying on task, finding anomalies in a set of information, recognizing patterns, and compare and contrast objects. This packet is a great workout for your frontal lobe.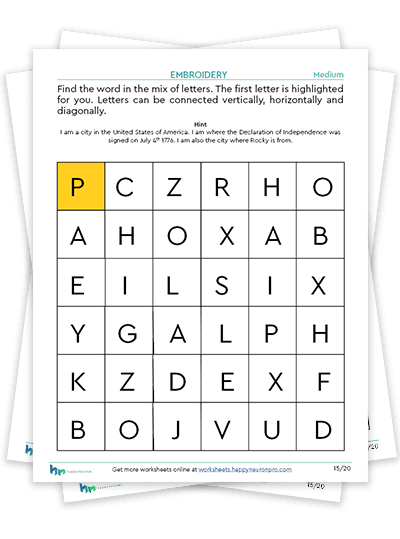 Language is a complex cognitive skill! It involves executive functioning, memory, visual, and auditory processing skills. Sometimes, people may have difficulty with one or more aspects of language, such as word retrieval. Language difficulties can occur as a result of a medical event such as a stroke or can be caused by developmental disabilities. We have provided 4 exercises that target different cognitive skills involved in language in this packet.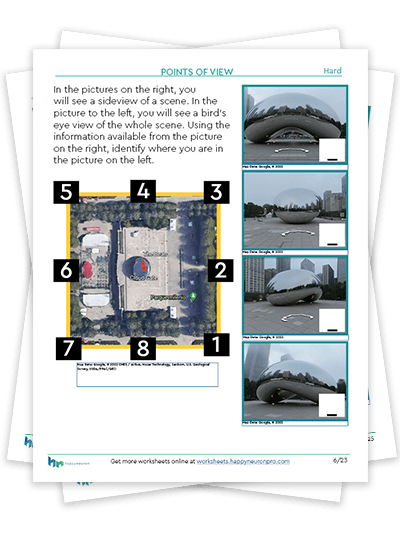 Visual spatial skills help us rotate objects and understand spatial relations. Using this HAPPYneuron Pro worksheet, your client will be challenged to learn effective strategies to mentally manipulate and compare objects. For a bridging activity to supplement this worksheet, have your client construct a figure using blocks.
Buy 3 packets and get the 4th one FREE!