Scientifically Designed Worksheets 
These packets include at least 4 different exercises with each having several difficulty settings and bridging activities. Each packet focuses on a cognitive function, a medical condition, or a theme. 
We release a new packet once per month and you can subscribe to get them directly in your inbox.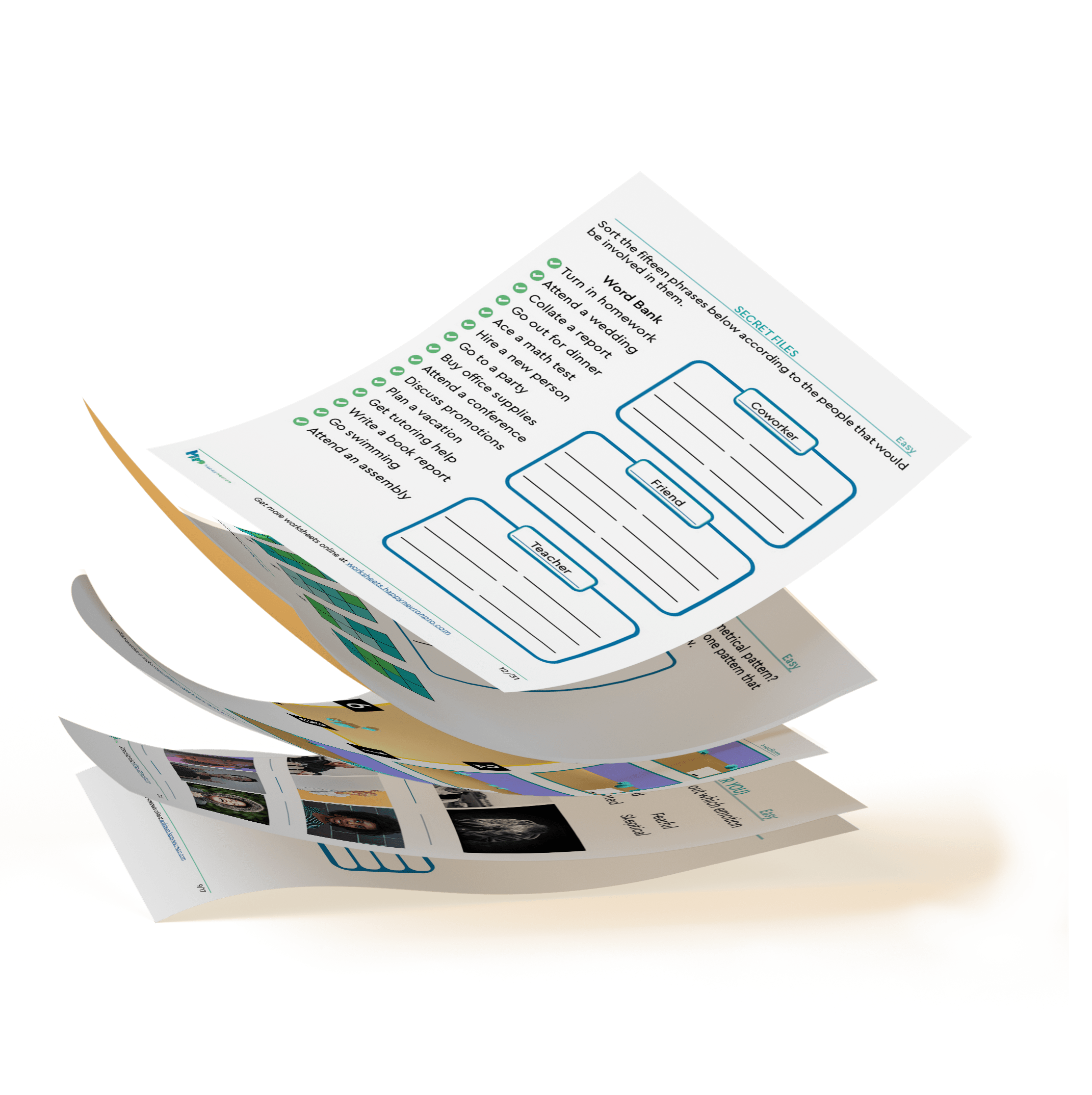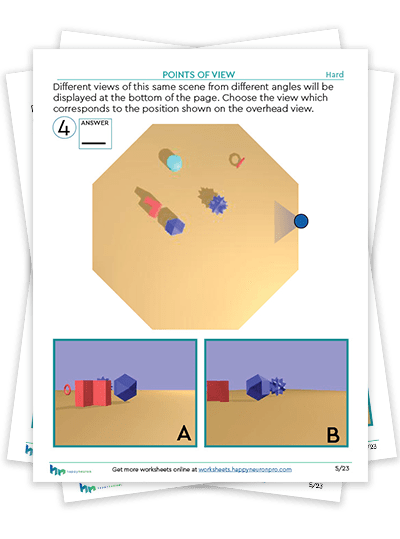 Visual-spatial skills help us rotate objects and understand spatial relations. This packet will challenge your client to learn effective strategies to manipulate visually and spatially compare objects mentally. The first exercise will challenge their ability to place themselves in relation to critical objects on a map. Next, they will have to label a hand in motion appropriately. They will then have to use their visual separation skills to break apart a series of images to uncover the hidden objects within an entangled figure. The last exercise will combine all three skills engaged in the packet. Your patient will have to study a series of images and uncover which image is the reflection of the others.
This packet is great to use with children. It is perfect to use with kids who are not reading or reading. Individuals who struggle to tell apart their left and right hand will find the packet helpful. This packet is also ideal for lower-functioning individuals. The packet will leave everyone feeling they had fun and accomplished a semi-difficult task.
Included inside: 16 worksheets and bridging questions.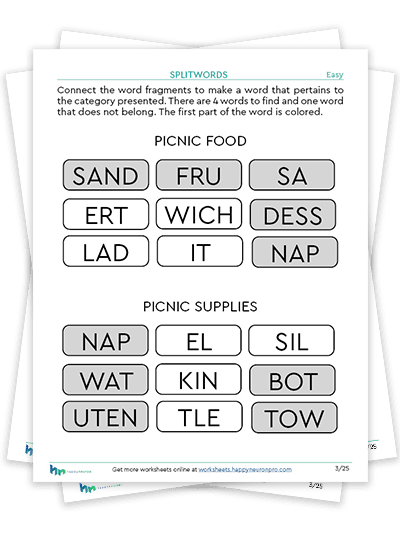 We designed this packet as a life skills activity workbook that may improve verbal working memory skills. This packet aims to challenge your client's ability to remember, recall, and relocate words. Individuals in the food service industry often use these skills.
The first exercise will challenge your verbal memory as your patient combines fragments to make logical words. This progresses from easy two-fragment words to three-part fragmented words. In the next exercise, you must produce words with only a set letter or letter combo. After your verbal recall is warmed up, the second to last section will challenge your ability to place words within a grid. This will require you to use both verbal memory and spatial memory. Finally, the last exercise combines these skills into a real-world experience on printed paper. Working in a restaurant requires both verbal and spatial memory skills. These adapted Restaurant exercises will help you practice all the skills used in this packet as you recall names, orders, and positions.
This packet is great for individuals with learning disabilities, students eight years or older, or individuals recovering from a stroke. Try it as a bridging activity as well.
Included inside: 20 worksheets and bridging questions.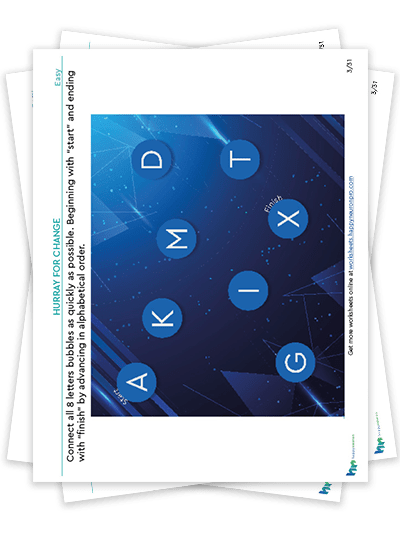 Are you looking for verbal reasoning activities? Then look no further. Verbal reasoning is how we can understand complex sentences. As you read, your brain breaks apart the complexity into smaller and easy-to-digest. This packet is filled with exercises that may help to improve verbal reasoning skills.
The first exercise is based on the digital exercise, Hurray for Change. In this exercise, you must correctly sequence letters, words, and numbers alphabetically and numerically. We put this exercise first to help warm up your brain, as you will use these skills later in the packet. After this exercise, you will have three other verbal reasoning activities. We hope this packet will help you learn strategies to think critically by using the given information, process information effectively, and then take affirmative action.
This packet will be great for kids 8+, individuals who have had a stroke, or individuals who have aphasia. Additionally, individuals with executive functioning deficits, trouble processing verbal information, or anyone who wants to challenge their verbal reasoning skills may enjoy these activities as well.
Included inside: 22 worksheets and bridging questions.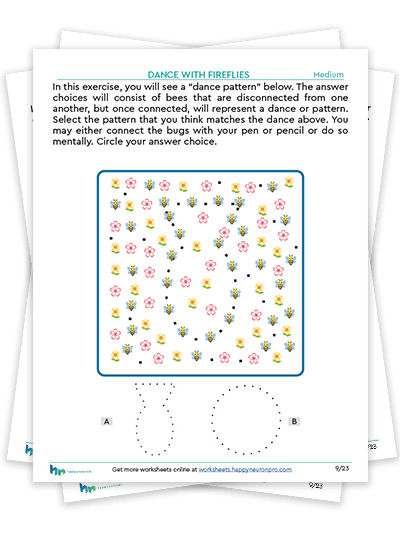 Does your patient love to be in the garden or outside? Does the sight of butterflies and bugs bring them joy? If so, download this fun and engaging visual attention worksheet packet. This completely non-verbal packet will help build anyone's attention and executive function skills.
This packet starts by challenging your patient's ability to spot the difference in a bug-themed Private Eye activity. The next activity will be the dance of the bugs. Each bug will dance a specific pattern in a sea of bugs. Your patient will have to figure out which bug is dancing which dance. This activity uses attention, executive function, and deductive reasoning skills. The following exercise group involves attention and deciphering skills when your patient has to figure out which piece is missing from which bug. Your patient must study the potential pieces and determine which will solve the broken butterfly. Finally, the last exercise section will use their fine motor and attention skills. Catch the ladybug becomes printable and colorful in these last activities. Your patient will have to ignore the additional bugs to find all of the ladybugs in the images.
In this packet, you will be challenged to complete attention-based skills. You will practice staying on task, finding anomalies in a set of information, recognizing patterns, and comparing and contrasting objects. This packet is an excellent workout for your frontal lobe. This packet will be great for preschoolers to seniors. Anyone who loves summer or bugs will enjoy this packet as well.
Included inside: 18 worksheets and bridging questions.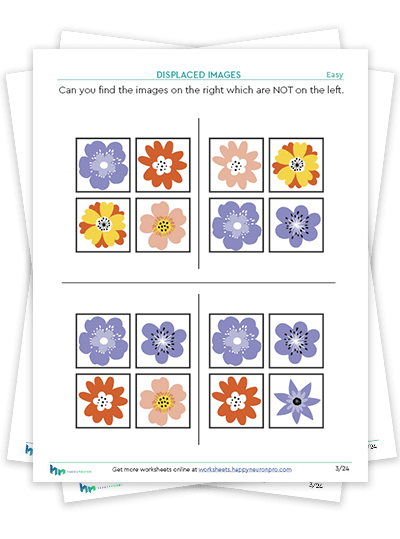 If your patients love flowers and all things around spring, they will love this packet. This attention packet is an excellent workout for your patient's brain. Visual attention is required to do many different cognitive tasks. When strengthened, it may help all areas of cognition.
To help you provide therapy for your client working on their visual attention skills, we have provided 4 exercises that target different cognitive skills involved in this visual attention packet. A keen eye for detail is key to succeeding at these attention-grabbing problems. The first exercise group is a floral adaption of Displaced Images. You'll have to pay close attention to be able to spot the odd flower out. Next, You'll have to jump through words in alphabetical order as quickly as possible. Be careful; the distracting floral background might slip you up! Next, we will combine your visual attention skills and spatial memory in a flowery Chunking exercise. This exercise requires you to pay close attention to where flowers are on a grid and carefully recreate them afterward. We've left some empty grids so you can make your own. Lastly, we will see how well your visual skills and memory are in Shapes and Colors. This exercise works your visual attention and memory skills as you try and decide which flower is the correct one.
This packet is great for non-speakers, kids, preschoolers, individuals who need attention skills, and anyone looking to engage their brain with a flower-themed packet!
Included inside: 19 worksheets and bridging questions.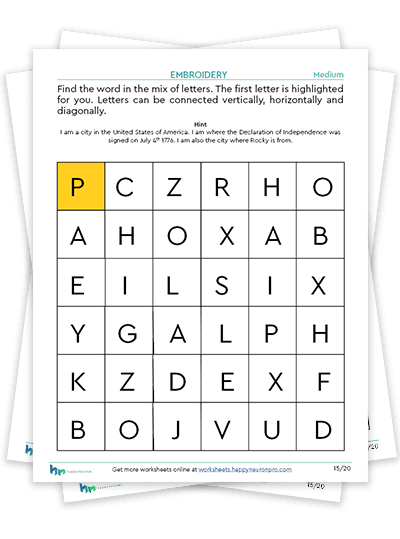 Are you looking for language activities for dementia patients? Language is a complex cognitive skill. It involves executive functioning, memory, and visual and auditory processing skills. Sometimes, people with dementia struggle with one or more aspects of language, such as word retrieval. That is why we developed this packet. We wanted to create a packet to help improve language skills that are often inhibited in individuals with dementia.
In this workbook, we have provided 4 exercises that target different cognitive skills involved in language skills. We have a verbal memory exercise, Words, Where are you? We have a visual attention exercise, Private Eye. Additionally, we have a word-categorizing activity, Secret Files, and lastly, a language-inferring activity, Embroidery.
This packet will be great to be used for seniors, anyone looking for printable activities for dementia patients, or anyone looking for language-based activities. If you love this packet, we highly recommend you try our digital program. Each one of these exercises is even better on the digital program. 
Included inside: 13 worksheets and bridging questions.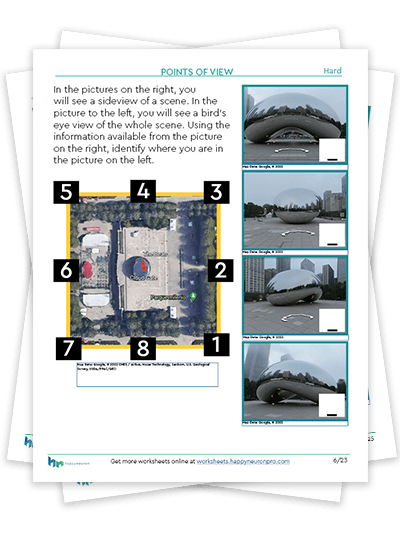 Map skills are a unique set of skills. It requires many different aspects of visual-spatial ability to use a map. That is why we developed this packet. We wanted to help individuals improve their ability to locate themselves on a map by using their Point of View and other key cognitive elements.
From deciding if a hand is left or right or decoding a pile of items. Every aspect of this worksheet helps to improve the essential functions for map skills.  In addition, we have provided you with 4 bridging questions that you can ask your clients to help them connect their cognitive skill practice with their everyday lives.
This packet will be great as a life skills workbook or as a tool for cognitive rehabilitation. Because of the low language uses, the uses are endless for this packet!
Included inside: 12 worksheets and bridging questions.
Buy 3 packets and get the 4th one FREE!