Explore our library of printable attention activity worksheets.
Welcome to a world of enhanced productivity, laser-sharp concentration, and improved cognitive abilities. Our attention worksheets for adults in PDF format are your key to mastering the art of focused thinking. In truth our carefully crafted worksheets may empower you to reclaim your focus and thrive in today's fast-paced world.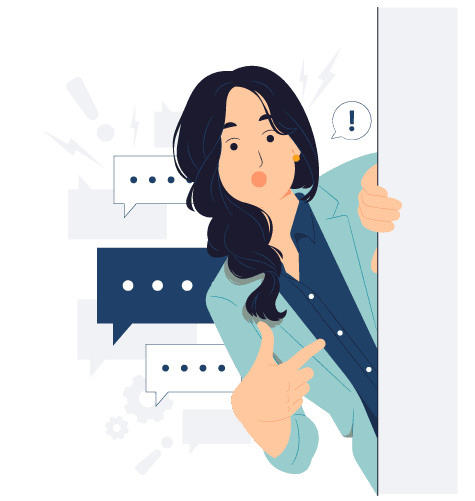 We release free worksheets via our bi-monthly newsletter. Make sure to join our mailing list always to get the newest free minis!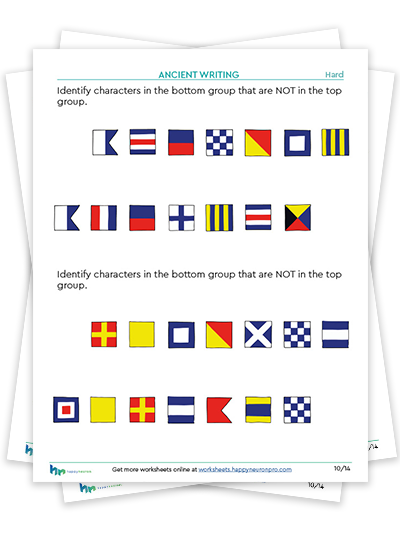 Practice your visual attention skills with this fun nautical theme packet! Ancient Writing has a new fun twist as you compare and contrast the language of the sea. Did you know that each of these flags represents letters and codes for out on the ocean blue? Verbal and spatial memory is heavily engaged in this mini packet. 
These worksheets are great for helping your clients practice visual attention skills. These activities will be great for preschoolers and older! We hope your sea-loving individuals will find great pleasure in these flag-tastic activities.
Include inside: 12 worksheets and bridging questions.
If you like these worksheets, check out our other Ancient Writing worksheets here →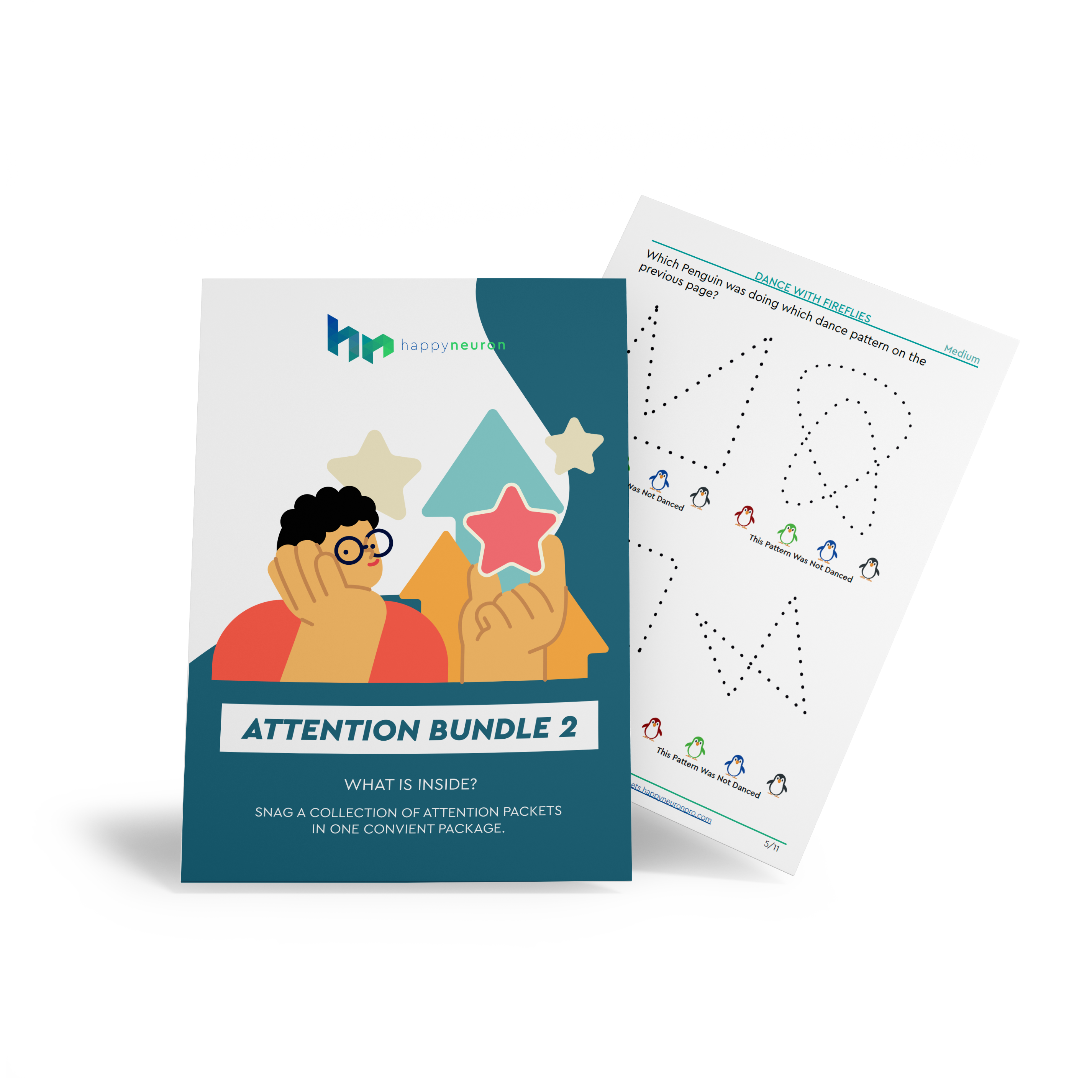 This bundle contains packets and mini-packets dedicated to attention skills that may be useful for individuals who are looking to challenge their attention skills. We think this packet is great for warming up attention skills or activating attention skills.
Please note: if you buy yearly bundles or other bundles, some of these worksheets may be included. Please check before purchasing.
What's included inside: Instant PDF downloads of 4 packets and 8 minis or 149 unique worksheets.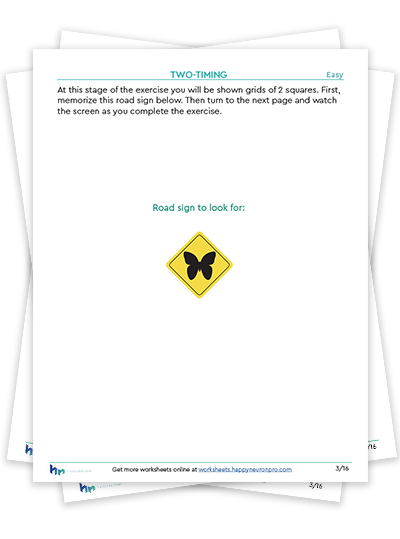 We are excited to create our first divided attention hybrid packet! Our favorite divided attention task, Two Timing, is a fun exercise to play on our digital platform. We've designed this printed version to be as close to as possible to the digital exercise. Our digital exercise is designed to simulate what it would be like to read road signs and have a conversation with someone or have a conversation while sorting laundry. 
These worksheets are great for helping your clients practice their divided attention skills. These activities will be great for children, individuals with aphasia, Seniors, and anyone who wants to improve their attention skills.
Include inside: 9 activities and bridging questions.
If you like these worksheets, check out our other attention worksheets here →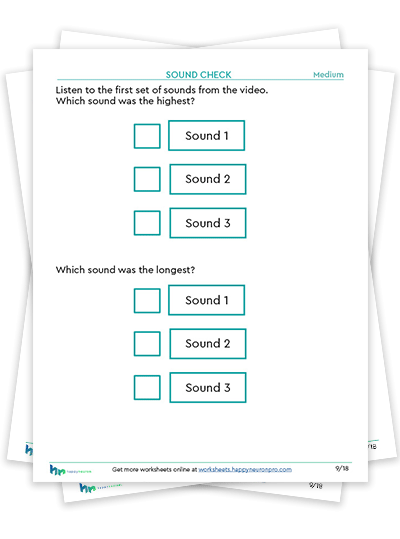 Are you working on auditory processing skills with your patient? Is your patient struggling to be able to hear the difference between two different tones? If so, this packet is for you! Our first-ever hybrid version of Sound Check is filled with great listening activities.
We hope your patients will enjoy this music-themed packet! Perfect for all ages, warm-ups, groups, and non-English speakers.
Included: 3 worksheets, 3 videos, an answer key, and bridging questions.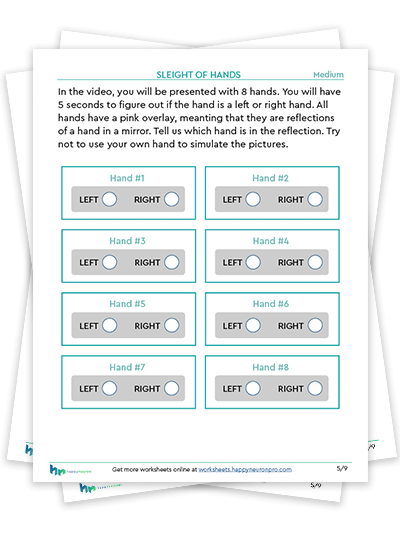 Figuring out left and right hands can be a fun and challenging activity; now imagine it as a hybrid activity. That is precisely what this packet is! Based on our digital exercise, Sleight of Hand, this hybrid packet will be great for groups and individuals. This packet will leave people laughing as they try to figure out which hand is left or right. This might seem like an easy task, but be careful! Some of the hands are a reflection. Some hands are not what they seem, and you must figure that out. This activity is great to help individuals practice differentiating shapes and could be used as a warm-up for any turning around and around exercise.
We hope your patients will enjoy this Magic-themed left and right-hand packet! Perfect for all ages, warm-ups, groups, and non-English speakers.
Included: 3 worksheets, 3 videos, an answer key, and bridging questions.
Subscribe to get new packets!
We release a new packet monthly, and you can subscribe to get them directly in your inbox.
Answer a few questions about yourself and get a $15 credit for your first purchase !
Become a member and get free worksheets!
Attention is a cognitive process that involves focusing one's mental resources on a specific aspect of the environment, information, or task while filtering out other competing stimuli. It is the ability to selectively concentrate on certain inputs, thoughts, or actions while ignoring distractions or less relevant information. It plays a crucial role in various cognitive functions and daily activities.
Why use our Attention Worksheets & Activities?
Our worksheets engage several different cognitive dimensions of attention. Here are a few that they may engage.
Visual Focus:

All of our attention worksheets are creatively designed to challenge your ability to focus on unique details. These activities may require you to identify subtle differences, enhancing your visual attention and observation skills.

Auditory:

Sharpen your listening skills and selective attention with the auditory-based activities we offer. These exercises may help individuals better identify specific sounds within a complex auditory environment.

Sustained Concentration:

With all of our worksheets, they will require time to complete. In view of our fast-paced world, these worksheets might just boost your ability to sustain attention over longer periods. This skill is crucial for tasks that demand prolonged focus.
Advantages of our Attention Worksheets PDF:
Our attention-enhancing worksheets are available for download in PDF format, allowing for easy access anytime, anywhere. With a variety of exercises included in each packet, we aim to prevent monotony and promote comprehensive cognitive growth. You'll never find the same combination of exercises in any of our packets, as we are dedicated to providing you with the variety you need. Our worksheets are backed by science and developed using our digital tool that's rooted in research.
Scientifically Backed: Our digital tool inspires all of our worksheets. And our digital tool is rooted in science. Want to see more about our research? check out all of our research here →
Who can use these Attention Activities?
Initially designed for professionals, these worksheets can be used with all ages to practice and work on attention skills.
With this purpose, we aim to support the community of healthcare professionals, teachers, and school educators who help individuals with their attention skills by regularly adding new and different attention-based resources.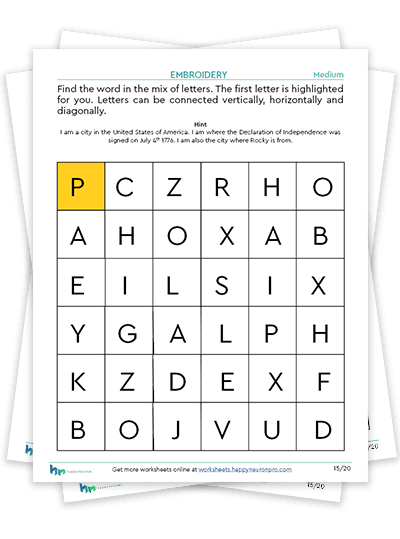 Are you looking for language activities for dementia patients? Language is a complex cognitive skill. It involves executive functioning, memory, and visual and auditory processing skills. Sometimes, people with dementia struggle with one or more aspects of language, such as word retrieval. That is why we developed this packet. We wanted to create a packet to help improve language skills that are often inhibited in individuals with dementia.
In this workbook, we have provided 4 exercises that target different cognitive skills involved in language skills. We have a verbal memory exercise, Words, Where are you? We have a visual attention exercise, Private Eye. Additionally, we have a word-categorizing activity, Secret Files, and lastly, a language-inferring activity, Embroidery.
This packet will be great to be used for seniors, anyone looking for printable activities for dementia patients, or anyone looking for language-based activities. If you love this packet, we highly recommend you try our digital program. Each one of these exercises is even better on the digital program. 
Included inside: 13 worksheets and bridging questions.