Learn everything you need to know about HappyNeuron
At HappyNeuron, we believe there is a better way to do cognitive therapy: a more inclusive and adaptable way. That is why we are obsessively passionate about creating the best tools possible for therapists to use. We know that people like you strive to improve the world, one brain at a time.
While our main solution is HappyNeuron Pro – a digital cognitive therapy tool, we know that therapy occurs both online and offline. We also acknowledge that people have diverse needs and ability to access services. That is why we started developing printable packets based on our digital exercises : in order to make cognitive therapy inclusive and accessible for everyone.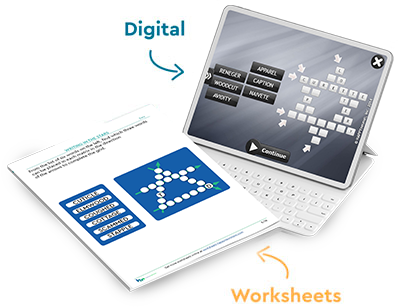 To make cognitive therapy accessible and inclusive. No Brain Left Behind.
Inclusiveness and Accessibility
We understand that not everyone has access to trained professionals. We wanted to make a product that is inclusive and accessible to anyone regardless of their occupation.
We want to provide the best cognitive worksheets on the internet. So that whether you use them alone or as supplemental to our digital tool, they are of the highest and utmost quality.
We are always listening and wanting to improve our packets. If you have any questions, comments, concerns, or would like to see a new feature added, please contact us. We are here to serve.
Who Can Use These Packets?
If you're reading this, you can!
Anyone can use one of our packets or all of our packets. The choice is yours!
HappyNeuron (formally known as Scientific Brain Training) was founded in 2000 in France by a neuropsychologist and neurologist, a computer engineer, and an education professional (PhD). HappyNeuron is the care innovative core of our parent corporation Humans Matter. Humans Matter is a cognitive design company working to improve how the world thinks through cognitive science.
HappyNeuron worksheet packets started as a way to better serve our clients and introduce our product. With thousands of new users coming each month, we realize that printable packets to be used as a supplement to digital therapy are what people are looking for and that is why we are now developing packets for everyone.
of experts using our solutions from all over the world