Executive Functions Worksheets
Executive Functions Worksheets
Executive functions refer to the cognitive processes involved in inhibition, decision-making, problem-solving, learning, and retrieving the correct information we have learned previously to complete a task. Executive functioning occurs in the frontal lobes of the brain, which have many connections to other vital areas, such as the limbic system for emotion regulation. Practice executive functioning skills with these executive function worksheets.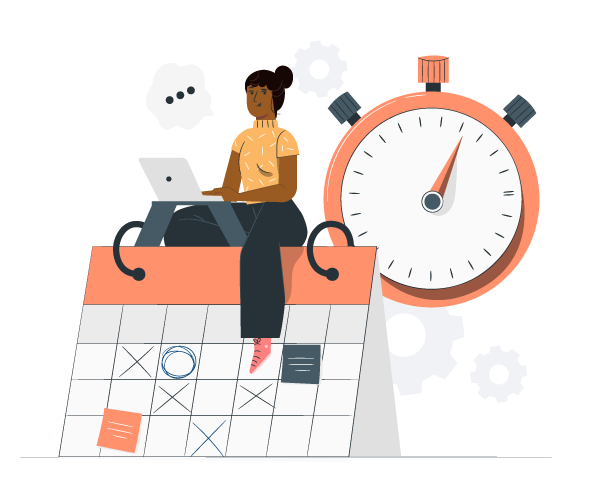 Looking for Free Resources?
Explore our entire library of executive functions worksheets and activities. We have packets, mini packets, bridging packets, and bundles that focus on executive functioning skills. Designed for professionals to be used with patients. Explore our entire library of worksheets today!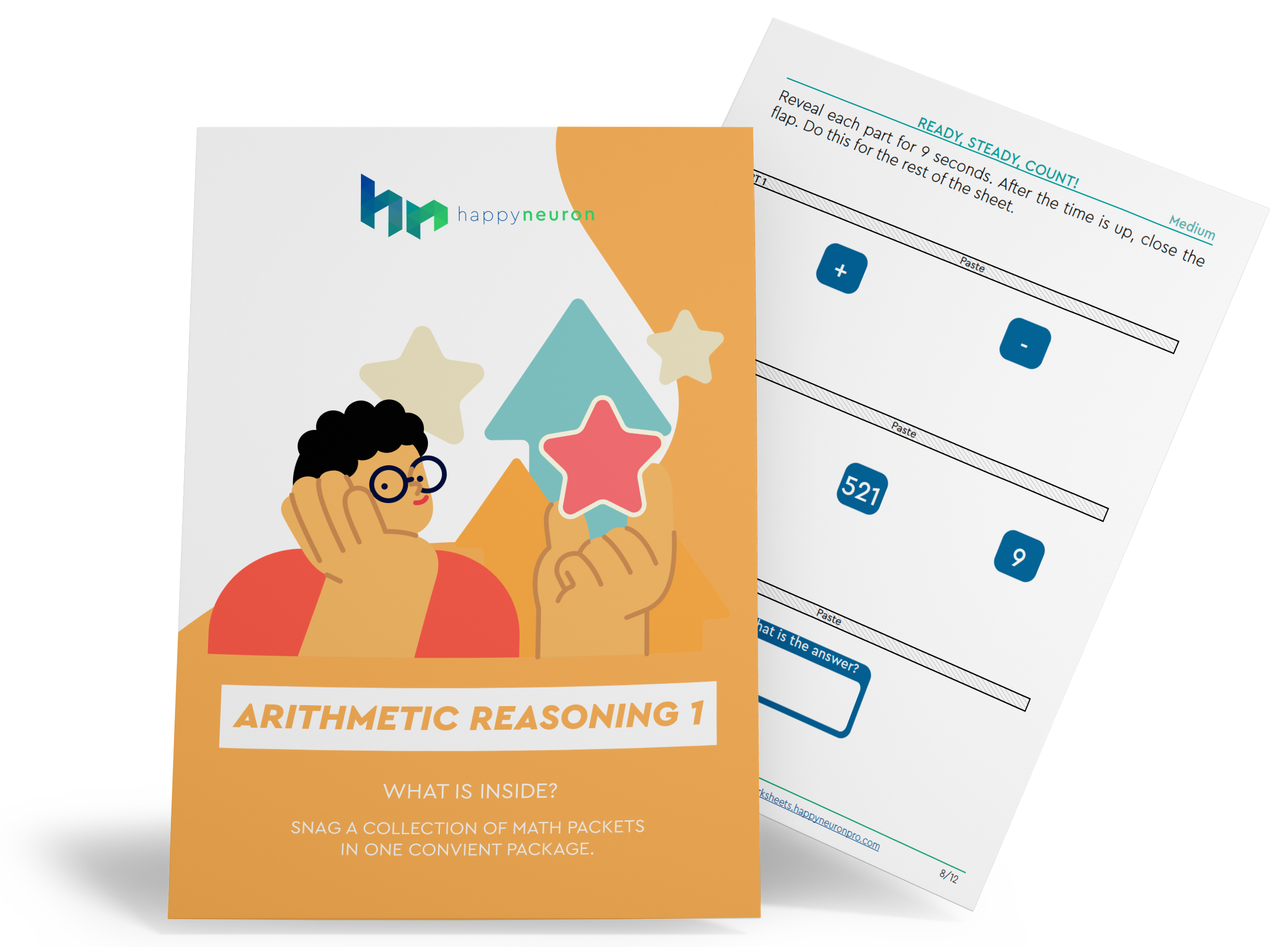 Are you working on arithmetic reasoning with your patients? We've bundled a series of our arithmetic reasoning worksheets together to help you quickly find fun arithmetic reasoning activities to do with your patients.
Bundles + Save
Bundles are a great way to buy more but for a discount. If you were to buy all of these packets separately, you would pay more than $60+. Because we've bundled it, you're getting an instant saving of over 20%!
What's included inside: Instant PDF downloads of 4 packets and 1 mini packet or 94 unique worksheets.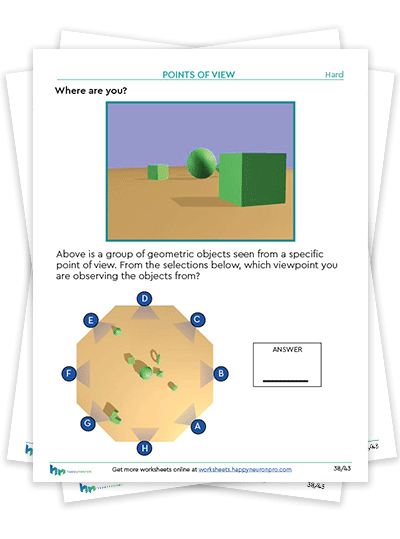 This packet aims to help individuals recognize items to improve their spatial awareness by studying unique key features of different objects. We hope your patient can better find themselves on a map. 
We started this packet with an ancient writing task. In this task, your patient must study figures and discover which character does not appear in the section above. This will challenge their attention and working memory. Sleight of Hands is the next task. This exercise challenges your patient's visual-spatial ability by having them mentally compare and decide if the picture displayed is a left or right hand. After that, Gulf Stream is the next task in this packet. Gulf Stream challenges your patient's ability to remember objects and recall them as they appear on the screen. This printed version will challenge your patient's ability to identify and find a snowflake in a mess of other snowflakes. Finally, the final exercise will test all the skills used in the previous activity. Points of View will challenge your patient's spatial ability as your patient will try to figure out where you are on a map of objects. 
In conclusion, we believe your patient will have fun completing this packet. The tasks are interactive and enjoyable, from noticing and remembering small details to mentally manipulating objects. Working on all the exercises in this packet may improve your patient's spatial awareness. We recommend this packet for kids aged 6+, non-verbal individuals, and individuals who want to get better at figuring out where they are in time and space. 
Included inside: 39 worksheets and bridging questions.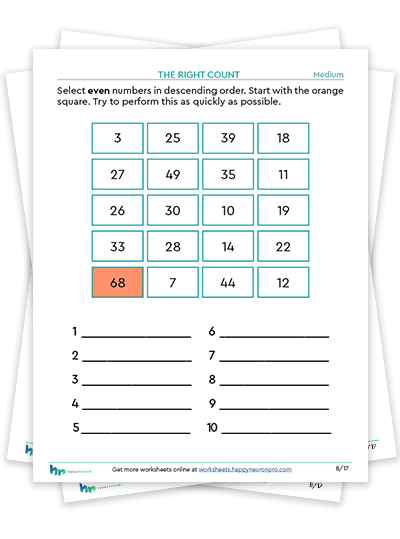 Counting down the New Year just got fun with this printable version of our digital exercise, The Right Count. Your patient's Executive Functions may just be fully engaged with these worksheets. Your patient will have to read a box of numbers, remember where odd and even numbers are, and then sort them according to the instructions. This packet will progressively get more challenging as the quantity of numbers increases and the gaps become larger. For added challenges, try using a timer and see how long your patient takes to complete this task.
We hope your patients will enjoy this New Years themed packet! Perfect for warm-up, groups, non-English speakers, and children learning numbers.
Included: 12 worksheets, answer key, and bridging questions.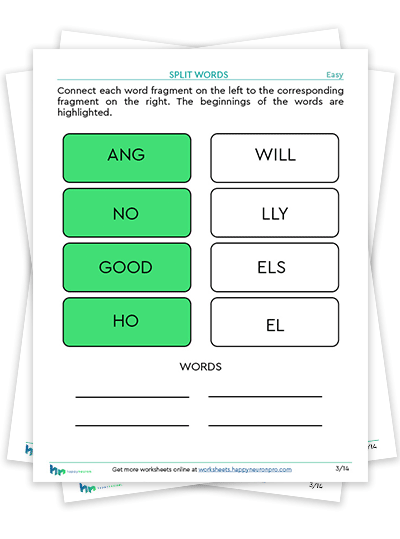 A wintery wonderland fills the pages of this holiday-influenced language-based worksheets packet. Your patient's verbal memory will be engaged with this fun Split Word influence packet. This packet will progressively get harder as the puzzles continue. What may seem as easy will soon become tough as the fragments of words become more, and the hints become less. We hope your patients will enjoy this holiday-themed packet! It will be great to use as a warm-up or in a group setting!
This packet is great for kids learning how to spell, adults working on language recall, and anyone who wants to engage their brains.
Included: 9 worksheets and bridging questions.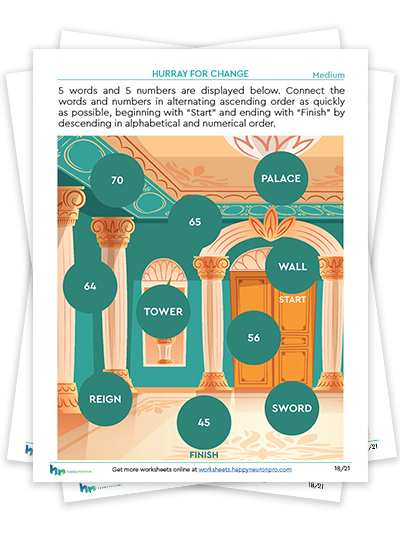 Verbal Focus and Recall are the focus of this fun packet of worksheets. Your patients will have 35 unique pages of language-based exercises that may help with these skills. This packet will start by warming up their attention and sorting skills with some fun Private Eye and Hurray for Change exercises. After they complete those two segments, the harder verbal focus and recall exercises will begin. Your patient will decode a box of letters to find what word is embroidered within the grid. Verbal attention and verbal recall are challenged with these Embroidery exercises. Lastly, your patient will have to solve some Writing in the Stars exercises. Writing in the Stars will challenge your patient's verbal processing, verbal attention, and verbal planning skills. 
We recommend this packet for kids aged 8+ and individuals who want to work on their verbal skills. 
Included inside: 35 worksheets and bridging questions.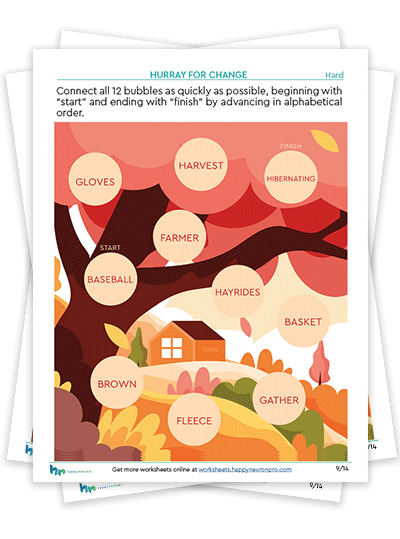 If your patient's favorite season is fall or autumn, this packet is for them. Our cognitive flexibility exercise, Hurray for Change, takes on a fall seasonally apparel. Work on your patient's cognitive flexibility or ability to switch between different stimuli to create a path connecting both sets of stimuli as fast and as smoothly as possible. The lower levels of this packet will require your patient to connect items numerically or alphabetically. This will be great for individuals who are learning to read or want to improve their letter and word categorization. The upper levels will change your patient's ability to switch between numerical and language stimuli. Executive function, language comprehension, and working memory are all challenged in this mini packet.
This packet is great for all ages! Everyone can and should work on their cognitive flexibility, regardless of age. Try using this with your patients with aphasia and ask them to read out each word.
Included: 9 worksheets, bridging questions, and an answer key.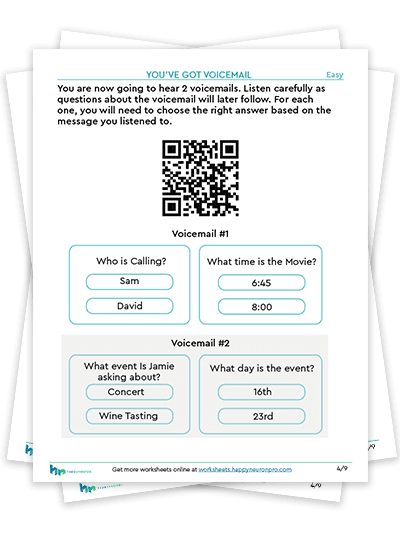 Who can it be now? In this hybrid packet, your patient will have the opportunity to listen to numerous voicemails and answer questions regarding them. This will challenge both your patient's auditory processing, working memory, and attention skills. The packet starts easy and then progresses as the voicemail becomes longer and the questions become harder.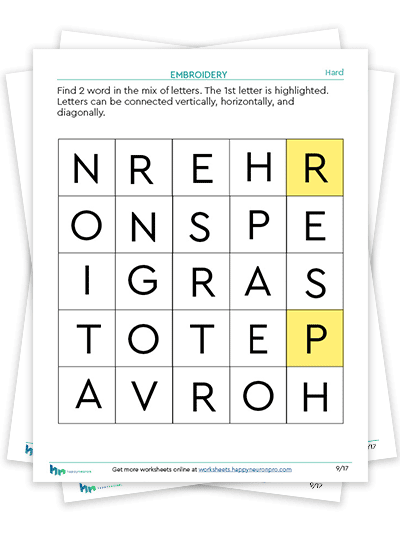 Challenge your patient's visual scanning and semantic memory in this mini packet! Your client must scan the letter grid to determine what word is hidden within the grid. These worksheets are printable versions of our digital exercise, Embroidery. As your client progresses, the hints will decrease, and the difficulty of the words will increase. This entire packet is around the theme of objects found within the ocean.
This packet will be great for individuals looking to challenge their ability to use their visual scanning ability and draw information and conclude what words are presented. Use this within your post-stroke support groups, inside of your classrooms of middle schoolers, or as an earth day activity to do with your patients.
Include inside: 10 worksheets, answer keys, and bridging questions.
Answer a few questions about yourself and get a $15 credit for any purchase!