Executive Functions Worksheets
The Premier Clinician Resource for Stimulating Executive Functioning Skills
Are you ready to enhance your toolkit of executive functioning activities and help your client improve their organization, planning, and decision-making processes? Then look no further! We offer a variety of PDF downloads designed to empower clinicians to have the resources to make cognitive remediation of executive functioning fun!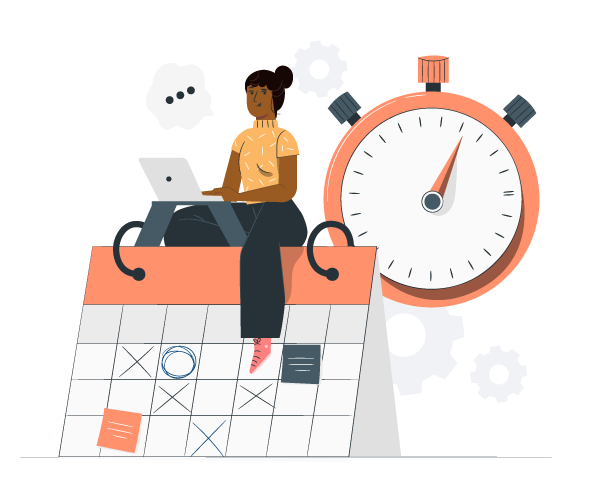 Executive Functions Worksheets
Our collection of executive functions worksheets covers a wide range of exercises that may improve your client's cognitive abilities. These worksheets are meticulously crafted to enhance your skills in areas such as time management, organization, problem-solving, and decision-making. With our PDF downloads, you conveniently build therapy plans using these exercises and use them directly with your clients. If you are not a clinician, you can use these to engage your cognitive skills as well! 
Looking for Free Resources?
Explore our entire library of executive functions worksheets and activities. We have packets, mini packets, bridging packets, and bundles that focus on executive functioning skills. Designed for professionals to be used with patients. Explore our entire library of worksheets today!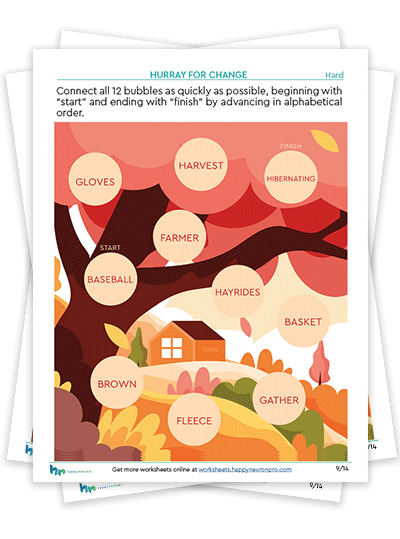 If your patient's favorite season is fall or autumn, this packet is for them. Our cognitive flexibility exercise, Hurray for Change, takes on a fall seasonally apparel. Work on your patient's cognitive flexibility or ability to switch between different stimuli to create a path connecting both sets of stimuli as fast and as smoothly as possible. The lower levels of this packet will require your patient to connect items numerically or alphabetically. This will be great for individuals who are learning to read or want to improve their letter and word categorization. The upper levels will change your patient's ability to switch between numerical and language stimuli. Executive function, language comprehension, and working memory are all challenged in this mini packet.
This packet is great for all ages! Everyone can and should work on their cognitive flexibility, regardless of age. Try using this with your patients with aphasia and ask them to read out each word.
Included: 9 worksheets, bridging questions, and an answer key.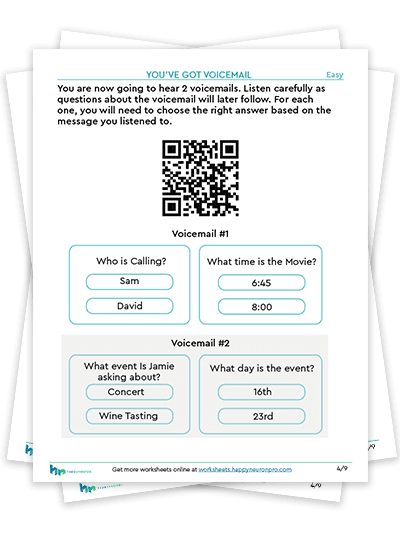 Who can it be now? In this hybrid packet, your patient will have the opportunity to listen to numerous voicemails and answer questions regarding them. This will challenge both your patient's auditory processing, working memory, and attention skills. The packet starts easy and then progresses as the voicemail becomes longer and the questions become harder.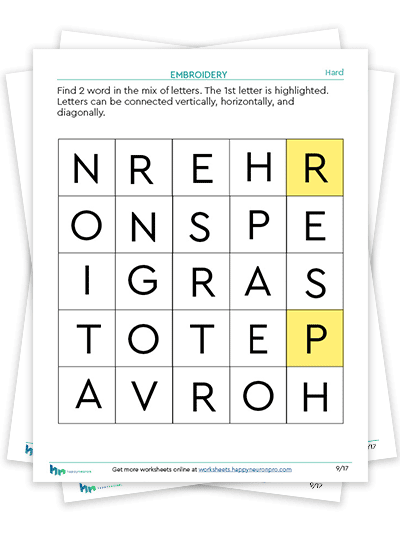 Challenge your patient's visual scanning and semantic memory in this mini packet! Your client must scan the letter grid to determine what word is hidden within the grid. These worksheets are printable versions of our digital exercise, Embroidery. As your client progresses, the hints will decrease, and the difficulty of the words will increase. This entire packet is around the theme of objects found within the ocean.
This packet will be great for individuals looking to challenge their ability to use their visual scanning ability and draw information and conclude what words are presented. Use this within your post-stroke support groups, inside of your classrooms of middle schoolers, or as an earth day activity to do with your patients.
Include inside: 10 worksheets, answer keys, and bridging questions.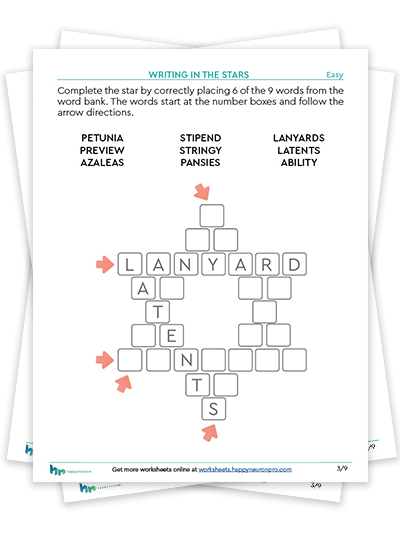 Challenge your patient's ability to visually break apart words and deductively place them on the chart. Based on our digital exercise, Writing in the Stars,  this packet is a great way to challenge your patient's deductive spatial reasoning skills! Clients must determine which word could fit in which space on the star. At first, some of the charts come prefilled. Eventually,  there will not be any assistance, and your patient has to choose words from the word bank. The progression of the packet increases slightly. The goal is that by the end of the exercise, your patient will feel more confident using their deductive skills. We love this exercise in our digital tool. If your patients enjoy this packet, they will love playing this activity digitally.
This packet is great for students ages 12 and older. Individuals looking for fun brain deductive spatial reasoning activities will enjoy the challenges within these pages. Additionally, we hope your patients will enjoy using this packet in a session with you or as part of their home exercises.
Included inside: 4 worksheets and bridging questions.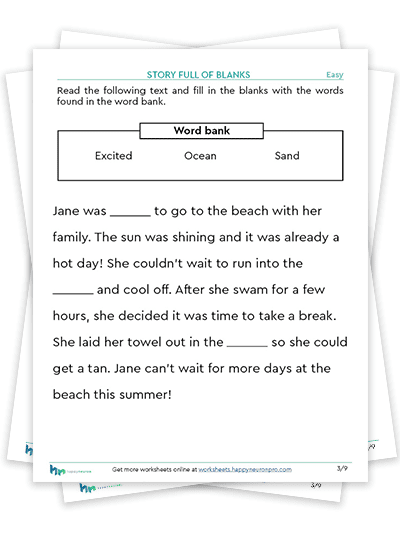 Ready to be an editor? Miss MadLibs? Read different passages and fill in the blanks with this fun verbal reasoning activity. This exercise focuses on executive functioning skills such as working memory, attention and metacognition. This is perfect for anyone looking to hone their verbal processing skills as well as working memory abilties!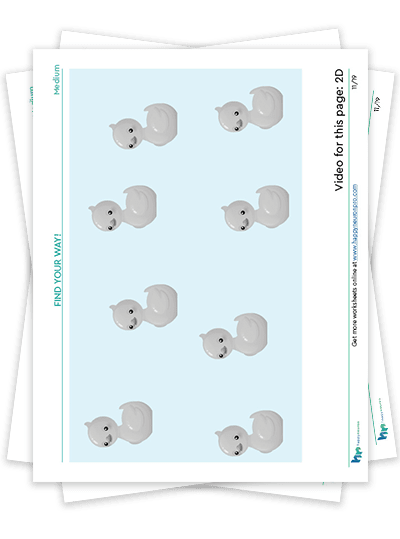 Ready for a memory challenge? Engage your client's attention and working memory skills using this mini hybrid packet. Find Your Way takes on a new face (or should we say bill) with this cognitive exercise packet. This activity primarily exercises executive functioning skills such as your client's Attention Skills.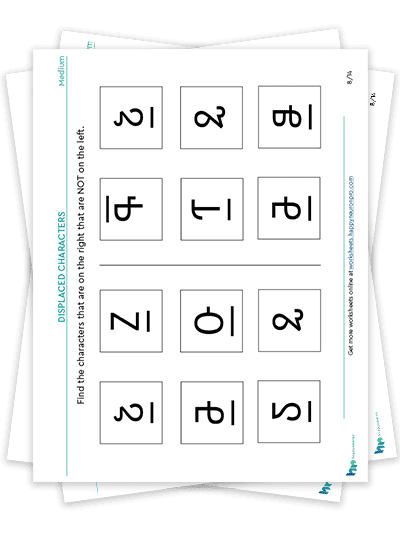 Ready for to challenge your attention and memory skills? Inspector Gadget may have an eye for detail, but do you? With this mini packet based on the visual attention exercise Displaced Characters, you can practice your attention to detail and ability to detect anomalies. This visual memory worksheets packet also utilizes executive functioning skills such as concentration and attention, and is great for anyone looking for a challenge!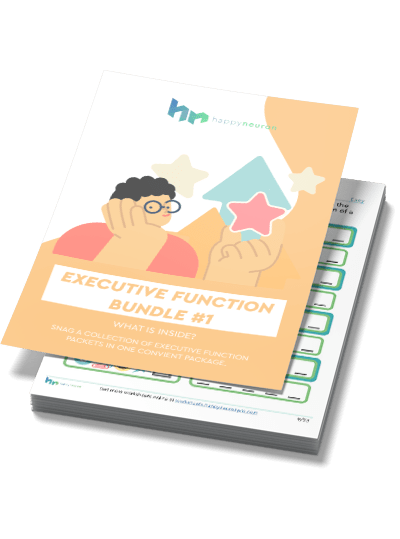 This bundle is a collection of packets that target Executive Functions skills. Executive function is essential for us to plan our day, engage with complex tasks and make decisions. Without executive function skills, we may become poor managers of our money, struggle to decide, or have difficulty planning our day. This is the most general bundle of executive function worksheets we've collected.
Bundle + Save
Bundles are a great way to buy more and save more! If you were to buy all of these packets separately, you would pay more than $55. Because we've bundled it, you're getting an instant saving of over 20%! Our bundles are designed to help you buy workbooks for your patients.
What's included inside: Instant PDF downloads of 6 packets or 85 unique worksheets.  
Answer a few questions about yourself and get a $15 credit for any purchase!
What is Executive Functions?
Executive functions refer to the cognitive processes involved in inhibition, decision-making, problem-solving, learning, and retrieving the correct information we have learned previously to complete a task.
Executive functioning occurs in the frontal lobes of the brain, which have many connections to other vital areas, such as the limbic system for emotion regulation. Given that, any work on executive functioning may just improve an individuals ability to emotionally regulate. 
Why should I use your Executive Functioning Worksheets for Adults?
In truth, if you're searching for comprehensive executive functioning worksheets for adults in PDF format, you're in the right place. Our PDF downloads address various aspects of executive function, including working memory, cognitive flexibility, and emotional regulation. All while looking fun and not childish. We have a team of graphic designers who work on our products.
Do you have other activities?
Yes, we do! All of our worksheets are based on our digital tool, HappyNeuron Pro. If you enjoy using these worksheets we highly recommend checking out the capabilities of our digital tool. Additionally, by integrating our digital tool, you may just save yourself time and money all while building a strong therapeutic toolbox. 
Why do you have Executive Functioning Activities for Adults?
Executive functioning is essential for success in both personal and professional life. Without strong executive functioning skills, individuals may have lower mental agility, an inability to stress management, and trouble with goal setting. Additionally, some new research suggests that strengthening executive functioning skills helps psychosis. Check out some of our recent research → 
Why Choose HappyNeuron Pro's Executive Functions Worksheets?
Expertly Designed: Our worksheets and activities are designed by experts who specialize in enhancing executive functions for adults.

Proven Results: Many individuals have benefited from our resources, experiencing improved executive functioning skills and life satisfaction. If your client enjoys these, check out our digital exercises for executive function →

Convenient PDF Format: Download, print, and engage in executive functioning exercises at your own convenience.

Some are Completely Free: Enjoy the benefits of our PDF downloads at no cost to you, by signing up for a free worksheet newsletter.