Working Memory Activities
Your Ultimate Resource for Strengthening Working Memory Skills in Fun and Printable Format.
Our collection of working memory activities is thoughtfully curated to sharpen your cognitive skills.  Check out all of the free and available-for-purchase worksheets that engage working memory below.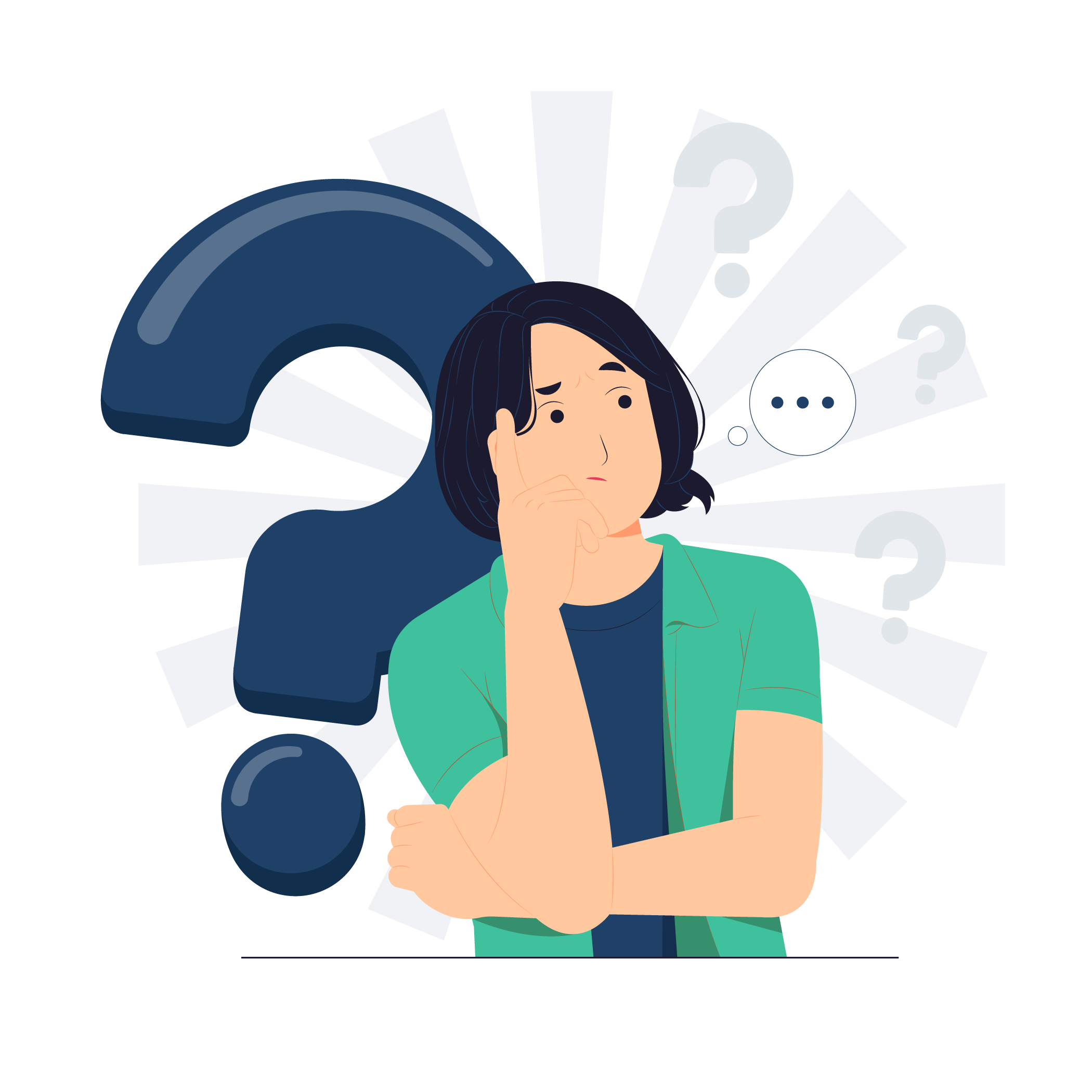 We release free worksheets via our bi-monthly newsletter. Make sure to join our mailing list always to get the newest free minis!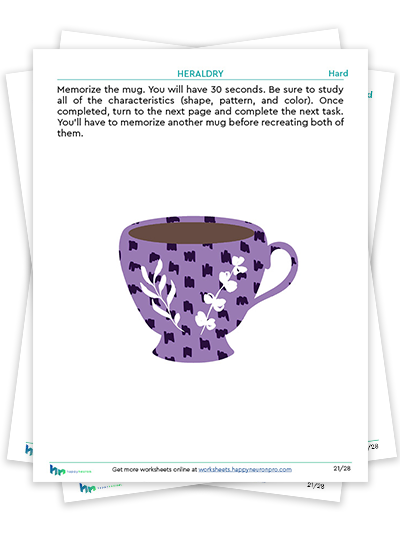 Are you ready to sharpen your visual working memory skills? Cozy up with this fun Mug theme Mini. This packet is for anyone seeking a fun and effective way to boost their cognitive ability to remember the shapes and colors of a mug. You may be gathering up your cozy sweaters and mugs, make sure to grab this cozy packet for your cozy days as well.
What is Visual Working Memory?
Visual working memory is the remarkable capacity of your brain to hold and manipulate visual information temporarily. Whether you're a student looking to improve your study habits, a professional aiming to enhance productivity, or simply someone who loves a good challenge, our Mug Mastery Worksheets are here to help you level up your cognitive abilities. If you find these exercises fun then you should try out the digital exercise Heraldry. This exercise will challenge.
Suitable for All Ages: Whether you're a teenager looking to improve academic performance, a professional wanting to stay sharp at work, or a senior aiming to keep your mind agile, these worksheets are suitable for everyone.
Include inside: 20 working memory and math equations activities and bridging questions.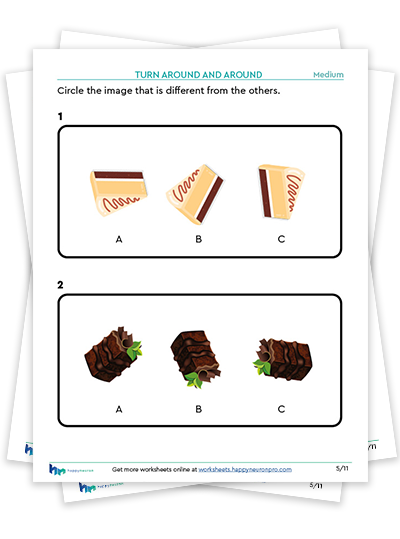 Enjoy the views of desserts as you engage with these visual-spatial activities for kids! Uniquely designed and available exclusively here, this printed version of our digital exercise, Turn Around and Around, promises to engage, educate, and entertain young minds. This packet will encourage kids to rotate digital desserts, honing their spatial awareness and problem-solving skills. This innovative approach enriches their ability to grasp spatial relationships while having a blast and may strengthen their visual-spatial skills.
Why Turn around and around?
Turn Around and Around exercise encourages individuals to manipulate images and may empower them to understand spatial relationships in a dynamic way. This unique approach transforms learning into an adventure, fostering a deep understanding of spatial concepts.
Merge learning and fun as kids visually explore these diverse desserts. Although we say kids will love this, we highly believe anyone will have fun completing these exercises. Everyone on our team got hungry after working on this packet. You might just spark some fun discussions with your students and clients about their favorite desserts. This packet may also be great for group activities. Individuals can work together to discover which may or may not be the odd one out.
Include inside: 12 visual-spatial activities and bridging questions.
Are you in pursuit of more captivating visual-spatial activities for kids?  Explore our extensive collection of kid-friendly exercises designed to spark curiosity and inspire learning →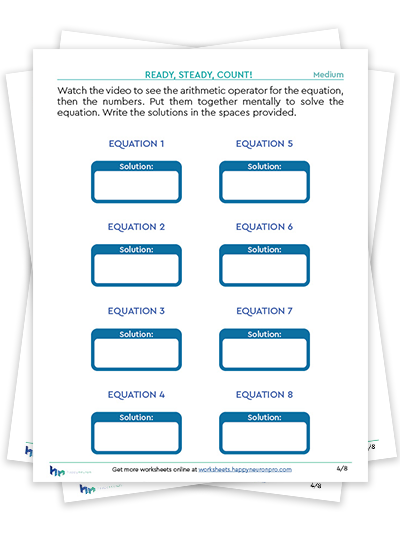 Start the journey to sharper working memory and mathematical abilities with this worksheet! This worksheet hides an exciting avenue of growth and learning. Presenting a fusion of enjoyment and skill development, the "Ready, Steady, Count!" hybrid packet sets the stage for an entertaining experience! You'll need to watch the screen and solve math problems in your head – it's like a math challenge for your brain! Who knows, this just might ignite the spark of loving mental calculation. Practice your working memory and math skills with this fun hybrid packet! 
Tailored to cater to diverse learners, these worksheets are a remarkable resource for individuals aged 8+. We can see teachers using these with students as a warm-up or a math activity! Moreover, these worksheets may start a journey of cognitive enrichment, particularly for individuals keen on amplifying their working memory and mental mathematical abilities, especially in a world where we must use mental mathmetics to calculate tips. These worksheets are potent tools to equip minds with the tools necessary for success.
Include inside: 20 working memory and math equations activities and bridging questions.
If you enjoy these worksheets and want more math fun, make sure to check out our other math worksheets too. Each one is like a special adventure for your brain, and may just help you become better at math! Check out our other math worksheets here →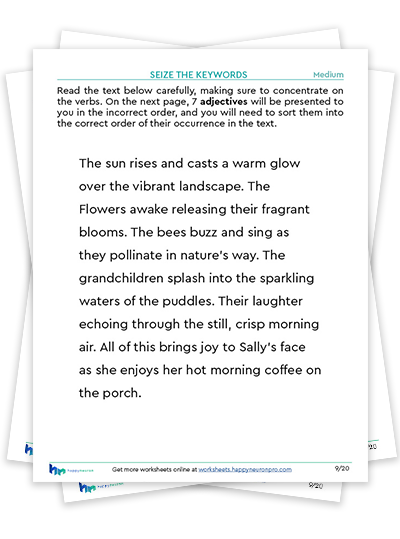 These enjoyable activities are designed to boost your verbal attention and memory skills. Immerse your client in a delightful packet that exudes the enchanting essence of summer stories. In this packet, they will have to recall keywords. As you progress through the packet, your patient's visual attention skills and verbal memory are pushed to new heights, providing a refreshing challenge that stimulates your mind.
These Seize the Keywords are tailored perfectly to find a perfect home in English grammar classes or your practice. You can cater to proficient writers and adults seeking intellectual stimulation. Furthermore, these activities may be beneficial for refining the language skills of individuals with aphasia. It's important to note that this packet might not be suitable for individuals with limited reading proficiency.
Include inside: 8 stories and bridging questions.
If you like these worksheets, check out our other language worksheets here →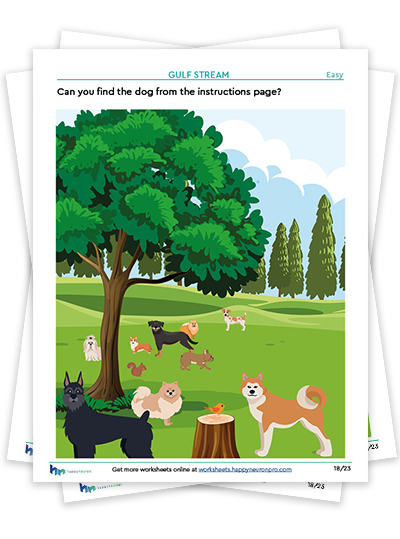 Who let the dogs out!? Seriously, who let the dogs take over this attention worksheet? If you are looking for a great dog-themed attention worksheet, then look no further. This packet works on all major areas of attention but with a fun dog twist. Your client will have fun engaging their visual attention skills, their visual-spatial skills, and their ability to follow complex paths. Visual attention is an essential element of cognitive functions, we know that not every activity on the internet is fun and engaging. That is why we developed this fun packet to work on visual attention skills. This packet has the following exercises: Displaced Images, Gulf Stream, Dance with the Fireflies, and entangled figures. 
If you enjoy these worksheets, make sure to try the digital versions of the exercises. We recommend this packet for all ages. We believe adults will benefit as much as a preschooler will as they practice this packet. We personally think the Dance with Fireflies, a dog walking path edition, is a fun way to practice working memory, visual attention, and spatial reasoning. Let us know what you think of this dog-themed attention worksheet! 
Included inside: 31 worksheets and bridging questions.
If you like this packet, explore our other attention worksheets →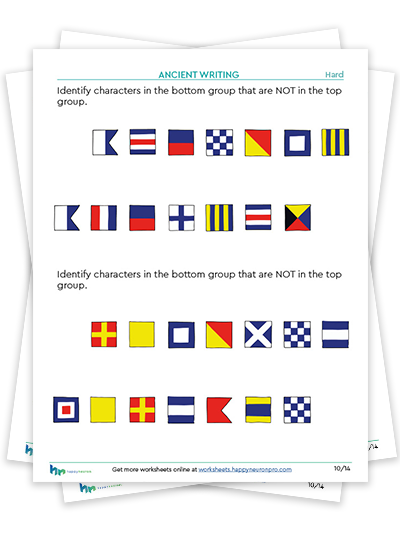 Practice your visual attention skills with this fun nautical theme packet! Ancient Writing has a new fun twist as you compare and contrast the language of the sea. Did you know that each of these flags represents letters and codes for out on the ocean blue? Verbal and spatial memory is heavily engaged in this mini packet. 
These worksheets are great for helping your clients practice visual attention skills. These activities will be great for preschoolers and older! We hope your sea-loving individuals will find great pleasure in these flag-tastic activities.
Include inside: 12 worksheets and bridging questions.
If you like these worksheets, check out our other Ancient Writing worksheets here →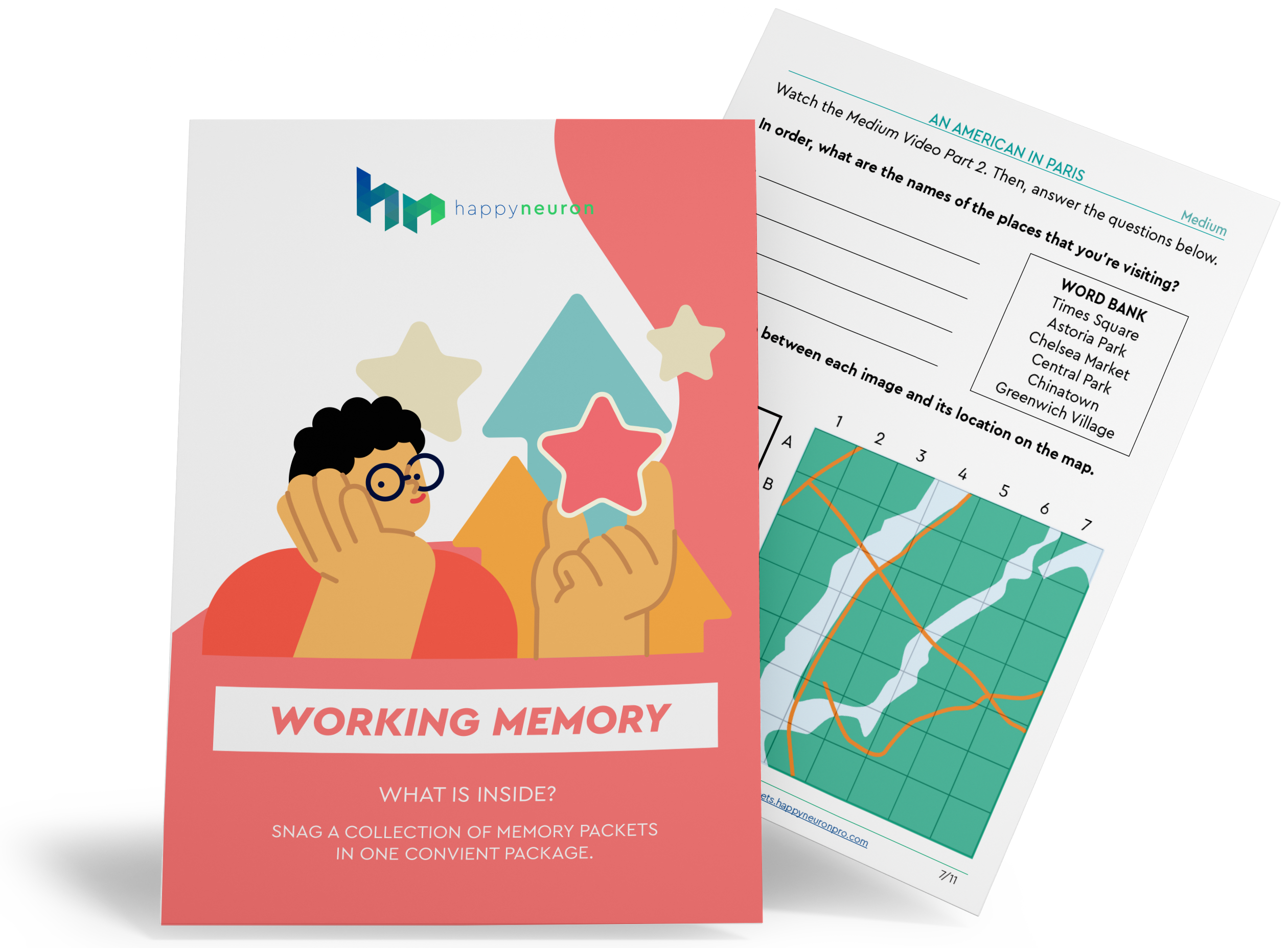 This bundle contains packets and mini-packets dedicated to working memory skills that may be useful for individuals who are looking to challenge their working memory skills.
Please note: some of these worksheets may be included if you buy yearly bundles or other bundles. Please check before purchasing.
What's included inside: Instant PDF downloads of 6 packets and 5 minis or 160 unique worksheets.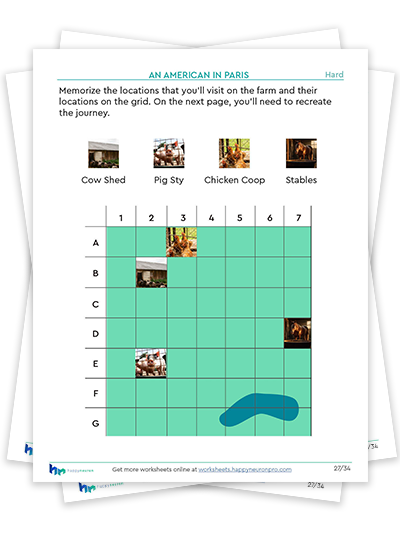 Gidy-up farmers and animal lovers, this packet is designed for you! Visual-spatial activities have never been so FARMtastic as they are with this farm-themed worksheet packet. Visual-spatial skills are an essential element of cognitive function. Without being able to use our visual-spatial skills, we may struggle to fill grocery pages, tell items apart, or remember where we put things. It is an attention and memory skill that is developed as individual ages. So some small individuals may struggle with some of the tasks in this worksheet.  
If you enjoy these worksheets, make sure to try the digital versions of the exercises. We personally think the American in Paris, farm edition exercise is a fun way to practice working memory, spatial memory, and planning all at once. This packet is best suited for individuals aged 7+.
Included inside: 30 worksheets and bridging questions.
If you like this packet, explore our other visual-spatial worksheets →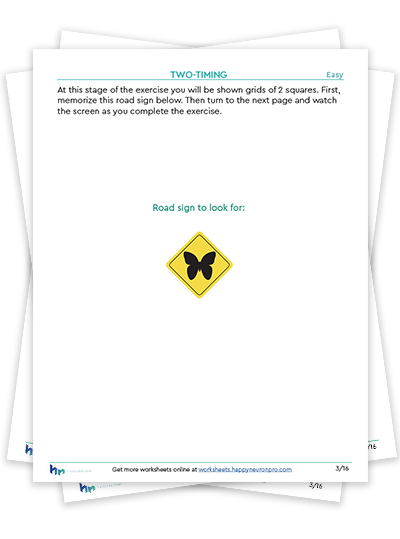 We are excited to create our first divided attention hybrid packet! Our favorite divided attention task, Two Timing, is a fun exercise to play on our digital platform. We've designed this printed version to be as close to as possible to the digital exercise. Our digital exercise is designed to simulate what it would be like to read road signs and have a conversation with someone or have a conversation while sorting laundry. 
These worksheets are great for helping your clients practice their divided attention skills. These activities will be great for children, individuals with aphasia, Seniors, and anyone who wants to improve their attention skills.
Include inside: 9 activities and bridging questions.
If you like these worksheets, check out our other attention worksheets here →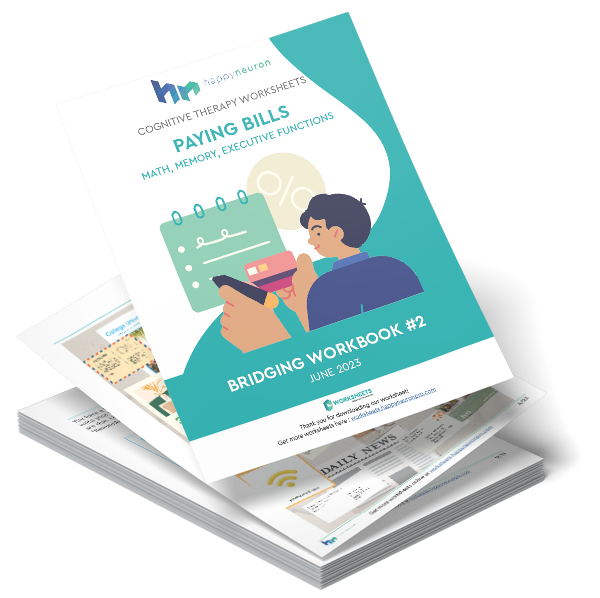 Our bridging workbooks are designed to help build life skills. In this bridging workbook, your patient must find bills, pay them with a check, balance their bank accounts, and make some financial decisions. This packet aims to show how our digital exercises may help your patient work on the cognitive elements required to succeed at these real-life tasks.
After completing this packet, your patient may better understand what cognitive skills they need to implement to manage their money. This packet will be great for students ages 10+, individuals working on life skills, and anyone who wants to build better bill-managing skills.
Included inside: 17 pages of activities, bridging questions, and an answer key.
Subscribe to get new packets!
We release a new packet monthly, and you can subscribe to get them directly in your inbox.
Working memory is a fundamental cognitive function that plays a crucial role in our daily lives. It allows us to temporarily store and manipulate information, which is essential for tasks like problem-solving, decision-making, and learning. A strong working memory can significantly improve your overall cognitive abilities. Without recalling words, names, locations, directions, we would wonder alone and lost without the ability to communicate. 
Do you have other Working Memory Activities?
Yes, we do! All of our worksheets are based on our digital tool, HappyNeuron Pro. If you enjoy using these worksheets we highly recommend checking out the capabilities of our digital tool. 
What else do you have to offer in printable format?
Explore our entire library of working memory activities in a printable worksheet format. We have packets, mini packets, and bundles that focus on working memory. Your patients will love these activities!
However, if you are looking for more than just working memory worksheets, explore the entire library here → 
Why should I use your Working Memory Worksheets for Adults?
In truth, if you're searching for working memory worksheets for adults in PDF format, you're in the right place. Our worksheets engage memory skills all while looking fun and not childish. Plus, we have a team of graphic designers who work on our products. 
Why Choose Happy Neuron Pro's Speech Therapy Worksheets?
Expertly Designed: Our exercises are created by individuals who love memory and who understand the unique needs of clinicians.

Convenient PDF Format: Download, print, and practice whenever and wherever you prefer.

Proven Results: Countless individuals have benefited from our resources, experiencing improved their working memory. Read some our testimonials →

Some are Completely Free: We offer 2 minis free a month and most of them require the use of working. Therefore, enjoy the benefits of our working memory worksheets at no cost to you, by signing up for our newsletter.