Executive Functions Worksheets
The Premier Clinician Resource for Stimulating Executive Functioning Skills
Are you ready to enhance your toolkit of executive functioning activities and help your client improve their organization, planning, and decision-making processes? Then look no further! We offer a variety of PDF downloads designed to empower clinicians to have the resources to make cognitive remediation of executive functioning fun!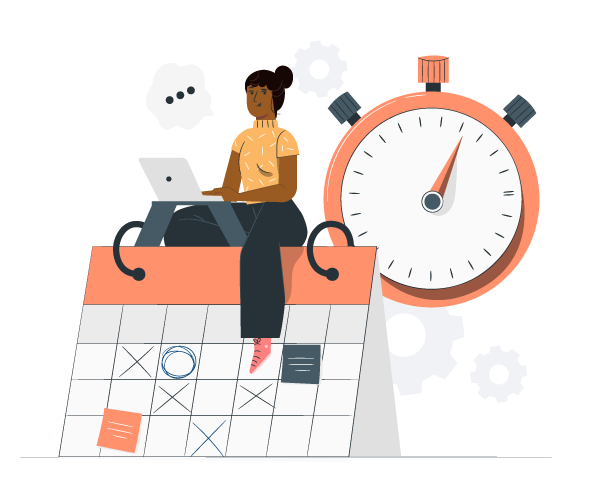 Executive Functions Worksheets
Our collection of executive functions worksheets covers a wide range of exercises that may improve your client's cognitive abilities. These worksheets are meticulously crafted to enhance your skills in areas such as time management, organization, problem-solving, and decision-making. With our PDF downloads, you conveniently build therapy plans using these exercises and use them directly with your clients. If you are not a clinician, you can use these to engage your cognitive skills as well! 
Looking for Free Resources?
Explore our entire library of executive functions worksheets and activities. We have packets, mini packets, bridging packets, and bundles that focus on executive functioning skills. Designed for professionals to be used with patients. Explore our entire library of worksheets today!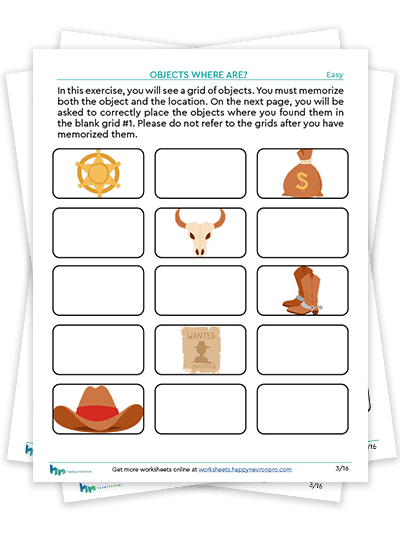 Go set out on the wild wild west! Try your hand at remembering and recalling different images and their locations on a grid associated with America's wild wild west! In this exercise, clients will utilize executive functioning skills such as working memory and attention. This Mini Packet can help clients prepare for real world tasks like being able to recall objects around their neighborhood.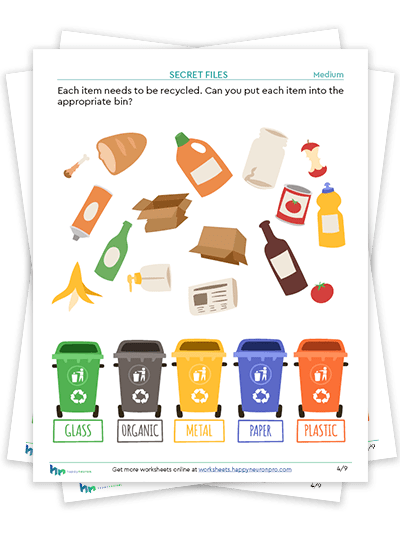 Based on our digital exercise Secret Files, this recycling activity packet will be fun and educational for everyone. Help teach your patients, clients, students, and kids the difference between recycling cans and this packet. This packet will test their semantic knowledge and visual attention by sorting various waste items into color-coordinated bins. The more bins there are, the more specific the thing that can and should go into it. This attention-based worksheet packet is an excellent activity to do for Earth Day or as a bridging activity. Preschoolers and Seniors will enjoy this color-filled recycling worksheet packet today!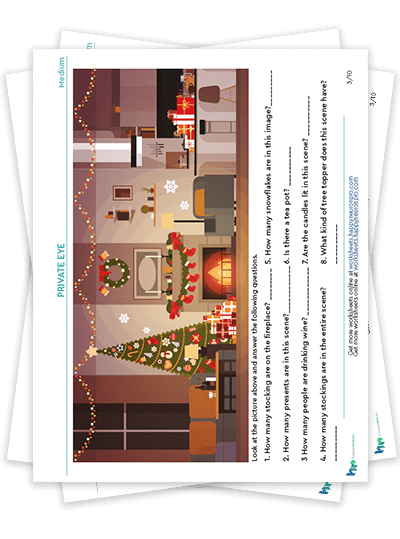 Feeling festive and a little like Sherlock Holmes? In each holiday scene, find the hidden presents and decorative items. Clients will focus on various executive functioning skills as they complete the worksheet. This exercise requires attention to detail, which will help you be a better holiday card writer, be more organized, and be able to catch miswrapped gifts!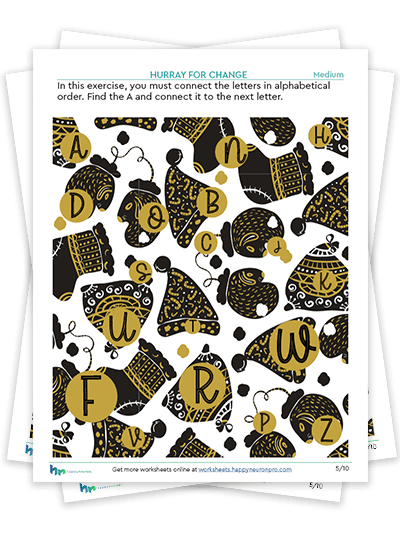 Don't get lost in the wrapping paper! Switch between numbers and letters in this executive functioning task while navigating festive backgrounds. This exercise will help you learn strategies to switch between two different stimuli and avoid distraction coming from the environment. Clients will be able to hone their time management and organization skills while practicing this activity.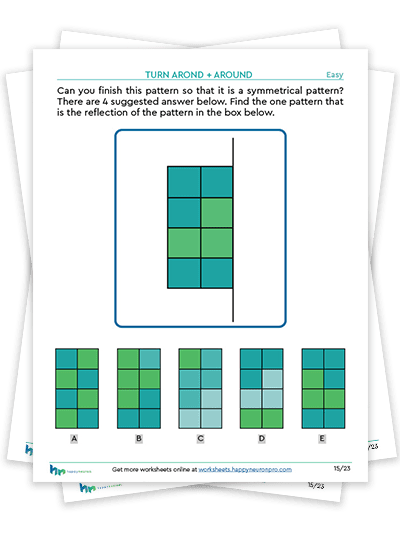 Mental movement is a complex cognitive skill needed to plan things out. It helps with visual-spatial skills and the ability to organize information, make mental-visual comparisons, and overall decisions based upon order or comparison.
In this worksheet, we're providing you with 4 exercises to use with your clients to practice strategies related to mental movement, whether mentally moving a ball from one hoop to another or remembering where objects are placed. You are using language clues and space markers to solve a sentence. Or even mentally reflecting on a pattern, this packet has all that and more. Your client will be exposed to different task requirements, all sharing the underlying component of mentally moving objects.
This worksheet challenges: working memory, attention, visual-spatial skills, and language.
Included inside: 19 worksheets and bridging questions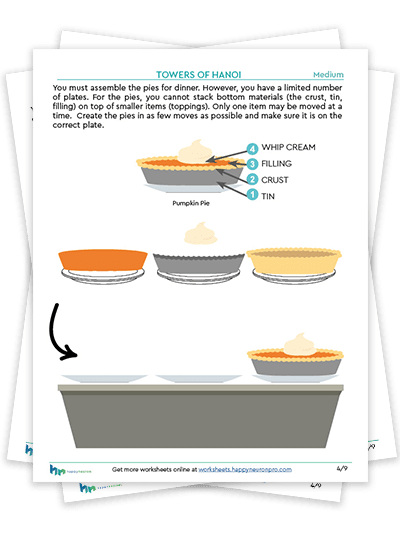 Are you a good baker? Put together various pies in as few moves as possible. Be careful! Don't forget the toppings! Clients will learn all about organization, metacognition and attention to detail during this exercise. This packet will challenge your ability to plan and make decisions, which are key components of executive functioning.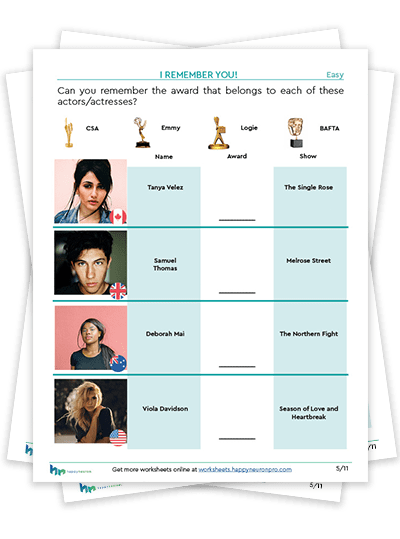 Get your popcorn ready and attend an international film awards show! In this worksheet, you must remember verbal and visual information pertaining to the different awards and the awardees. This exercise will help you learn strategies to remember and recall specific details regarding a specific situation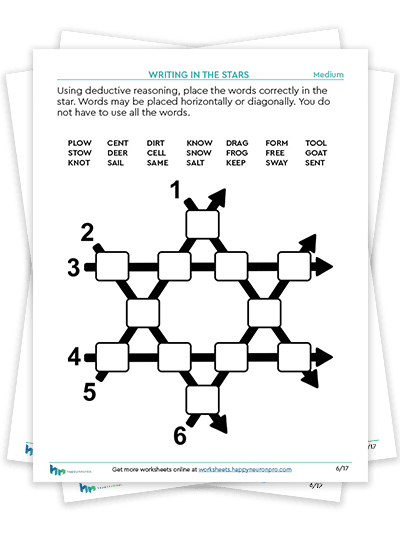 Use the worksheets in this packet to help practice inference skills. Your patient must use their semantic memory, visual attention, and verbal processing skills to complete the exercises in this packet. We've used exercises like Writing in the Stars and Embroidery to help your patient work on verbal inference skills. Basketball in NY works on sequencing inferring skills. Our last activity, Decipher, is our ultimate decoding and inferring task. If your patient loves this packet, they will enjoy our digital program!
This packet is great for students in 5th grade or older. Individuals who want to work on their language skills after a stroke. Or anyone who wants to try decoding these fun language exercises.
Included inside: 12 language worksheets and bridging questions.
Answer a few questions about yourself and get a $15 credit for any purchase!
What is Executive Functions?
Executive functions refer to the cognitive processes involved in inhibition, decision-making, problem-solving, learning, and retrieving the correct information we have learned previously to complete a task.
Executive functioning occurs in the frontal lobes of the brain, which have many connections to other vital areas, such as the limbic system for emotion regulation. Given that, any work on executive functioning may just improve an individuals ability to emotionally regulate. 
Why should I use your Executive Functioning Worksheets for Adults?
In truth, if you're searching for comprehensive executive functioning worksheets for adults in PDF format, you're in the right place. Our PDF downloads address various aspects of executive function, including working memory, cognitive flexibility, and emotional regulation. All while looking fun and not childish. We have a team of graphic designers who work on our products.
Do you have other activities?
Yes, we do! All of our worksheets are based on our digital tool, HappyNeuron Pro. If you enjoy using these worksheets we highly recommend checking out the capabilities of our digital tool. Additionally, by integrating our digital tool, you may just save yourself time and money all while building a strong therapeutic toolbox. 
Why do you have Executive Functioning Activities for Adults?
Executive functioning is essential for success in both personal and professional life. Without strong executive functioning skills, individuals may have lower mental agility, an inability to stress management, and trouble with goal setting. Additionally, some new research suggests that strengthening executive functioning skills helps psychosis. Check out some of our recent research → 
Why Choose HappyNeuron Pro's Executive Functions Worksheets?
Expertly Designed: Our worksheets and activities are designed by experts who specialize in enhancing executive functions for adults.

Proven Results: Many individuals have benefited from our resources, experiencing improved executive functioning skills and life satisfaction. If your client enjoys these, check out our digital exercises for executive function →

Convenient PDF Format: Download, print, and engage in executive functioning exercises at your own convenience.

Some are Completely Free: Enjoy the benefits of our PDF downloads at no cost to you, by signing up for a free worksheet newsletter.