Executive Functions Worksheets
The Premier Clinician Resource for Stimulating Executive Functioning Skills
Are you ready to enhance your toolkit of executive functioning activities and help your client improve their organization, planning, and decision-making processes? Then look no further! We offer a variety of PDF downloads designed to empower clinicians to have the resources to make cognitive remediation of executive functioning fun!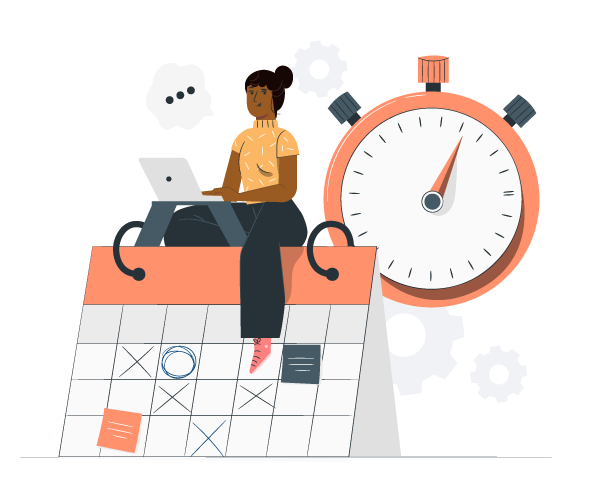 Executive Functions Worksheets
Our collection of executive functions worksheets covers a wide range of exercises that may improve your client's cognitive abilities. These worksheets are meticulously crafted to enhance your skills in areas such as time management, organization, problem-solving, and decision-making. With our PDF downloads, you conveniently build therapy plans using these exercises and use them directly with your clients. If you are not a clinician, you can use these to engage your cognitive skills as well! 
Looking for Free Resources?
Explore our entire library of executive functions worksheets and activities. We have packets, mini packets, bridging packets, and bundles that focus on executive functioning skills. Designed for professionals to be used with patients. Explore our entire library of worksheets today!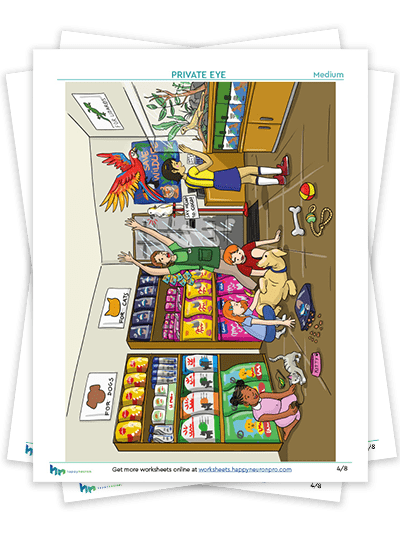 Attention is greatly impacted post injury. For many people, staying focused is an ongoing issue they have to work with. In this packet, you must become a detective and find the odd character out of a set of characters. This challenges clients to work on analytical as well as processing abilities. By working on these skills, this exercise will help you learn strategies that will help you pick out anomalies as well as relevant information from a set.
Memory is one of the most impacted cognitive functions post-injury. In this mini-packet, you will have to recall various shapes and their colors that you have previously memorized. By practicing this, clients will be able to improve their cognition and memory skills for both social and academic settings. This exercise will help you learn strategies to better retain visual information that you come across, such as when you view signs as you walk through a city or town.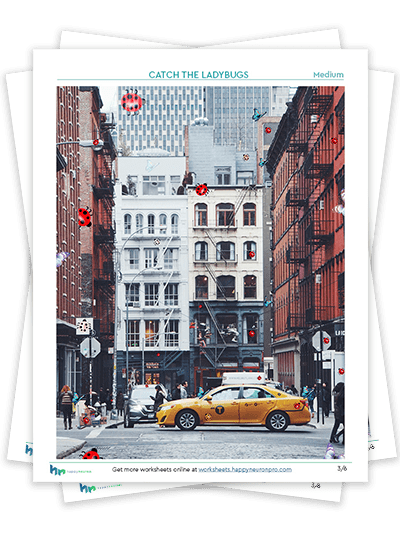 Stroke impacts motor coordination and processing speed. Clients will be able to practice and hone their motor skills by working on their ability to process what is going on around them. In this mini-packet, you must use both of your hands and your eyes to catch the ladybugs in a variety of different scenes. Try doing this packet with one or both hands!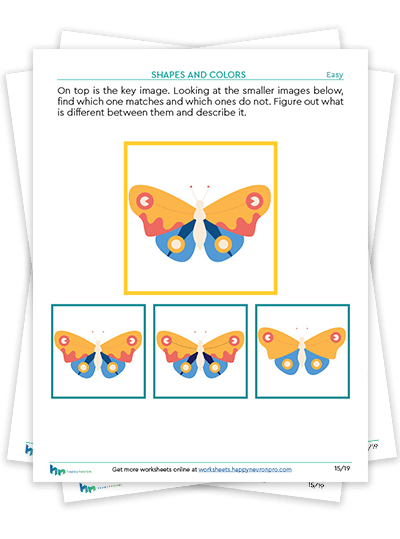 Traumatic brain injury impacts millions of people worldwide. Each brain injury is different, resulting in a variance of cognitive difficulties experienced by patients. This worksheet contains exercises that engage in executive functioning, spatial memory, and attention. Our goal with this packet was to make a general packet full of printable cognitive worksheets for adults with a brain injury. Each exercise is based on our digital program. If your patients love the exercises in this program, you will love using our digital program.
Try this packet designed for clients with brain injury today! This packet can be used with children as well. If you are looking for other cognitive worksheets for adults with a brain injury, check out our full library of printable activities here. 
Included inside: 14 worksheets and bridging questions.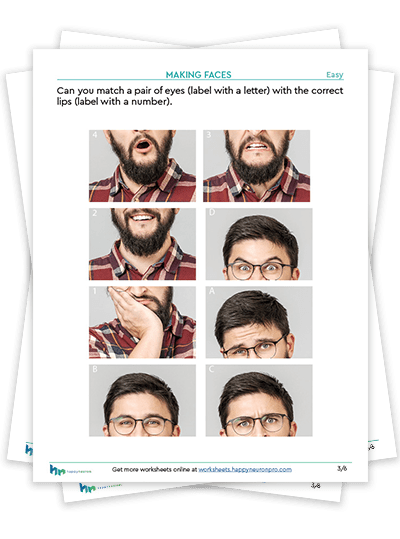 Recognizing emotions in others can be difficult for clients with psychological disorders and developmental disabilities. This worksheet based on the exercise I Remember You provides exercises that tap your client's ability to recognize and distinguish different emotions in others' faces. By practicing the exercises in this worksheet, your clients may also build more confidence in social situations. Work on social cognition skills with your client today!
Include inside: 1 worksheet and bridging question.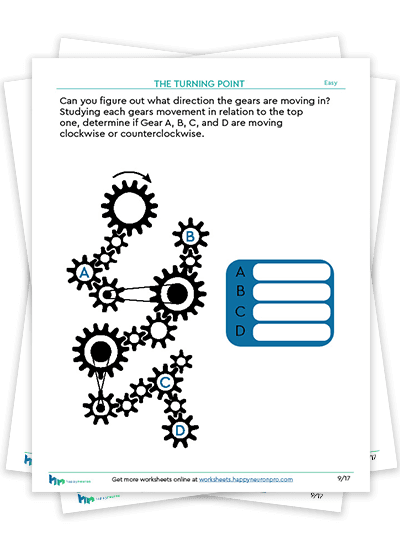 Executive functioning occurs in the frontal lobe of the brain. It involves planning, task-switching, decision-making, and so much more! We've taken the idea of inhibition and inspired parts of this packet. If your client loves a good mystery, then they will love Decipher. In this exercise, your patient will have to infer what each symbol could mean as a letter. Additionally, in the turning point, your patient will have to infer which direction each gear is turning. We have a large collection of executive functioning worksheets; make sure to check them out here.
Included inside: 8 pages and bridging questions.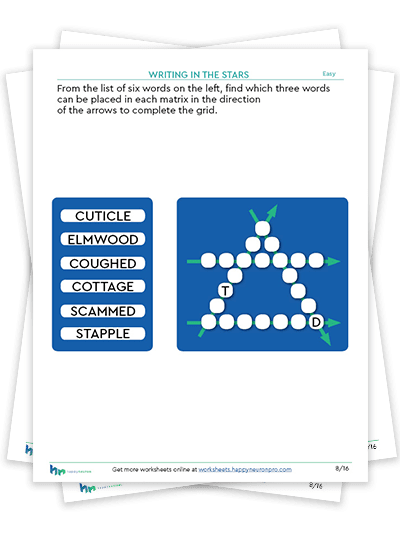 These linguistics worksheets involve memory, attention, executive functioning, and auditory processing. You can use this packet to work with your clients on relevant cognitive skills to improve their linguistic abilities. This might help them improve their language comprehension and usage. If you enjoy the Writing in the Stars exercises, you'll love using them on our digital platform with your patients.
Great for students age 10+, individuals with aphasia, or anyone wanting to improve their linguistic skills.
Included inside: 7 worksheets and bridging questions.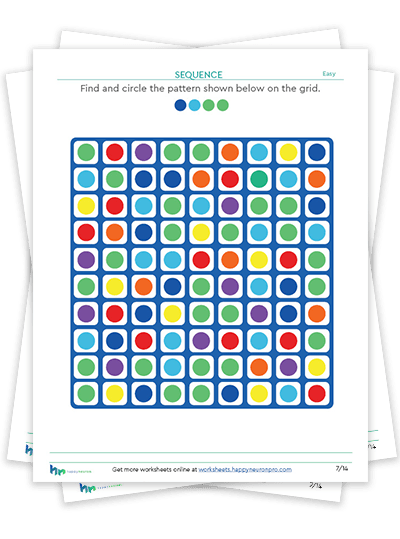 Does your client find focusing tough? What about recognizing patterns or pattern recognition? Do they struggle with paying attention to details? If so, then this packet will be a great tool to use with them. These attention-focused worksheets will challenge your patient to strengthen their attention skills. If you find the Find your Way exercise enjoyable, you'll love the digital version.
This attention packet is an excellent workout for your client's brain, as they must have a sharp eye to solve these attention-grabbing problems in this packet! If you like this pattern recognition packet, explore our other attention worksheets below or here.
Included: 8 worksheets and bridging questions.
Answer a few questions about yourself and get a $15 credit for any purchase!
What is Executive Functions?
Executive functions refer to the cognitive processes involved in inhibition, decision-making, problem-solving, learning, and retrieving the correct information we have learned previously to complete a task.
Executive functioning occurs in the frontal lobes of the brain, which have many connections to other vital areas, such as the limbic system for emotion regulation. Given that, any work on executive functioning may just improve an individuals ability to emotionally regulate. 
Why should I use your Executive Functioning Worksheets for Adults?
In truth, if you're searching for comprehensive executive functioning worksheets for adults in PDF format, you're in the right place. Our PDF downloads address various aspects of executive function, including working memory, cognitive flexibility, and emotional regulation. All while looking fun and not childish. We have a team of graphic designers who work on our products.
Do you have other activities?
Yes, we do! All of our worksheets are based on our digital tool, HappyNeuron Pro. If you enjoy using these worksheets we highly recommend checking out the capabilities of our digital tool. Additionally, by integrating our digital tool, you may just save yourself time and money all while building a strong therapeutic toolbox. 
Why do you have Executive Functioning Activities for Adults?
Executive functioning is essential for success in both personal and professional life. Without strong executive functioning skills, individuals may have lower mental agility, an inability to stress management, and trouble with goal setting. Additionally, some new research suggests that strengthening executive functioning skills helps psychosis. Check out some of our recent research → 
Why Choose HappyNeuron Pro's Executive Functions Worksheets?
Expertly Designed: Our worksheets and activities are designed by experts who specialize in enhancing executive functions for adults.

Proven Results: Many individuals have benefited from our resources, experiencing improved executive functioning skills and life satisfaction. If your client enjoys these, check out our digital exercises for executive function →

Convenient PDF Format: Download, print, and engage in executive functioning exercises at your own convenience.

Some are Completely Free: Enjoy the benefits of our PDF downloads at no cost to you, by signing up for a free worksheet newsletter.