Executive Functions Worksheets
The Premier Clinician Resource for Stimulating Executive Functioning Skills
Are you ready to enhance your toolkit of executive functioning activities and help your client improve their organization, planning, and decision-making processes? Then look no further! We offer a variety of PDF downloads designed to empower clinicians to have the resources to make cognitive remediation of executive functioning fun!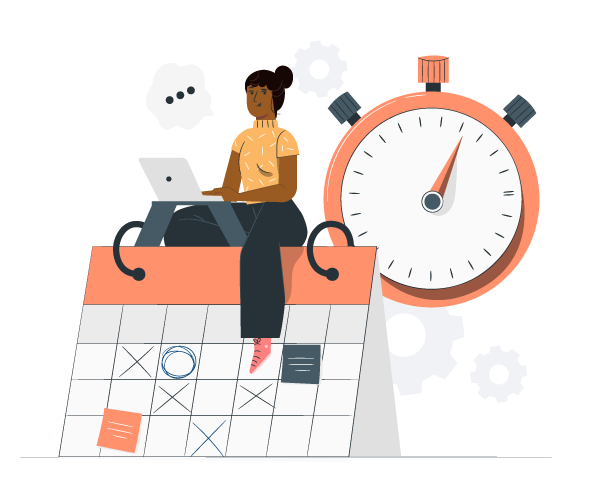 Executive Functions Worksheets
Our collection of executive functions worksheets covers a wide range of exercises that may improve your client's cognitive abilities. These worksheets are meticulously crafted to enhance your skills in areas such as time management, organization, problem-solving, and decision-making. With our PDF downloads, you conveniently build therapy plans using these exercises and use them directly with your clients. If you are not a clinician, you can use these to engage your cognitive skills as well! 
Looking for Free Resources?
Explore our entire library of executive functions worksheets and activities. We have packets, mini packets, bridging packets, and bundles that focus on executive functioning skills. Designed for professionals to be used with patients. Explore our entire library of worksheets today!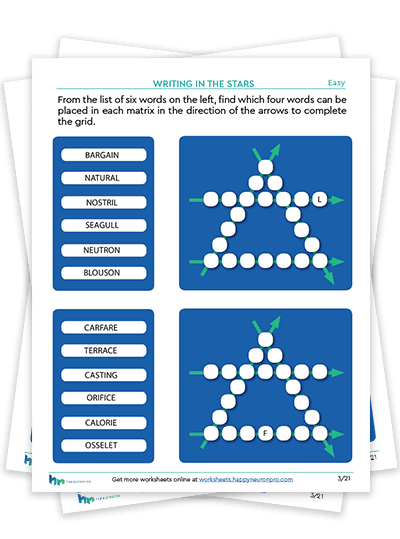 This mainly language and a little bit of attention packet touches on many different areas of language. In this packet, your patient will have to use their crossword puzzle skills and solve some Writing in the Stars Puzzles. This puzzle will challenge your patient to remember and see how different words could align to help solve a puzzle. They will then have their semantic familiarity challenged. They will have to recall the names of the presented camel and ask questions about it. This second is a great area to start challenging what your patient can and cannot identify or recognize between animals. After they answer the questions about the animals, they will then have to sort out a list of words into the proper categories in a Secret Files puzzle. Lastly, your patient will have to use their attention and language skills to solve a palindromes puzzle and find the absurd terms in a passage.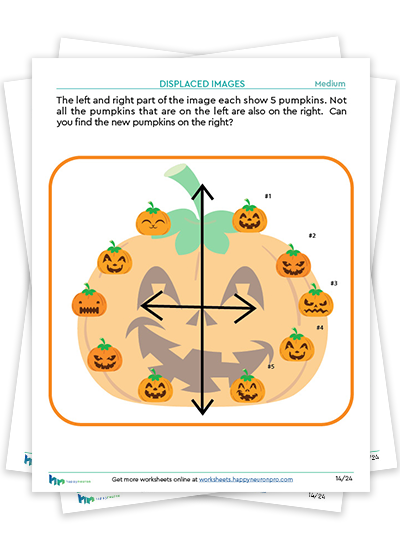 Cognitive skills can be spooky. Cue the spooky ghost vibes. In this Halloween-themed packet, your client must devise some cognitive tricks to solve the tasks presented. If so, they will unlock the benefits of implementing effective strategies to solve cognitive obstacles.
This packet is a fun Halloween-themed mental health therapy activity workbook or can be used as a Halloween-themed packet of activities for dementia patients. If your patient loves Halloween, then they will love this packet.
If you love this, then check out our other themed worksheets! We have Christmas, easter, and more themed packets!
Included inside: 13 Halloween-themed worksheets and bridging questions.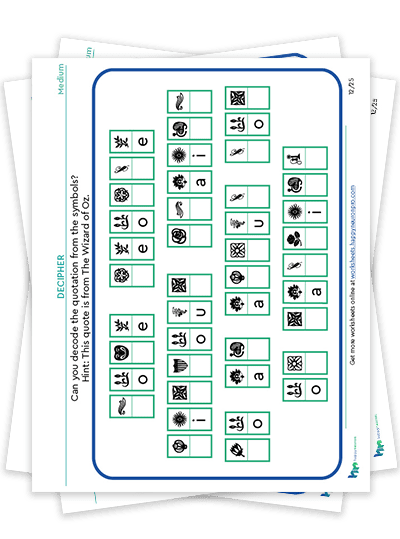 This packet is going to be one of the best packets to have in your collection of cognitive rehabilitation worksheets. With six different exercises, your client will perform activities in all areas of cognition. The first exercise will challenge their abilities to mentally move basketballs from one view to another with a Basketball in NY exercise. They will then have to solve some math problems with a Countdown exercise. Next, they must determine the time with a What Time is It exercise. A Decipher puzzle is waiting for them with a little break from math. They will return to a math exercise, but this one will have some logical reasoning as they have to determine the numerical value of a shape in the Shape Math exercise. The last two activities are simple. The first will challenge their visual-spatial ability by determining the rotation direction of a group of gears. The last exercise will stimulate their verbal language and ability to categorize random words in a Secret Files exercise. Join the thousands of happy users by downloading this cognitive rehabilitation worksheet today!
Included Inside: 13 worksheets, bridging questions, and an answer key.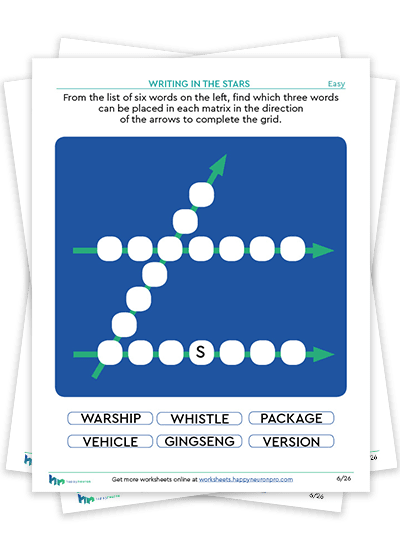 This packet is one of our favorite general worksheet packets. It does a great job of reaching many cognitive functions. As one of our few broad packets, you will certainly need one in your collection. We especially recommend this packet for individuals working with individuals with dementia. Each exercise touches on a different cognitive function every individual uses. In this packet, your clients will perform exercises that target visual memory, executive functioning, verbal memory, and spatial reasoning skills. The exercises in this packet are based on our digital program. Learn how you can use our digital program for cognitive stimulation today!
We think this packet would work well as a cognitive activity for dementia or as a general warm-up. If you love this packet, explore our collection of memory packets designed for seniors. 
Included inside: 17 worksheets, bridging questions, and an answer key.
Answer a few questions about yourself and get a $15 credit for any purchase!
What is Executive Functions?
Executive functions refer to the cognitive processes involved in inhibition, decision-making, problem-solving, learning, and retrieving the correct information we have learned previously to complete a task.
Executive functioning occurs in the frontal lobes of the brain, which have many connections to other vital areas, such as the limbic system for emotion regulation. Given that, any work on executive functioning may just improve an individuals ability to emotionally regulate. 
Why should I use your Executive Functioning Worksheets for Adults?
In truth, if you're searching for comprehensive executive functioning worksheets for adults in PDF format, you're in the right place. Our PDF downloads address various aspects of executive function, including working memory, cognitive flexibility, and emotional regulation. All while looking fun and not childish. We have a team of graphic designers who work on our products.
Do you have other activities?
Yes, we do! All of our worksheets are based on our digital tool, HappyNeuron Pro. If you enjoy using these worksheets we highly recommend checking out the capabilities of our digital tool. Additionally, by integrating our digital tool, you may just save yourself time and money all while building a strong therapeutic toolbox. 
Why do you have Executive Functioning Activities for Adults?
Executive functioning is essential for success in both personal and professional life. Without strong executive functioning skills, individuals may have lower mental agility, an inability to stress management, and trouble with goal setting. Additionally, some new research suggests that strengthening executive functioning skills helps psychosis. Check out some of our recent research → 
Why Choose HappyNeuron Pro's Executive Functions Worksheets?
Expertly Designed: Our worksheets and activities are designed by experts who specialize in enhancing executive functions for adults.

Proven Results: Many individuals have benefited from our resources, experiencing improved executive functioning skills and life satisfaction. If your client enjoys these, check out our digital exercises for executive function →

Convenient PDF Format: Download, print, and engage in executive functioning exercises at your own convenience.

Some are Completely Free: Enjoy the benefits of our PDF downloads at no cost to you, by signing up for a free worksheet newsletter.