Printable treatment activities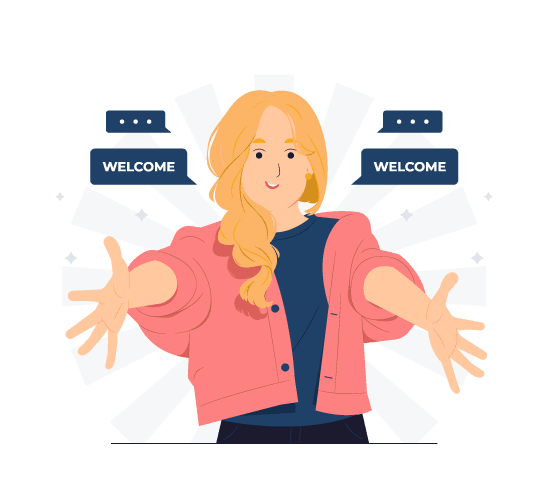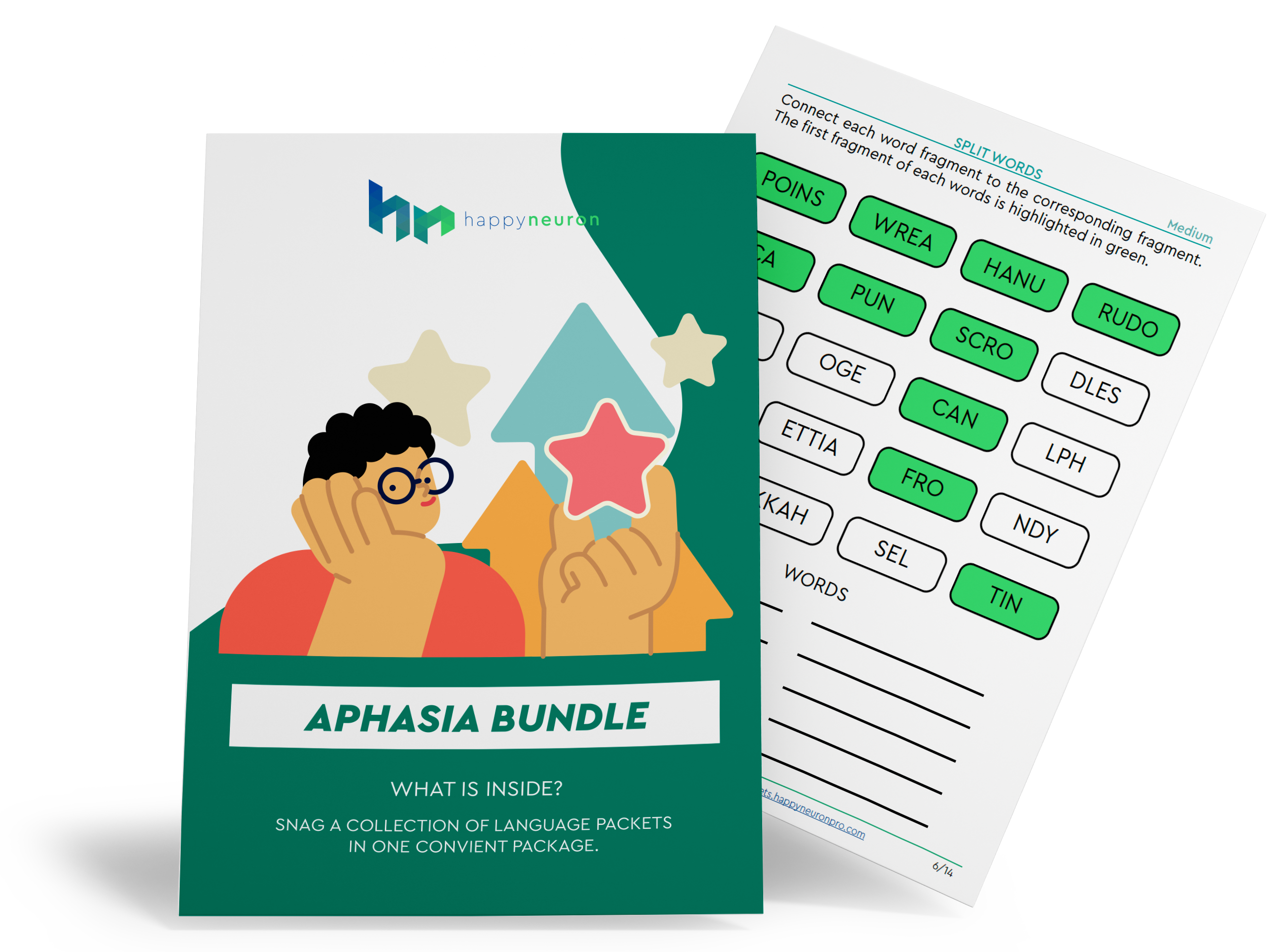 We've bundled some of our language and memory worksheets to develop a collection we are calling Aphasia Bundle 1. This bundle is designed to help you save money by buying in bulk. This bundle will touch all areas of cognition that are often found to be deficits for individuals with Aphasia. These exercises will have different elements of verbal memory and recall available.
Bundles + Save
Bundles are a great way to buy more but for a discount. If you were to buy all of these packets separately, you would pay more than $60+. Because we've bundled it, you're getting an instant saving of over 20%!
What's included inside: Instant PDF downloads of 6 packets or 78 unique worksheets.  
About HappyNeuron's worksheets
HappyNeuron Pro worksheets are based on exercises within our digital tool. They are designed to be used by clinicians to help clients build or rebuild the foundation of different cognitive functions. In the case of aphasia, the worksheets are mostly designed to help with language and verbal recall skills.
Cognitive therapy may lead to an improved quality of life for patients with aphasia, and other conditions that affect their cognitive skills. We aim to empower clinicians by helping them save time and provide cognitive therapy with more ease. Through our tools and the cognitive therapy that clinicians provide, patients are able to practice the cognitive skills needed for daily functioning and may see improvement.
Find the perfect cognitive worksheet packets for your client
We create a wide variety of worksheets for numerous cognitive domains and conditions. If you're searching for a specific cognitive skill, use the filters on the left. If you're looking for worksheets to help with a specific condition, we recommend you look at our worksheet bundles, which are collections of packets to address specific skills or conditions.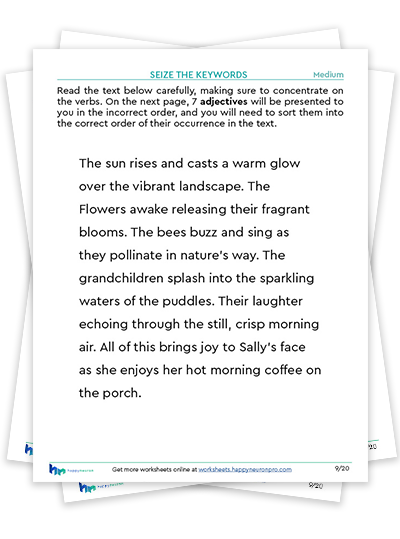 These enjoyable activities are designed to boost your verbal attention and memory skills. Immerse your client in a delightful packet that exudes the enchanting essence of summer stories. In this packet, they will have to recall keywords. As you progress through the packet, your patient's visual attention skills and verbal memory are pushed to new heights, providing a refreshing challenge that stimulates your mind.
These Seize the Keywords are tailored perfectly to find a perfect home in English grammar classes or your practice. You can cater to proficient writers and adults seeking intellectual stimulation. Furthermore, these activities may be beneficial for refining the language skills of individuals with aphasia. It's important to note that this packet might not be suitable for individuals with limited reading proficiency.
Include inside: 8 stories and bridging questions.
If you like these worksheets, check out our other language worksheets here →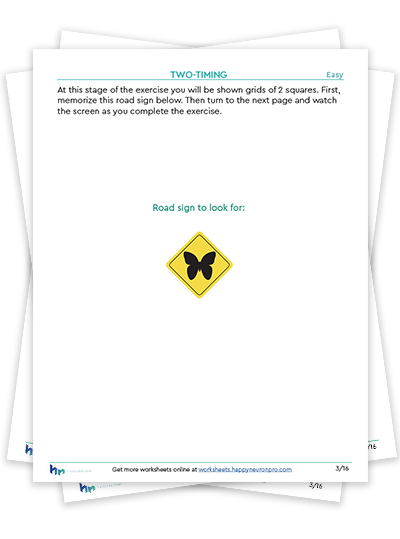 We are excited to create our first divided attention hybrid packet! Our favorite divided attention task, Two Timing, is a fun exercise to play on our digital platform. We've designed this printed version to be as close to as possible to the digital exercise. Our digital exercise is designed to simulate what it would be like to read road signs and have a conversation with someone or have a conversation while sorting laundry. 
These worksheets are great for helping your clients practice their divided attention skills. These activities will be great for children, individuals with aphasia, Seniors, and anyone who wants to improve their attention skills.
Include inside: 9 activities and bridging questions.
If you like these worksheets, check out our other attention worksheets here →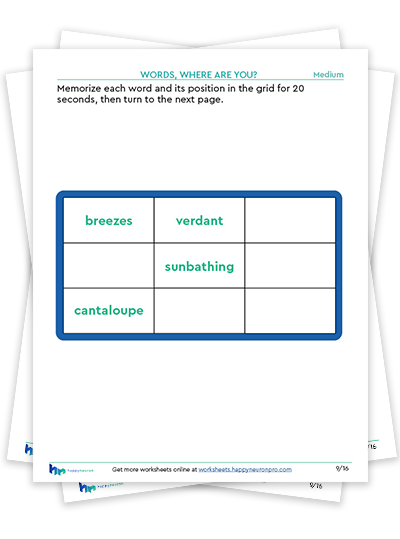 Verbal and spatial memory is heavily engaged in this mini packet. Words, Where are You, is one of our most popular digital exercises. We've taken this popular verbal-spatial memory exercise and made it summer themed. We hope your clients will enjoy exercising their memory with these fun summer-themed memory worksheets. 
These worksheets are great to help your clients practice verbal and spatial memory. These activities will be great for middle schoolers, individuals with aphasia, Seniors, and anyone who wants to improve their verbal and spatial memory skills.
Include inside: 12 worksheets and bridging questions.
If you like these worksheets, check out our other Words, Where are You worksheets here →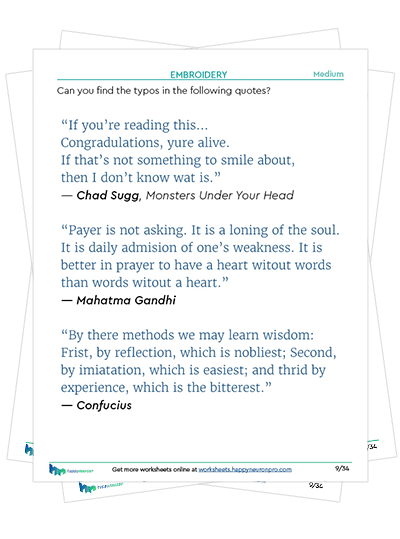 Don't let this packet fool you! Easy turns hard quickly in this language-challenging packet. Language is an essential cognitive function for communication. It can be hard to express our needs without the ability to communicate. Our goal for this packet is to challenge your clients working language skills. In this packet, your client will work on sorting skills, verbal recall, and inferring skills. 
In this packet, your client must use their sorting skills and verbal recall in a series of printed Pay Attention exercises. Embroidery will challenge your client's attention to detail and scanning skills to find the typos in famous quotes.  This Story is Full of Blanks will challenge your client's inferrer skills as they use context clues to fill in the blanks properly. Seize the Keywords in this packet is a multi-dimension challenge. It starts off by having your client label the different parts of speech from within a sentence. Then it will challenge your client's ability to memorize different parts of speech. 
This packet has parts for all ages, but we highly recommend it for 6th graders and older.  Your Senior clients will love the challenges it provides, and anyone who loves correcting English will love this packet as well! 
Included inside: 27 worksheets and bridging questions.
Subscribe to get new packets!
We release a new packet monthly, and you can subscribe to get them directly in your inbox.