Explore our library of printable attention activity worksheets.
Welcome to a world of enhanced productivity, laser-sharp concentration, and improved cognitive abilities. Our attention worksheets for adults in PDF format are your key to mastering the art of focused thinking. In truth our carefully crafted worksheets may empower you to reclaim your focus and thrive in today's fast-paced world.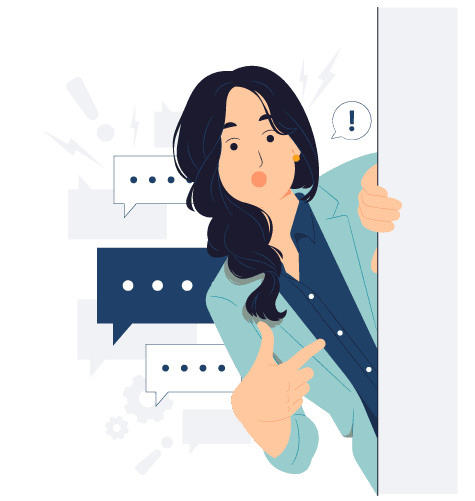 We release free worksheets via our bi-monthly newsletter. Make sure to join our mailing list always to get the newest free minis!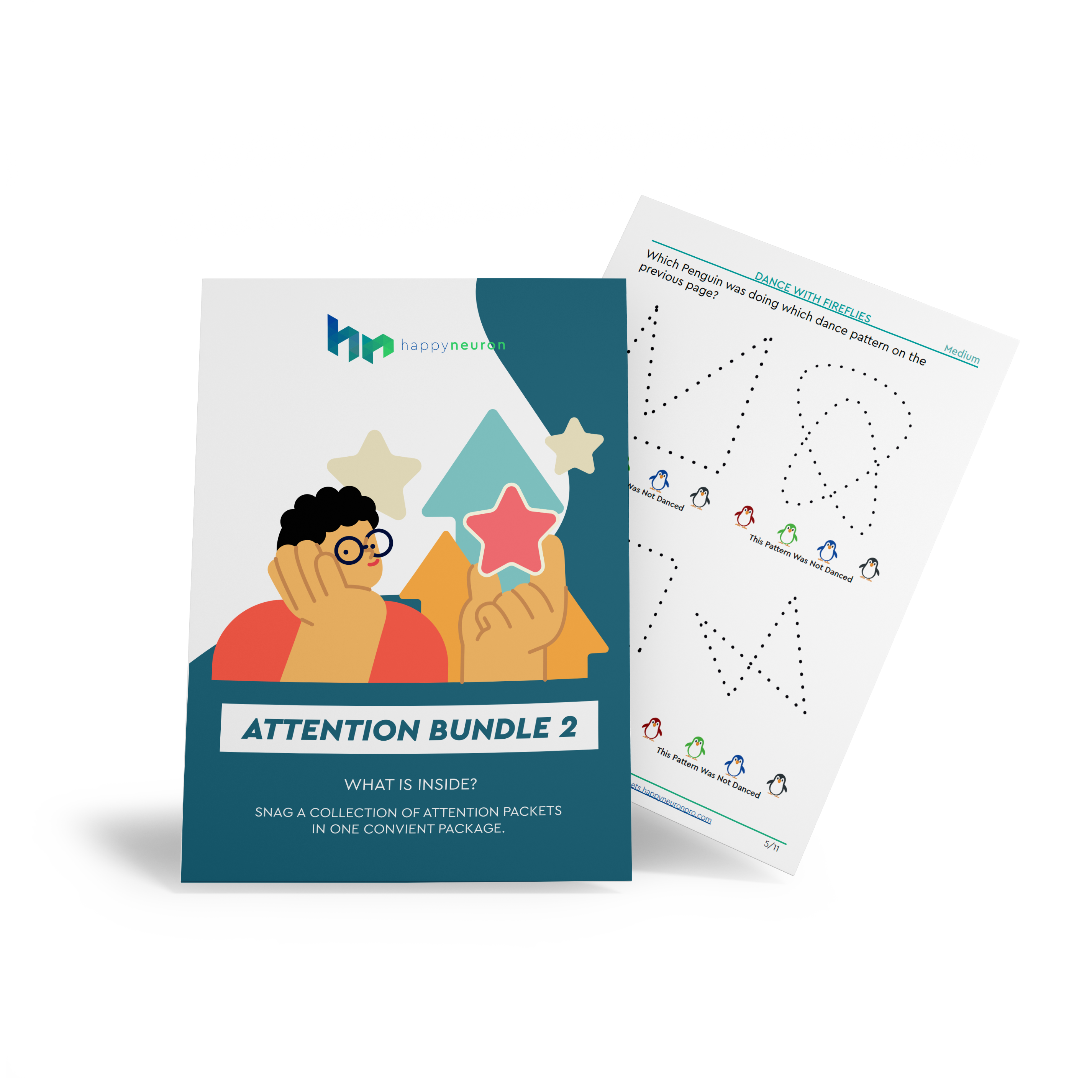 This bundle contains packets and mini-packets dedicated to attention skills that may be useful for individuals who are looking to challenge their attention skills. We think this packet is great for warming up attention skills or activating attention skills.
Please note: if you buy yearly bundles or other bundles, some of these worksheets may be included. Please check before purchasing.
What's included inside: Instant PDF downloads of 4 packets and 8 minis or 149 unique worksheets.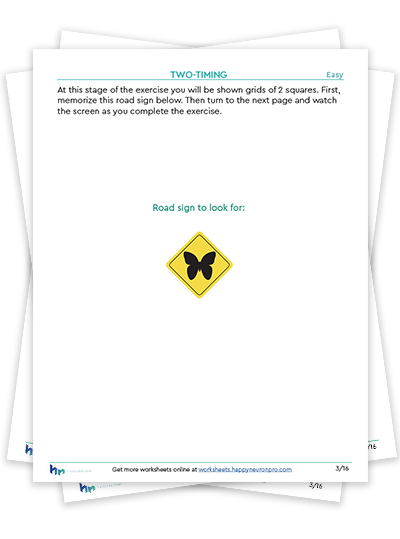 We are excited to create our first divided attention hybrid packet! Our favorite divided attention task, Two Timing, is a fun exercise to play on our digital platform. We've designed this printed version to be as close to as possible to the digital exercise. Our digital exercise is designed to simulate what it would be like to read road signs and have a conversation with someone or have a conversation while sorting laundry. 
These worksheets are great for helping your clients practice their divided attention skills. These activities will be great for children, individuals with aphasia, Seniors, and anyone who wants to improve their attention skills.
Include inside: 9 activities and bridging questions.
If you like these worksheets, check out our other attention worksheets here →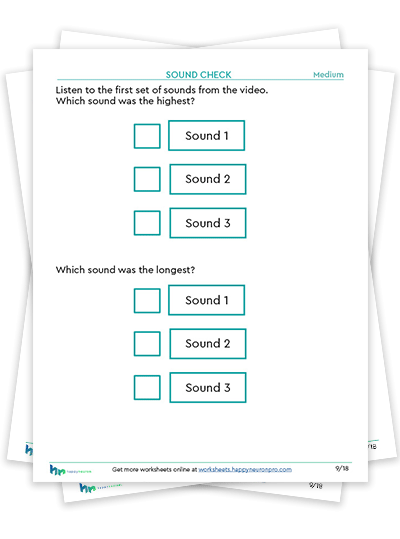 Are you working on auditory processing skills with your patient? Is your patient struggling to be able to hear the difference between two different tones? If so, this packet is for you! Our first-ever hybrid version of Sound Check is filled with great listening activities.
We hope your patients will enjoy this music-themed packet! Perfect for all ages, warm-ups, groups, and non-English speakers.
Included: 3 worksheets, 3 videos, an answer key, and bridging questions.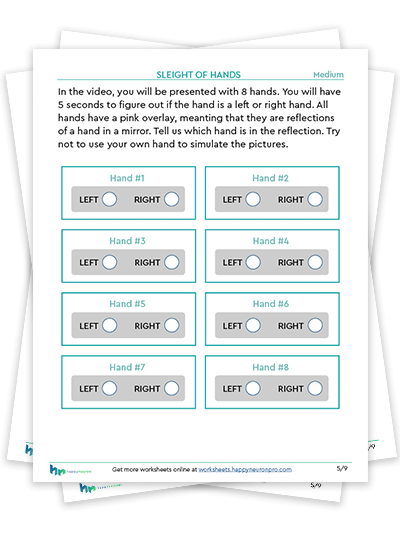 Figuring out left and right hands can be a fun and challenging activity; now imagine it as a hybrid activity. That is precisely what this packet is! Based on our digital exercise, Sleight of Hand, this hybrid packet will be great for groups and individuals. This packet will leave people laughing as they try to figure out which hand is left or right. This might seem like an easy task, but be careful! Some of the hands are a reflection. Some hands are not what they seem, and you must figure that out. This activity is great to help individuals practice differentiating shapes and could be used as a warm-up for any turning around and around exercise.
We hope your patients will enjoy this Magic-themed left and right-hand packet! Perfect for all ages, warm-ups, groups, and non-English speakers.
Included: 3 worksheets, 3 videos, an answer key, and bridging questions.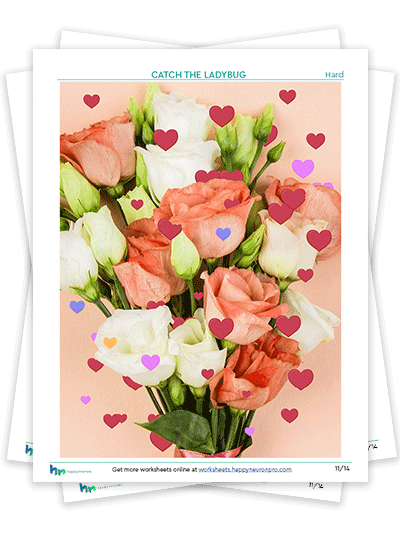 Love is in the coffee within this Valentine day themed mini packet. Your patient will have to locate and tap all of the red hearts in this mini packet. The goal is to do it as quickly as possible just like the digital exercise Catch the Ladybug.  Catch the Ladybug is a processing speed exercise designed to help your patient increase their ability to take in information. Although the digital exercise is far superior to this printed version, we believe that this Valentine's day theme is a nice rendition. This packet has numerous ways to be used. From either counting how long it takes or setting a set time, you can challenge your patient's processing speed with this fun mini packet.
We hope your patients will enjoy this Valentine's Day-themed packet! Perfect for all ages, warm-ups, groups, and non-English speakers.
Included: 9 worksheets and bridging questions.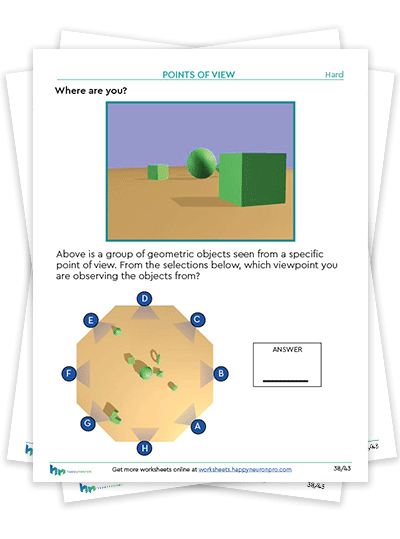 This packet aims to help individuals recognize items to improve their spatial awareness by studying unique key features of different objects. We hope your patient can better find themselves on a map. 
We started this packet with an ancient writing task. In this task, your patient must study figures and discover which character does not appear in the section above. This will challenge their attention and working memory. Sleight of Hands is the next task. This exercise challenges your patient's visual-spatial ability by having them mentally compare and decide if the picture displayed is a left or right hand. After that, Gulf Stream is the next task in this packet. Gulf Stream challenges your patient's ability to remember objects and recall them as they appear on the screen. This printed version will challenge your patient's ability to identify and find a snowflake in a mess of other snowflakes. Finally, the final exercise will test all the skills used in the previous activity. Points of View will challenge your patient's spatial ability as your patient will try to figure out where you are on a map of objects. 
In conclusion, we believe your patient will have fun completing this packet. The tasks are interactive and enjoyable, from noticing and remembering small details to mentally manipulating objects. Working on all the exercises in this packet may improve your patient's spatial awareness. We recommend this packet for kids aged 6+, non-verbal individuals, and individuals who want to get better at figuring out where they are in time and space. 
Included inside: 39 worksheets and bridging questions.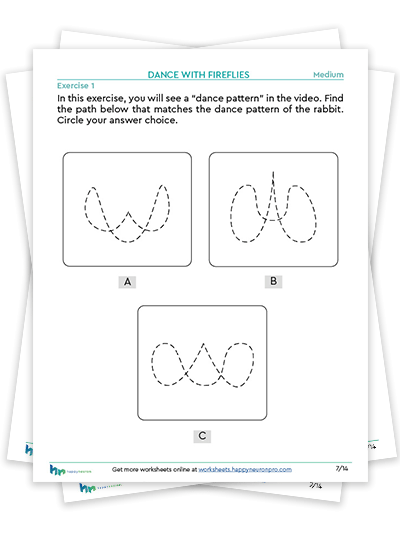 Dance with the fireflies has taken on a new style in honor of the Chinese New Year Year. Instead of a firefly, watch the moving rabbit dance across the screen in this hybrid packet. Using the given patterns, your patients will track the pattern of the rabbits and decide which one they are performing. Watch carefully! The dances in this packet will get faster and faster. This hybrid packet is an excellent way to engage processing speed and visual attention. If your patient loves this exercise but finds it a little fast, we encourage you to try our digital tool! Our digital exercise, Dance with Fireflies, is fully adapted to meet most patient's processing speed needs.
We hope your patients will enjoy this Chinese New Year-themed packet! Perfect for all ages, warm-ups, groups, and non-English speakers.
Included: 9 worksheets, 3 videos, answer key, and bridging questions.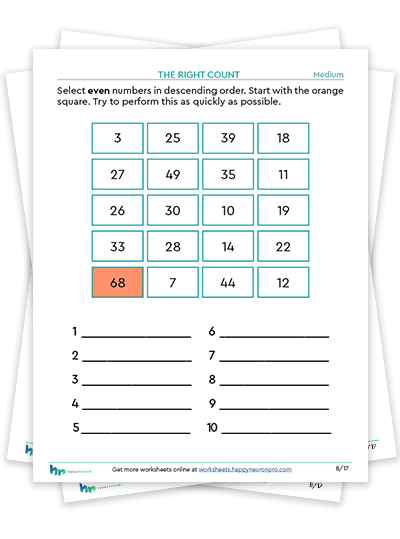 Counting down the New Year just got fun with this printable version of our digital exercise, The Right Count. Your patient's Executive Functions may just be fully engaged with these worksheets. Your patient will have to read a box of numbers, remember where odd and even numbers are, and then sort them according to the instructions. This packet will progressively get more challenging as the quantity of numbers increases and the gaps become larger. For added challenges, try using a timer and see how long your patient takes to complete this task.
We hope your patients will enjoy this New Years themed packet! Perfect for warm-up, groups, non-English speakers, and children learning numbers.
Included: 12 worksheets, answer key, and bridging questions.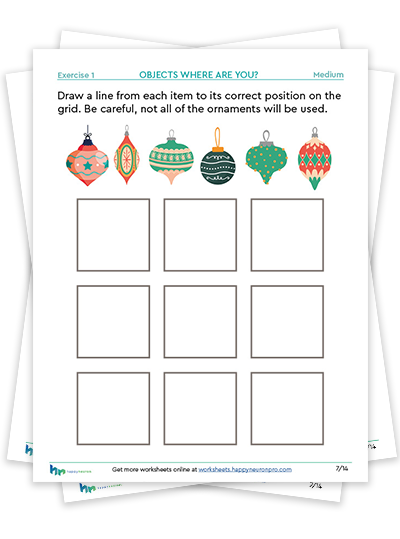 Holiday decoration fills the pages of this holiday-influenced visual-spatial memory worksheets packet. Your patient's visual-spatial memory will be engaged with this fun holiday-themed Objects, Where Are You packet. This packet will progressively get more challenging as the puzzles continue. Your patient will watch the ornaments appear on the video, and after a long time, they will be asked to recall which ornament was located on the grid on the paper before them.
We hope your patients will enjoy this holiday-themed packet! Perfect for non-verbal individuals, non-English speakers, and children. It will also be great to use as a warm-up or in a group setting.
Included: 9 hybrid worksheets, 3 videos, and bridging questions.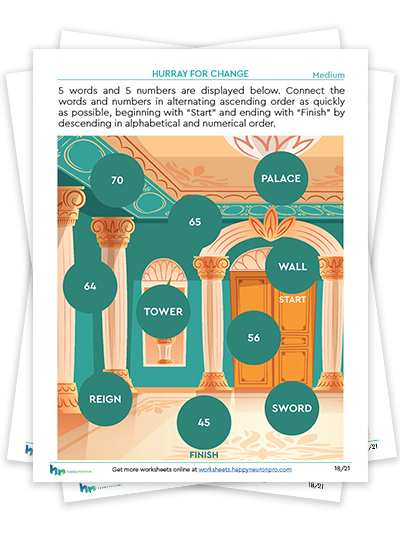 Verbal Focus and Recall are the focus of this fun packet of worksheets. Your patients will have 35 unique pages of language-based exercises that may help with these skills. This packet will start by warming up their attention and sorting skills with some fun Private Eye and Hurray for Change exercises. After they complete those two segments, the harder verbal focus and recall exercises will begin. Your patient will decode a box of letters to find what word is embroidered within the grid. Verbal attention and verbal recall are challenged with these Embroidery exercises. Lastly, your patient will have to solve some Writing in the Stars exercises. Writing in the Stars will challenge your patient's verbal processing, verbal attention, and verbal planning skills. 
We recommend this packet for kids aged 8+ and individuals who want to work on their verbal skills. 
Included inside: 35 worksheets and bridging questions.
Subscribe to get new packets!
We release a new packet monthly, and you can subscribe to get them directly in your inbox.
Answer a few questions about yourself and get a $15 credit for your first purchase !
Become a member and get free worksheets!
Attention is a cognitive process that involves focusing one's mental resources on a specific aspect of the environment, information, or task while filtering out other competing stimuli. It is the ability to selectively concentrate on certain inputs, thoughts, or actions while ignoring distractions or less relevant information. It plays a crucial role in various cognitive functions and daily activities.
Why use our Attention Worksheets & Activities?
Our worksheets engage several different cognitive dimensions of attention. Here are a few that they may engage.
Visual Focus:

All of our attention worksheets are creatively designed to challenge your ability to focus on unique details. These activities may require you to identify subtle differences, enhancing your visual attention and observation skills.

Auditory:

Sharpen your listening skills and selective attention with the auditory-based activities we offer. These exercises may help individuals better identify specific sounds within a complex auditory environment.

Sustained Concentration:

With all of our worksheets, they will require time to complete. In view of our fast-paced world, these worksheets might just boost your ability to sustain attention over longer periods. This skill is crucial for tasks that demand prolonged focus.
Advantages of our Attention Worksheets PDF:
Our attention-enhancing worksheets are available for download in PDF format, allowing for easy access anytime, anywhere. With a variety of exercises included in each packet, we aim to prevent monotony and promote comprehensive cognitive growth. You'll never find the same combination of exercises in any of our packets, as we are dedicated to providing you with the variety you need. Our worksheets are backed by science and developed using our digital tool that's rooted in research.
Scientifically Backed: Our digital tool inspires all of our worksheets. And our digital tool is rooted in science. Want to see more about our research? check out all of our research here →
Who can use these Attention Activities?
Initially designed for professionals, these worksheets can be used with all ages to practice and work on attention skills.
With this purpose, we aim to support the community of healthcare professionals, teachers, and school educators who help individuals with their attention skills by regularly adding new and different attention-based resources.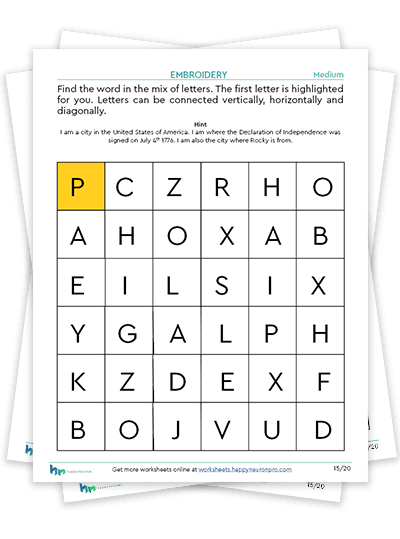 Are you looking for language activities for dementia patients? Language is a complex cognitive skill. It involves executive functioning, memory, and visual and auditory processing skills. Sometimes, people with dementia struggle with one or more aspects of language, such as word retrieval. That is why we developed this packet. We wanted to create a packet to help improve language skills that are often inhibited in individuals with dementia.
In this workbook, we have provided 4 exercises that target different cognitive skills involved in language skills. We have a verbal memory exercise, Words, Where are you? We have a visual attention exercise, Private Eye. Additionally, we have a word-categorizing activity, Secret Files, and lastly, a language-inferring activity, Embroidery.
This packet will be great to be used for seniors, anyone looking for printable activities for dementia patients, or anyone looking for language-based activities. If you love this packet, we highly recommend you try our digital program. Each one of these exercises is even better on the digital program. 
Included inside: 13 worksheets and bridging questions.