Scientifically Designed Worksheets 
These packets include at least 4 different exercises with each having several difficulty settings and bridging activities. Each packet focuses on a cognitive function, a medical condition, or a theme. 
We release a new packet once per month and you can subscribe to get them directly in your inbox.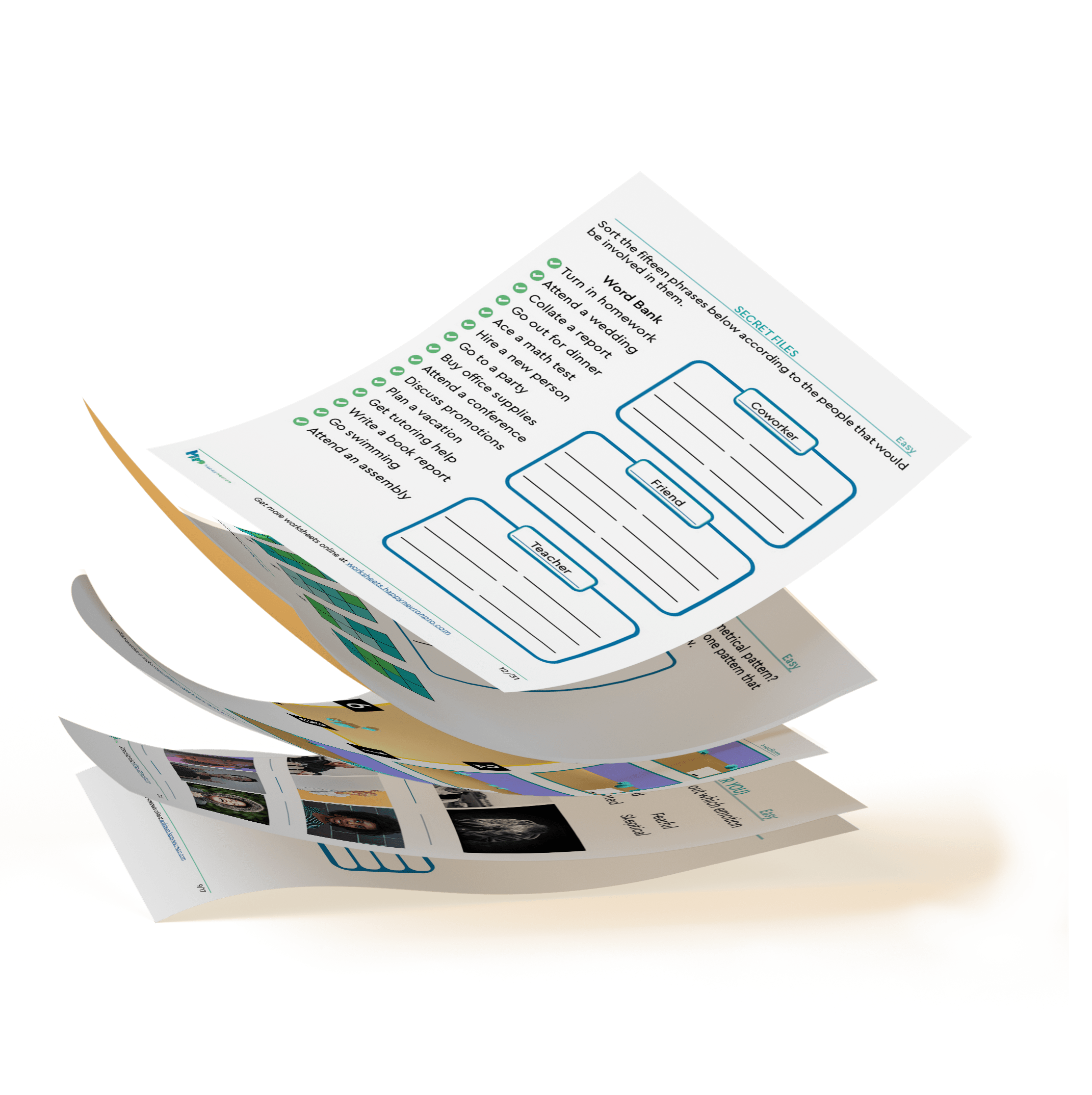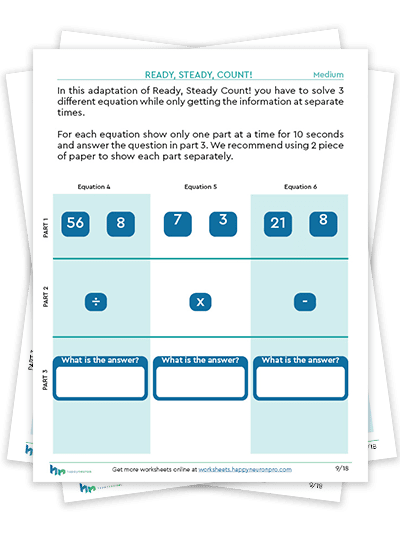 Having functional math skills is important. Many people have trouble learning math in school, which sometimes continues into adulthood. Math is integral in our daily lives, so it is essential for individuals to practice and sharpen their math skills. We use math when we need to compare prices at a store, take measurements in our homes, and calculate change owed after a transaction. 
In this worksheet, we provide you with 4 exercises to use with your clients to practice strategies related to math. Your client will be exposed to different task requirements, all sharing the underlying component of math. We challenge your clients to practice their computational skills, math fluency, mental computation, and quantitative reasoning using our exercises. Make sure to check out how a digital tool can help build math skills. 
If you like this packet, explore our other functional math skills worksheets!
Include inside: 13 worksheets and bridging questions.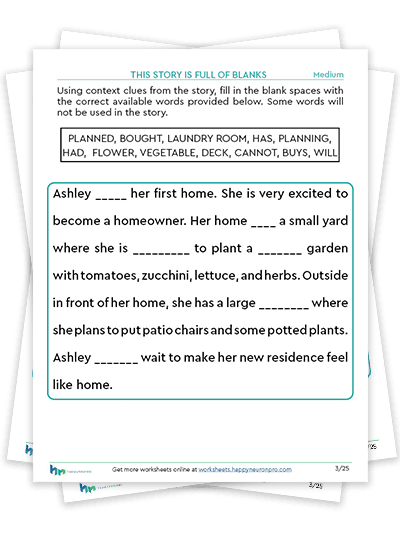 Are you looking for effective ways to support individuals with Aphasia in improving their language and cognitive abilities? Our carefully crafted packet makes practicing language fun! We understand that many individuals possess remarkable intelligence but face language-related challenges. Our goal is to empower clinicians with resources to help them overcome Aphasia and enhance their communication skills hopefully.
In this packet, you'll find five engaging activities based on our language-based digital exercises. These exercises are strategically designed to address the underlying language components individuals may struggle with. Providing these exercises may enable your clients to make significant progress in their language abilities.
In addition to language improvement, our worksheets also target other essential cognitive functions required for language success. Other cognitive skills engaged in this packet are:
Executive Functioning: Our exercises challenge executive functions, helping individuals with Aphasia enhance their decision-making, planning, and problem-solving skills.
Working Memory: These worksheets engage working memory, a vital cognitive skill necessary for retaining and processing information effectively.
Attention: Our exercises promote focused attention, a crucial skill for clear communication and daily activities.
We believe that with the proper tools, clinicians can create environments of learning and recovery. It is for that reason that we develop worksheets like this and more. Make sure also to download our other free worksheets. We release free mini worksheets 2x a month.
Included inside: 17 worksheets and bridging questions.
Looking for more resources? Check out our other aphasia-focused worksheets →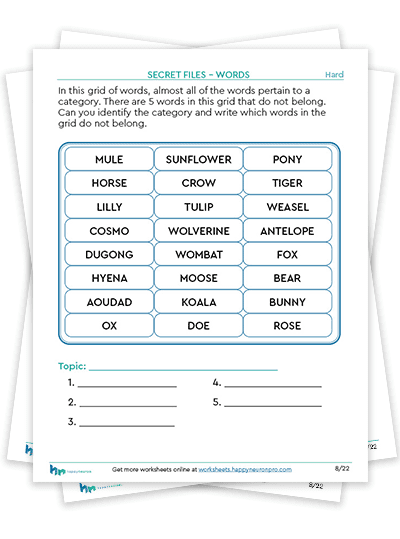 We designed this packet to stimulate visual skills related to verbal attention. The goal of this packet is to engage all aspects related to verbal and visual attention skills. We believe Verbal and visual attention skills are essential to all cognitive functions, especially those around social cognition and language. This packet will start by challenging your patients with two different adaptations of our digital exercise Private Eye. In this first exercise, your patient will have to find perfect circles. The following exercise will challenge their ability to recognize the correlation between words and their meaning to determine which words do not belong. The following exercise is a modification of Elephant Memory. This modification requires your patient to study a scene and answer questions.
The last two exercises are focused directly on verbal attention. This last section starts with an adaption of Restaurant. This adaption aims to engage your patient's ability to compare and contrast two recipes. Looking side by side, your patient will identify what was different between the recipes. Finally, your patient will have to read a passage and find the typos and errors in this modified version of This Story is Full of Blanks.
This packet is an excellent resource for teachers who want to challenge their students' ability to process visual-verbal information. Therapists have also used this packet to help stimulate patients with brain injuries that affect their verbal attention skills or aphasia.
Included Inside: 13 pages and bridging questions.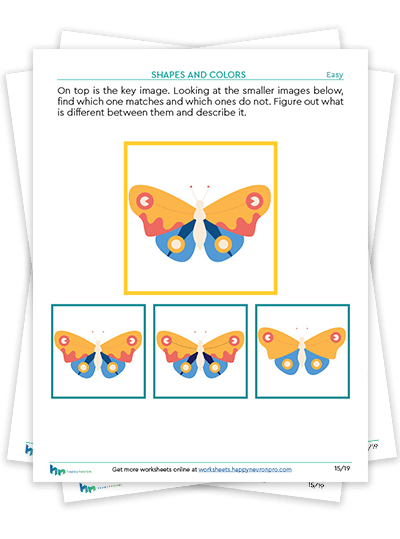 Traumatic brain injury impacts millions of people worldwide. Each brain injury is different, resulting in a variance of cognitive difficulties experienced by patients. This worksheet contains exercises that engage in executive functioning, spatial memory, and attention. Our goal with this packet was to make a general packet full of printable cognitive worksheets for adults with a brain injury. Each exercise is based on our digital program. If your patients love the exercises in this program, you will love using our digital program.
Try this packet designed for clients with brain injury today! This packet can be used with children as well. If you are looking for other cognitive worksheets for adults with a brain injury, check out our full library of printable activities here. 
Included inside: 14 worksheets and bridging questions.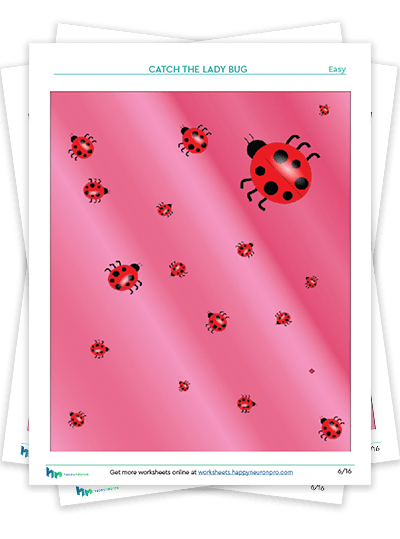 Stroke impacts verbal fluency, semantic knowledge, memory, attention, and motor skills. In this packet, we wanted to provide several exercises targeting some of the key cognitive areas that may be impacted after a stroke. Our catch the ladybug exercise helps individuals practice hand movement. Root it out will help engage your patient's long-term verbal memory recall. This packet's version of Private Eye will encourage your patient to use their inferring skills. Your Patient will have to figure out which item does not belong. Lastly, fill in the blank, a modified version of This Story is Full of Blanks, may encourage your patient's verbal memory as they recall facts about themselves.
This packet contains adaptable activities for individual and group therapy sessions.
Included inside: 10 pages and bridging questions.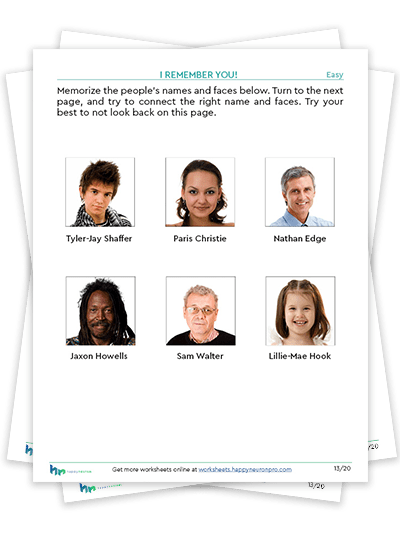 Information retention and recall are essential for everyday tasks. In this packet, your client will be challenged with tasks that will help them remember the locations of words and objects and recall orders and names. The exercises in this packet will target their verbal memory, spatial memory, working memory, and word association.  They will start the packet with their verbal and spatial memory challenged with a Words, Where are You? exercise. Next, they will have to recall orders of a group of people at a Restaurant. Then they will get a short break from words as they just have to recall the shapes from one page to the next. Finally, they will have to recall people's names. This worksheet is helpful for anyone who would like to improve and adapt their strategies for memory.
Included inside: 15 pages and bridging questions.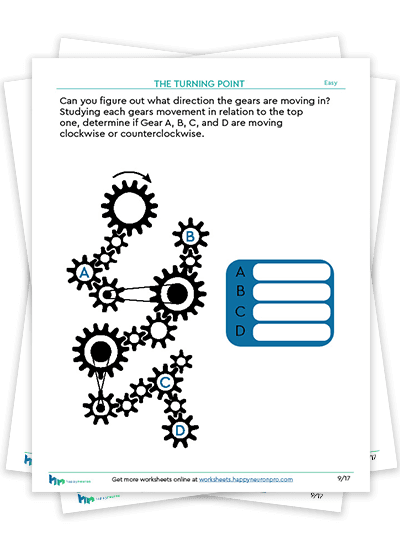 Executive functioning occurs in the frontal lobe of the brain. It involves planning, task-switching, decision-making, and so much more! We've taken the idea of inhibition and inspired parts of this packet. If your client loves a good mystery, then they will love Decipher. In this exercise, your patient will have to infer what each symbol could mean as a letter. Additionally, in the turning point, your patient will have to infer which direction each gear is turning. We have a large collection of executive functioning worksheets; make sure to check them out here.
Included inside: 8 pages and bridging questions.
Buy 3 packets and get the 4th one FREE!