Cognitive Worksheet Packets
Worksheet packets for all areas of cognition.
Explore our entire library of cognitive worksheet packets. We have big packets, mini packets, bridging packets, and bundles that focus on specific cognitive functions, medical conditions, or themes. Join our monthly newsletter and get free packets directly in your inbox 2x a month.
Interested in the digital versions of our exercises? Try them here.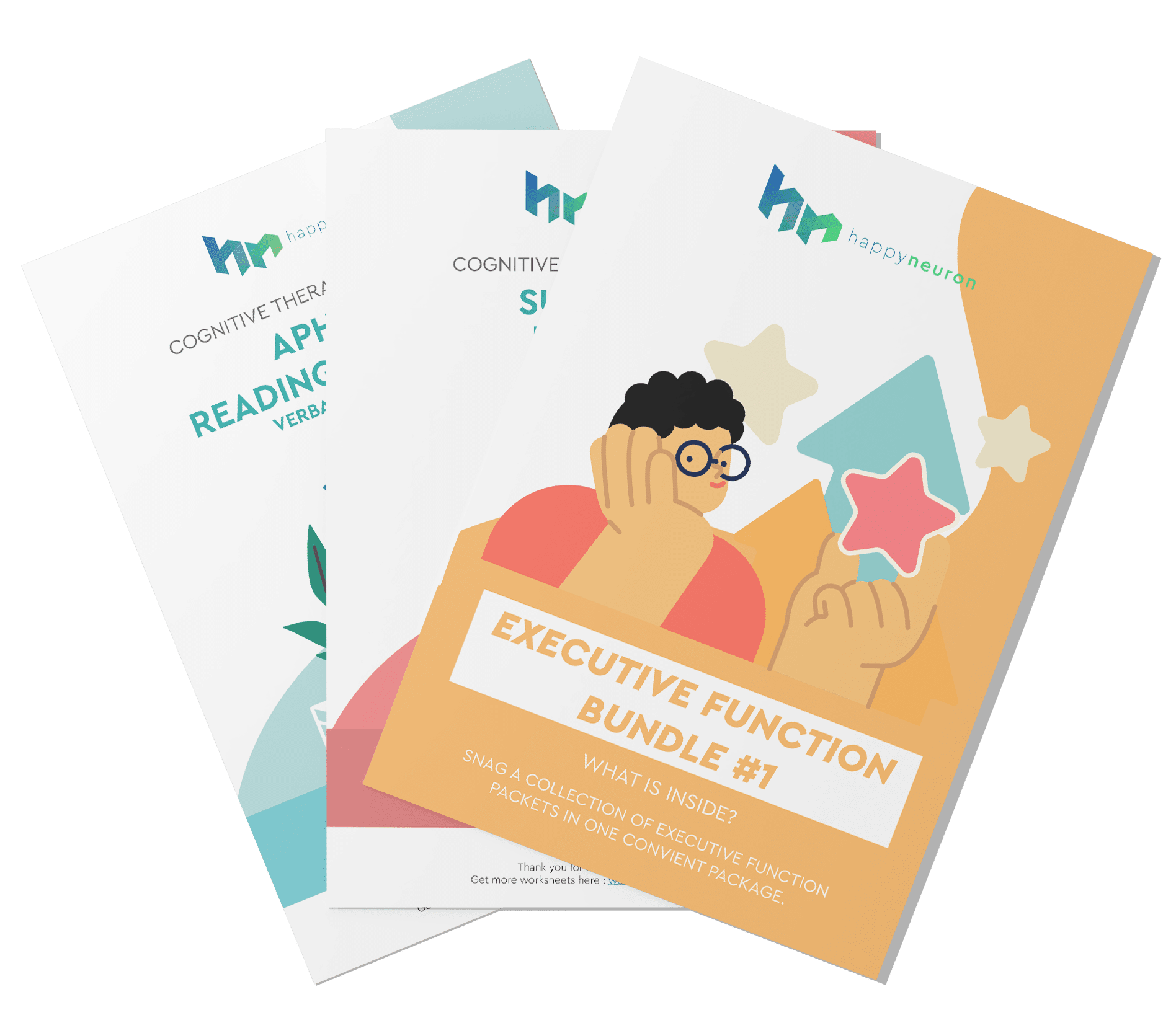 Memory is one of the most impacted cognitive functions post-injury. In this mini-packet, you will have to recall various shapes and their colors that you have previously memorized. By practicing this, clients will be able to improve their cognition and memory skills for both social and academic settings. This exercise will help you learn strategies to better retain visual information that you come across, such as when you view signs as you walk through a city or town.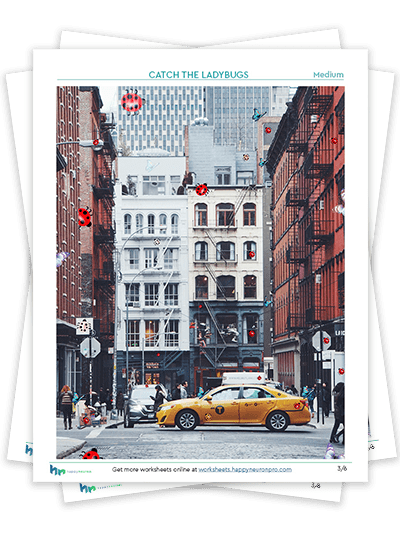 Stroke impacts motor coordination and processing speed. Clients will be able to practice and hone their motor skills by working on their ability to process what is going on around them. In this mini-packet, you must use both of your hands and your eyes to catch the ladybugs in a variety of different scenes. Try doing this packet with one or both hands!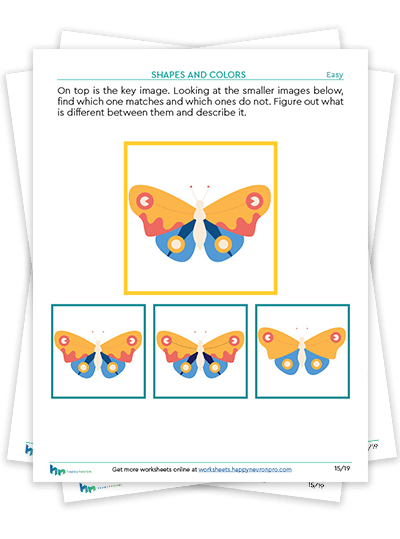 Traumatic brain injury impacts millions of people worldwide. Each brain injury is different, resulting in a variance of cognitive difficulties experienced by patients. This worksheet contains exercises that engage in executive functioning, spatial memory, and attention. Our goal with this packet was to make a general packet full of printable cognitive worksheets for adults with a brain injury. Each exercise is based on our digital program. If your patients love the exercises in this program, you will love using our digital program.
Try this packet designed for clients with brain injury today! This packet can be used with children as well. If you are looking for other cognitive worksheets for adults with a brain injury, check out our full library of printable activities here. 
Included inside: 14 worksheets and bridging questions.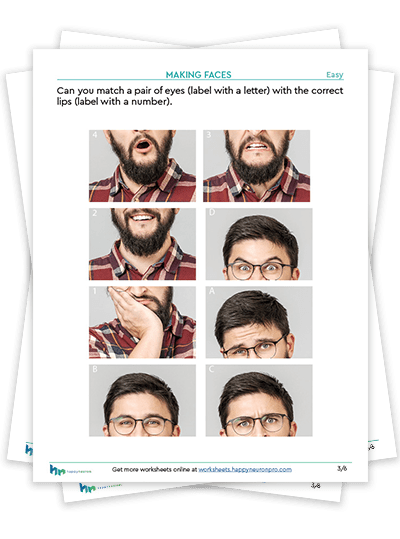 Recognizing emotions in others can be difficult for clients with psychological disorders and developmental disabilities. This worksheet based on the exercise I Remember You provides exercises that tap your client's ability to recognize and distinguish different emotions in others' faces. By practicing the exercises in this worksheet, your clients may also build more confidence in social situations. Work on social cognition skills with your client today!
Include inside: 1 worksheet and bridging question.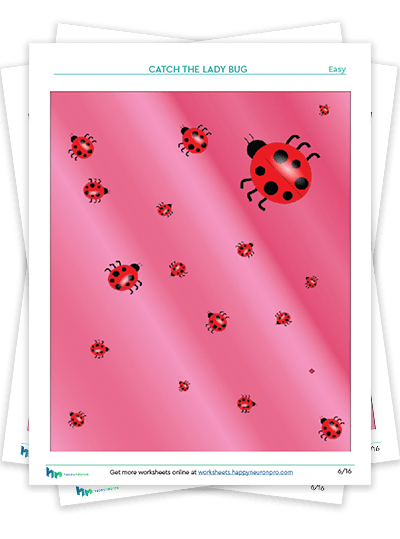 Stroke impacts verbal fluency, semantic knowledge, memory, attention, and motor skills. In this packet, we wanted to provide several exercises targeting some of the key cognitive areas that may be impacted after a stroke. Our catch the ladybug exercise helps individuals practice hand movement. Root it out will help engage your patient's long-term verbal memory recall. This packet's version of Private Eye will encourage your patient to use their inferring skills. Your Patient will have to figure out which item does not belong. Lastly, fill in the blank, a modified version of This Story is Full of Blanks, may encourage your patient's verbal memory as they recall facts about themselves.
This packet contains adaptable activities for individual and group therapy sessions.
Included inside: 10 pages and bridging questions.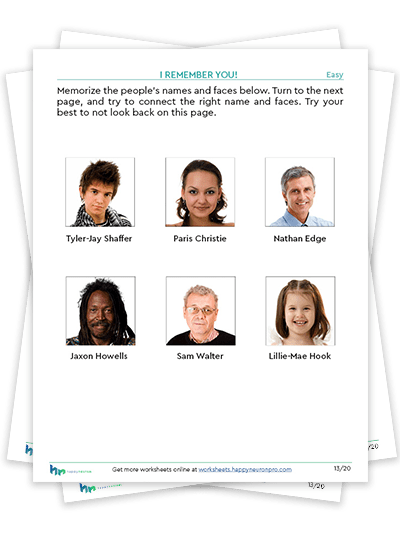 Information retention and recall are essential for everyday tasks. In this packet, your client will be challenged with tasks that will help them remember the locations of words and objects and recall orders and names. The exercises in this packet will target their verbal memory, spatial memory, working memory, and word association.  They will start the packet with their verbal and spatial memory challenged with a Words, Where are You? exercise. Next, they will have to recall orders of a group of people at a Restaurant. Then they will get a short break from words as they just have to recall the shapes from one page to the next. Finally, they will have to recall people's names. This worksheet is helpful for anyone who would like to improve and adapt their strategies for memory.
Included inside: 15 pages and bridging questions.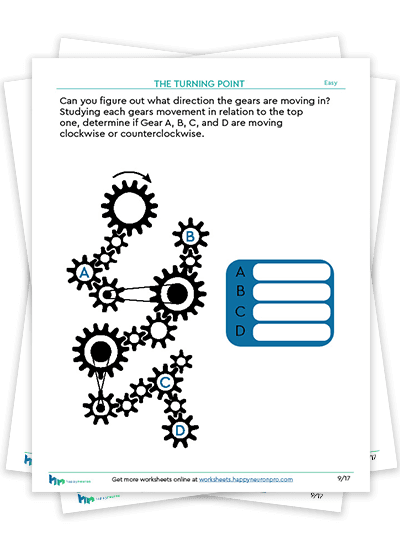 Executive functioning occurs in the frontal lobe of the brain. It involves planning, task-switching, decision-making, and so much more! We've taken the idea of inhibition and inspired parts of this packet. If your client loves a good mystery, then they will love Decipher. In this exercise, your patient will have to infer what each symbol could mean as a letter. Additionally, in the turning point, your patient will have to infer which direction each gear is turning. We have a large collection of executive functioning worksheets; make sure to check them out here.
Included inside: 8 pages and bridging questions.
Answer a few questions about yourself and get at $15 credit for any purchase!
HappyNeuron's cognitive worksheet packets
HappyNeuron Pro worksheets are based on exercises from our digital tool. They are designed to be used by clinicians to help clients stimulate, build, or rebuild the foundation of different cognitive functions.
Cognitive therapy may lead to an improved quality of life for patients. We aim to empower clinicians by helping them save time and making it easier to provide cognitive therapy. Therefore, we design our worksheets and digital exercises to be engaging and relevant. Through our tools and the cognitive therapy that clinicians provide, patients can practice the cognitive skills needed for daily functioning and may see improvement.
Find the perfect cognitive worksheet packets for your client
We create a wide variety of worksheets for numerous cognitive domains and conditions. If you're searching for a specific cognitive skill, use the filters on the left. If you're looking for worksheets to help with a specific condition, we recommend you look at our worksheet bundles, which are collections of packets to address specific skills or conditions.