Cognitive Worksheet Packets
Worksheet packets for all areas of cognition.
Explore our entire library of cognitive worksheet packets. We have big packets, mini packets, bridging packets, and bundles that focus on specific cognitive functions, medical conditions, or themes. Join our monthly newsletter and get free packets directly in your inbox 2x a month.
Interested in the digital versions of our exercises? Try them here.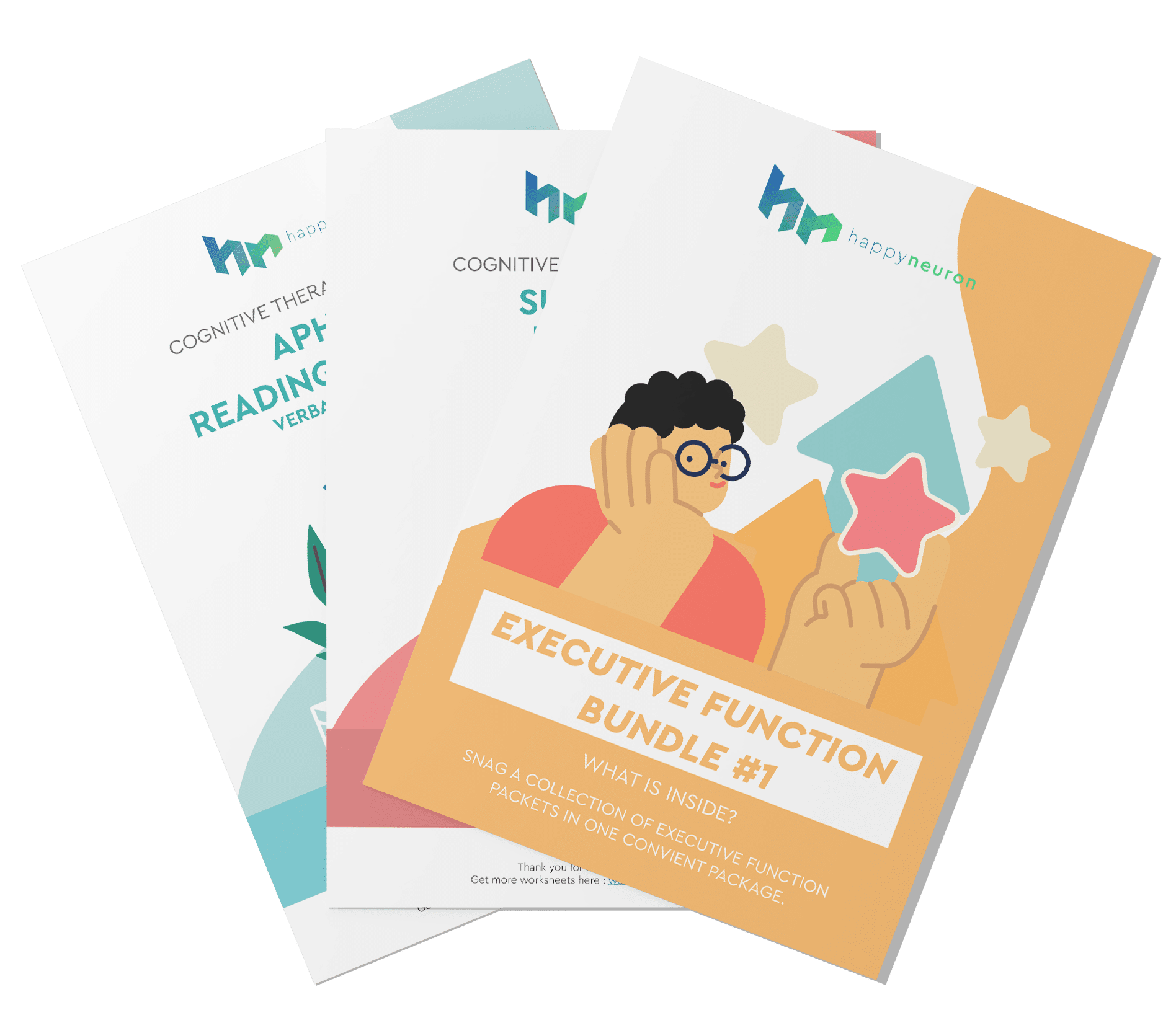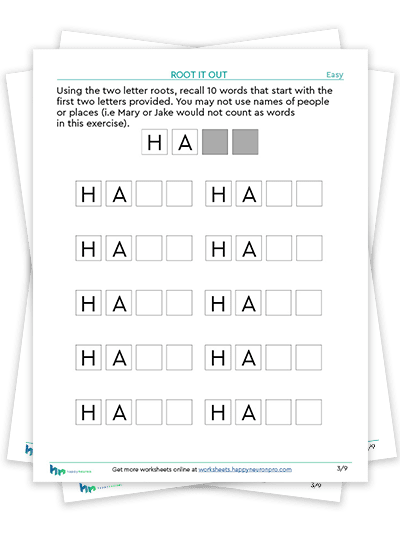 This mini packet will challenge verbal memory, the ability to recall words. Based on the game Root It Out, these worksheets are great to use as a word retrieval exercise for adults. The goal of these worksheets is to generate as many words as possible with the given starting letters. You can also use this as a word retrieval game for Aphasia treatment activities in therapy groups, individual practice, or learning disability classes. In addition to language, executive functioning and working memory activities are used throughout this mini packet.
Our yearly subscription is designed to help decrease clinicians' time looking for high-quality worksheets by instantly delivering them to the clinician's emails and accounts. We provide hassle-free and scientifically-based cognitive worksheet packets on the 4th Monday of every month. These packets are an excellent resource to be used with your patients. In addition to time, the yearly subscription saves you money.
Sign up for our yearly subscription and get these additional bonuses:
Get the sequential 12 monthly packets directly in your account as soon as they are released
Get 12 packets for less than the price of 7 or (40% off the successive 12 packets!)
Get a 10% discount on all your purchases on the worksheet store for the next 12 months.
Get 30 Day access to our Digital Platform
Discloser: When you are purchasing this yearly subscription, it is like purchasing a subscription to a magazine. You do not receive access to the last worksheets. No worksheet will be added to your account. You will receive worksheets for the next 12 months. Please explore our bundle options if you would like to buy our previous packets for a discount. We have yearly and subject-based bundles available for purchase. See them here →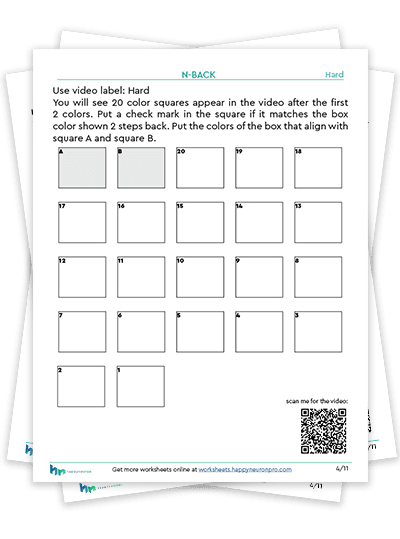 How good is your memory? Test your working memory and recall abilities in this hybrid memory packet based on the exercise N-Back. This packet utilizes executive functioning skills such as working memory, metacognition, and concentration. Try this packet for working memory activities and test your memory skills!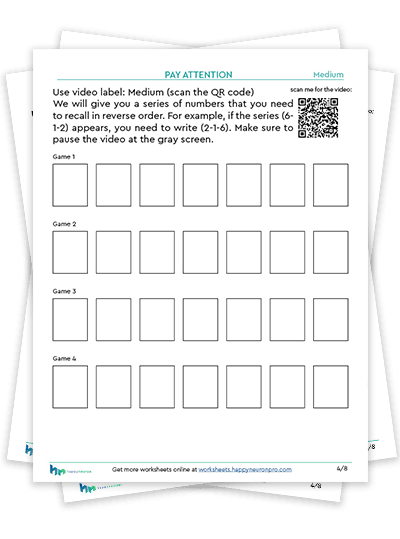 Welcome to our first hybrid packet ever! In this packet, you will see a series of numbers, letters, or combinations of both and have to recall them in the order they are presented. Based on the exercise Pay Attention, this packet will challenge executive functioning skills such as working memory and metacognition. Test your memory skills and get a sneak peek at going digital with this hybrid digital cognitive exercise packet!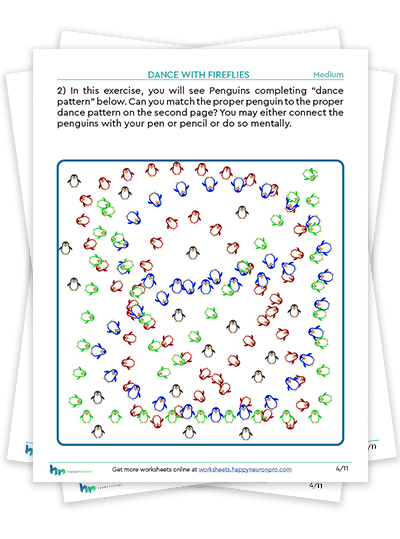 In this attention-focused packet, identify the different dances each penguin is making. Based on our digital exercise, Dance with Fireflies, this worksheet packet will challenge your patient's ability to focus and break apart patterns to find the desired shapes. This worksheet would be great to use in group therapy sessions or individual sessions. Kids have shared how much they love dancing penguins.
In addition to attention stimulation, this packet will challenge your patient's working memory, organization, and self-control. Challenge your patients by giving this penguin-filled packet a try! If you like this packet, you'll love the digital program. Try this exercise today! 
Included inside: 7 worksheets and bridging questions.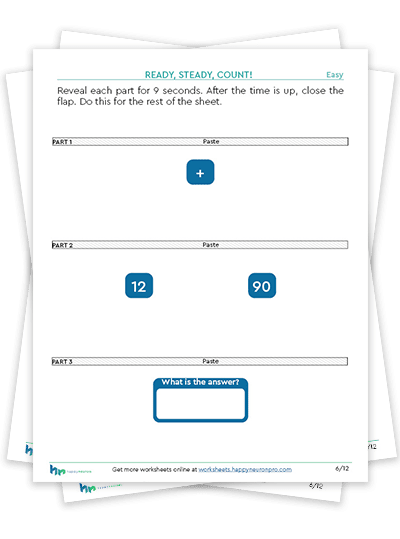 Think you have what it takes for a mathematical challenge? Put together numbers and operators to solve equations! Practice your math skills with this logic focused cognitive packet. This packet will help reinforce executive functioning skills such as planning, organization and metacognition. Challenge yourself by completing this logic based packet!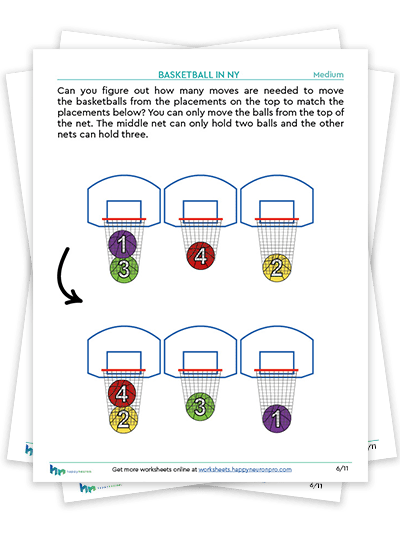 Ready to play basketball? Shoot hoops and build executive functioning skills at the same time! Mentally manipulate basketballs in as few moves as possible to score the most points in this game of hoops! This packet utilizes skills such as flexibility, perseverance and self-control, and is great for anyone who is looking to have fun while honing their executive functioning abilities!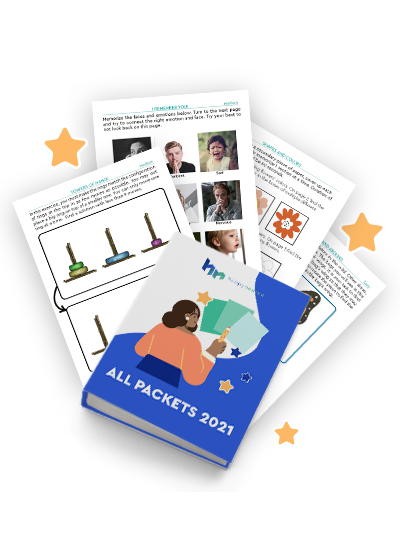 Introducing the All-inclusive Worksheet Bundle for all worksheets developed in 2021: Elevate your Therapy and Save Big!
Look no further than the 2021 Worksheets by HappyNeuron Pro Bundle – the ultimate collection of educational resources designed to help stimulate cognitive functions and enhance your therapy sessions. And the best part? By purchasing this comprehensive bundle, you can save big while gaining access to a wealth of knowledge!
What's included inside: Instant PDF downloads of 34 packets or 298 unique worksheets.  
Answer a few questions about yourself and get at $15 credit for any purchase!
HappyNeuron's cognitive worksheet packets
HappyNeuron Pro worksheets are based on exercises from our digital tool. They are designed to be used by clinicians to help clients stimulate, build, or rebuild the foundation of different cognitive functions.
Cognitive therapy may lead to an improved quality of life for patients. We aim to empower clinicians by helping them save time and making it easier to provide cognitive therapy. Therefore, we design our worksheets and digital exercises to be engaging and relevant. Through our tools and the cognitive therapy that clinicians provide, patients can practice the cognitive skills needed for daily functioning and may see improvement.
Find the perfect cognitive worksheet packets for your client
We create a wide variety of worksheets for numerous cognitive domains and conditions. If you're searching for a specific cognitive skill, use the filters on the left. If you're looking for worksheets to help with a specific condition, we recommend you look at our worksheet bundles, which are collections of packets to address specific skills or conditions.