Worksheets for all areas of cognition.
Explore our entire library of cognitive worksheets. We have big packets, mini packets, bridging packets, or bundles that focus on a cognitive function, a medical condition, or a theme. Join our monthly newsletter and get free packets directly in your inbox 2x a month.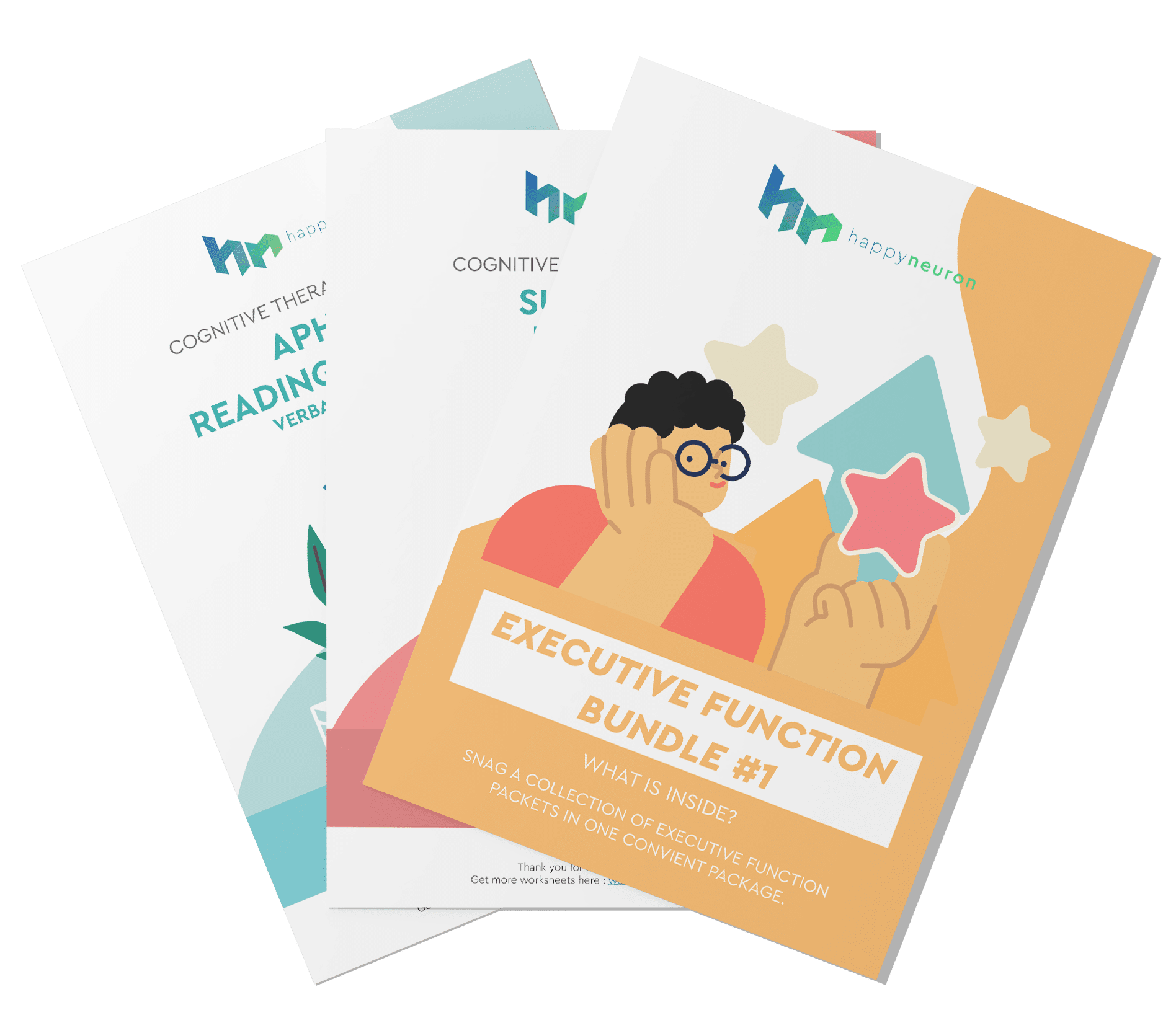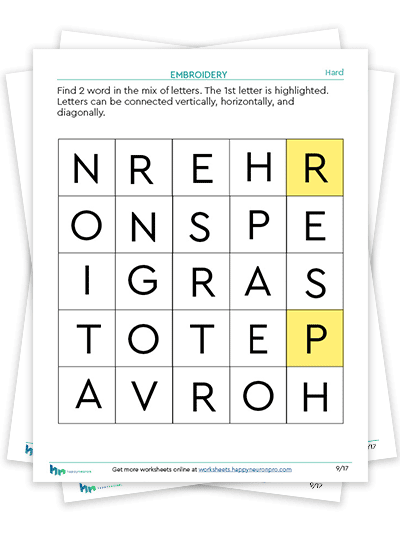 Challenge your patient's visual scanning and semantic memory in this mini packet! Your client must scan the letter grid to determine what word is hidden within the grid. These worksheets are printable versions of our digital exercise, Embroidery. As your client progresses, the hints will decrease, and the difficulty of the words will increase. This entire packet is around the theme of objects found within the ocean.
This packet will be great for individuals looking to challenge their ability to use their visual scanning ability and draw information and conclude what words are presented. Use this within your post-stroke support groups, inside of your classrooms of middle schoolers, or as an earth day activity to do with your patients.
Include inside: 10 worksheets, answer keys, and bridging questions.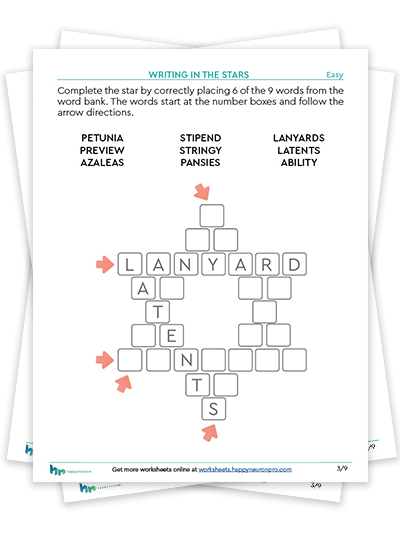 Challenge your patient's ability to visually break apart words and deductively place them on the chart. Based on our digital exercise, Writing in the Stars,  this packet is a great way to challenge your patient's deductive spatial reasoning skills! Clients must determine which word could fit in which space on the star. At first, some of the charts come prefilled. Eventually,  there will not be any assistance, and your patient has to choose words from the word bank. The progression of the packet increases slightly. The goal is that by the end of the exercise, your patient will feel more confident using their deductive skills. We love this exercise in our digital tool. If your patients enjoy this packet, they will love playing this activity digitally.
This packet is great for students ages 12 and older. Individuals looking for fun brain deductive spatial reasoning activities will enjoy the challenges within these pages. Additionally, we hope your patients will enjoy using this packet in a session with you or as part of their home exercises.
Included inside: 4 worksheets and bridging questions.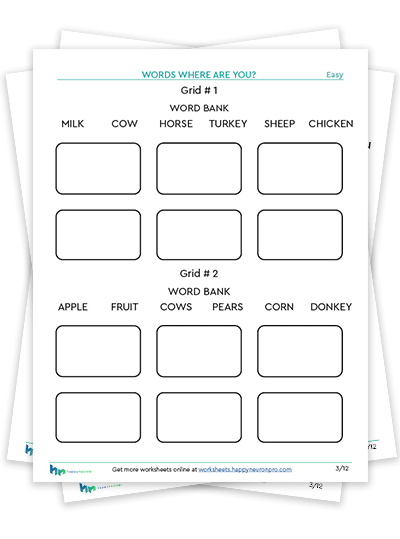 Can you remember a shopping list? What about the locations of different items on that list? Sharpen your verbal memory and executive function skills with this word and spatial memorization task, based on the exercise Words Where Are You? This exercise focuses on executive functioning skills such as working memory, attention, and task initiation!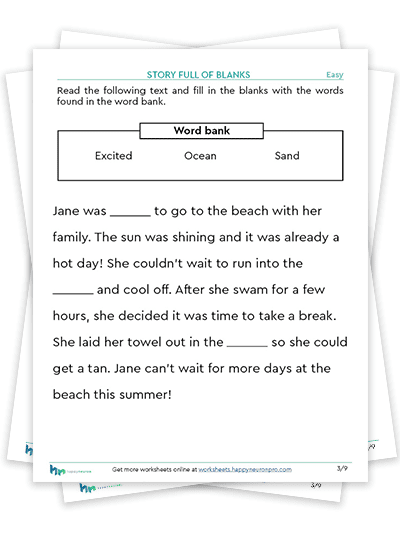 Ready to be an editor? Miss MadLibs? Read different passages and fill in the blanks with this fun verbal reasoning activity. This exercise focuses on executive functioning skills such as working memory, attention and metacognition. This is perfect for anyone looking to hone their verbal processing skills as well as working memory abilties!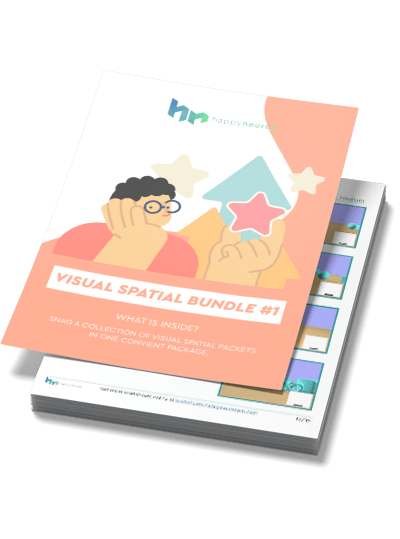 This bundle contains packets dedicated to Visual-Spatial tasks. This is one of the first in our series of visual-spatial-based worksheet bundles. Our bundles are aimed at helping clinicians build their own custom workbooks.
Bundle + Save
Bundles are a great way to buy more and save more! If you were to buy all of these packets separately, you would pay more than $50. Because we've bundled it, you're getting an instant saving of over 20%!
What's included inside: Instant PDF downloads of 4 packets or 61 unique worksheets.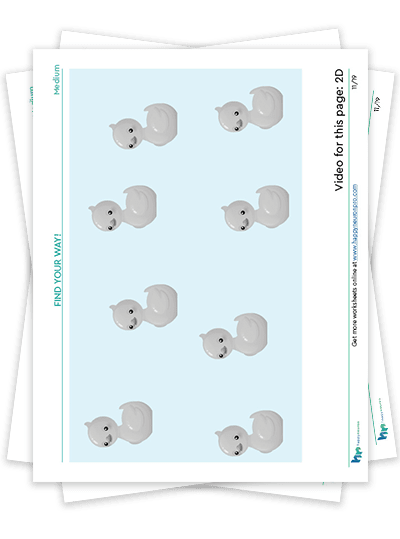 Ready for a memory challenge? Engage your client's attention and working memory skills using this mini hybrid packet. Find Your Way takes on a new face (or should we say bill) with this cognitive exercise packet. This activity primarily exercises executive functioning skills such as your client's Attention Skills.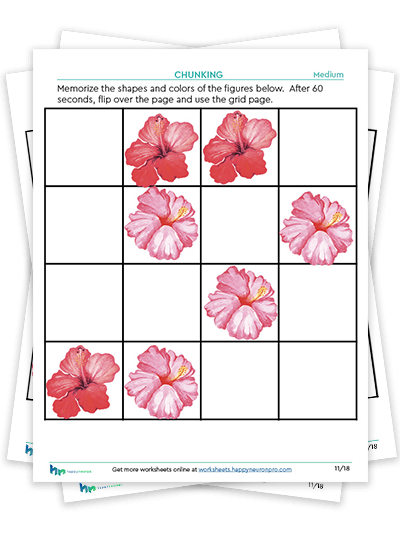 Spring time is here! Attend a flower show and freshen up your spatial memory skills with our fun and floral mini packet based on the exercise Chunking. This exercise is perfect for anyone who is looking to hone their memory skills, and uses executive functioning skills such as working memory, attention, and metacognition!
Answer a few questions about yourself and get at $15 credit for any purchase!