Cognitive Worksheet Packets
Worksheet packets for all areas of cognition.
Explore our entire library of cognitive worksheet packets. We have big packets, mini packets, bridging packets, and bundles that focus on specific cognitive functions, medical conditions, or themes. Join our monthly newsletter and get free packets directly in your inbox 2x a month.
Interested in the digital versions of our exercises? Try them here.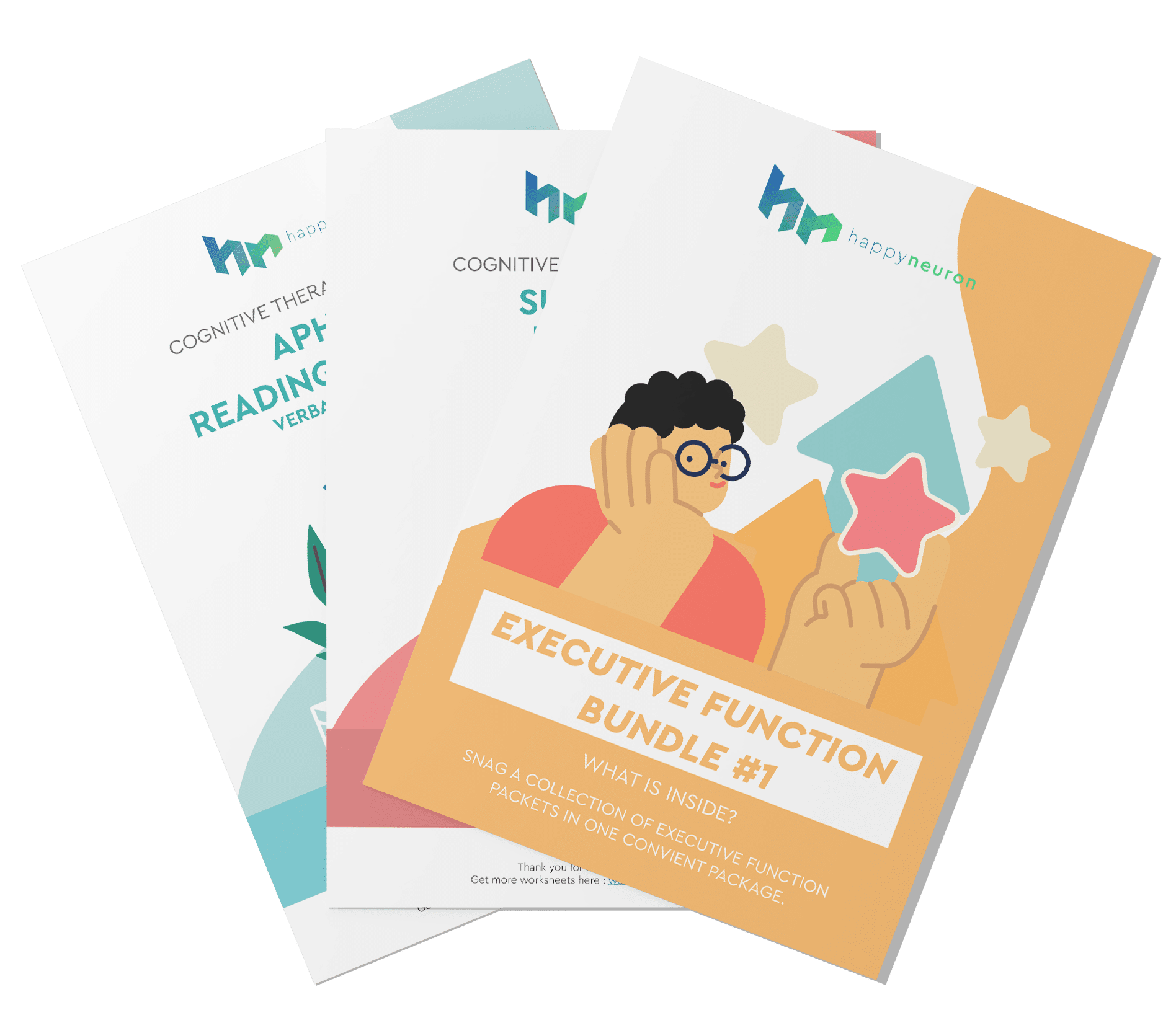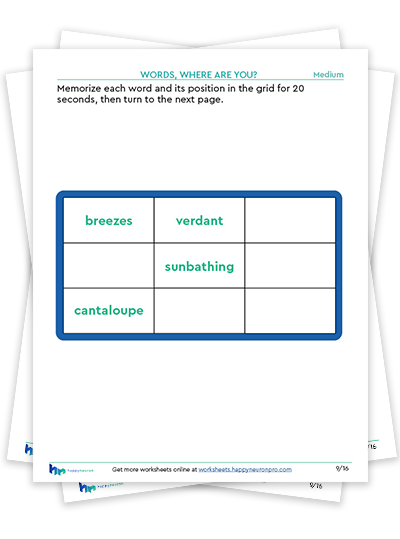 Verbal and spatial memory is heavily engaged in this mini packet. Words, Where are You, is one of our most popular digital exercises. We've taken this popular verbal-spatial memory exercise and made it summer themed. We hope your clients will enjoy exercising their memory with these fun summer-themed memory worksheets. 
These worksheets are great to help your clients practice verbal and spatial memory. These activities will be great for middle schoolers, individuals with aphasia, Seniors, and anyone who wants to improve their verbal and spatial memory skills.
Include inside: 12 worksheets and bridging questions.
If you like these worksheets, check out our other Words, Where are You worksheets here →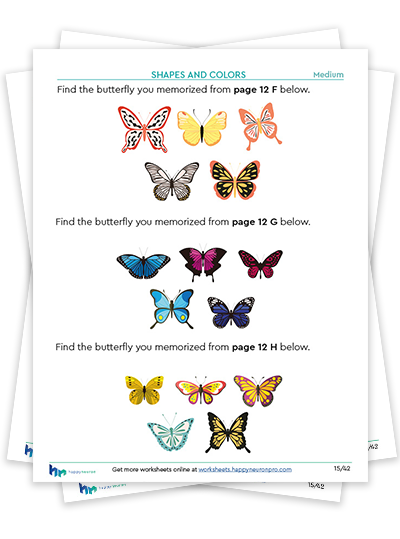 This packet is focused on spatial memory. Spatial memory is essential for us to remember where we left things, recall what pills we are supposed to take and when, and recognize our favorite products in the store. Spatial memory uses our visual-spatial and attention skills to help encode these elements for later use. This spatial memory worksheet has been designed for individuals who love butterflies or professionals looking for butterfly activities. 
This packet has parts for all ages! Your Seniors will love the colorful butterfly activities as much as your Preschooler! If you find our exercise, Chunking, to be the proper challenge for your patient, we highly recommend you try the digital version. With more data points and customization, Chunking is an excellent exercise to help work on spatial memory activities.
Included inside: 38 worksheets and bridging questions.
If you like this packet, explore our other spatial memory worksheets →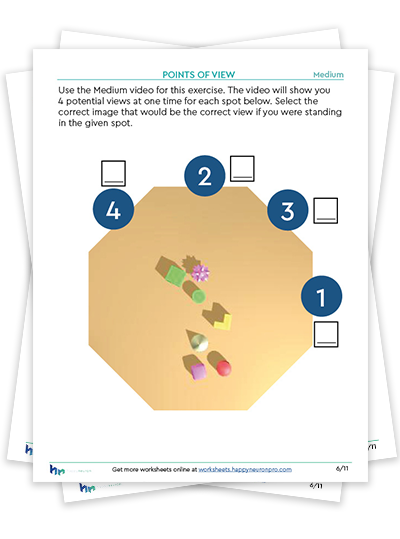 Points of View's purpose is to help individuals improve their visual-spatial abilities. In the digital version, the user is comparing directly on the screen. We've added an additional level of difficulty to this packet by making it a hybrid. The user no longer compares points of view directly on a screen, but they have to compare the worksheet to the screen as if they were holding a map in real life. This hybrid exercise will be a great way to practice using a map by orienting using visual-spatial skills to find the user's unique orientation.
This worksheet is great to use with middle schoolers, older individuals, and non-English speakers or non-verbal individuals, or anyone who would like to practice using a map.
If you found this exercise to be fun, try the real-life orientation Packet #32. If you would like to practice other points of view exercise, click here → 
Included inside: 6 worksheets, 24 activities, 3 videos, and bridging questions.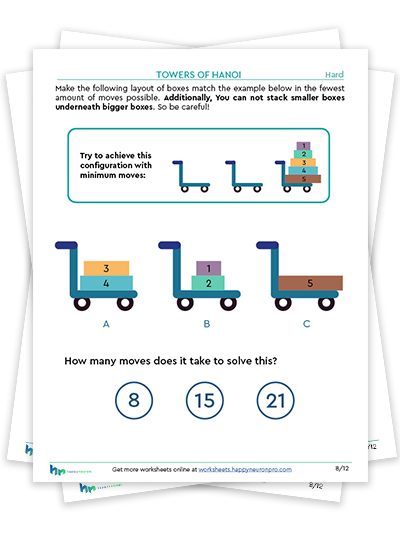 Towers of Hanoi takes on a fun change in this packet. The movers are coming, and you must move boxes carefully onto different carts to move them around safely. You have to make the following layout of boxes match the one below in the fewest moves possible. Additionally, You can not stack smaller boxes underneath bigger boxes. So be careful! 
These worksheets are great to help your clients practice planning how to move things and practicing how to think before they do an action. These activities will be great for middle schoolers, individuals with planning deficits, Seniors, and anyone who wants to improve their planning skills.
Include inside: 7 worksheets and bridging questions.
If you like these worksheets, check out our other executive function worksheets here →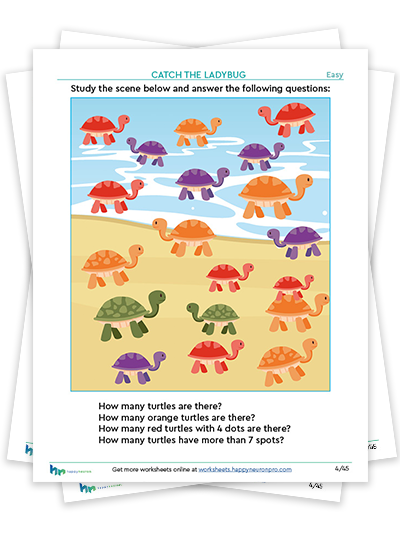 Embrace the spirit of Earth Day and harness the enduring strength of turtles! By engaging with our planning skills packet, they'll not only develop essential life skills but also cultivate a deep appreciation for the planet we call home. At the heart of our cognitive rehabilitation offerings lies a profound admiration for the planet and its incredible inhabitants. Earth Day serves as the catalyst for our latest creation, a unique packet that draws inspiration from turtles' resilient and steadfast nature. Just as these remarkable creatures inspire us with their strength and unwavering determination, we aim to inspire the development of essential planning skills in your clients through this engaging resource.
The central vision behind this packet is to challenge and enhance your client's planning skills. In the ever-evolving world we inhabit, planning has become an indispensable skill. We not only use them to navigate daily tasks but also to overcome obstacles and adversities. Just like the determined journey a turtle makes everyday.
Why Turtles?
Turtles have long been symbols of resilience and strength. As your client engages with these exercises, we hope they'll draw inspiration from the tenacity of turtles. Just as these creatures endure and persist. Your client can develop the skills needed to face life's challenges head-on and emerge victorious.
Included inside: 33 worksheets and bridging questions.
If you like this packet, explore our other executive function worksheets →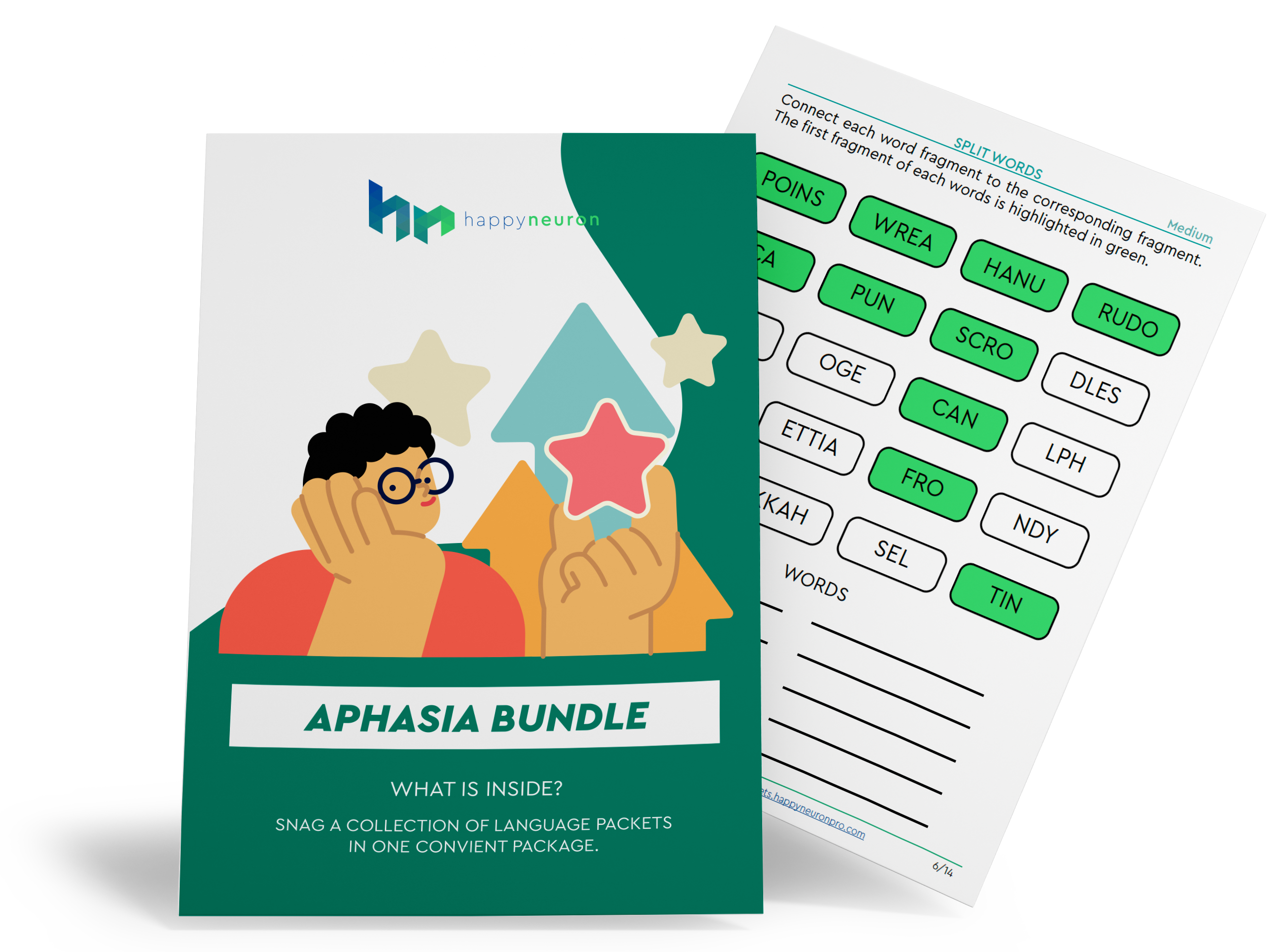 We've bundled some of our language and memory worksheets to develop a collection we are calling Aphasia Bundle 1. This bundle is designed to help you save money by buying in bulk. This bundle will touch all areas of cognition that are often found to be deficits for individuals with Aphasia. These exercises will have different elements of verbal memory and recall available.
Bundles + Save
Bundles are a great way to buy more but for a discount. If you were to buy all of these packets separately, you would pay more than $60+. Because we've bundled it, you're getting an instant saving of over 20%!
What's included inside: Instant PDF downloads of 6 packets or 78 unique worksheets.  
Answer a few questions about yourself and get at $15 credit for any purchase!
HappyNeuron's cognitive worksheet packets
HappyNeuron Pro worksheets are based on exercises from our digital tool. They are designed to be used by clinicians to help clients stimulate, build, or rebuild the foundation of different cognitive functions.
Cognitive therapy may lead to an improved quality of life for patients. We aim to empower clinicians by helping them save time and making it easier to provide cognitive therapy. Therefore, we design our worksheets and digital exercises to be engaging and relevant. Through our tools and the cognitive therapy that clinicians provide, patients can practice the cognitive skills needed for daily functioning and may see improvement.
Find the perfect cognitive worksheet packets for your client
We create a wide variety of worksheets for numerous cognitive domains and conditions. If you're searching for a specific cognitive skill, use the filters on the left. If you're looking for worksheets to help with a specific condition, we recommend you look at our worksheet bundles, which are collections of packets to address specific skills or conditions.