Cognitive Worksheet Packets
Worksheet packets for all areas of cognition.
Explore our entire library of cognitive worksheet packets. We have big packets, mini packets, bridging packets, and bundles that focus on specific cognitive functions, medical conditions, or themes. Join our monthly newsletter and get free packets directly in your inbox 2x a month.
Interested in the digital versions of our exercises? Try them here.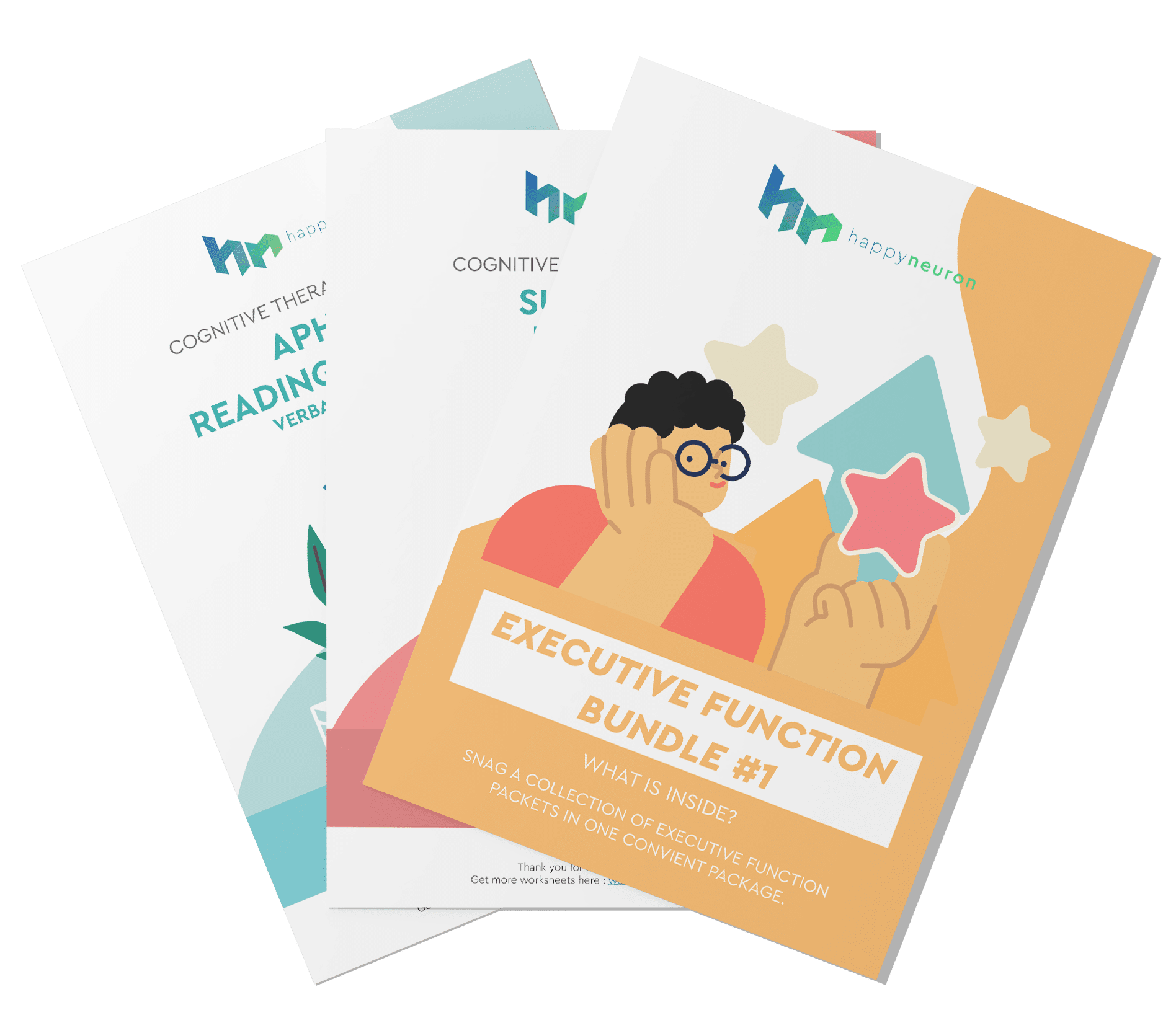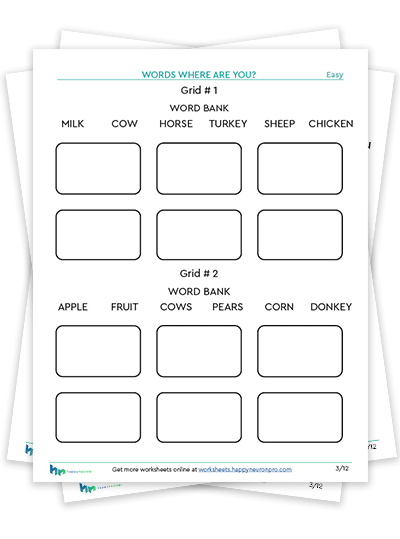 Can you remember a shopping list? What about the locations of different items on that list? Sharpen your verbal memory and executive function skills with this word and spatial memorization task, based on the exercise Words Where Are You? This exercise focuses on executive functioning skills such as working memory, attention, and task initiation!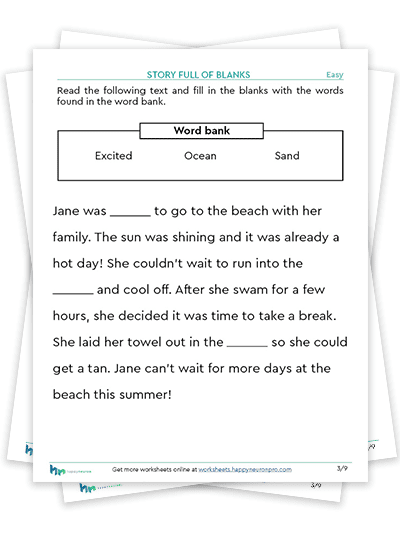 Ready to be an editor? Miss MadLibs? Read different passages and fill in the blanks with this fun verbal reasoning activity. This exercise focuses on executive functioning skills such as working memory, attention and metacognition. This is perfect for anyone looking to hone their verbal processing skills as well as working memory abilties!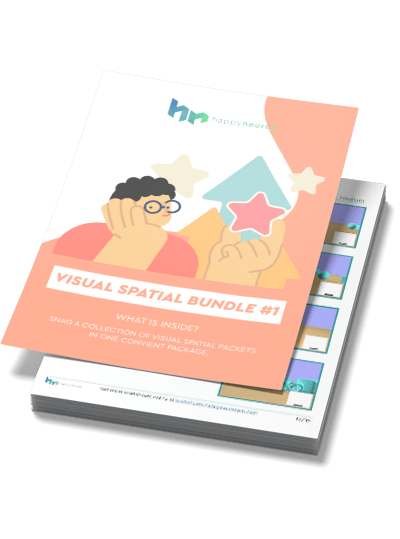 This bundle contains packets dedicated to Visual-Spatial tasks. This is one of the first in our series of visual-spatial-based worksheet bundles. Our bundles are aimed at helping clinicians build their own custom workbooks.
Bundle + Save
Bundles are a great way to buy more and save more! If you were to buy all of these packets separately, you would pay more than $50. Because we've bundled it, you're getting an instant saving of over 20%!
What's included inside: Instant PDF downloads of 4 packets or 61 unique worksheets.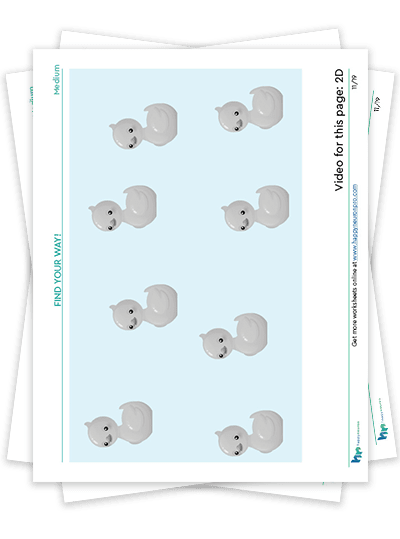 Ready for a memory challenge? Engage your client's attention and working memory skills using this mini hybrid packet. Find Your Way takes on a new face (or should we say bill) with this cognitive exercise packet. This activity primarily exercises executive functioning skills such as your client's Attention Skills.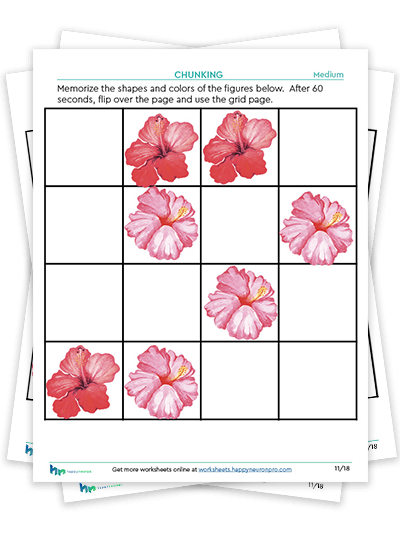 Spring time is here! Attend a flower show and freshen up your spatial memory skills with our fun and floral mini packet based on the exercise Chunking. This exercise is perfect for anyone who is looking to hone their memory skills, and uses executive functioning skills such as working memory, attention, and metacognition!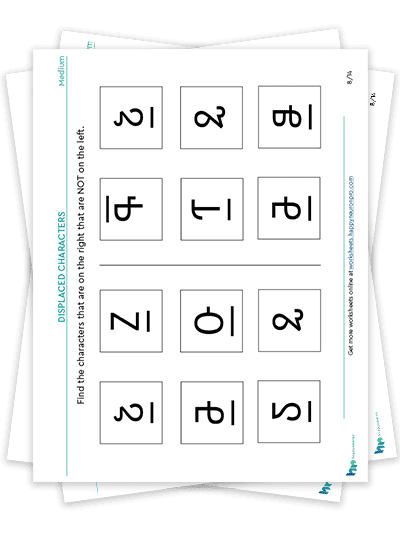 Ready for to challenge your attention and memory skills? Inspector Gadget may have an eye for detail, but do you? With this mini packet based on the visual attention exercise Displaced Characters, you can practice your attention to detail and ability to detect anomalies. This visual memory worksheets packet also utilizes executive functioning skills such as concentration and attention, and is great for anyone looking for a challenge!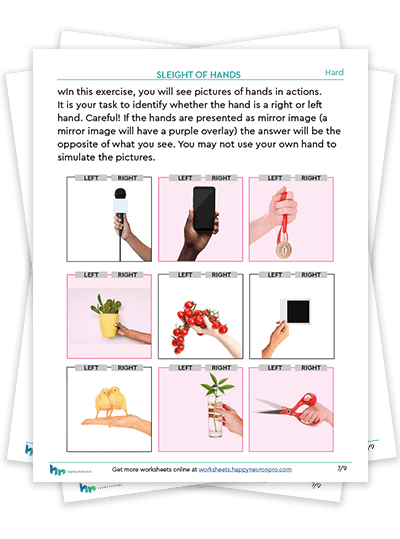 Learning left from right can be challenging for children and brain injury patients. Based on the exercise Sleight of Hands, this mini worksheet packet is a fun way to help clients practice left from right. Each page shows serval hands doing different things. Your patient or student will have to figure out whether or not the hand is left or right. The packet gets progressively more complex as they progress. This packet includes visual-spatial cognitive activities for adults and kids. It will be great for students with autism, learning disabilities, brain injury patients, and stroke patients.
Answer a few questions about yourself and get at $15 credit for any purchase!
HappyNeuron's cognitive worksheet packets
HappyNeuron Pro worksheets are based on exercises from our digital tool. They are designed to be used by clinicians to help clients stimulate, build, or rebuild the foundation of different cognitive functions.
Cognitive therapy may lead to an improved quality of life for patients. We aim to empower clinicians by helping them save time and making it easier to provide cognitive therapy. Therefore, we design our worksheets and digital exercises to be engaging and relevant. Through our tools and the cognitive therapy that clinicians provide, patients can practice the cognitive skills needed for daily functioning and may see improvement.
Find the perfect cognitive worksheet packets for your client
We create a wide variety of worksheets for numerous cognitive domains and conditions. If you're searching for a specific cognitive skill, use the filters on the left. If you're looking for worksheets to help with a specific condition, we recommend you look at our worksheet bundles, which are collections of packets to address specific skills or conditions.