Worksheets for all areas of cognition.
Explore our entire library of cognitive worksheets. We have big packets, mini packets, bridging packets, or bundles that focus on a cognitive function, a medical condition, or a theme. Join our monthly newsletter and get free packets directly in your inbox 2x a month.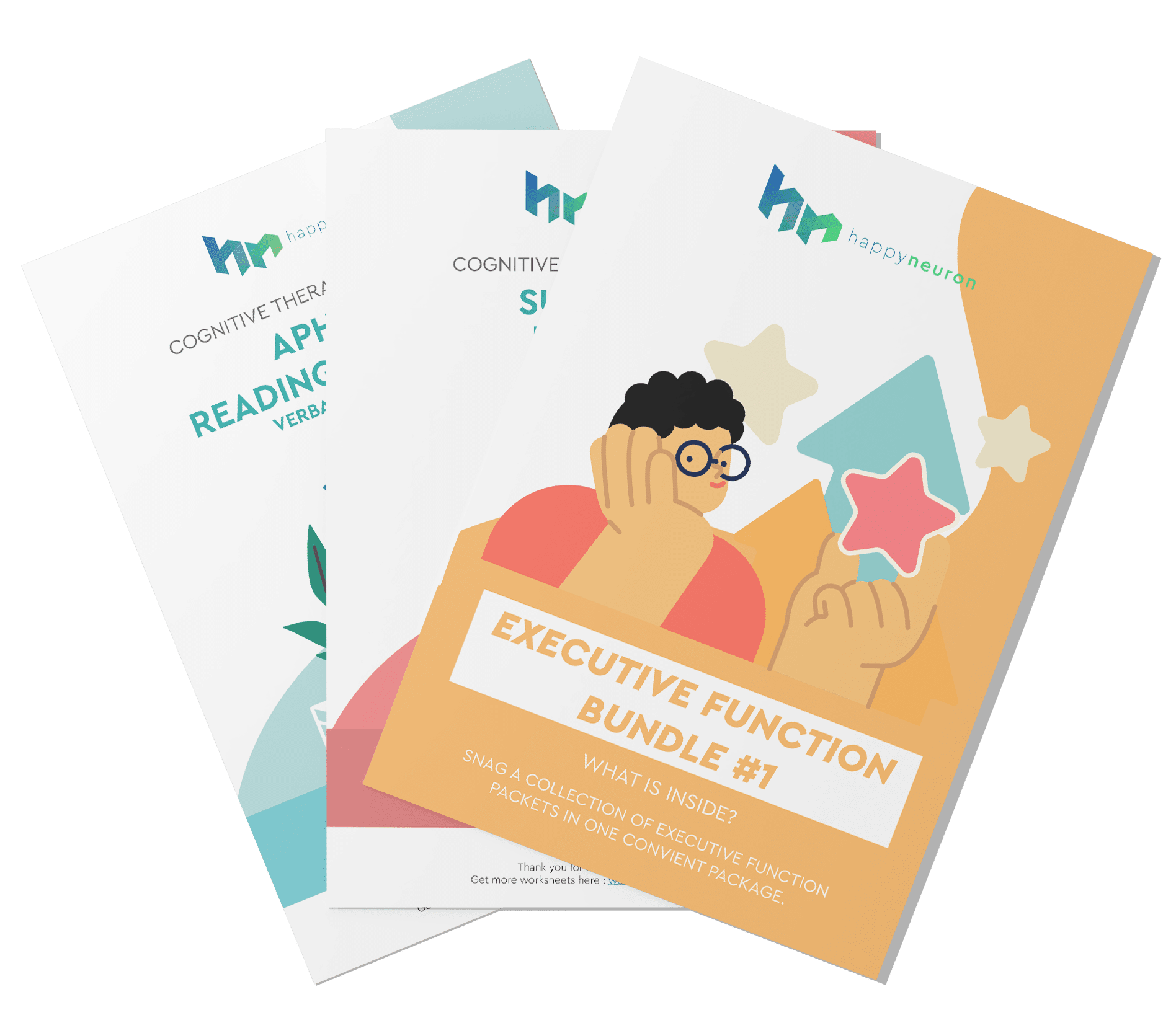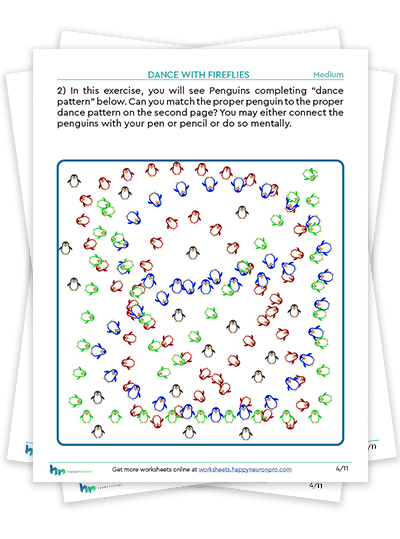 In this attention-focused packet, identify the different dances each penguin is making. Based on our digital exercise, Dance with Fireflies, this worksheet packet will challenge your patient's ability to focus and break apart patterns to find the desired shapes. This worksheet would be great to use in group therapy sessions or individual sessions. Kids have shared how much they love dancing penguins.
In addition to attention stimulation, this packet will challenge your patient's working memory, organization, and self-control. Challenge your patients by giving this penguin-filled packet a try! If you like this packet, you'll love the digital program. Try this exercise today! 
Included inside: 7 worksheets and bridging questions.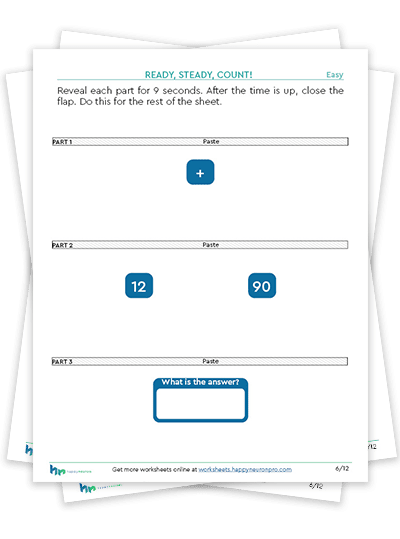 Think you have what it takes for a mathematical challenge? Put together numbers and operators to solve equations! Practice your math skills with this logic focused cognitive packet. This packet will help reinforce executive functioning skills such as planning, organization and metacognition. Challenge yourself by completing this logic based packet!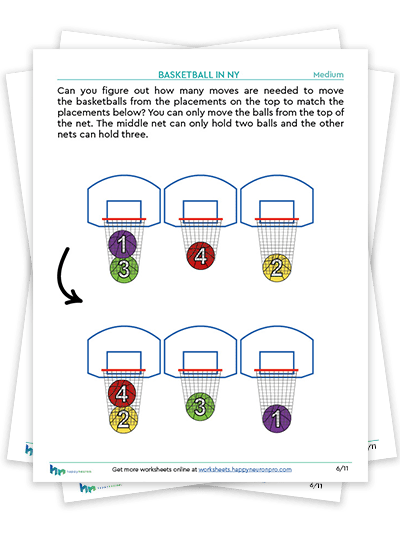 Ready to play basketball? Shoot hoops and build executive functioning skills at the same time! Mentally manipulate basketballs in as few moves as possible to score the most points in this game of hoops! This packet utilizes skills such as flexibility, perseverance and self-control, and is great for anyone who is looking to have fun while honing their executive functioning abilities!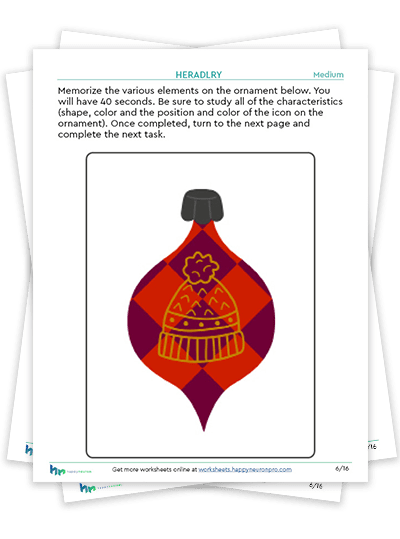 Try your hand at making your own holiday ornaments, and recalling what they look like. This holiday themed packet will challenge your visual memory as you create and recall different ornaments. This packet uses executive functioning skills such as working memory, metacognition and organization.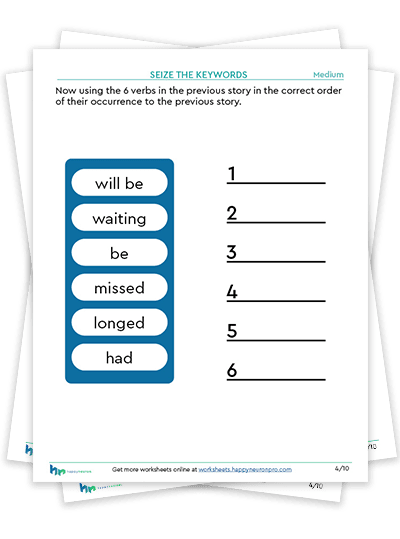 Ready for a holiday challenge? Practice your skills in speech recognition, verbal memory, and grammatical attention in this language holiday-themed packet based on the exercise Seize the Keywords. This packet focuses on executive functioning skills such as working memory and task initiation. If you are looking to try something new or to challenge your speech recognition and verbal memory skills, this is the packet for you!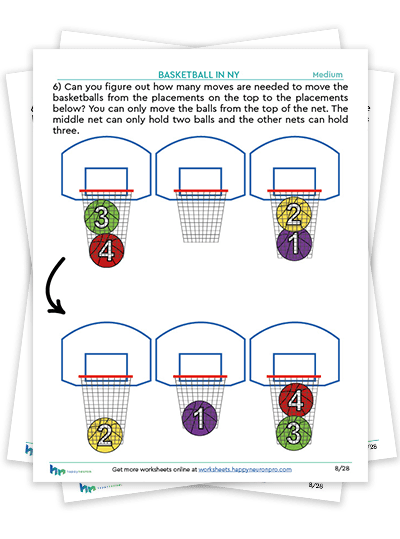 Deductive reasoning is the main focus of this packet. Deductive reasoning is used during any planning and decision-making cognitive functions. In this packet, your client will perform varying exercises. They will have to move basketballs mentally. Decipher what a symbol could symbolically mean in a mathematical equation. Complete a variety of mathematical equations ranging from easy to complex. And lastly, move rings on a stick to build various towers. These exercises will challenge their abilities to inhibit unwanted responses, shift between tasks, perform mental manipulations, and make choices.
Your students will enjoy the mental challenges needed to complete these tasks. This packet is great for clients with attention deficit disorder, brain injury, stroke, or experiencing cognitive difficulties related to psychosis.
included inside: 20 worksheets and bridging questions.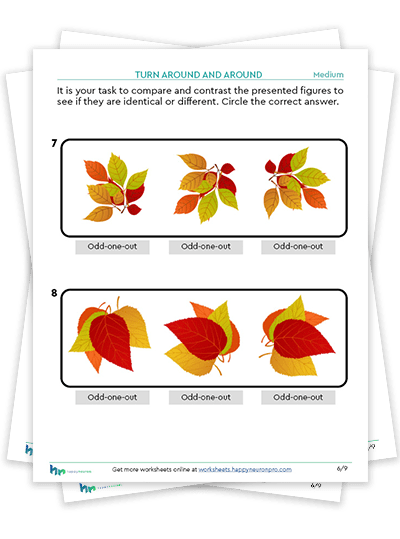 Based upon our digital exercise, Turn around and around. This falling leaves theme workbook is designed to strengthen your client's mental imagery skills and, more importantly, their ability to mentally rotate objects which are used to recognize objects viewed from unusual angles.
This exercise is great for anyone who is looking to improve their visual-spatial skills or for a challenge!
Included Inside: 4 worksheets and bridging questions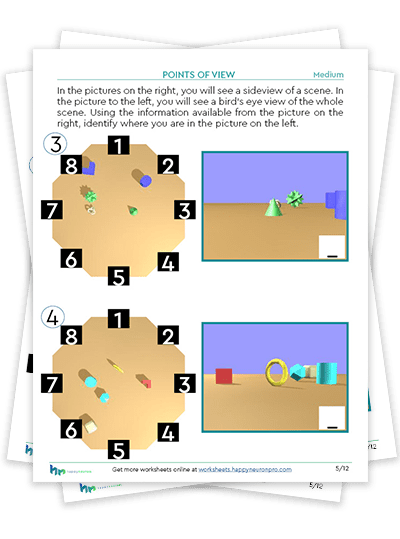 Want to get better at reading maps? Clients can test their metacognition, working memory and planning skills in this exercise. This packet is great for anyone looking to hone their cognition skills for real life situations! Practice your visual spatial skills in this visual spatial skills focused mini packet!
Answer a few questions about yourself and get at $15 credit for any purchase!