Worksheets for all areas of cognition.
Explore our entire library of cognitive worksheets. We have big packets, mini packets, bridging packets, or bundles that focus on a cognitive function, a medical condition, or a theme. Join our monthly newsletter and get free packets directly in your inbox 2x a month.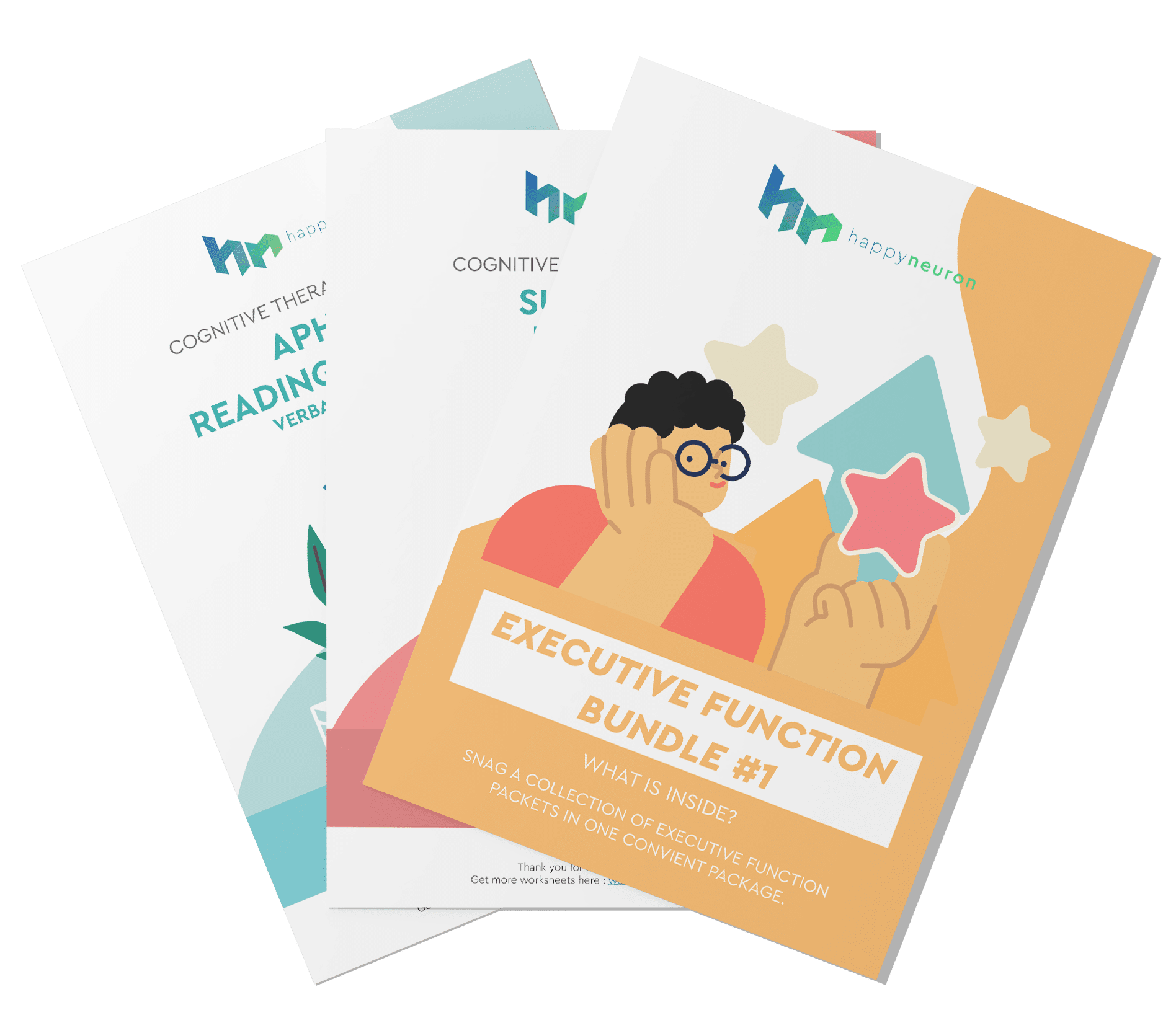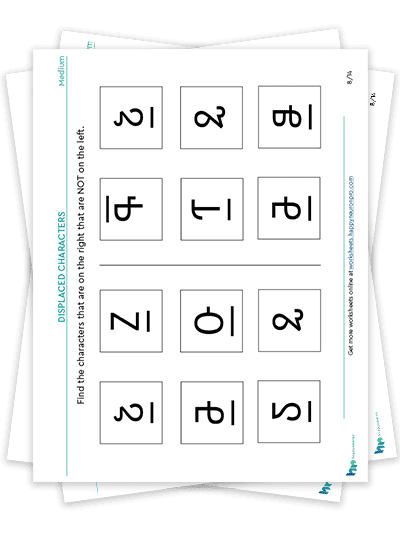 Ready for to challenge your attention and memory skills? Inspector Gadget may have an eye for detail, but do you? With this mini packet based on the visual attention exercise Displaced Characters, you can practice your attention to detail and ability to detect anomalies. This visual memory worksheets packet also utilizes executive functioning skills such as concentration and attention, and is great for anyone looking for a challenge!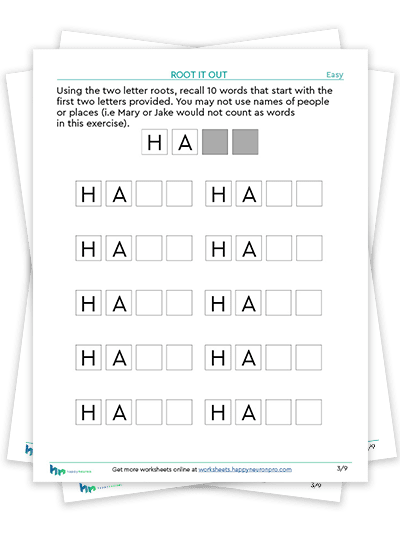 This mini packet will challenge verbal memory, the ability to recall words. Based on the game Root It Out, these worksheets are great to use as a word retrieval exercise for adults. The goal of these worksheets is to generate as many words as possible with the given starting letters. You can also use this as a word retrieval game for Aphasia treatment activities in therapy groups, individual practice, or learning disability classes. In addition to language, executive functioning and working memory activities are used throughout this mini packet.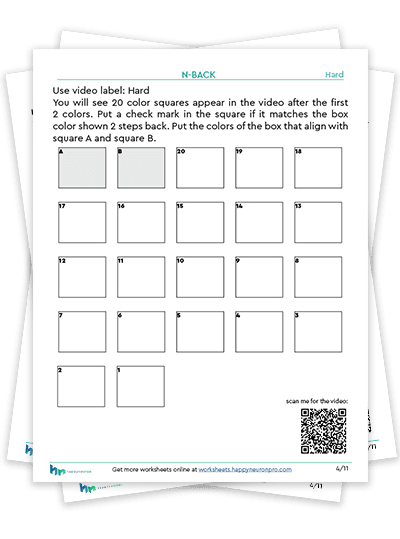 How good is your memory? Test your working memory and recall abilities in this hybrid memory packet based on the exercise N-Back. This packet utilizes executive functioning skills such as working memory, metacognition, and concentration. Try this packet for working memory activities and test your memory skills!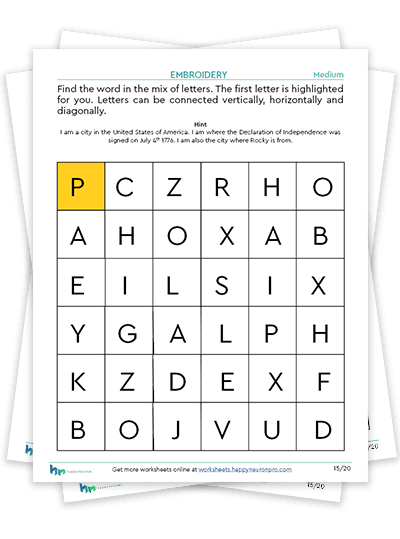 Are you looking for language activities for dementia patients? Language is a complex cognitive skill. It involves executive functioning, memory, and visual and auditory processing skills. Sometimes, people with dementia struggle with one or more aspects of language, such as word retrieval. That is why we developed this packet. We wanted to create a packet to help improve language skills that are often inhibited in individuals with dementia.
In this workbook, we have provided 4 exercises that target different cognitive skills involved in language skills. We have a verbal memory exercise, Words, Where are you? We have a visual attention exercise, Private Eye. Additionally, we have a word-categorizing activity, Secret Files, and lastly, a language-inferring activity, Embroidery.
This packet will be great to be used for seniors, anyone looking for printable activities for dementia patients, or anyone looking for language-based activities. If you love this packet, we highly recommend you try our digital program. Each one of these exercises is even better on the digital program. 
Included inside: 13 worksheets and bridging questions.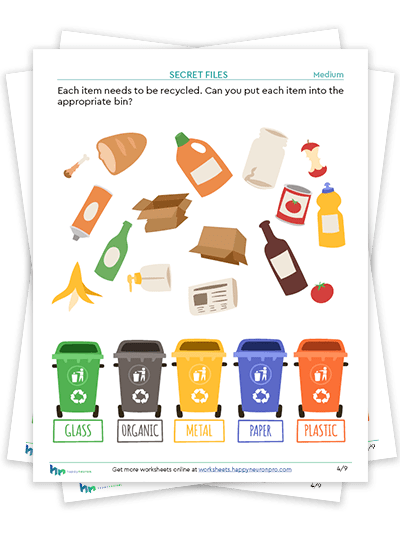 Based on our digital exercise Secret Files, this recycling activity packet will be fun and educational for everyone. Help teach your patients, clients, students, and kids the difference between recycling cans and this packet. This packet will test their semantic knowledge and visual attention by sorting various waste items into color-coordinated bins. The more bins there are, the more specific the thing that can and should go into it. This attention-based worksheet packet is an excellent activity to do for Earth Day or as a bridging activity. Preschoolers and Seniors will enjoy this color-filled recycling worksheet packet today!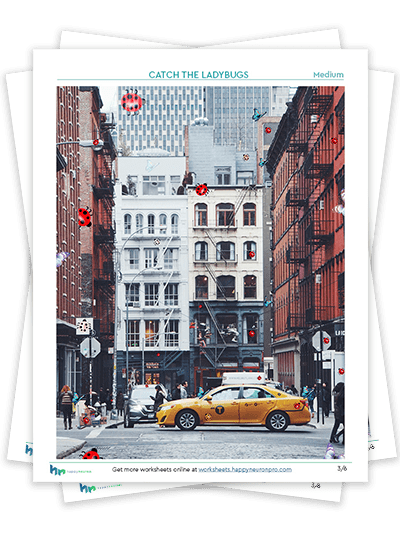 Stroke impacts motor coordination and processing speed. Clients will be able to practice and hone their motor skills by working on their ability to process what is going on around them. In this mini-packet, you must use both of your hands and your eyes to catch the ladybugs in a variety of different scenes. Try doing this packet with one or both hands!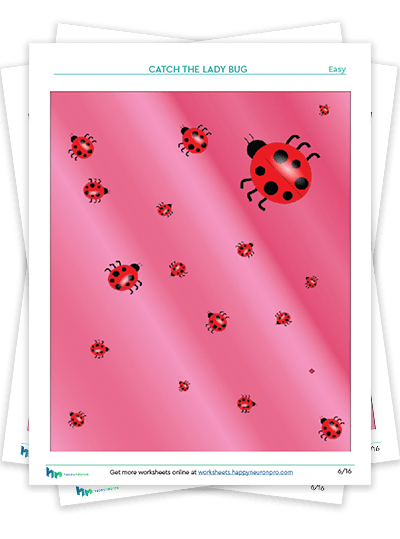 Stroke impacts verbal fluency, semantic knowledge, memory, attention, and motor skills. In this packet, we wanted to provide several exercises targeting some of the key cognitive areas that may be impacted after a stroke. Our catch the ladybug exercise helps individuals practice hand movement. Root it out will help engage your patient's long-term verbal memory recall. This packet's version of Private Eye will encourage your patient to use their inferring skills. Your Patient will have to figure out which item does not belong. Lastly, fill in the blank, a modified version of This Story is Full of Blanks, may encourage your patient's verbal memory as they recall facts about themselves.
This packet contains adaptable activities for individual and group therapy sessions.
Included inside: 10 pages and bridging questions.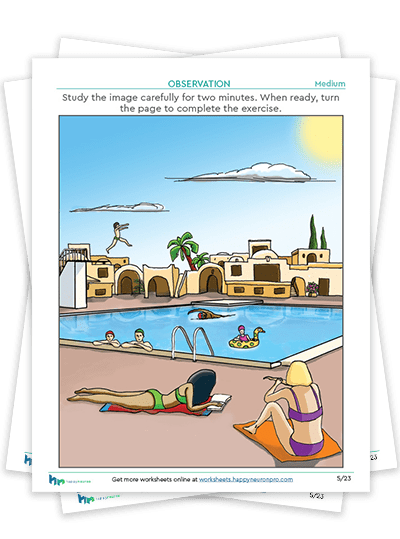 Visual attention is the focus of this cognitive rehabilitation worksheet packet. If your patient finds it hard to pay attention, add this packet should be in your collection today.
This packet has a variety of exercises. Our Mosaic exercise will challenge your patient's ability to visually find an object among a bunch of rotated things. Visual remember elements of an image with our Observation exercise. Next, your patient must distinguish icons on one side of a graph or image and the other side in our Same or Different and Displaced Characters exercises. Lastly, your patient must recall the steps taken in our Find Your Way exercise. This visual attention packet is an excellent workout for your client's brain after a brain injury or if they have difficulty paying attention. Patients must have a sharp eye and strong attention to solve these attention-grabbing problems in this packet!
If you like this packet, explore our library of visual attention worksheets! Try our digital program if you would like to try our other attention-based exercises that may improve your patient's ability to pay attention.
Included inside: 14 worksheets and bridging questions.
Answer a few questions about yourself and get at $15 credit for any purchase!