Speech Therapy Worksheets
A Trusted Resource for Effective and Fun Adult Speech Therapy Activities
If you're seeking comprehensive speech therapy exercises for adults, you're in the right place. Our PDF downloads cover a wide spectrum of speech exercises, from articulation to fluency. These resources are an great addition on your journey to better speech and communication therapy sessions.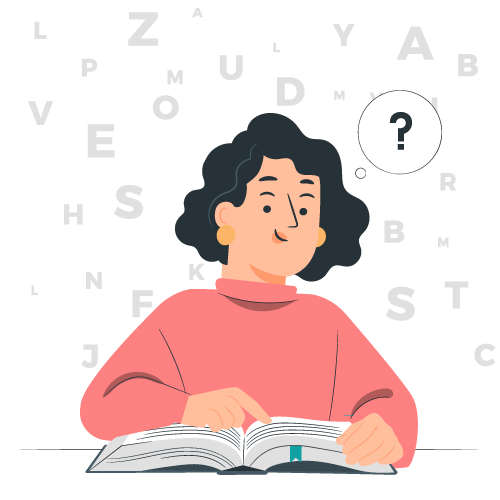 We release free worksheets via our bi-monthly newsletter. Make sure to join our mailing list always to get the newest free minis!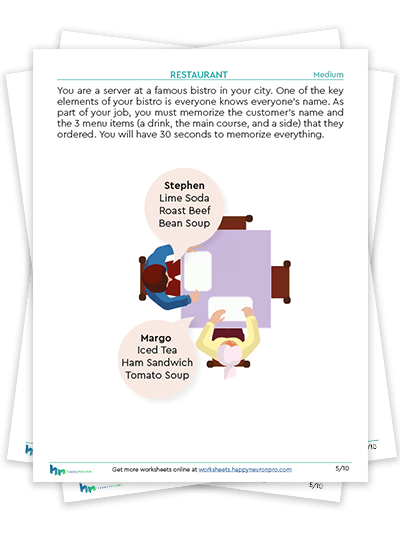 Think you can be a server? Try remembering the orders of diverse clients in this memory focused packet! Clients will focus on executive functioning skills such as organization and attention. This Mini Packet is great to help clients feel more confident on organizing and adapting to new changes at a quick pace!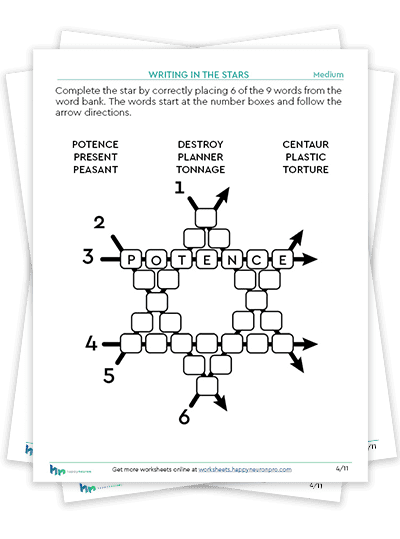 Ready for a word challenge? Choose and place words in as few moves as possible into the night sky with this exercise. This may seem like a regular crossword puzzle, but when done right, it will challenge a myriad of cognitive skills such as planning, decision making, and deductive reasoning.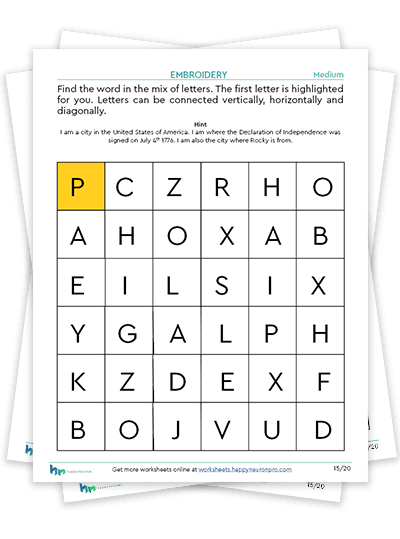 Are you looking for language activities for dementia patients? Language is a complex cognitive skill. It involves executive functioning, memory, and visual and auditory processing skills. Sometimes, people with dementia struggle with one or more aspects of language, such as word retrieval. That is why we developed this packet. We wanted to create a packet to help improve language skills that are often inhibited in individuals with dementia.
In this workbook, we have provided 4 exercises that target different cognitive skills involved in language skills. We have a verbal memory exercise, Words, Where are you? We have a visual attention exercise, Private Eye. Additionally, we have a word-categorizing activity, Secret Files, and lastly, a language-inferring activity, Embroidery.
This packet will be great to be used for seniors, anyone looking for printable activities for dementia patients, or anyone looking for language-based activities. If you love this packet, we highly recommend you try our digital program. Each one of these exercises is even better on the digital program. 
Included inside: 13 worksheets and bridging questions.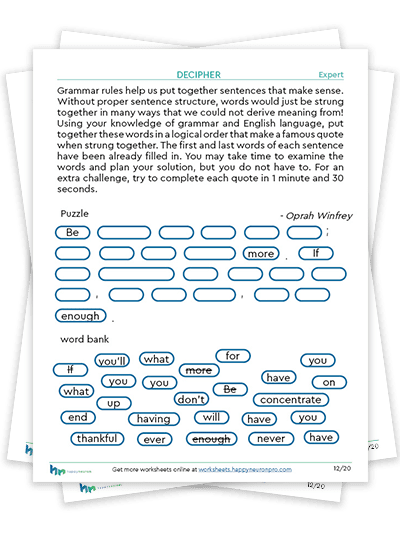 Working memory is the cornerstone of cognitive function, essential for tasks that require attention, problem-solving, and learning. At Happy Neuron Pro, we're committed to helping you improve your client's working memory. This is why we created this packet and why we think this would be a great addition to your therapeutic toolbox! In this packet, we have carefully crafted a set of four exercises, each targeting different aspects of working memory:
Chunking: Sharpen your attention and visual-spatial skills as you study the location of items on a grid. This is a fun way to engage spatial memory.
Split Words: It is one thing to remember words. It is another to put fragments of words together. This one is fun on paper but even better as a digital exercise. Make sure to check it out!
Root It Out: Trying to recall words that start with a certain letter can become challenging before you realize it.
Decipher: Strengthen your working verbal memory as you decipher and decode these mystery words.
We recommend this packet for individuals who are 10 years or older. This will be great for older adults and individuals looking to improve their memory. Additionally, we understand the importance of translating therapeutic activities into real-world achievements. To facilitate this process, we provide you with a unique set of bridging questions. These questions help you and your clients reflect on how your cognitive rehabilitation therapy aligns with their personal goals. We also believe these questions may help clinicians identify areas where more work is needed and recognize strengths.
Included inside: 14 working memory activity worksheets and bridging questions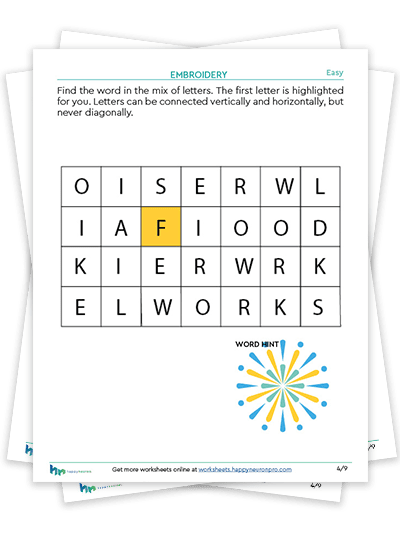 We love word searches. Word searches a great way to work on executive function skills such as working memory and attention. In this exercise, you must find a word within a sea of letters based on given clues. Clients will be challenged to find each word and analyze different sets of clues. This exercise will require you to use deductive reasoning and verbal memory skills in order to find the right word.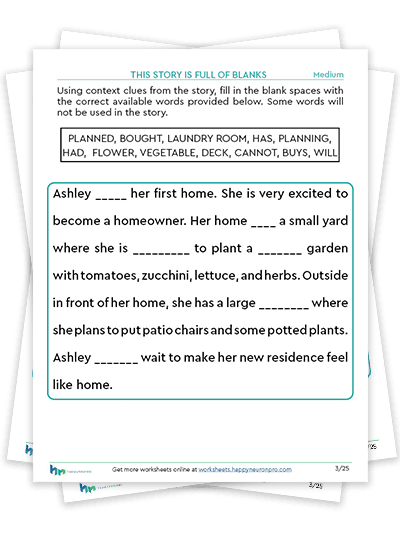 Are you looking for effective ways to support individuals with Aphasia in improving their language and cognitive abilities? Our carefully crafted packet makes practicing language fun! We understand that many individuals possess remarkable intelligence but face language-related challenges. Our goal is to empower clinicians with resources to help them overcome Aphasia and enhance their communication skills hopefully.
In this packet, you'll find five engaging activities based on our language-based digital exercises. These exercises are strategically designed to address the underlying language components individuals may struggle with. Providing these exercises may enable your clients to make significant progress in their language abilities.
In addition to language improvement, our worksheets also target other essential cognitive functions required for language success. Other cognitive skills engaged in this packet are:
Executive Functioning: Our exercises challenge executive functions, helping individuals with Aphasia enhance their decision-making, planning, and problem-solving skills.
Working Memory: These worksheets engage working memory, a vital cognitive skill necessary for retaining and processing information effectively.
Attention: Our exercises promote focused attention, a crucial skill for clear communication and daily activities.
We believe that with the proper tools, clinicians can create environments of learning and recovery. It is for that reason that we develop worksheets like this and more. Make sure also to download our other free worksheets. We release free mini worksheets 2x a month.
Included inside: 17 worksheets and bridging questions.
Looking for more resources? Check out our other aphasia-focused worksheets →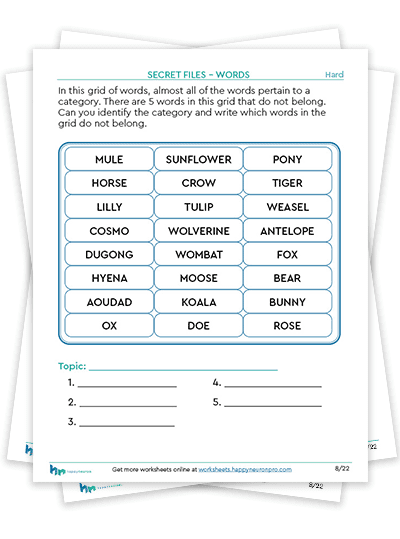 We designed this packet to stimulate visual skills related to verbal attention. The goal of this packet is to engage all aspects related to verbal and visual attention skills. We believe Verbal and visual attention skills are essential to all cognitive functions, especially those around social cognition and language. This packet will start by challenging your patients with two different adaptations of our digital exercise Private Eye. In this first exercise, your patient will have to find perfect circles. The following exercise will challenge their ability to recognize the correlation between words and their meaning to determine which words do not belong. The following exercise is a modification of Elephant Memory. This modification requires your patient to study a scene and answer questions.
The last two exercises are focused directly on verbal attention. This last section starts with an adaption of Restaurant. This adaption aims to engage your patient's ability to compare and contrast two recipes. Looking side by side, your patient will identify what was different between the recipes. Finally, your patient will have to read a passage and find the typos and errors in this modified version of This Story is Full of Blanks.
This packet is an excellent resource for teachers who want to challenge their students' ability to process visual-verbal information. Therapists have also used this packet to help stimulate patients with brain injuries that affect their verbal attention skills or aphasia.
Included Inside: 13 pages and bridging questions.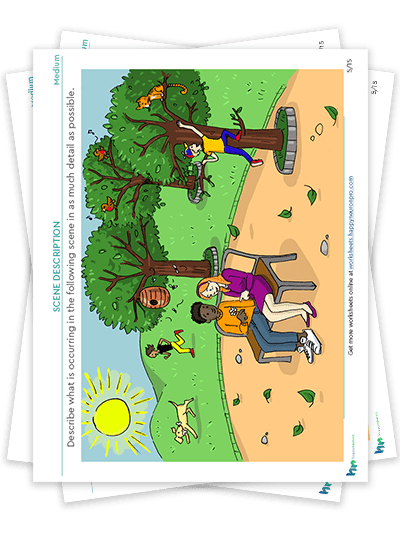 Are you looking for verbal fluency activities for aphasia patients? If so, look no further. Verbal Fluency is a complex cognitive skill. It involves executive functioning, memory, and visual and auditory processing skills. Individuals who have acquired Aphasia often struggle with verbal fluency. It could be word retrieval, sentence comprehension, or word choice. For this reason, we developed this inclusive verbal fluency packet for aphasia patients.
This packet will be great for a warm tool, group therapy, or one-on-one. This packet can be used by kids aged 8+. If you like the root it out or embroidery exercise, try them on our digital tool!
Include inside: 7 worksheets and bridging questions.
Get a Free Packet (or 2!)
Answer a few questions about yourself and get at $15 credit for any purchase!
What do you offer for Speech Therapist?
We have packets, mini packets, bridging packets, or bundles that focus on all elements of language. Therefore our PDF downloads cover a wide spectrum of speech therapy exercises, from articulation to fluency enhancement. With this intention, we believe our resources are an invaluable aid on your journey to improving individuals speech and communication skills. 
Who uses these speech therapy worksheets?
These worksheets are used by Speech Therapists around the globe. Speech therapists use our worksheets with individuals who have had a stroke, have aphasia, or just want to improve the word retrieval of their clients.
Now, are you looking for more than just language? If so, Check out all of our worksheets here! 
Do you have other activities?
Yes, we do! All of our worksheets are based on our digital tool, HappyNeuron Pro. If you enjoy using these worksheets we highly recommend checking out the capabilities of our digital tool. 
Why do you have Cognitive Speech Therapy Activities for Adults?
Cognitive functions play a significant role in effective communication. Without cognitive skills, such as memory, attention, and auditory, language skills would not exist. With this in mind, we want to make sure that our PDFs also include cognitive task that may help all different types of cognition. Therefore, if you enjoy these PDFs, check out our digital language activities here →
Why Choose Happy Neuron Pro's Speech Therapy Worksheets?
Expertly Designed: Our exercises are created by experts who understand the unique needs of adults.

Convenient PDF Format: Download, print, and practice whenever and wherever you prefer.

Proven Results: Countless individuals have benefited from our resources, experiencing improved word retrieval and speech skills. Read some our testimonials →

Some are Completely Free: We offer 2 minis free a month, enjoy the benefits of our PDF downloads at no cost to you.