We release these minis twice per month and each focuses on only one task with several difficulty settings.
The most recent 5 minis are always free so make sure to grab them while they are free!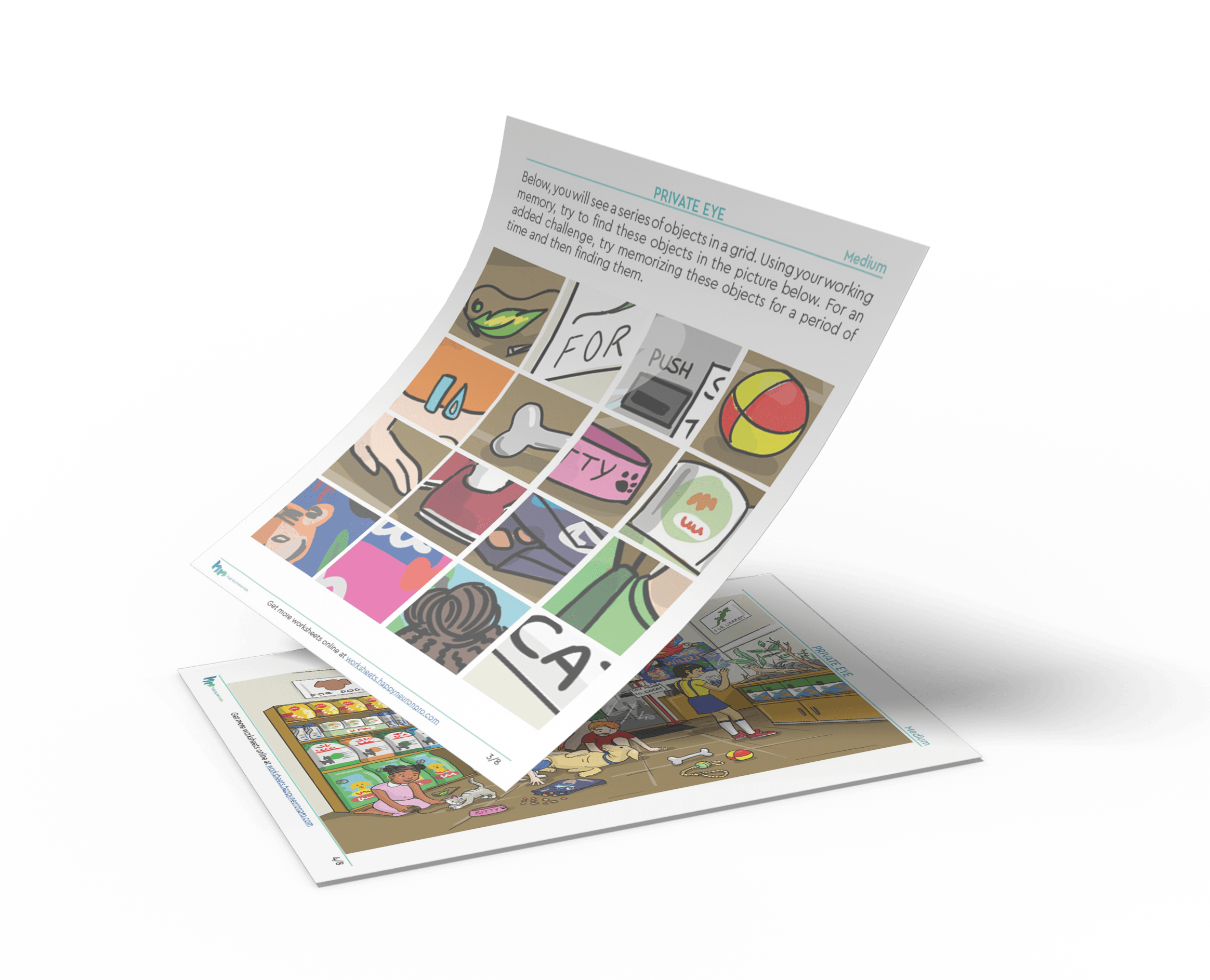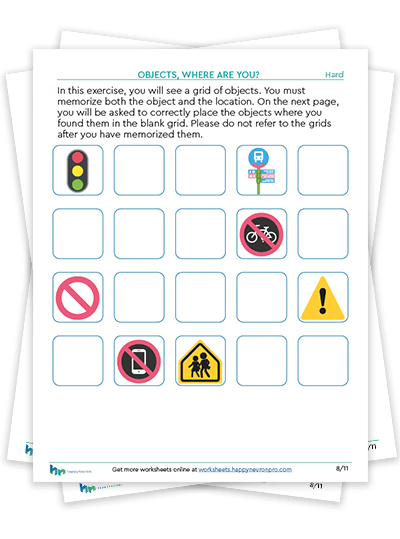 Let's get this show on the road! Work on your visual memory by recalling different road signs and their locations. Clients will utilize executive functioning skills such as attention and working memory. This exercise will help you learn the strategies needed to recall signs you have just seen in order for you to make decisions on the road.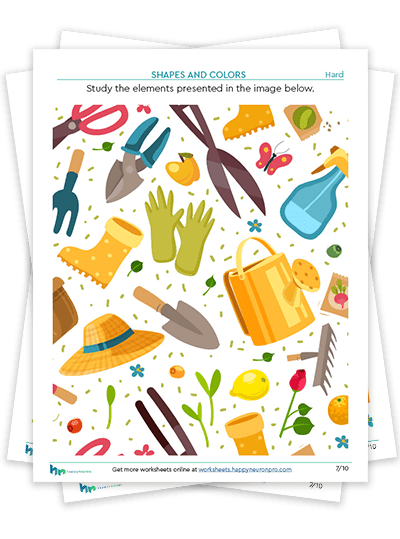 Ready to test your brain? Practice your visual memory by picking out and recall different gardening tools and plants in this fun springtime mini worksheet! Clients will use skills such as attention and organization in order to complete this exercise! This Mini Packet is perfect for those who are looking to hone their attention to detail and memorization skills!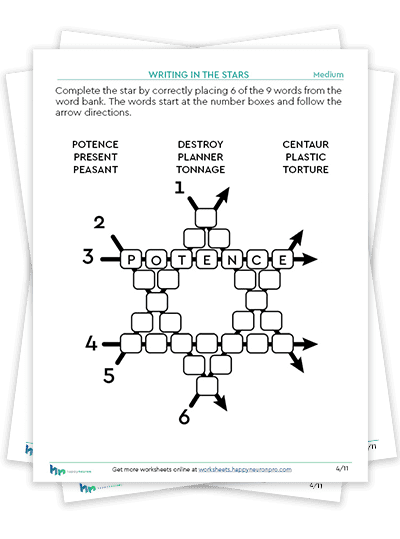 Ready for a word challenge? Choose and place words in as few moves as possible into the night sky with this exercise. This may seem like a regular crossword puzzle, but when done right, it will challenge a myriad of cognitive skills such as planning, decision making, and deductive reasoning.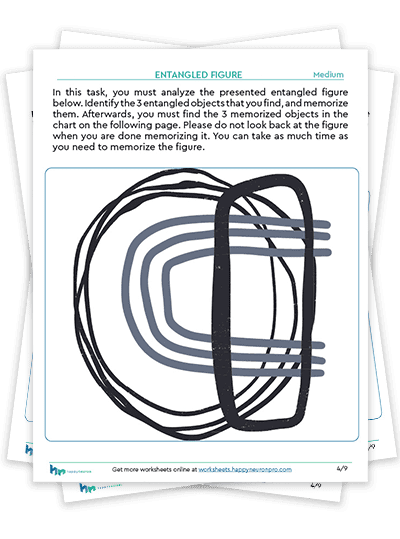 Can you pick apart a picture? Pull apart the elements of each image, and find the components below each picture. This exercise will help you learn strategies that you will need to pull apart details of a scene that you are observing. Clients will be able to develop their attention and task initiation skills by completing this exercise.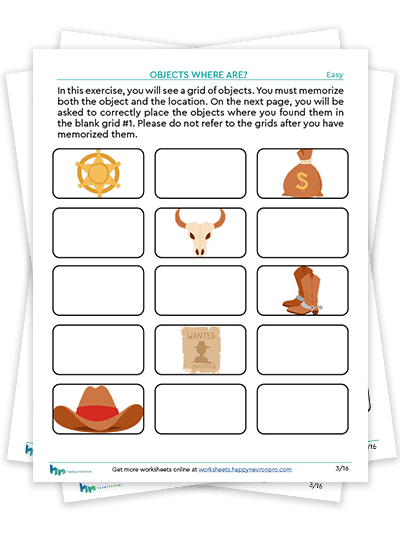 Go set out on the wild wild west! Try your hand at remembering and recalling different images and their locations on a grid associated with America's wild wild west! In this exercise, clients will utilize executive functioning skills such as working memory and attention. This Mini Packet can help clients prepare for real world tasks like being able to recall objects around their neighborhood.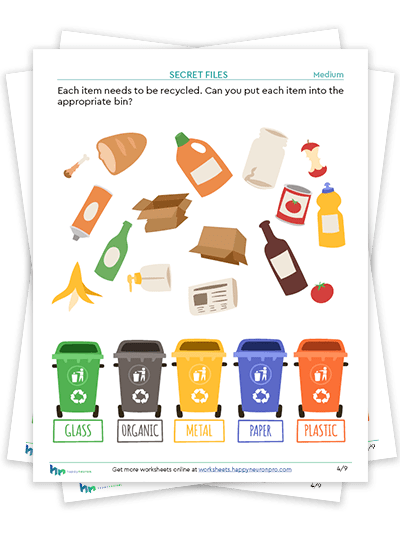 Based on our digital exercise Secret Files, this recycling activity packet will be fun and educational for everyone. Help teach your patients, clients, students, and kids the difference between recycling cans and this packet. This packet will test their semantic knowledge and visual attention by sorting various waste items into color-coordinated bins. The more bins there are, the more specific the thing that can and should go into it. This attention-based worksheet packet is an excellent activity to do for Earth Day or as a bridging activity. Preschoolers and Seniors will enjoy this color-filled recycling worksheet packet today!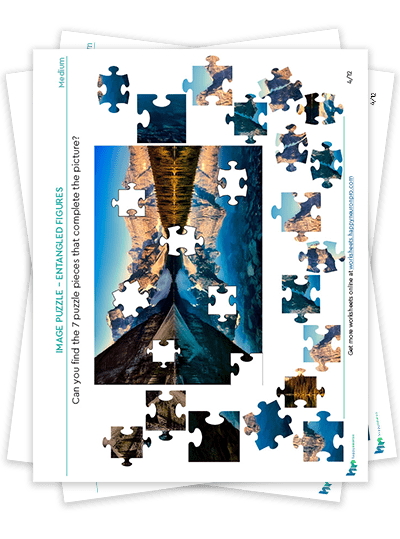 Do you enjoy puzzles and solving problems? Use your visual spatial and deductive reasoning skills to complete pictures of images. Clients will have the opportunity to utilize their time management, planning and organization capabilities to complete the puzzle. This Mini Packet is perfect for anyone who is looking to work on reasoning skills and will help clients practice the abilities needed to put these into play in real life.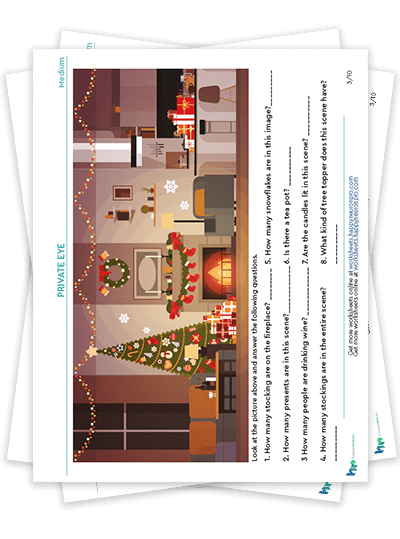 Feeling festive and a little like Sherlock Holmes? In each holiday scene, find the hidden presents and decorative items. Clients will focus on various executive functioning skills as they complete the worksheet. This exercise requires attention to detail, which will help you be a better holiday card writer, be more organized, and be able to catch miswrapped gifts!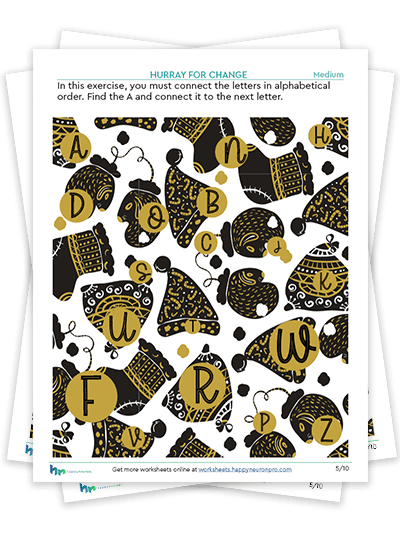 Don't get lost in the wrapping paper! Switch between numbers and letters in this executive functioning task while navigating festive backgrounds. This exercise will help you learn strategies to switch between two different stimuli and avoid distraction coming from the environment. Clients will be able to hone their time management and organization skills while practicing this activity.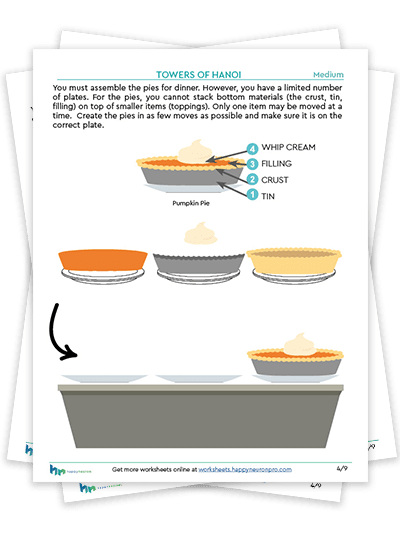 Are you a good baker? Put together various pies in as few moves as possible. Be careful! Don't forget the toppings! Clients will learn all about organization, metacognition and attention to detail during this exercise. This packet will challenge your ability to plan and make decisions, which are key components of executive functioning.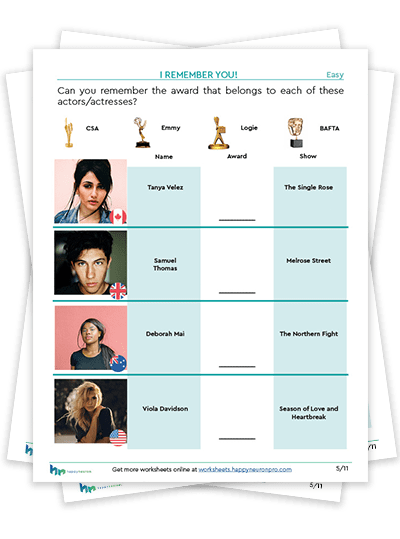 Get your popcorn ready and attend an international film awards show! In this worksheet, you must remember verbal and visual information pertaining to the different awards and the awardees. This exercise will help you learn strategies to remember and recall specific details regarding a specific situation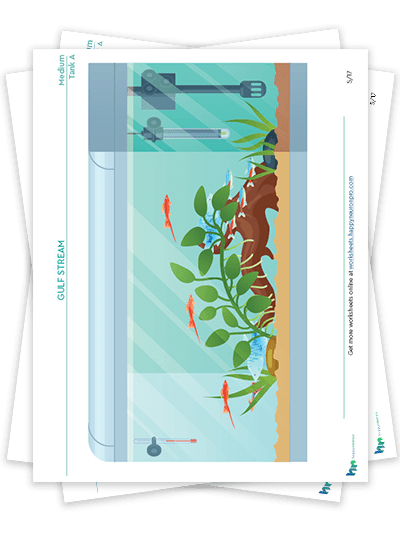 Use this packet to challenge your patient's or your ability to remember fish. This memory worksheet packet will make you want to go to the aquarium and buy some fish. This packet is adaptable and has the ability to use in combination with other Memory worksheets or to make your own more complex or simpler aquariums. Clients will learn about using skills such as working memory and paying attention.
Included inside: 8 worksheets and bridging questions.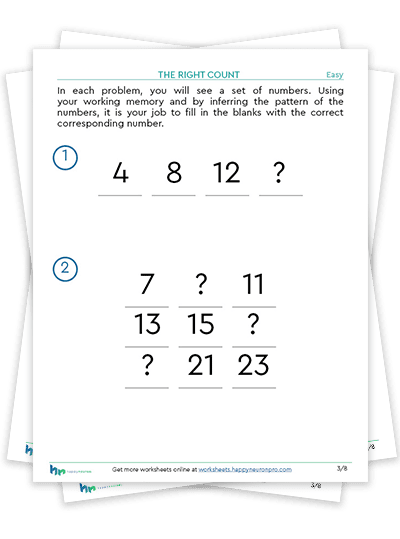 Can you remember the number line? Sort even or odd numbers in ascending or descending order. Clients will use executive functioning skills such as attention and working memory as they work to complete the exercises. This packet will help you learn to sequence numbers and distinguish between even and odd numbers.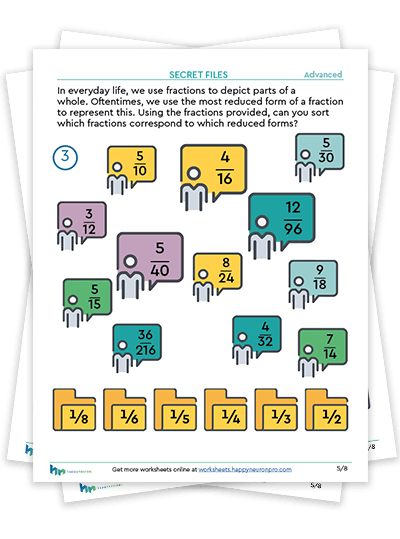 Math expert? Try your hand at sorting like fractions with each other! This assists clients with skills such as attention, working memory and metacognition. Children will feel more confident about utilizing math skills in daily life as well. This a great packet to use with children learning the basics of mathematics and fractions.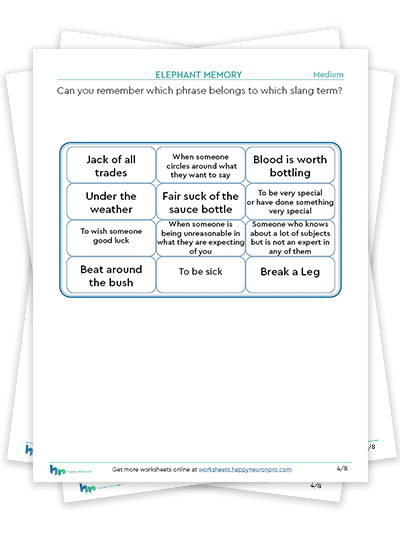 Forgot your grocery store list? Fear no more! With these exercises, you will learn about adaptability. Practice remembering words in a set, and recalling them for later use! Clients will be able to work on working memory, flexibility and organization. This exercise will target your verbal memory, and help you be able to remember a list that you make for your store trips!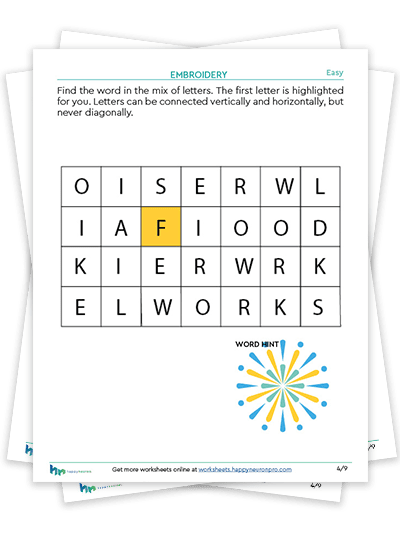 We love word searches. Word searches a great way to work on executive function skills such as working memory and attention. In this exercise, you must find a word within a sea of letters based on given clues. Clients will be challenged to find each word and analyze different sets of clues. This exercise will require you to use deductive reasoning and verbal memory skills in order to find the right word.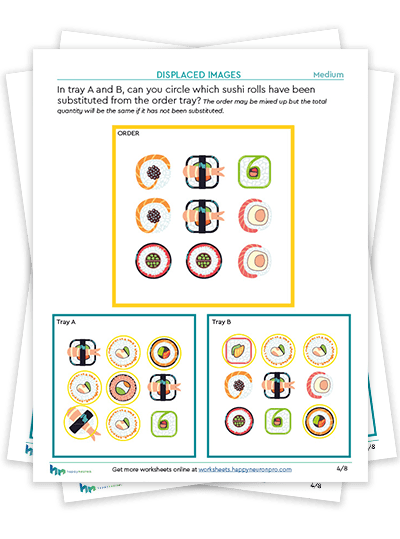 Comparing and contrasting information can be a difficult task for anyone. In this exercise, you must compare and contrast images in two sets to see which images have been substituted. Clients will be able to differentiate between items and analyze information better. This exercise requires extensive attention to detail, which will help you complete tasks such as correctly taking medication, responding thoroughly to work emails, and becoming more conscious of your environment.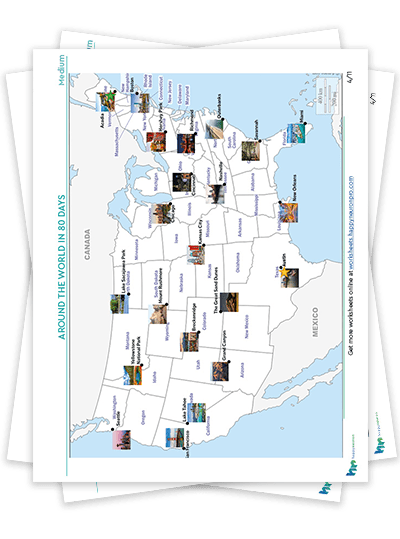 Traveling is an exciting activity that requires lots of attention to detail and planning. In this mini packet, you will travel across the continental United States by starting at one location and having to arrive at a specific destination. Clients will have the opportunity to practice skills such as  memory and attention while planning a trip. Choose your trip, and keep track of the places you see along the way!
Sign up to get the next FREE Minis!​
We release mini worksheets twice a month.

Sign up to get them directly in your inbox!