Cognitive Worksheet Packets
Worksheet packets for all areas of cognition.
Explore our entire library of cognitive worksheet packets. We have big packets, mini packets, bridging packets, and bundles that focus on specific cognitive functions, medical conditions, or themes. Join our monthly newsletter and get free packets directly in your inbox 2x a month.
Interested in the digital versions of our exercises? Try them here.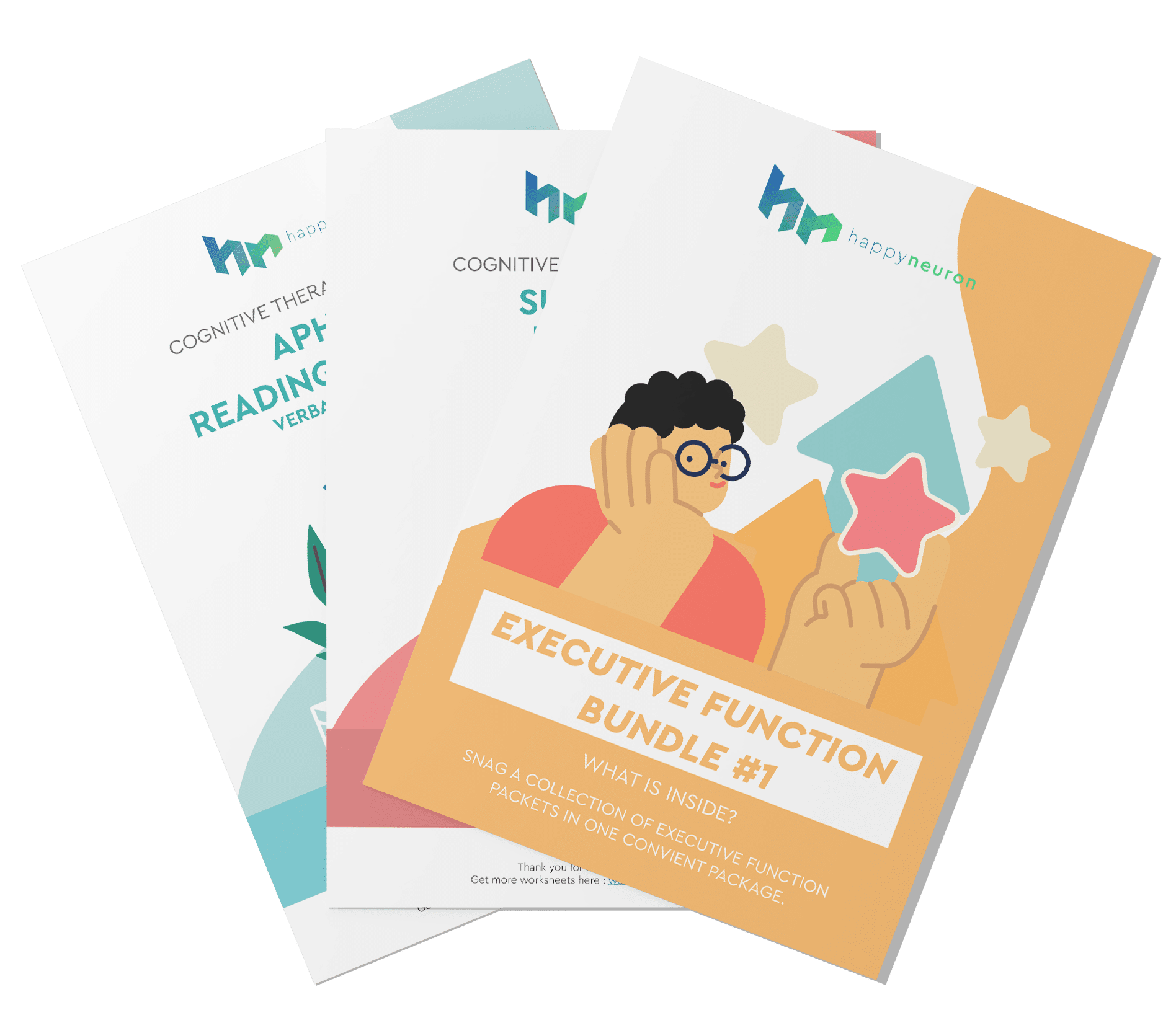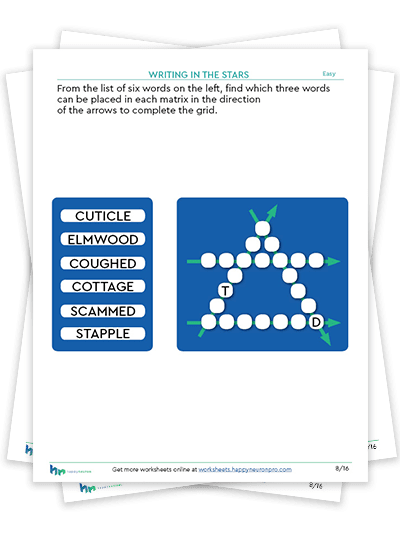 These linguistics worksheets involve memory, attention, executive functioning, and auditory processing. You can use this packet to work with your clients on relevant cognitive skills to improve their linguistic abilities. This might help them improve their language comprehension and usage. If you enjoy the Writing in the Stars exercises, you'll love using them on our digital platform with your patients.
Great for students age 10+, individuals with aphasia, or anyone wanting to improve their linguistic skills.
Included inside: 7 worksheets and bridging questions.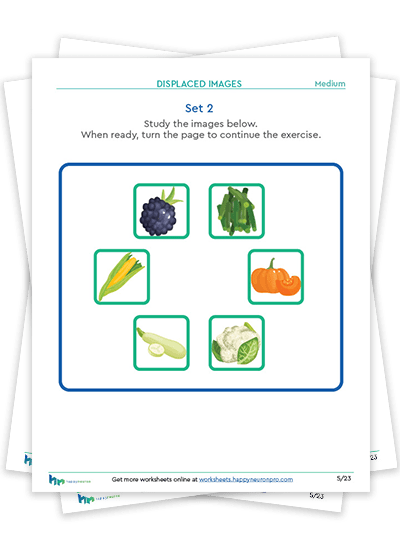 Information retention and recall are essential for everyday tasks. We hope you will enjoy using this memory packet for your cognitive rehabilitation needs. After using these printable memory worksheets, you can work with your client to develop effective memorization and recall strategies to hopefully improve their ability to store and use information when needed.
This worksheet is helpful for any client who would like to improve and adapt their strategies for memory. Due to the low verbal nature of this packet, it will be a great tool to use with kids! Preschoolers would have a blast playing with this packet. If you like this packet, check our library of other printable memory worksheets and try our digital tool!
Included: 18 worksheets and bridging worksheets.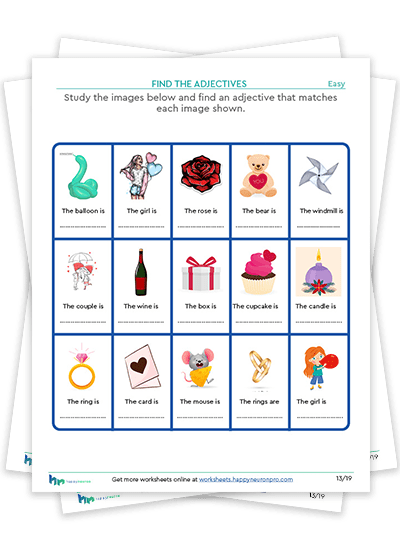 Love is in the air! While your mind may be thinking of someone else today, make a date to sharpen your cognitive skills with these Valentine's Day worksheets. Our most favored exercises within this packet take on a delightful Valentine's Day twist. Delve into the enchanting realm of language as you seek out adjectives that describe the sentiments of the heart. Unlock the secrets of scrambled letters to form words. Stimulate your memory as you have to give adjectives to gifts often received on valentines day. Experience the rhythmic thrill of helping people fall in love or rekindle their love by taking their orders.  a task that harmoniously blends the art of communication with a touch of Valentine's Day merriment. And for those who crave a mental challenge, a tantalizing logic exercise promises to captivate your intellect.
This worksheet works well for various audiences! Try it with your cognitive therapy groups, individuals with aphasia, and anyone who cherish the spirit of Valentine's Day. We recommend this packet for children 8+. We also think it would be great to use with individuals learning enlgish.
Include inside: 11 worksheets and bridging questions.
If you enjoy this packet, check out our other themed packets →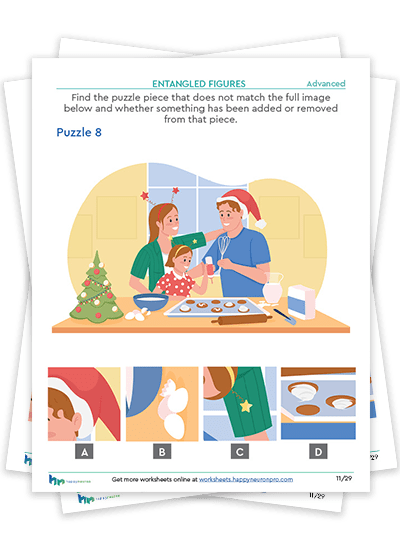 Are you looking for Christmas therapy activities or worksheets? If so, ring in the holidays with these festive Christmas cognitive activities for your clients! Work on memory, executive function, and language skills. Your patient will have fun jingling their mental bells by completing these Christmas activities. Your patient will love playing the festive edition of Entangled Figures and Elephant Memory!
This fun Christmas therapy worksheet is great for groups, one-on-ones, and remotely.
Included inside: 21 worksheets and bridging questions.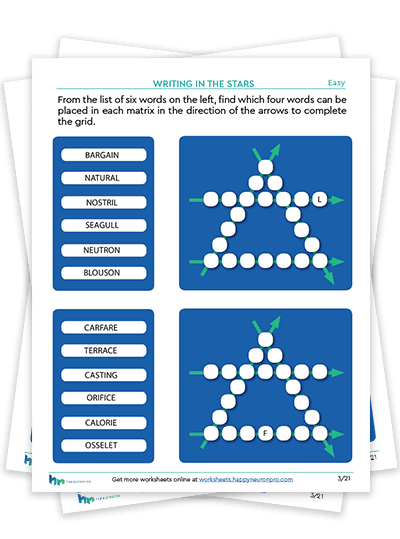 This mainly language and a little bit of attention packet touches on many different areas of language. In this packet, your patient will have to use their crossword puzzle skills and solve some Writing in the Stars Puzzles. This puzzle will challenge your patient to remember and see how different words could align to help solve a puzzle. They will then have their semantic familiarity challenged. They will have to recall the names of the presented camel and ask questions about it. This second is a great area to start challenging what your patient can and cannot identify or recognize between animals. After they answer the questions about the animals, they will then have to sort out a list of words into the proper categories in a Secret Files puzzle. Lastly, your patient will have to use their attention and language skills to solve a palindromes puzzle and find the absurd terms in a passage.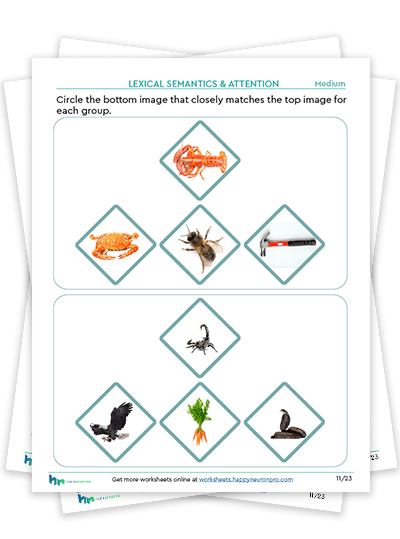 We hope you enjoy our thanksgiving themed cognitive worksheet. Each exercise targets a different area of cognitive skills related to language. And each exercise has a fun thanksgiving twist. This packet will be great for anyone who is looking for fun activities to stimulate seniors, help individuals overcome cognitive decline, or engage their language skills in a fun and exciting way. We love to design holiday-specific, and we hope you enjoy this packet! Explore our library of themed packets today! 
Included inside: 14 worksheets and bridging questions.
Answer a few questions about yourself and get at $15 credit for any purchase!
HappyNeuron's cognitive worksheet packets
HappyNeuron Pro worksheets are based on exercises from our digital tool. They are designed to be used by clinicians to help clients stimulate, build, or rebuild the foundation of different cognitive functions.
Cognitive therapy may lead to an improved quality of life for patients. We aim to empower clinicians by helping them save time and making it easier to provide cognitive therapy. Therefore, we design our worksheets and digital exercises to be engaging and relevant. Through our tools and the cognitive therapy that clinicians provide, patients can practice the cognitive skills needed for daily functioning and may see improvement.
Find the perfect cognitive worksheet packets for your client
We create a wide variety of worksheets for numerous cognitive domains and conditions. If you're searching for a specific cognitive skill, use the filters on the left. If you're looking for worksheets to help with a specific condition, we recommend you look at our worksheet bundles, which are collections of packets to address specific skills or conditions.