Worksheets for all areas of cognition.
Explore our entire library of cognitive worksheets. We have big packets, mini packets, bridging packets, or bundles that focus on a cognitive function, a medical condition, or a theme. Join our monthly newsletter and get free packets directly in your inbox 2x a month.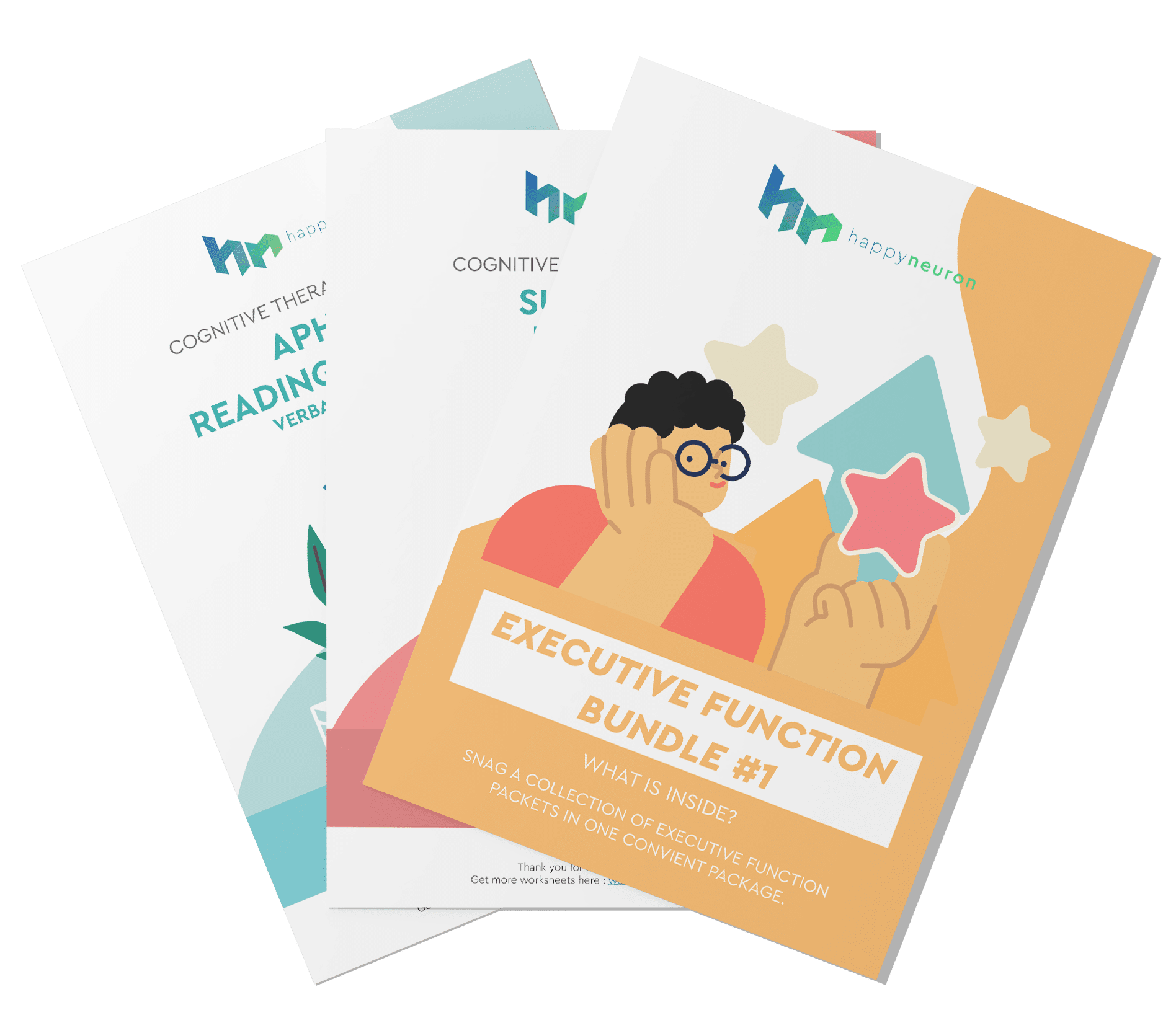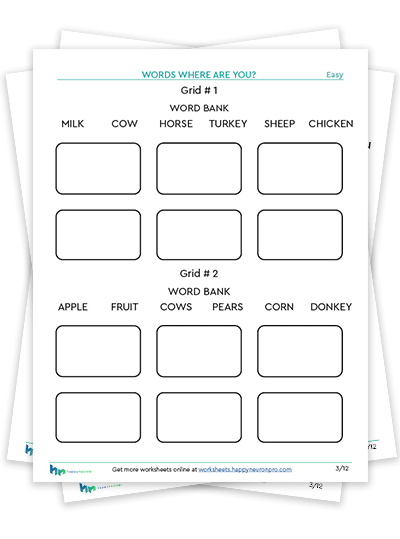 Can you remember a shopping list? What about the locations of different items on that list? Sharpen your verbal memory and executive function skills with this word and spatial memorization task, based on the exercise Words Where Are You? This exercise focuses on executive functioning skills such as working memory, attention, and task initiation!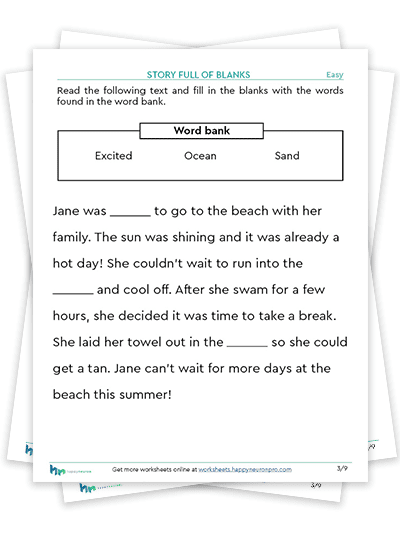 Ready to be an editor? Miss MadLibs? Read different passages and fill in the blanks with this fun verbal reasoning activity. This exercise focuses on executive functioning skills such as working memory, attention and metacognition. This is perfect for anyone looking to hone their verbal processing skills as well as working memory abilties!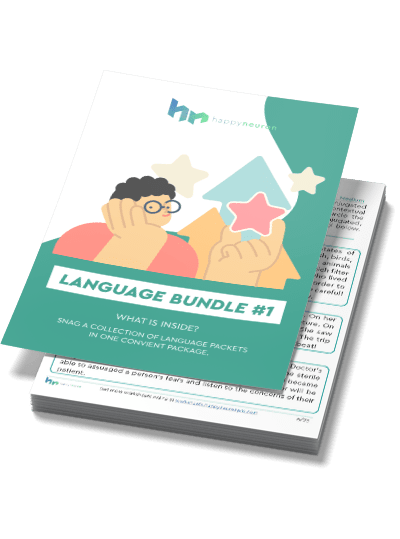 Language is essential for us to communicate our wants and needs. It can be challenging to express or care for oneself without being able to communicate. This is a general language-based bundle aimed at helping get your general language skills warmed up.
Bundle + Save
Bundles are a great way to buy more and save more! If you were to buy all of these packets separately, you would pay more than $70. Because we've bundled it, you're getting an instant saving of over 20%! Our bundles are designed to help you buy workbooks for your patients.
What's included inside: Instant PDF downloads of 6 packets or 77 unique worksheets.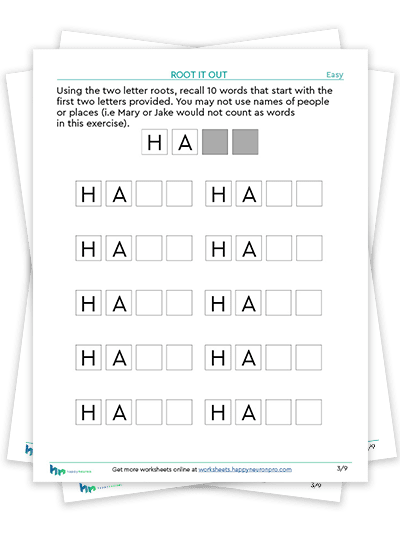 This mini packet will challenge verbal memory, the ability to recall words. Based on the game Root It Out, these worksheets are great to use as a word retrieval exercise for adults. The goal of these worksheets is to generate as many words as possible with the given starting letters. You can also use this as a word retrieval game for Aphasia treatment activities in therapy groups, individual practice, or learning disability classes. In addition to language, executive functioning and working memory activities are used throughout this mini packet.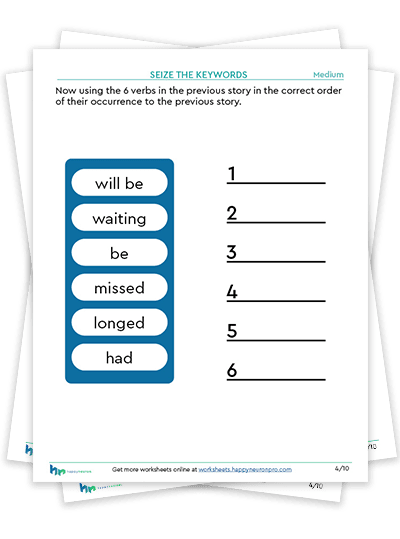 Ready for a holiday challenge? Practice your skills in speech recognition, verbal memory, and grammatical attention in this language holiday-themed packet based on the exercise Seize the Keywords. This packet focuses on executive functioning skills such as working memory and task initiation. If you are looking to try something new or to challenge your speech recognition and verbal memory skills, this is the packet for you!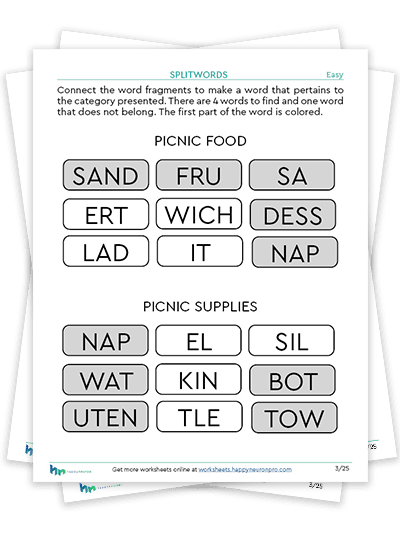 We designed this packet as a life skills activity workbook that may improve verbal working memory skills. The goal of this packet is to challenge your client's ability to remember, recall, and relocate words. Individuals in the food service industry often use these skills.
The first exercise will challenge your verbal memory as your patient combine fragments to make logical words. This progresses from easy two-fragment words to three-part fragmented words. In the next exercise, you must produce words with only a set letter or letter combo. After your verbal recall is warmed up, the second to last section will challenge your ability to place words within a grid. This will require you to use both verbal memory and spatial memory. Finally, the last exercise combines these skills into a real-world experience on printed paper. Working in a restaurant requires both verbal and spatial memory skills. These adapted Restaurant exercises will help you practice all the skills used in this packet as you recall names, orders, and positions.
This packet is great for individuals with learning disabilities, students eight years or older, or individuals recovering from a stroke. Try it as a bridging activity as well.
Included inside: 20 worksheets and bridging questions.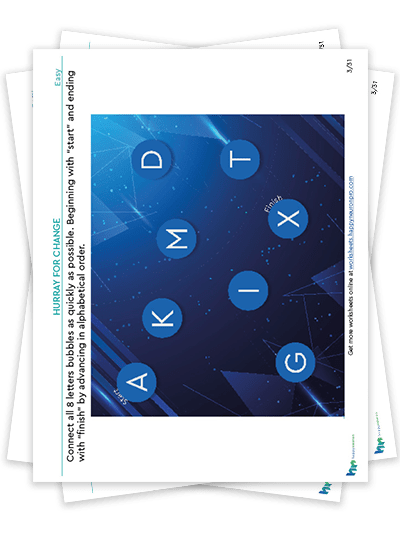 Are you looking for verbal reasoning activities? Then look no further. Verbal reasoning is how we can understand complex sentences. As you read, your brain breaks apart the complexity into smaller and easy-to-digest. This packet is filled with exercises that may help to improve verbal reasoning skills.
The first exercise is based on the digital exercise, Hurray for Change. In this exercise, you must correctly sequence letters, words, and numbers alphabetically and numerically. We put this exercise first to help warm up your brain, as you will use these skills later in the packet. After this exercise, you will have three other verbal reasoning activities. We hope this packet will help you learn strategies to think critically by using the given information, process information effectively, and then take affirmative action.
This packet will be great for kids 8+, individuals who have had a stroke, or individuals who have aphasia. Additionally, individuals with executive functioning deficits, trouble processing verbal information, or anyone who wants to challenge their verbal reasoning skills may enjoy these activities as well.
Included inside: 22 worksheets and bridging questions.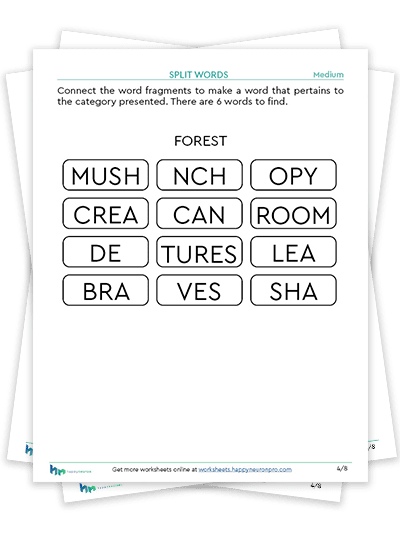 Build your vocabulary and practice your verbal fluency with this fun language packet! In this packet, you will use deductive reasoning and your vocabulary to connect word fragments to make words in different categories. Clients will use skills such as organization and planning as they go through this Mini Packet.
Answer a few questions about yourself and get at $15 credit for any purchase!