Memory is a foundation of cognition. When it is ability is hindered by injury or disease, it can be challenging for individuals to engage. These worksheets may help you develop all aspects of memory. We have a memory worksheet for you, from verbal recall to spatial ability and more!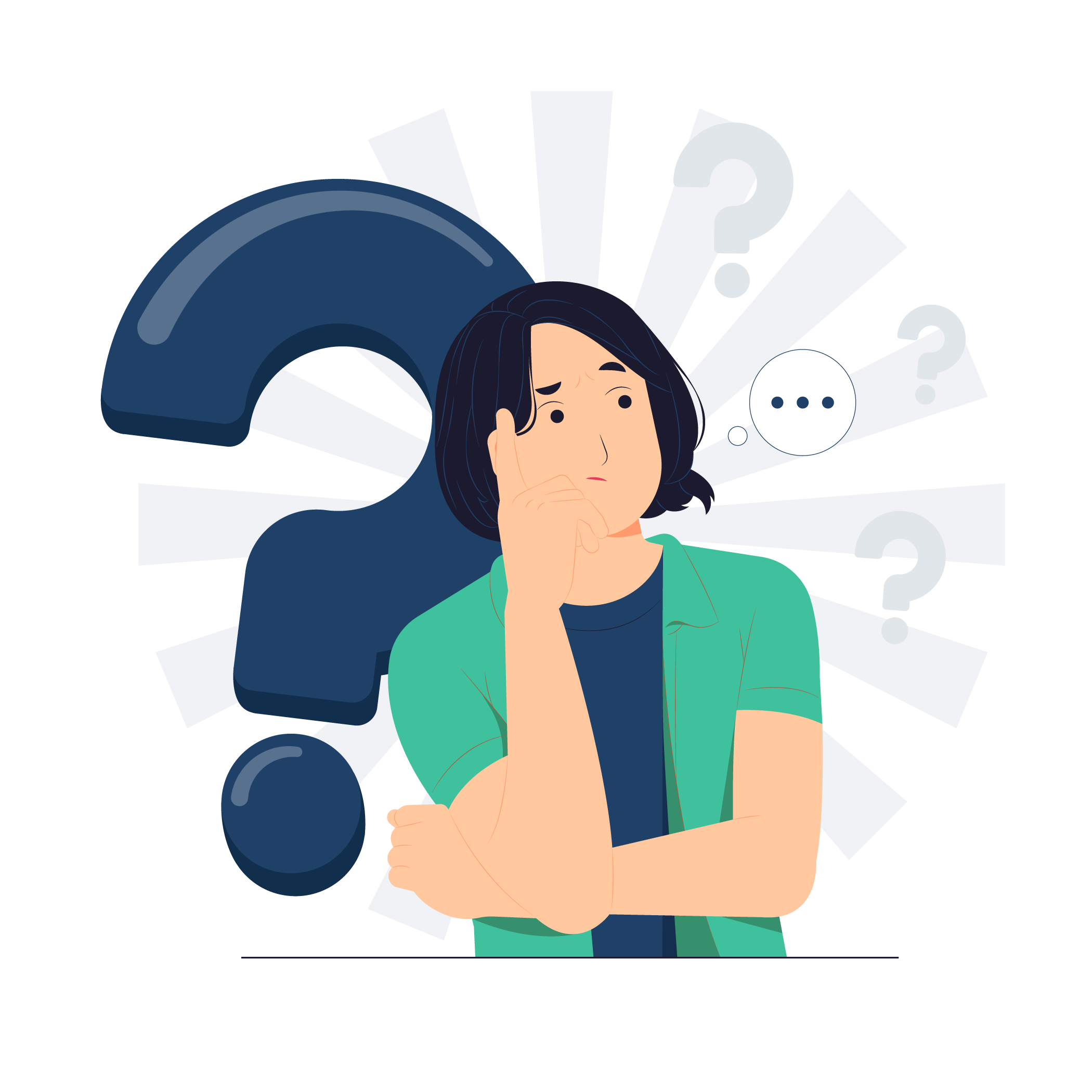 Enhance your collection of memory worksheets with these scientifically designed worksheets. Our worksheets are designed to be a printable version of our digital tool. Whether you are a professional looking to improve your client's memory or you are looking to keep yourself sharp, these packets are designed for you. Most of our packets are geared towards Adults. However, some of these packets are suitable for preschoolers and young learners. Explore all of our packets because each packet has various memory activities. 
We release free worksheets via our bi-monthly newsletter. Make sure to join our mailing list always to get the newest free minis!
When visual information is processed in our brains, we examine details and derive important information. Sometimes, this information is stored temporarily during a task in our working memory. Other times they are practiced and rehearsed to remain ingrained in our long-term memory. In this worksheet, we provide you with 4 exercises that target visual and verbal memory. Our goal was to help your patient see how they use visual and verbal memory skills daily in life skills such as grocery shopping and clothes shopping.
If you like this packet, try bridging workbook #1 which is about the cognitive skills required for grocery shopping. Additionally, try our digital program to strengthen the skills used in this packet. 
This packet will be great to use one-on-one with your client or in group therapy sessions. It is well suitable for children aged 8+ and adults.
Included inside: 18 worksheets and bridging questions.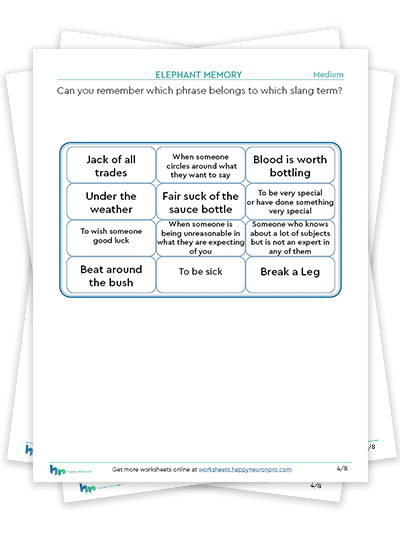 Forgot your grocery store list? Fear no more! With these exercises, you will learn about adaptability. Practice remembering words in a set, and recalling them for later use! Clients will be able to work on working memory, flexibility and organization. This exercise will target your verbal memory, and help you be able to remember a list that you make for your store trips!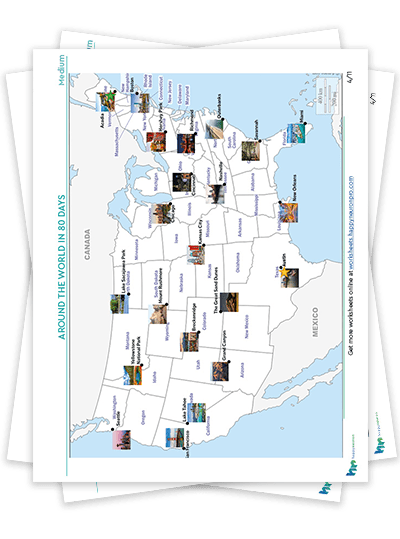 Traveling is an exciting activity that requires lots of attention to detail and planning. In this mini packet, you will travel across the continental United States by starting at one location and having to arrive at a specific destination. Clients will have the opportunity to practice skills such as  memory and attention while planning a trip. Choose your trip, and keep track of the places you see along the way!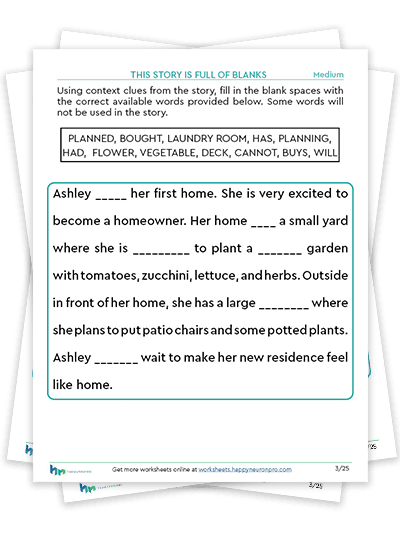 Are you looking for effective ways to support individuals with Aphasia in improving their language and cognitive abilities? Our carefully crafted packet makes practicing language fun! We understand that many individuals possess remarkable intelligence but face language-related challenges. Our goal is to empower clinicians with resources to help them overcome Aphasia and enhance their communication skills hopefully.
In this packet, you'll find five engaging activities based on our language-based digital exercises. These exercises are strategically designed to address the underlying language components individuals may struggle with. Providing these exercises may enable your clients to make significant progress in their language abilities.
In addition to language improvement, our worksheets also target other essential cognitive functions required for language success. Other cognitive skills engaged in this packet are:
Executive Functioning: Our exercises challenge executive functions, helping individuals with Aphasia enhance their decision-making, planning, and problem-solving skills.
Working Memory: These worksheets engage working memory, a vital cognitive skill necessary for retaining and processing information effectively.
Attention: Our exercises promote focused attention, a crucial skill for clear communication and daily activities.
We believe that with the proper tools, clinicians can create environments of learning and recovery. It is for that reason that we develop worksheets like this and more. Make sure also to download our other free worksheets. We release free mini worksheets 2x a month.
Included inside: 17 worksheets and bridging questions.
Looking for more resources? Check out our other aphasia-focused worksheets →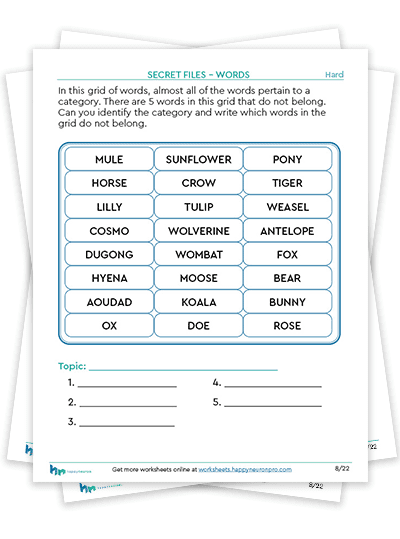 We designed this packet to stimulate visual skills related to verbal attention. The goal of this packet is to engage all aspects related to verbal and visual attention skills. We believe Verbal and visual attention skills are essential to all cognitive functions, especially those around social cognition and language. This packet will start by challenging your patients with two different adaptations of our digital exercise Private Eye. In this first exercise, your patient will have to find perfect circles. The following exercise will challenge their ability to recognize the correlation between words and their meaning to determine which words do not belong. The following exercise is a modification of Elephant Memory. This modification requires your patient to study a scene and answer questions.
The last two exercises are focused directly on verbal attention. This last section starts with an adaption of Restaurant. This adaption aims to engage your patient's ability to compare and contrast two recipes. Looking side by side, your patient will identify what was different between the recipes. Finally, your patient will have to read a passage and find the typos and errors in this modified version of This Story is Full of Blanks.
This packet is an excellent resource for teachers who want to challenge their students' ability to process visual-verbal information. Therapists have also used this packet to help stimulate patients with brain injuries that affect their verbal attention skills or aphasia.
Included Inside: 13 pages and bridging questions.
Memory is one of the most impacted cognitive functions post-injury. In this mini-packet, you will have to recall various shapes and their colors that you have previously memorized. By practicing this, clients will be able to improve their cognition and memory skills for both social and academic settings. This exercise will help you learn strategies to better retain visual information that you come across, such as when you view signs as you walk through a city or town.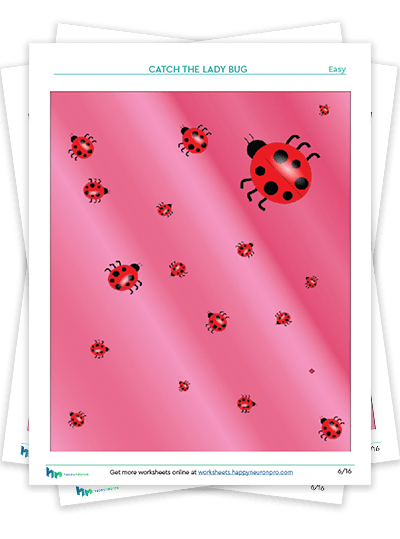 Stroke impacts verbal fluency, semantic knowledge, memory, attention, and motor skills. In this packet, we wanted to provide several exercises targeting some of the key cognitive areas that may be impacted after a stroke. Our catch the ladybug exercise helps individuals practice hand movement. Root it out will help engage your patient's long-term verbal memory recall. This packet's version of Private Eye will encourage your patient to use their inferring skills. Your Patient will have to figure out which item does not belong. Lastly, fill in the blank, a modified version of This Story is Full of Blanks, may encourage your patient's verbal memory as they recall facts about themselves.
This packet contains adaptable activities for individual and group therapy sessions.
Included inside: 10 pages and bridging questions.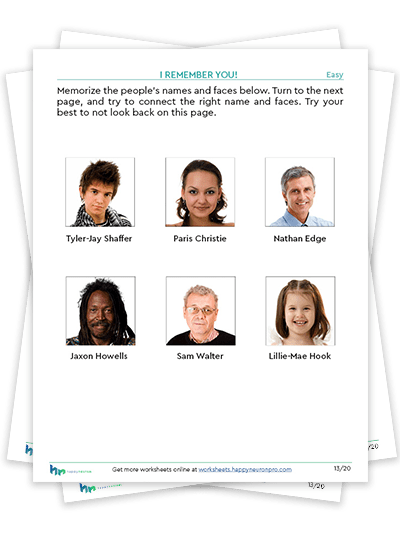 Information retention and recall are essential for everyday tasks. In this packet, your client will be challenged with tasks that will help them remember the locations of words and objects and recall orders and names. The exercises in this packet will target their verbal memory, spatial memory, working memory, and word association.  They will start the packet with their verbal and spatial memory challenged with a Words, Where are You? exercise. Next, they will have to recall orders of a group of people at a Restaurant. Then they will get a short break from words as they just have to recall the shapes from one page to the next. Finally, they will have to recall people's names. This worksheet is helpful for anyone who would like to improve and adapt their strategies for memory.
Included inside: 15 pages and bridging questions.
Subscribe to get new packets!
We release a new packet monthly, and you can subscribe to get them directly in your inbox.
Why should I use your Memory Worksheets?
Key Features:
Scientifically Designed: Our worksheets are created based on neuropsychology industry-standard memory-enhancing techniques and strategies backed by scientific research. You can trust that your efforts are supported by the latest in cognitive psychology.

Comprehensive Exercises: This packet includes various memory-boosting exercises, ranging from simple memory games to advanced mnemonic techniques. Each worksheet is meticulously crafted to ensure gradual improvement.

Accessible for All Ages: Suitable for students, professionals, and seniors alike, our worksheets cater to a diverse audience. You can quickly start your memory improvement journey regardless of age or memory level.

Printable PDF Format: Receive instant access to our downloadable PDF worksheets, allowing you to print them at your convenience or complete them digitally.
Are These Memory Worksheets for Adults?
Yes! All of our memory worksheets are for adults. Each PDF is designed to be fun and engaging without being boring or childish. We believe that there are plenty of boring memory worksheets for adults, so we strive to develop fun and engaging worksheets. If
Why Invest in Your Memory?
A sharp memory is not only beneficial for academic success but also plays a crucial role in everyday life. Improve your:
Academic Performance: Ace exams, remember complex theories, and boost your overall learning capabilities.

Professional Success: Enhance your job performance, remember important details, and stand out in your career. Above all, enjoy what you do with a little more ease, by working on your memory. 

Everyday Life: Improve your ability to recall names, dates, and important information effortlessly, leading to better decision-making and smoother interactions. In truth, spend less effort remembering items that you do often or you have to do in order to enjoy life. 
Do you have Additional Activities?