Cognitive Worksheet Packets
Worksheet packets for all areas of cognition.
Explore our entire library of cognitive worksheet packets. We have big packets, mini packets, bridging packets, and bundles that focus on specific cognitive functions, medical conditions, or themes. Join our monthly newsletter and get free packets directly in your inbox 2x a month.
Interested in the digital versions of our exercises? Try them here.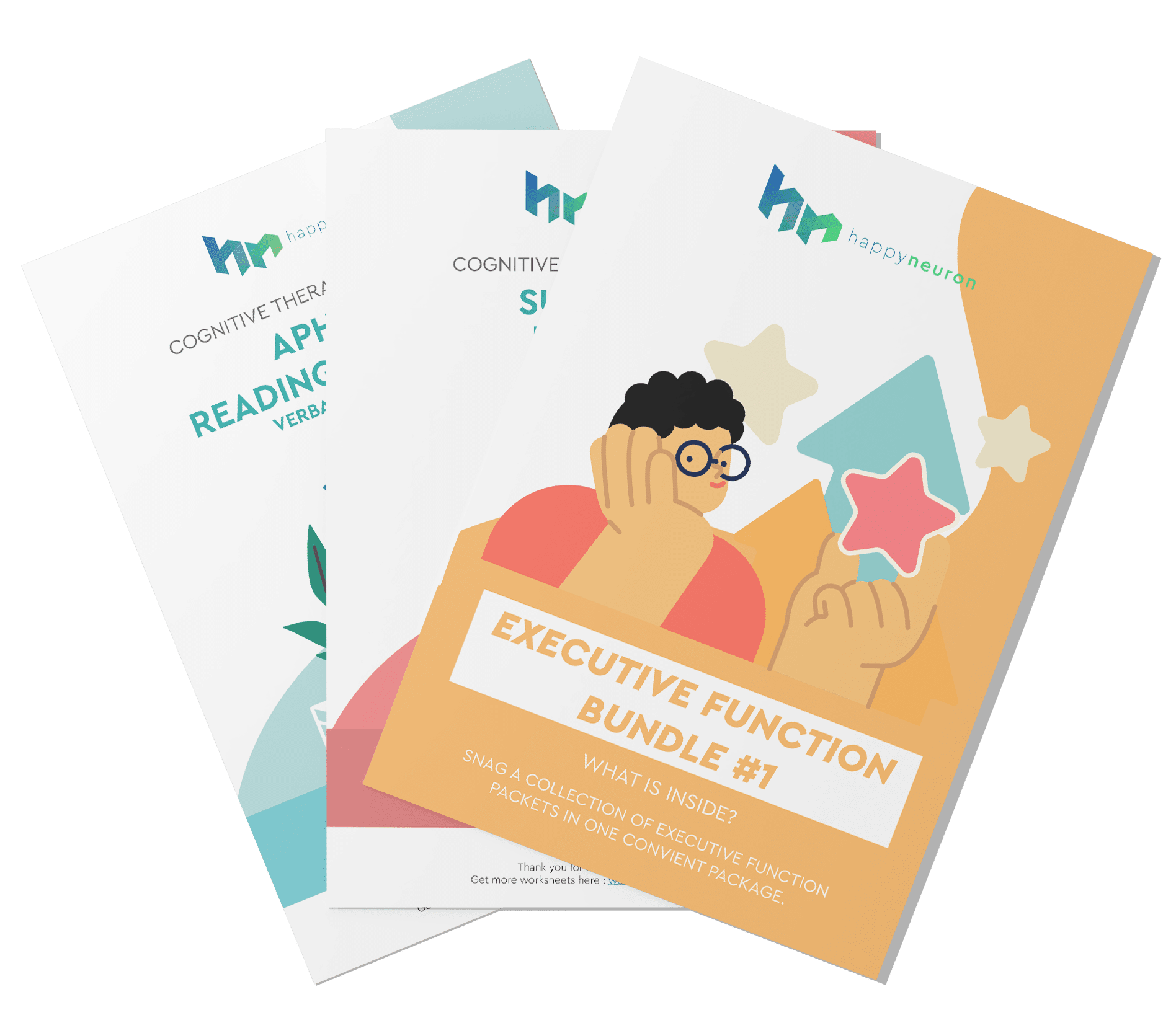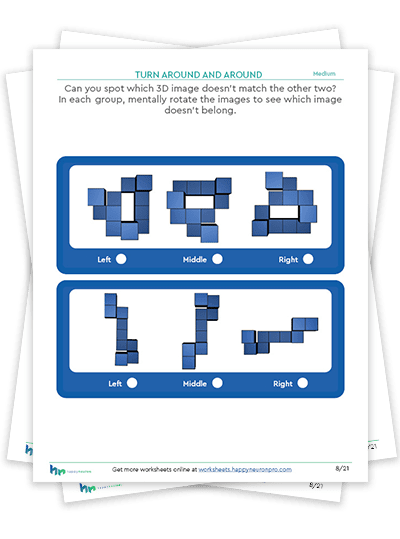 These spatial awareness worksheets will help your patient practice mentally rotating objects and understanding spatial relations. Our Sleight of Hands exercise allows you to have a printable version comparing left and right hands. Your client will be challenged to learn effective strategies to manipulate and compare objects mentally. These are great printable spatial awareness worksheets to add to your collection. To increase the bridging aspect, we recommend you have your client construct a figure using blocks like the examples in Turn Around, and Around.
This packet is great for non-English speakers, children, individuals who have had a stroke, or anyone looking to improve their spatial awareness skills.
Included inside: 12 pages and bridging questions.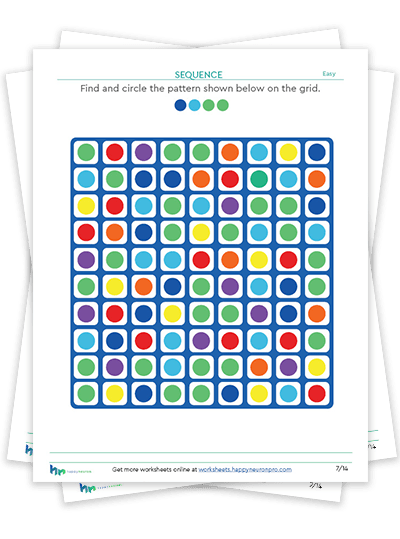 Does your client find focusing tough? What about recognizing patterns or pattern recognition? Do they struggle with paying attention to details? If so, then this packet will be a great tool to use with them. These attention-focused worksheets will challenge your patient to strengthen their attention skills. If you find the Find your Way exercise enjoyable, you'll love the digital version.
This attention packet is an excellent workout for your client's brain, as they must have a sharp eye to solve these attention-grabbing problems in this packet! If you like this pattern recognition packet, explore our other attention worksheets below or here.
Included: 8 worksheets and bridging questions.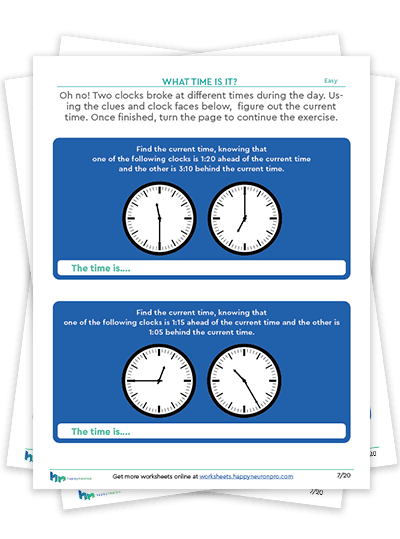 Can you play ball while telling time? Try your hand at these planning exercises in this executive functioning packet.  We'll challenge you to complete crossword puzzles in one try and find a way to arrive at a given solution using a set of numbers and operators. Download this executive functioning packet today!
This packet is great for elementary school kids and middle schoolers. You can use it for adults in group therapy as a warm-up or as a communication-building exercise. The uses for these planning exercises is limitless.
Explore our library of other executive function worksheets here!
Included inside: 10 worksheets and bridging questions.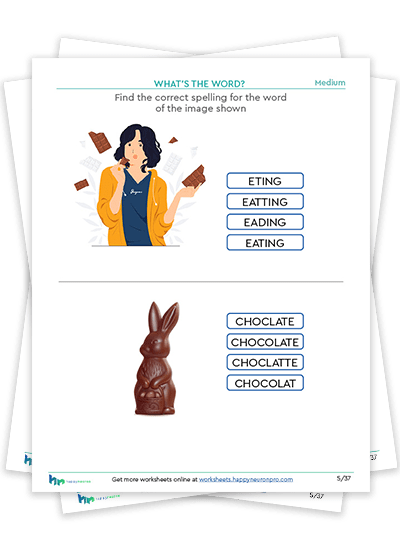 We designed our packet to foster cognitive development with a fun Easter theme! We aimed to target visual attention, stimulate language skills, and enhance visual memory in a fun-themed way! This comprehensive worksheet package consists of five engaging and unique exercises designed to challenge and captivate individuals of all ages.
Exercise 1: Semantic Language Puzzles The journey begins with exercises that test patience and semantic understanding. Participants will see an image and have to decipher the correct spelling of the associated word beneath it. These exercises stimulate cognitive functions while providing a fun linguistic challenge.
Exercise 2: Image-Based Questions In this section, participants answer questions based on images they have previously studied. This Easter-themed activity reinforces memory retention and encourages critical thinking.
Exercise 3: Lexical Semantics and Attention One key image becomes the focal point in this exercise. Participants must apply their lexical semantics and attention skills to select the correct answer. This may help promote language development and visual attention.
Exercises 4 and 5:  The Easter spirit is infused into the last two exercises. Participants must carefully study a group of eggs and identify the new addition, strengthening their visual memory. Finally, In the final exercise, participants are tasked with recalling the locations of Easter eggs on a grid. Based on our digital exercise chunking.
Included: 27 worksheets and Bridging Questions.
Are you looking for other working memory worksheets? Check out or library of working memory worksheets here →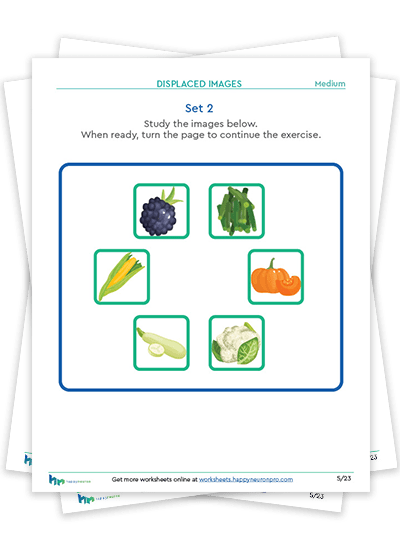 Information retention and recall are essential for everyday tasks. We hope you will enjoy using this memory packet for your cognitive rehabilitation needs. After using these printable memory worksheets, you can work with your client to develop effective memorization and recall strategies to hopefully improve their ability to store and use information when needed.
This worksheet is helpful for any client who would like to improve and adapt their strategies for memory. Due to the low verbal nature of this packet, it will be a great tool to use with kids! Preschoolers would have a blast playing with this packet. If you like this packet, check our library of other printable memory worksheets and try our digital tool!
Included: 18 worksheets and bridging worksheets.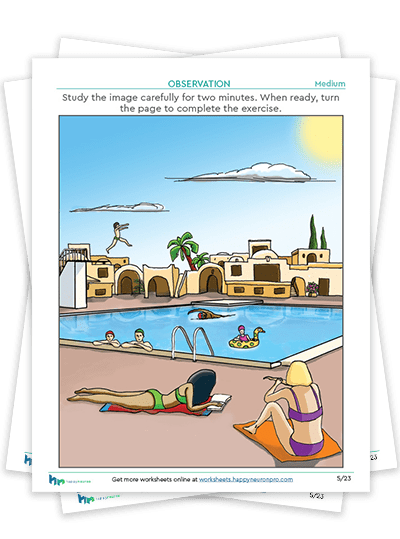 Visual attention is the focus of this cognitive rehabilitation worksheet packet. If your patient finds it hard to pay attention, add this packet should be in your collection today.
This packet has a variety of exercises. Our Mosaic exercise will challenge your patient's ability to visually find an object among a bunch of rotated things. Visual remember elements of an image with our Observation exercise. Next, your patient must distinguish icons on one side of a graph or image and the other side in our Same or Different and Displaced Characters exercises. Lastly, your patient must recall the steps taken in our Find Your Way exercise. This visual attention packet is an excellent workout for your client's brain after a brain injury or if they have difficulty paying attention. Patients must have a sharp eye and strong attention to solve these attention-grabbing problems in this packet!
If you like this packet, explore our library of visual attention worksheets! Try our digital program if you would like to try our other attention-based exercises that may improve your patient's ability to pay attention.
Included inside: 14 worksheets and bridging questions.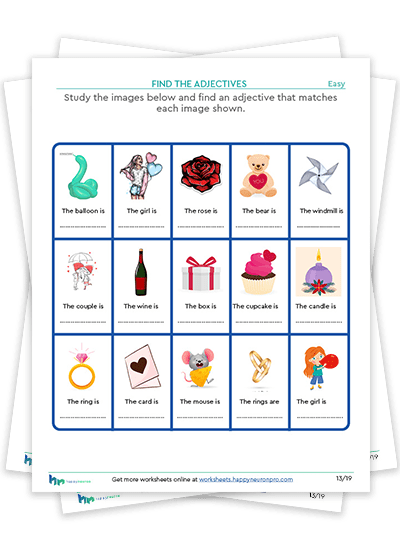 Love is in the air! While your mind may be thinking of someone else today, make a date to sharpen your cognitive skills with these Valentine's Day worksheets. Our most favored exercises within this packet take on a delightful Valentine's Day twist. Delve into the enchanting realm of language as you seek out adjectives that describe the sentiments of the heart. Unlock the secrets of scrambled letters to form words. Stimulate your memory as you have to give adjectives to gifts often received on valentines day. Experience the rhythmic thrill of helping people fall in love or rekindle their love by taking their orders.  a task that harmoniously blends the art of communication with a touch of Valentine's Day merriment. And for those who crave a mental challenge, a tantalizing logic exercise promises to captivate your intellect.
This worksheet works well for various audiences! Try it with your cognitive therapy groups, individuals with aphasia, and anyone who cherish the spirit of Valentine's Day. We recommend this packet for children 8+. We also think it would be great to use with individuals learning enlgish.
Include inside: 11 worksheets and bridging questions.
If you enjoy this packet, check out our other themed packets →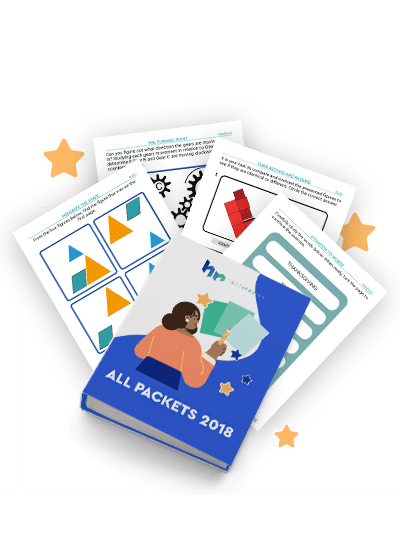 Introducing the All-inclusive Worksheet Bundle for all worksheets developed in 2018: Elevate your Therapy and Save Big!
Look no further than the 2018 Worksheets by HappyNeuron Pro Bundle – the ultimate collection of educational resources designed to help stimulate cognitive functions and enhance your therapy sessions. And the best part? By purchasing this comprehensive bundle, you can save big while gaining access to a wealth of knowledge!
What's included inside: Instant PDF downloads of 9 packets or 128 unique worksheets.  
Answer a few questions about yourself and get at $15 credit for any purchase!
HappyNeuron's cognitive worksheet packets
HappyNeuron Pro worksheets are based on exercises from our digital tool. They are designed to be used by clinicians to help clients stimulate, build, or rebuild the foundation of different cognitive functions.
Cognitive therapy may lead to an improved quality of life for patients. We aim to empower clinicians by helping them save time and making it easier to provide cognitive therapy. Therefore, we design our worksheets and digital exercises to be engaging and relevant. Through our tools and the cognitive therapy that clinicians provide, patients can practice the cognitive skills needed for daily functioning and may see improvement.
Find the perfect cognitive worksheet packets for your client
We create a wide variety of worksheets for numerous cognitive domains and conditions. If you're searching for a specific cognitive skill, use the filters on the left. If you're looking for worksheets to help with a specific condition, we recommend you look at our worksheet bundles, which are collections of packets to address specific skills or conditions.