Cognitive Worksheet Packets
Worksheet packets for all areas of cognition.
Explore our entire library of cognitive worksheet packets. We have big packets, mini packets, bridging packets, and bundles that focus on specific cognitive functions, medical conditions, or themes. Join our monthly newsletter and get free packets directly in your inbox 2x a month.
Interested in the digital versions of our exercises? Try them here.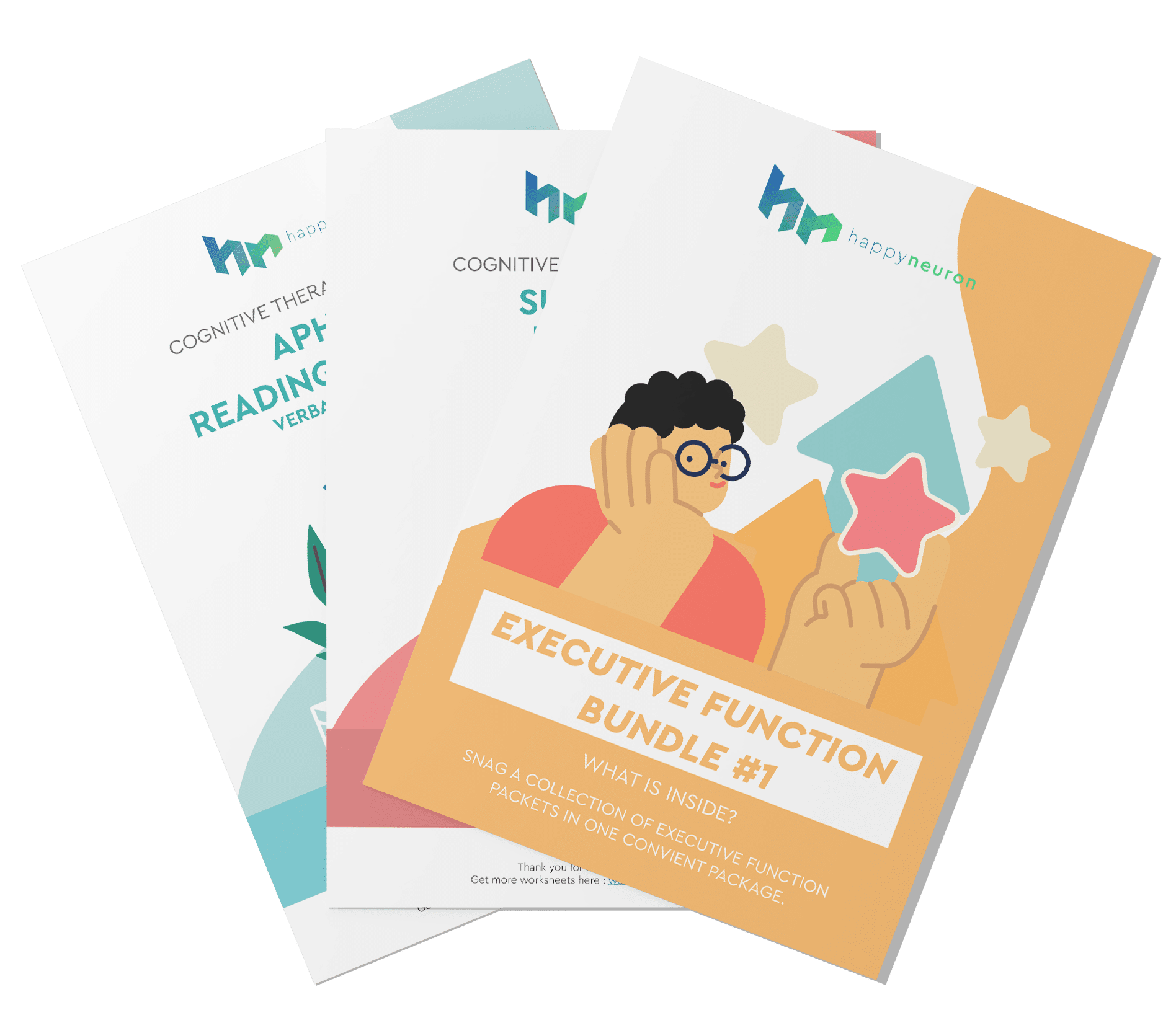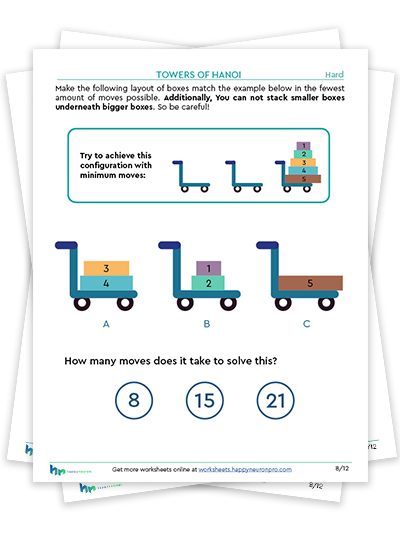 Towers of Hanoi takes on a fun change in this packet. The movers are coming, and you must move boxes carefully onto different carts to move them around safely. You have to make the following layout of boxes match the one below in the fewest moves possible. Additionally, You can not stack smaller boxes underneath bigger boxes. So be careful! 
These worksheets are great to help your clients practice planning how to move things and practicing how to think before they do an action. These activities will be great for middle schoolers, individuals with planning deficits, Seniors, and anyone who wants to improve their planning skills.
Include inside: 7 worksheets and bridging questions.
If you like these worksheets, check out our other executive function worksheets here →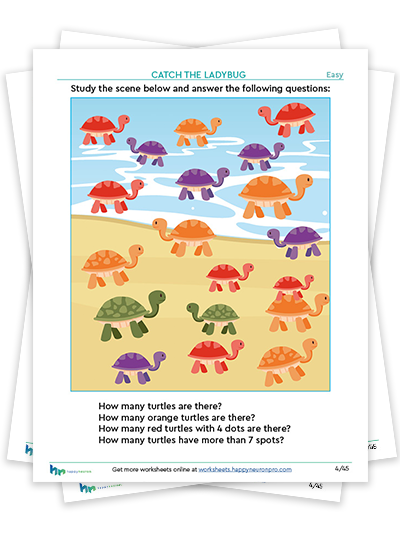 Embrace the spirit of Earth Day and harness the enduring strength of turtles! By engaging with our planning skills packet, they'll not only develop essential life skills but also cultivate a deep appreciation for the planet we call home. At the heart of our cognitive rehabilitation offerings lies a profound admiration for the planet and its incredible inhabitants. Earth Day serves as the catalyst for our latest creation, a unique packet that draws inspiration from turtles' resilient and steadfast nature. Just as these remarkable creatures inspire us with their strength and unwavering determination, we aim to inspire the development of essential planning skills in your clients through this engaging resource.
The central vision behind this packet is to challenge and enhance your client's planning skills. In the ever-evolving world we inhabit, planning has become an indispensable skill. We not only use them to navigate daily tasks but also to overcome obstacles and adversities. Just like the determined journey a turtle makes everyday.
Why Turtles?
Turtles have long been symbols of resilience and strength. As your client engages with these exercises, we hope they'll draw inspiration from the tenacity of turtles. Just as these creatures endure and persist. Your client can develop the skills needed to face life's challenges head-on and emerge victorious.
Included inside: 33 worksheets and bridging questions.
If you like this packet, explore our other executive function worksheets →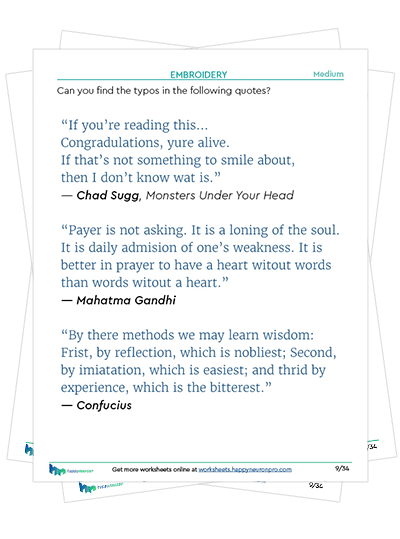 Don't let this packet fool you! Easy turns hard quickly in this language-challenging packet. Language is an essential cognitive function for communication. It can be hard to express our needs without the ability to communicate. Our goal for this packet is to challenge your clients working language skills. In this packet, your client will work on sorting skills, verbal recall, and inferring skills. 
In this packet, your client must use their sorting skills and verbal recall in a series of printed Pay Attention exercises. Embroidery will challenge your client's attention to detail and scanning skills to find the typos in famous quotes.  This Story is Full of Blanks will challenge your client's inferrer skills as they use context clues to fill in the blanks properly. Seize the Keywords in this packet is a multi-dimension challenge. It starts off by having your client label the different parts of speech from within a sentence. Then it will challenge your client's ability to memorize different parts of speech. 
This packet has parts for all ages, but we highly recommend it for 6th graders and older.  Your Senior clients will love the challenges it provides, and anyone who loves correcting English will love this packet as well! 
Included inside: 27 worksheets and bridging questions.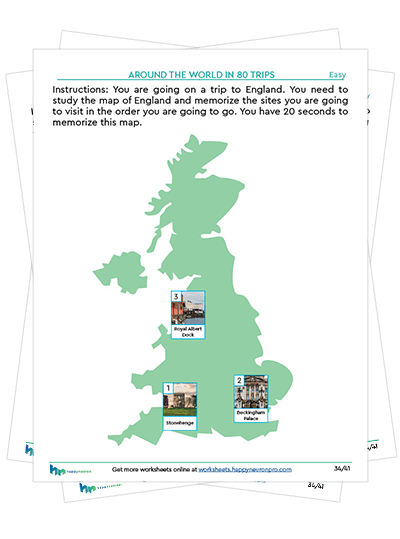 We use our memory recall skills every day. Whether it is to remember where we placed our keys or recall information from a conversation, we are constantly using our memory recall skills. This packet aims to help individuals improve their memory function by stimulating different cognitive functions involved with memory recall. 
We opened this packet with several The Right Count exercises. We included these types of activities as a way to warm up visual recognization skills and executive function sorting skills. After your patient's visual cortex is warmed up. They will have to use their spatial memory in an Object, Where are You series of exercises. There are two ways to present the next tasks. Option one is to reud the voicemail to your patient out loud and engage their auditory process skills before they answer the questions. Or you can allow them to read the section to themselves. Both of these activities will warm up their verbal memory skills. The last section of this packet is a printed version of Around the World in 80 Trips. This exercise uses all of the previous skills to challenge your patient's memory recall skills. 
The interactive and sometimes challenging tasks in this packet are an excellent resource for your memory activity collection. Working on the memory activities in this packet may improve your patient's memory recall ability. We recommend this packet for Teens, individuals looking for memory activities, and seniors. 
Included inside: 38 worksheets and bridging questions.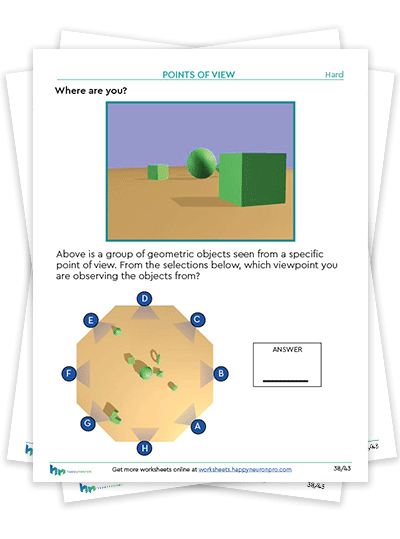 This packet aims to help individuals recognize items to improve their spatial awareness by studying unique key features of different objects. We hope your patient can better find themselves on a map. 
We started this packet with an ancient writing task. In this task, your patient must study figures and discover which character does not appear in the section above. This will challenge their attention and working memory. Sleight of Hands is the next task. This exercise challenges your patient's visual-spatial ability by having them mentally compare and decide if the picture displayed is a left or right hand. After that, Gulf Stream is the next task in this packet. Gulf Stream challenges your patient's ability to remember objects and recall them as they appear on the screen. This printed version will challenge your patient's ability to identify and find a snowflake in a mess of other snowflakes. Finally, the final exercise will test all the skills used in the previous activity. Points of View will challenge your patient's spatial ability as your patient will try to figure out where you are on a map of objects. 
In conclusion, we believe your patient will have fun completing this packet. The tasks are interactive and enjoyable, from noticing and remembering small details to mentally manipulating objects. Working on all the exercises in this packet may improve your patient's spatial awareness. We recommend this packet for kids aged 6+, non-verbal individuals, and individuals who want to get better at figuring out where they are in time and space. 
Included inside: 39 worksheets and bridging questions.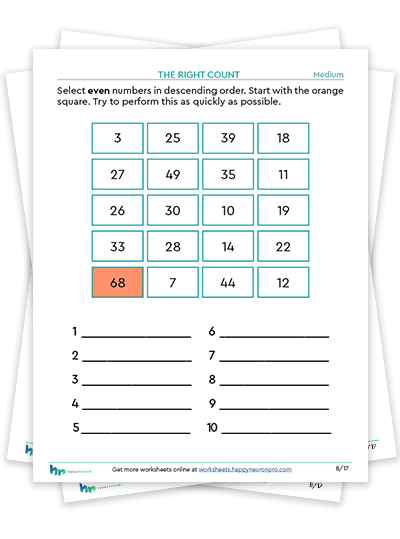 Counting down the New Year just got fun with this printable version of our digital exercise, The Right Count. Your patient's Executive Functions may just be fully engaged with these worksheets. Your patient will have to read a box of numbers, remember where odd and even numbers are, and then sort them according to the instructions. This packet will progressively get more challenging as the quantity of numbers increases and the gaps become larger. For added challenges, try using a timer and see how long your patient takes to complete this task.
We hope your patients will enjoy this New Years themed packet! Perfect for warm-up, groups, non-English speakers, and children learning numbers.
Included: 12 worksheets, answer key, and bridging questions.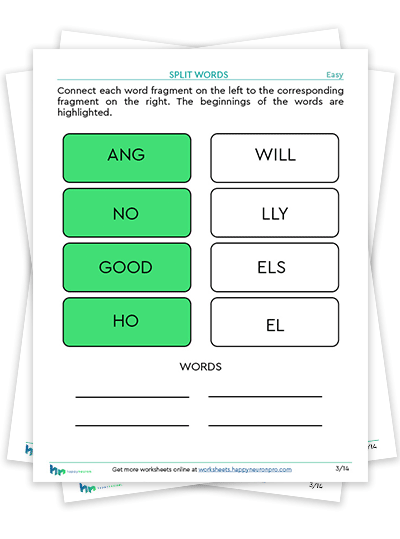 A wintery wonderland fills the pages of this holiday-influenced language-based worksheets packet. Your patient's verbal memory will be engaged with this fun Split Word influence packet. This packet will progressively get harder as the puzzles continue. What may seem as easy will soon become tough as the fragments of words become more, and the hints become less. We hope your patients will enjoy this holiday-themed packet! It will be great to use as a warm-up or in a group setting!
This packet is great for kids learning how to spell, adults working on language recall, and anyone who wants to engage their brains.
Included: 9 worksheets and bridging questions.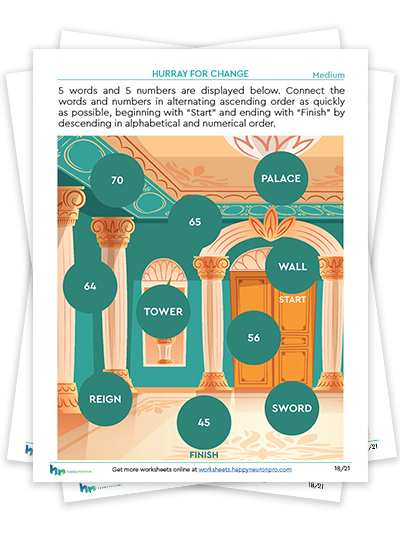 Verbal Focus and Recall are the focus of this fun packet of worksheets. Your patients will have 35 unique pages of language-based exercises that may help with these skills. This packet will start by warming up their attention and sorting skills with some fun Private Eye and Hurray for Change exercises. After they complete those two segments, the harder verbal focus and recall exercises will begin. Your patient will decode a box of letters to find what word is embroidered within the grid. Verbal attention and verbal recall are challenged with these Embroidery exercises. Lastly, your patient will have to solve some Writing in the Stars exercises. Writing in the Stars will challenge your patient's verbal processing, verbal attention, and verbal planning skills. 
We recommend this packet for kids aged 8+ and individuals who want to work on their verbal skills. 
Included inside: 35 worksheets and bridging questions.
Answer a few questions about yourself and get at $15 credit for any purchase!
HappyNeuron's cognitive worksheet packets
HappyNeuron Pro worksheets are based on exercises from our digital tool. They are designed to be used by clinicians to help clients stimulate, build, or rebuild the foundation of different cognitive functions.
Cognitive therapy may lead to an improved quality of life for patients. We aim to empower clinicians by helping them save time and making it easier to provide cognitive therapy. Therefore, we design our worksheets and digital exercises to be engaging and relevant. Through our tools and the cognitive therapy that clinicians provide, patients can practice the cognitive skills needed for daily functioning and may see improvement.
Find the perfect cognitive worksheet packets for your client
We create a wide variety of worksheets for numerous cognitive domains and conditions. If you're searching for a specific cognitive skill, use the filters on the left. If you're looking for worksheets to help with a specific condition, we recommend you look at our worksheet bundles, which are collections of packets to address specific skills or conditions.