Cognitive Worksheet Packets
Worksheet packets for all areas of cognition.
Explore our entire library of cognitive worksheet packets. We have big packets, mini packets, bridging packets, and bundles that focus on specific cognitive functions, medical conditions, or themes. Join our monthly newsletter and get free packets directly in your inbox 2x a month.
Interested in the digital versions of our exercises? Try them here.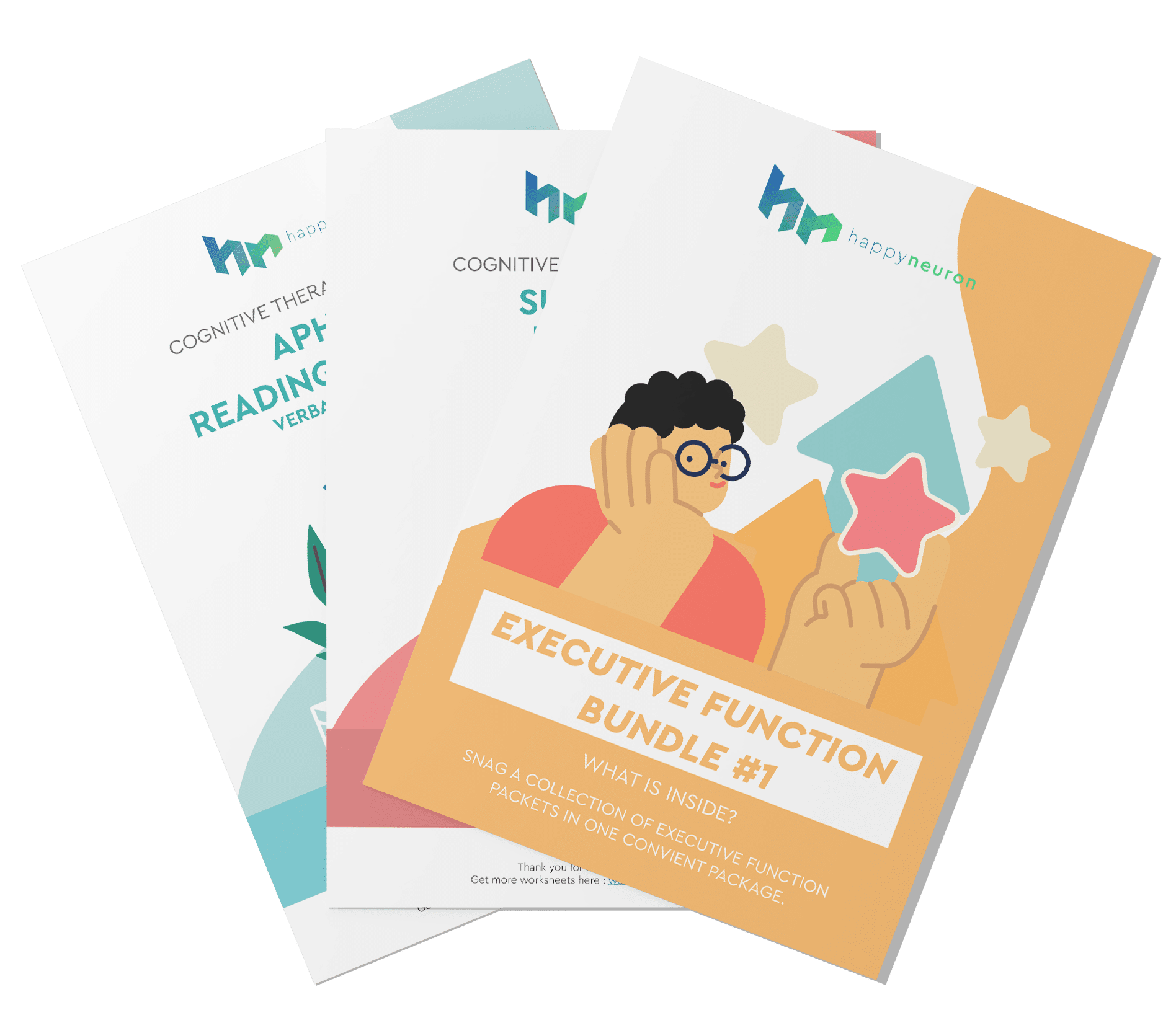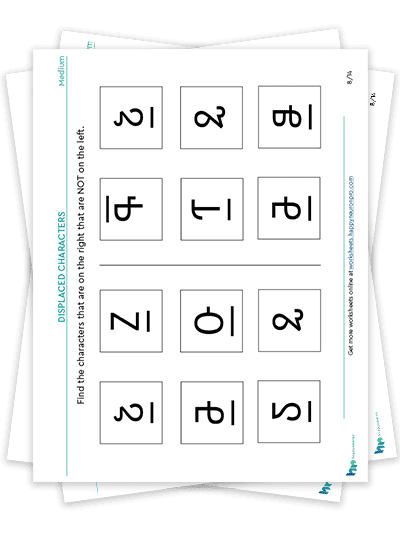 Ready for to challenge your attention and memory skills? Inspector Gadget may have an eye for detail, but do you? With this mini packet based on the visual attention exercise Displaced Characters, you can practice your attention to detail and ability to detect anomalies. This visual memory worksheets packet also utilizes executive functioning skills such as concentration and attention, and is great for anyone looking for a challenge!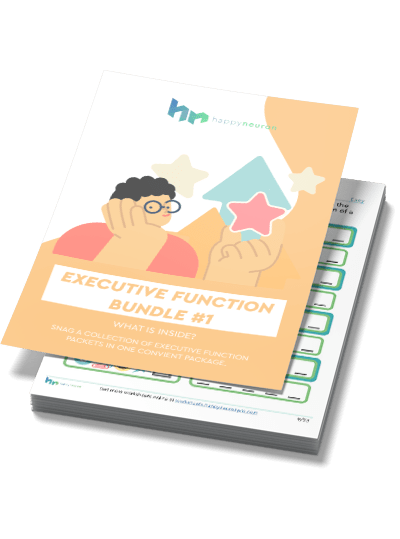 This bundle is a collection of packets that target Executive Functions skills. Executive function is essential for us to plan our day, engage with complex tasks and make decisions. Without executive function skills, we may become poor managers of our money, struggle to decide, or have difficulty planning our day. This is the most general bundle of executive function worksheets we've collected.
Bundle + Save
Bundles are a great way to buy more and save more! If you were to buy all of these packets separately, you would pay more than $55. Because we've bundled it, you're getting an instant saving of over 20%! Our bundles are designed to help you buy workbooks for your patients.
What's included inside: Instant PDF downloads of 6 packets or 85 unique worksheets.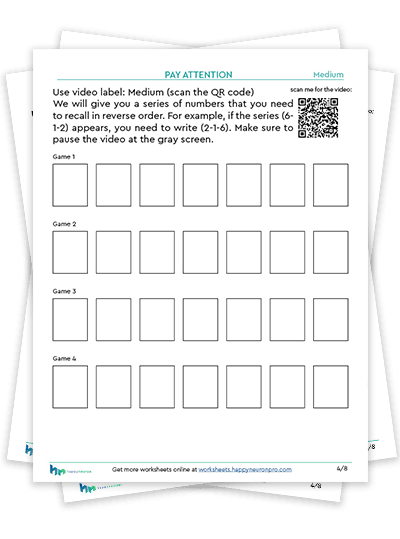 Welcome to our first hybrid packet ever! In this packet, you will see a series of numbers, letters, or combinations of both and have to recall them in the order they are presented. Based on the exercise Pay Attention, this packet will challenge executive functioning skills such as working memory and metacognition. Test your memory skills and get a sneak peek at going digital with this hybrid digital cognitive exercise packet!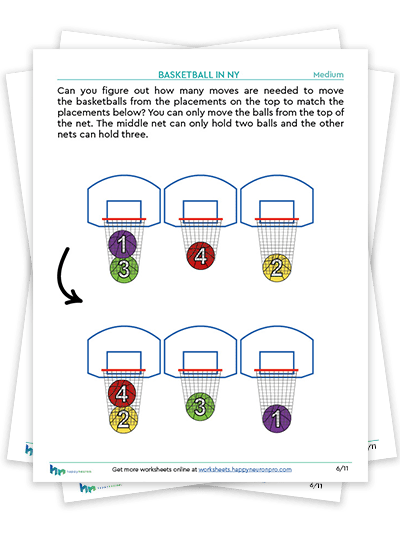 Ready to play basketball? Shoot hoops and build executive functioning skills at the same time! Mentally manipulate basketballs in as few moves as possible to score the most points in this game of hoops! This packet utilizes skills such as flexibility, perseverance and self-control, and is great for anyone who is looking to have fun while honing their executive functioning abilities!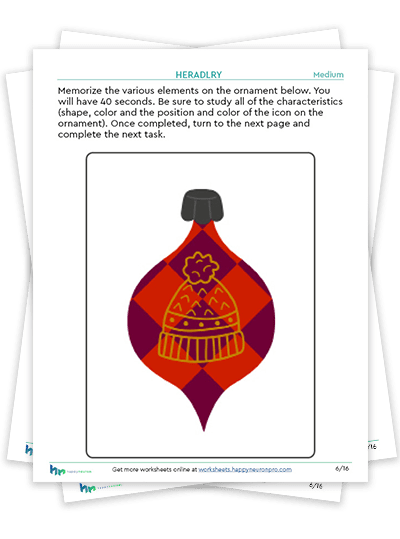 Try your hand at making your own holiday ornaments, and recalling what they look like. This holiday themed packet will challenge your visual memory as you create and recall different ornaments. This packet uses executive functioning skills such as working memory, metacognition and organization.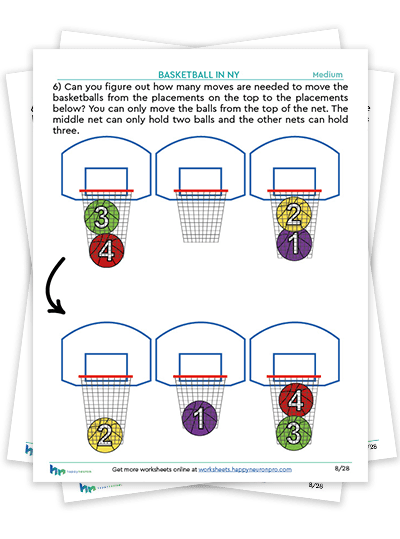 Deductive reasoning is the main focus of this packet. Deductive reasoning is used during any planning and decision-making cognitive functions. In this packet, your client will perform varying exercises. They will have to move basketballs mentally. Decipher what a symbol could symbolically mean in a mathematical equation. Complete a variety of mathematical equations ranging from easy to complex. And lastly, move rings on a stick to build various towers. These exercises will challenge their abilities to inhibit unwanted responses, shift between tasks, perform mental manipulations, and make choices.
Your students will enjoy the mental challenges needed to complete these tasks. This packet is great for clients with attention deficit disorder, brain injury, stroke, or experiencing cognitive difficulties related to psychosis.
included inside: 20 worksheets and bridging questions.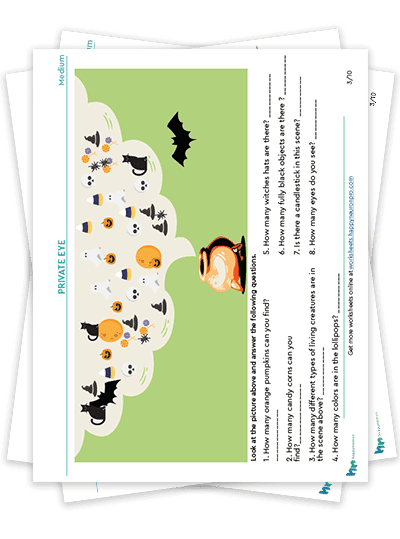 Trick or Treat! Clients will work on focus and self-monitoring themselves in this exercise. This packet is great for anyone who is looking to improve their executive functioning skills and challenge themselves! Keep an eye out for spooky sights and findings in this Halloween themed attention packet!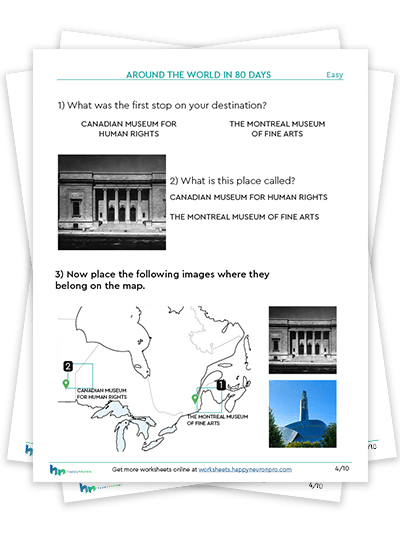 Traveling is an exciting activity! In this mini packet, you will travel across Canada. You will start at one location and have to arrive at a specific destination. Choose your trip, and keep track of the places you see along the way! Clients will practice organization and planning skills as they continue through this exercise!
Answer a few questions about yourself and get at $15 credit for any purchase!
HappyNeuron's cognitive worksheet packets
HappyNeuron Pro worksheets are based on exercises from our digital tool. They are designed to be used by clinicians to help clients stimulate, build, or rebuild the foundation of different cognitive functions.
Cognitive therapy may lead to an improved quality of life for patients. We aim to empower clinicians by helping them save time and making it easier to provide cognitive therapy. Therefore, we design our worksheets and digital exercises to be engaging and relevant. Through our tools and the cognitive therapy that clinicians provide, patients can practice the cognitive skills needed for daily functioning and may see improvement.
Find the perfect cognitive worksheet packets for your client
We create a wide variety of worksheets for numerous cognitive domains and conditions. If you're searching for a specific cognitive skill, use the filters on the left. If you're looking for worksheets to help with a specific condition, we recommend you look at our worksheet bundles, which are collections of packets to address specific skills or conditions.