Cognitive Worksheet Packets
Worksheet packets for all areas of cognition.
Explore our entire library of cognitive worksheet packets. We have big packets, mini packets, bridging packets, and bundles that focus on specific cognitive functions, medical conditions, or themes. Join our monthly newsletter and get free packets directly in your inbox 2x a month.
Interested in the digital versions of our exercises? Try them here.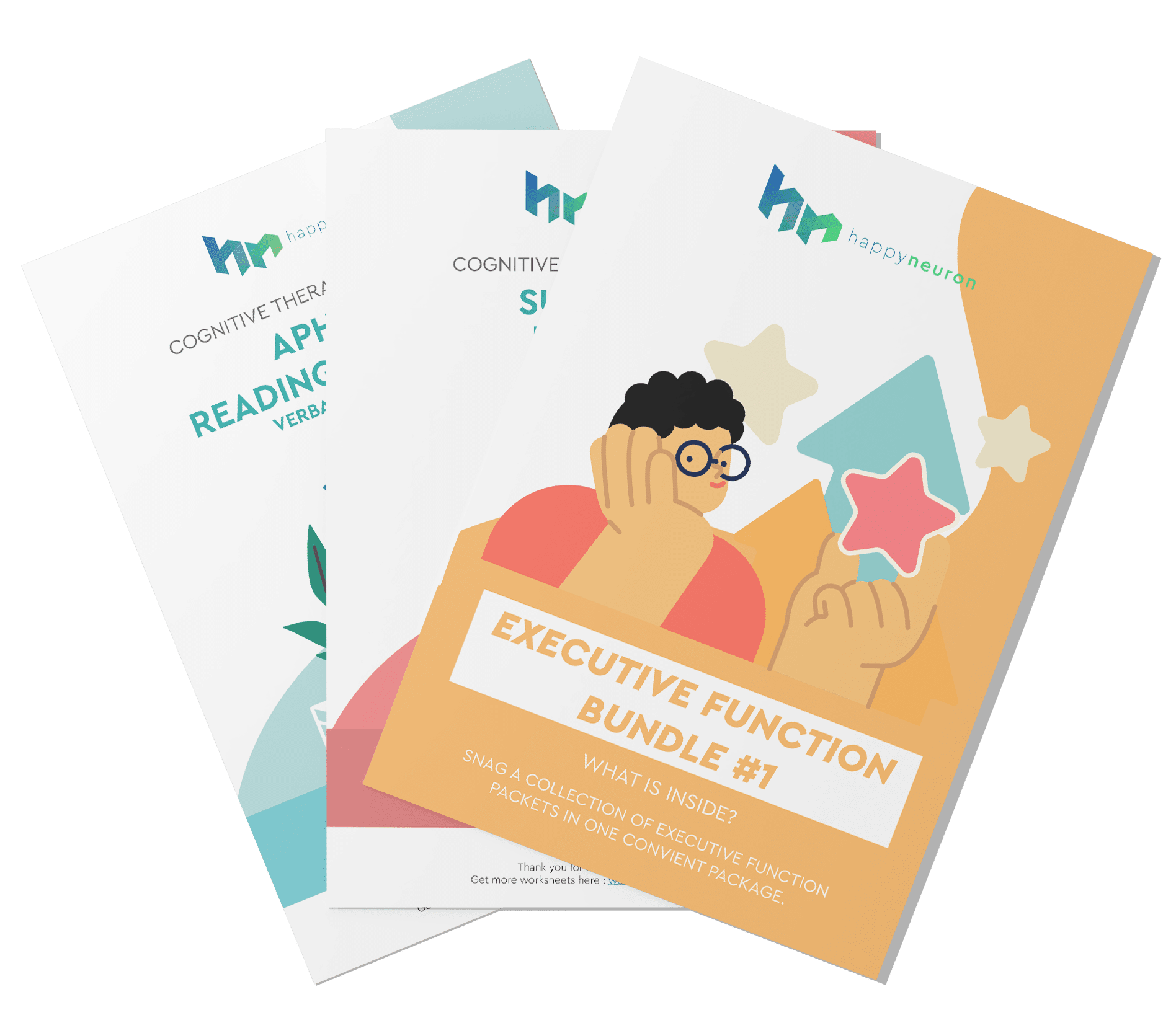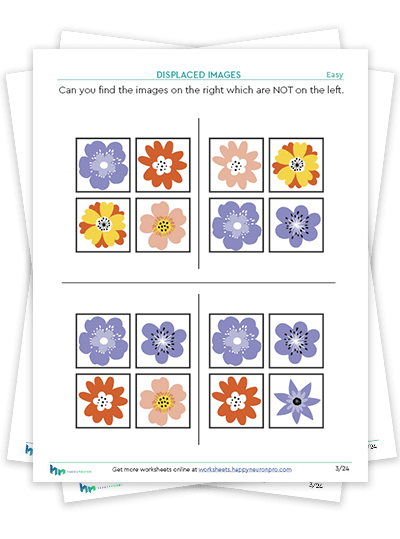 If your patients love flowers and all things around spring, they will love this packet. This attention packet is an excellent workout for your patient's brain. Visual attention is required to do many different cognitive tasks. When strengthened, it may help all areas of cognition.
To help you provide therapy for your client working on their visual attention skills, we have provided 4 exercises that target different cognitive skills involved in this visual attention packet. A keen eye for detail is key to succeeding at these attention-grabbing problems. The first exercise group is a floral adaption of Displaced Images. You'll have to pay close attention to be able to spot the odd flower out. Next, You'll have to jump through words in alphabetical order as quickly as possible. Be careful; the distracting floral background might slip you up! Next, we will combine your visual attention skills and spatial memory in a flowery Chunking exercise. This exercise requires you to pay close attention to where flowers are on a grid and carefully recreate them afterward. We've left some empty grids so you can make your own. Lastly, we will see how well your visual skills and memory are in Shapes and Colors. This exercise works your visual attention and memory skills as you try and decide which flower is the correct one.
This packet is great for non-speakers, kids, preschoolers, individuals who need attention skills, and anyone looking to engage their brain with a flower-themed packet!
Included inside: 19 worksheets and bridging questions.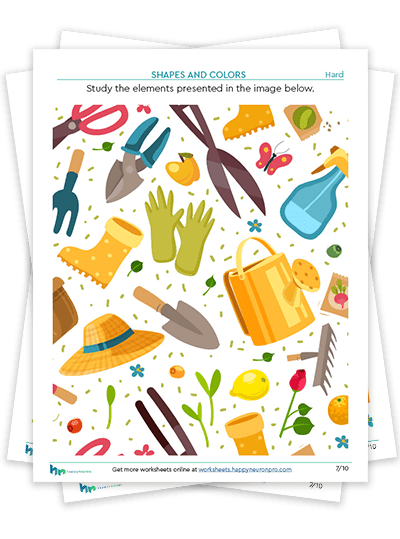 Ready to test your brain? Practice your visual memory by picking out and recall different gardening tools and plants in this fun springtime mini worksheet! Clients will use skills such as attention and organization in order to complete this exercise! This Mini Packet is perfect for those who are looking to hone their attention to detail and memorization skills!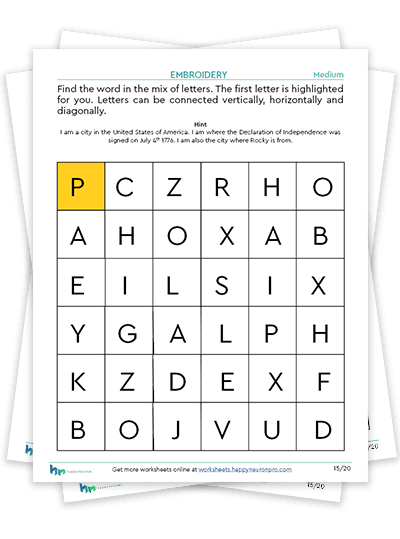 Are you looking for language activities for dementia patients? Language is a complex cognitive skill. It involves executive functioning, memory, and visual and auditory processing skills. Sometimes, people with dementia struggle with one or more aspects of language, such as word retrieval. That is why we developed this packet. We wanted to create a packet to help improve language skills that are often inhibited in individuals with dementia.
In this workbook, we have provided 4 exercises that target different cognitive skills involved in language skills. We have a verbal memory exercise, Words, Where are you? We have a visual attention exercise, Private Eye. Additionally, we have a word-categorizing activity, Secret Files, and lastly, a language-inferring activity, Embroidery.
This packet will be great to be used for seniors, anyone looking for printable activities for dementia patients, or anyone looking for language-based activities. If you love this packet, we highly recommend you try our digital program. Each one of these exercises is even better on the digital program. 
Included inside: 13 worksheets and bridging questions.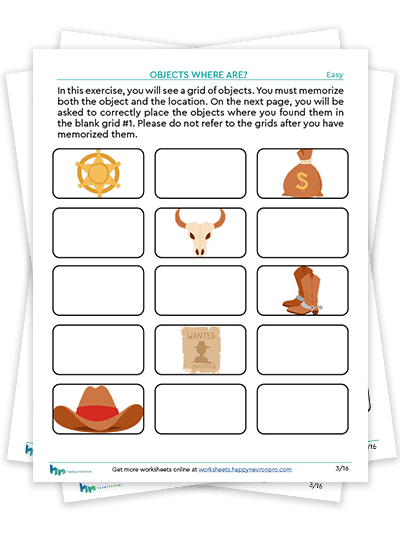 Go set out on the wild wild west! Try your hand at remembering and recalling different images and their locations on a grid associated with America's wild wild west! In this exercise, clients will utilize executive functioning skills such as working memory and attention. This Mini Packet can help clients prepare for real world tasks like being able to recall objects around their neighborhood.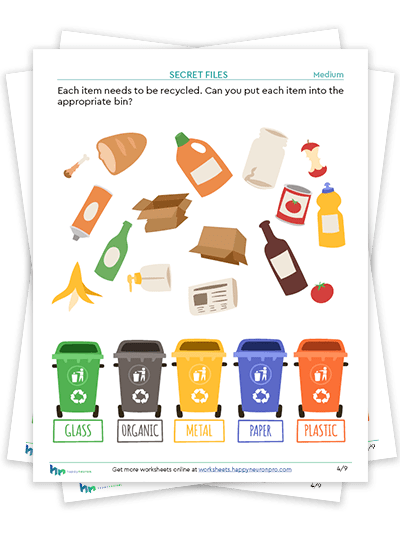 Based on our digital exercise Secret Files, this recycling activity packet will be fun and educational for everyone. Help teach your patients, clients, students, and kids the difference between recycling cans and this packet. This packet will test their semantic knowledge and visual attention by sorting various waste items into color-coordinated bins. The more bins there are, the more specific the thing that can and should go into it. This attention-based worksheet packet is an excellent activity to do for Earth Day or as a bridging activity. Preschoolers and Seniors will enjoy this color-filled recycling worksheet packet today!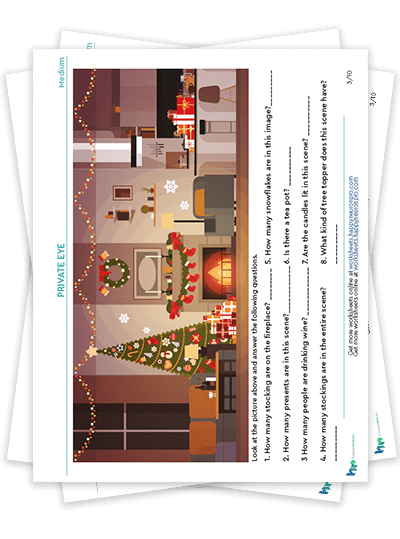 Feeling festive and a little like Sherlock Holmes? In each holiday scene, find the hidden presents and decorative items. Clients will focus on various executive functioning skills as they complete the worksheet. This exercise requires attention to detail, which will help you be a better holiday card writer, be more organized, and be able to catch miswrapped gifts!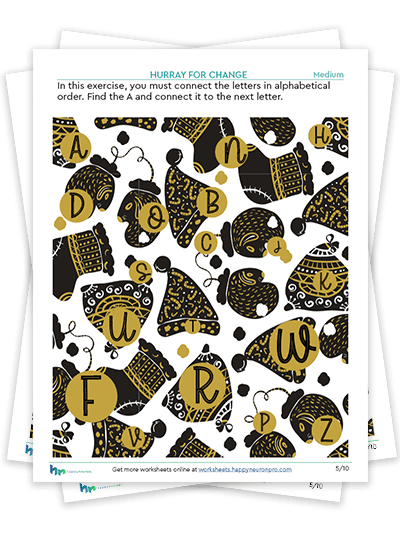 Don't get lost in the wrapping paper! Switch between numbers and letters in this executive functioning task while navigating festive backgrounds. This exercise will help you learn strategies to switch between two different stimuli and avoid distraction coming from the environment. Clients will be able to hone their time management and organization skills while practicing this activity.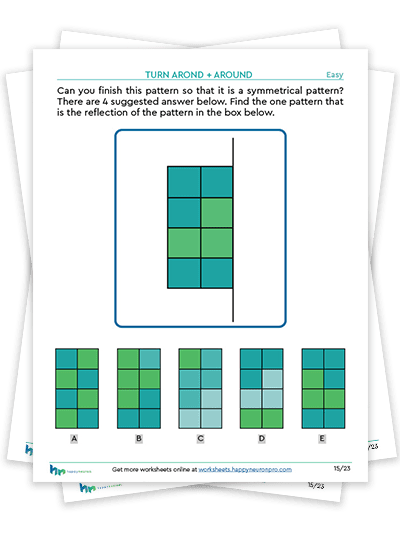 Mental movement is a complex cognitive skill needed to plan things out. It helps with visual-spatial skills and the ability to organize information, make mental-visual comparisons, and overall decisions based upon order or comparison.
In this worksheet, we're providing you with 4 exercises to use with your clients to practice strategies related to mental movement, whether mentally moving a ball from one hoop to another or remembering where objects are placed. You are using language clues and space markers to solve a sentence. Or even mentally reflecting on a pattern, this packet has all that and more. Your client will be exposed to different task requirements, all sharing the underlying component of mentally moving objects.
This worksheet challenges: working memory, attention, visual-spatial skills, and language.
Included inside: 19 worksheets and bridging questions
Answer a few questions about yourself and get at $15 credit for any purchase!
HappyNeuron's cognitive worksheet packets
HappyNeuron Pro worksheets are based on exercises from our digital tool. They are designed to be used by clinicians to help clients stimulate, build, or rebuild the foundation of different cognitive functions.
Cognitive therapy may lead to an improved quality of life for patients. We aim to empower clinicians by helping them save time and making it easier to provide cognitive therapy. Therefore, we design our worksheets and digital exercises to be engaging and relevant. Through our tools and the cognitive therapy that clinicians provide, patients can practice the cognitive skills needed for daily functioning and may see improvement.
Find the perfect cognitive worksheet packets for your client
We create a wide variety of worksheets for numerous cognitive domains and conditions. If you're searching for a specific cognitive skill, use the filters on the left. If you're looking for worksheets to help with a specific condition, we recommend you look at our worksheet bundles, which are collections of packets to address specific skills or conditions.