Cognitive Science-based Printable Worksheets for Adults & Kids
Welcome to our collection of free worksheets explicitly designed for cognitive stimulation. Whether you're looking to expand your knowledge, improve your skills, or enjoy the process of learning, our worksheets offer a diverse range of topics and subjects. Discover how our cognition-based resources can help you on your lifelong journey.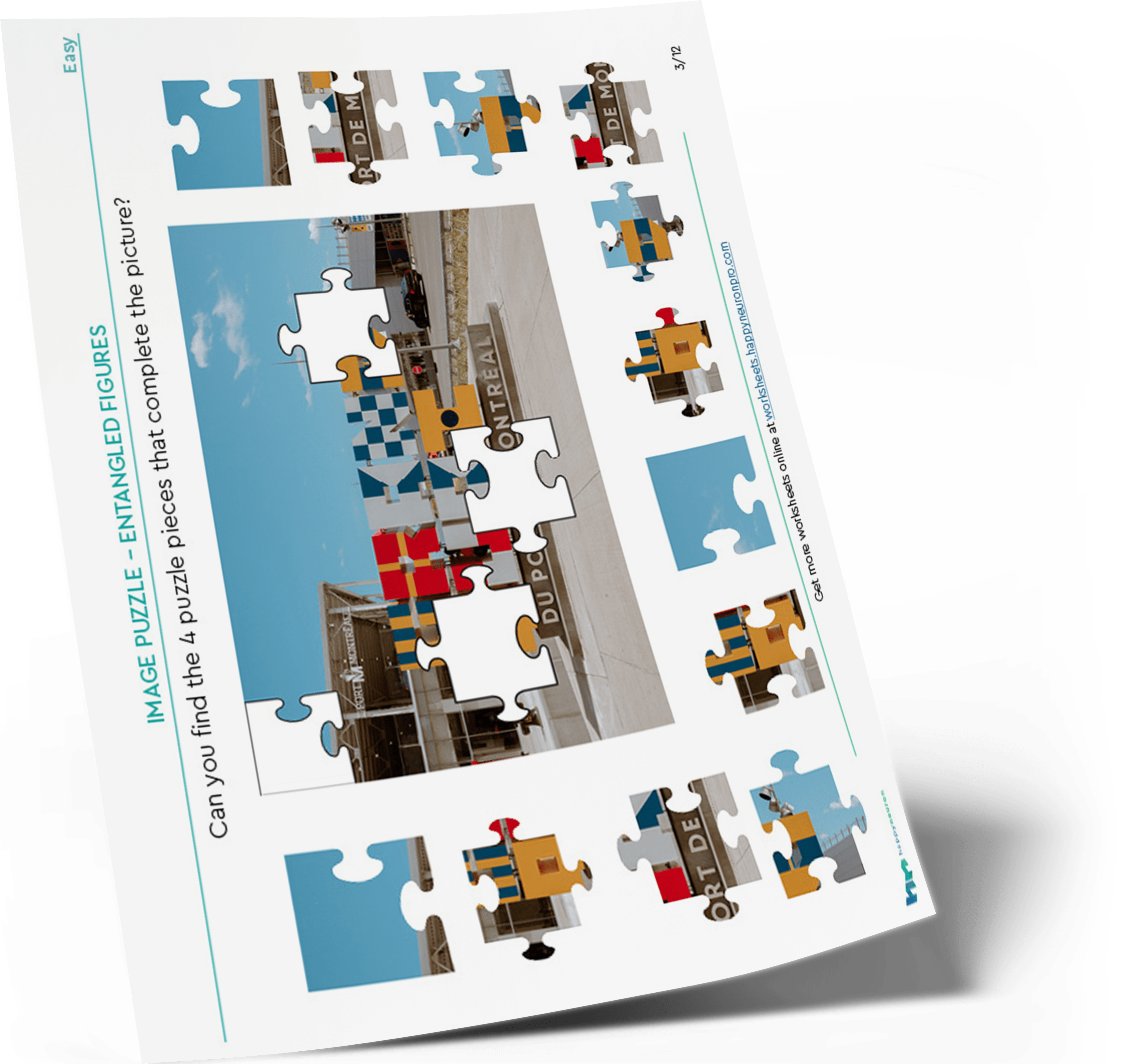 We release them on the 1st and 3rd Mondays of the month. So check out our last 5 minis! But hurry, these packets won't stay free for long. Get them while they're here!
Additionally, make sure to add our email info@happyneuronpro.com to your address book so you don't miss out on the newest minis!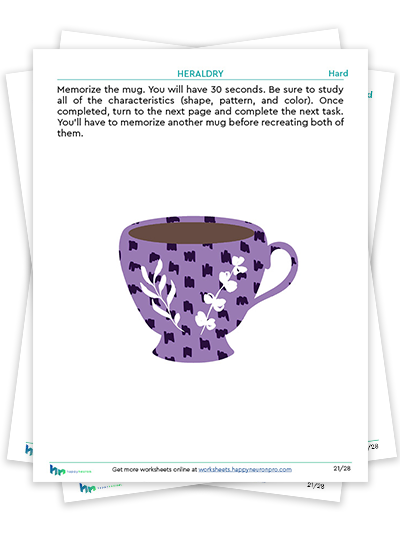 Are you ready to sharpen your visual working memory skills? Cozy up with this fun Mug theme Mini. This packet is for anyone seeking a fun and effective way to boost their cognitive ability to remember the shapes and colors of a mug. You may be gathering up your cozy sweaters and mugs, make sure to grab this cozy packet for your cozy days as well.
What is Visual Working Memory?
Visual working memory is the remarkable capacity of your brain to hold and manipulate visual information temporarily. Whether you're a student looking to improve your study habits, a professional aiming to enhance productivity, or simply someone who loves a good challenge, our Mug Mastery Worksheets are here to help you level up your cognitive abilities. If you find these exercises fun then you should try out the digital exercise Heraldry. This exercise will challenge.
Suitable for All Ages: Whether you're a teenager looking to improve academic performance, a professional wanting to stay sharp at work, or a senior aiming to keep your mind agile, these worksheets are suitable for everyone.
Include inside: 20 working memory and math equations activities and bridging questions.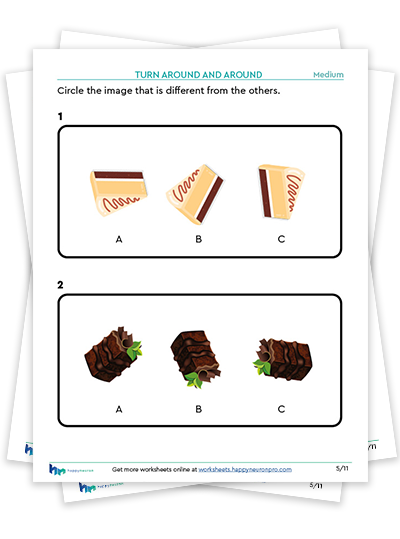 Enjoy the views of desserts as you engage with these visual-spatial activities for kids! Uniquely designed and available exclusively here, this printed version of our digital exercise, Turn Around and Around, promises to engage, educate, and entertain young minds. This packet will encourage kids to rotate digital desserts, honing their spatial awareness and problem-solving skills. This innovative approach enriches their ability to grasp spatial relationships while having a blast and may strengthen their visual-spatial skills.
Why Turn around and around?
Turn Around and Around exercise encourages individuals to manipulate images and may empower them to understand spatial relationships in a dynamic way. This unique approach transforms learning into an adventure, fostering a deep understanding of spatial concepts.
Merge learning and fun as kids visually explore these diverse desserts. Although we say kids will love this, we highly believe anyone will have fun completing these exercises. Everyone on our team got hungry after working on this packet. You might just spark some fun discussions with your students and clients about their favorite desserts. This packet may also be great for group activities. Individuals can work together to discover which may or may not be the odd one out.
Include inside: 12 visual-spatial activities and bridging questions.
Are you in pursuit of more captivating visual-spatial activities for kids?  Explore our extensive collection of kid-friendly exercises designed to spark curiosity and inspire learning →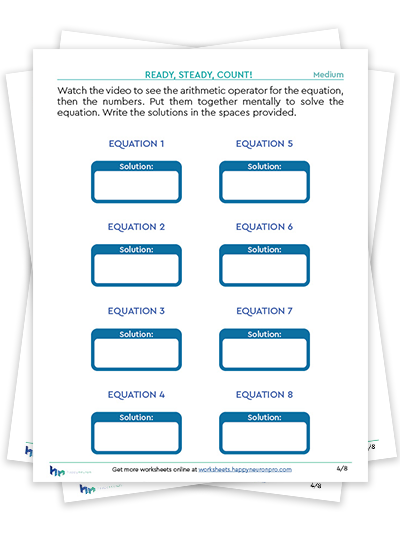 Start the journey to sharper working memory and mathematical abilities with this worksheet! This worksheet hides an exciting avenue of growth and learning. Presenting a fusion of enjoyment and skill development, the "Ready, Steady, Count!" hybrid packet sets the stage for an entertaining experience! You'll need to watch the screen and solve math problems in your head – it's like a math challenge for your brain! Who knows, this just might ignite the spark of loving mental calculation. Practice your working memory and math skills with this fun hybrid packet! 
Tailored to cater to diverse learners, these worksheets are a remarkable resource for individuals aged 8+. We can see teachers using these with students as a warm-up or a math activity! Moreover, these worksheets may start a journey of cognitive enrichment, particularly for individuals keen on amplifying their working memory and mental mathematical abilities, especially in a world where we must use mental mathmetics to calculate tips. These worksheets are potent tools to equip minds with the tools necessary for success.
Include inside: 20 working memory and math equations activities and bridging questions.
If you enjoy these worksheets and want more math fun, make sure to check out our other math worksheets too. Each one is like a special adventure for your brain, and may just help you become better at math! Check out our other math worksheets here →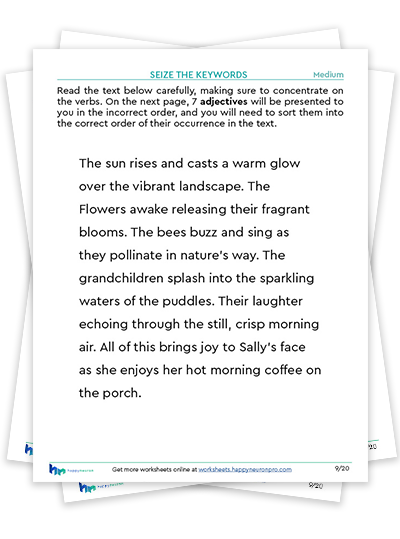 These enjoyable activities are designed to boost your verbal attention and memory skills. Immerse your client in a delightful packet that exudes the enchanting essence of summer stories. In this packet, they will have to recall keywords. As you progress through the packet, your patient's visual attention skills and verbal memory are pushed to new heights, providing a refreshing challenge that stimulates your mind.
These Seize the Keywords are tailored perfectly to find a perfect home in English grammar classes or your practice. You can cater to proficient writers and adults seeking intellectual stimulation. Furthermore, these activities may be beneficial for refining the language skills of individuals with aphasia. It's important to note that this packet might not be suitable for individuals with limited reading proficiency.
Include inside: 8 stories and bridging questions.
If you like these worksheets, check out our other language worksheets here →
Why should I try your free worksheets?
1. Variety of Subjects: Our worksheets cover a broad spectrum of subjects, from language arts and mathematics to science and personal development. Choose from a wide array of topics that cater to the interests and needs of adult learners and kids! Explore our library of worksheets →
2. Real-World Applications: Many of our worksheets are designed with real-world applications in mind, ensuring that the knowledge and skills you acquire can be immediately put to use in your daily life.
3. New & Free Content: Best of all, our worksheets are completely free. We believe that cognition improving activities should be accessible to everyone, and our commitment to providing high-quality resources reflects this belief.
4. Lastly, all of our worksheets are based on our digital tool, HappyNeuron Pro. This tool has been positively impacting brains since 2000. If you enjoy these worksheets, try the exercise in their digital format →
Sign up to get the next FREE Minis
We release mini worksheets twice a month.

Sign up to get them directly in your inbox!
Answer a few questions about yourself and get a $15 credit for your first purchase.

That is one big packet free too!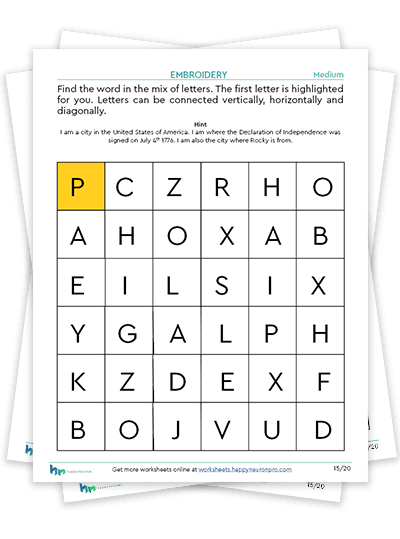 Are you looking for language activities for dementia patients? Language is a complex cognitive skill. It involves executive functioning, memory, and visual and auditory processing skills. Sometimes, people with dementia struggle with one or more aspects of language, such as word retrieval. That is why we developed this packet. We wanted to create a packet to help improve language skills that are often inhibited in individuals with dementia.
In this workbook, we have provided 4 exercises that target different cognitive skills involved in language skills. We have a verbal memory exercise, Words, Where are you? We have a visual attention exercise, Private Eye. Additionally, we have a word-categorizing activity, Secret Files, and lastly, a language-inferring activity, Embroidery.
This packet will be great to be used for seniors, anyone looking for printable activities for dementia patients, or anyone looking for language-based activities. If you love this packet, we highly recommend you try our digital program. Each one of these exercises is even better on the digital program. 
Included inside: 13 worksheets and bridging questions.