Worksheets for all areas of cognition.
Explore our entire library of cognitive worksheets. We have big packets, mini packets, bridging packets, or bundles that focus on a cognitive function, a medical condition, or a theme. Join our monthly newsletter and get free packets directly in your inbox 2x a month.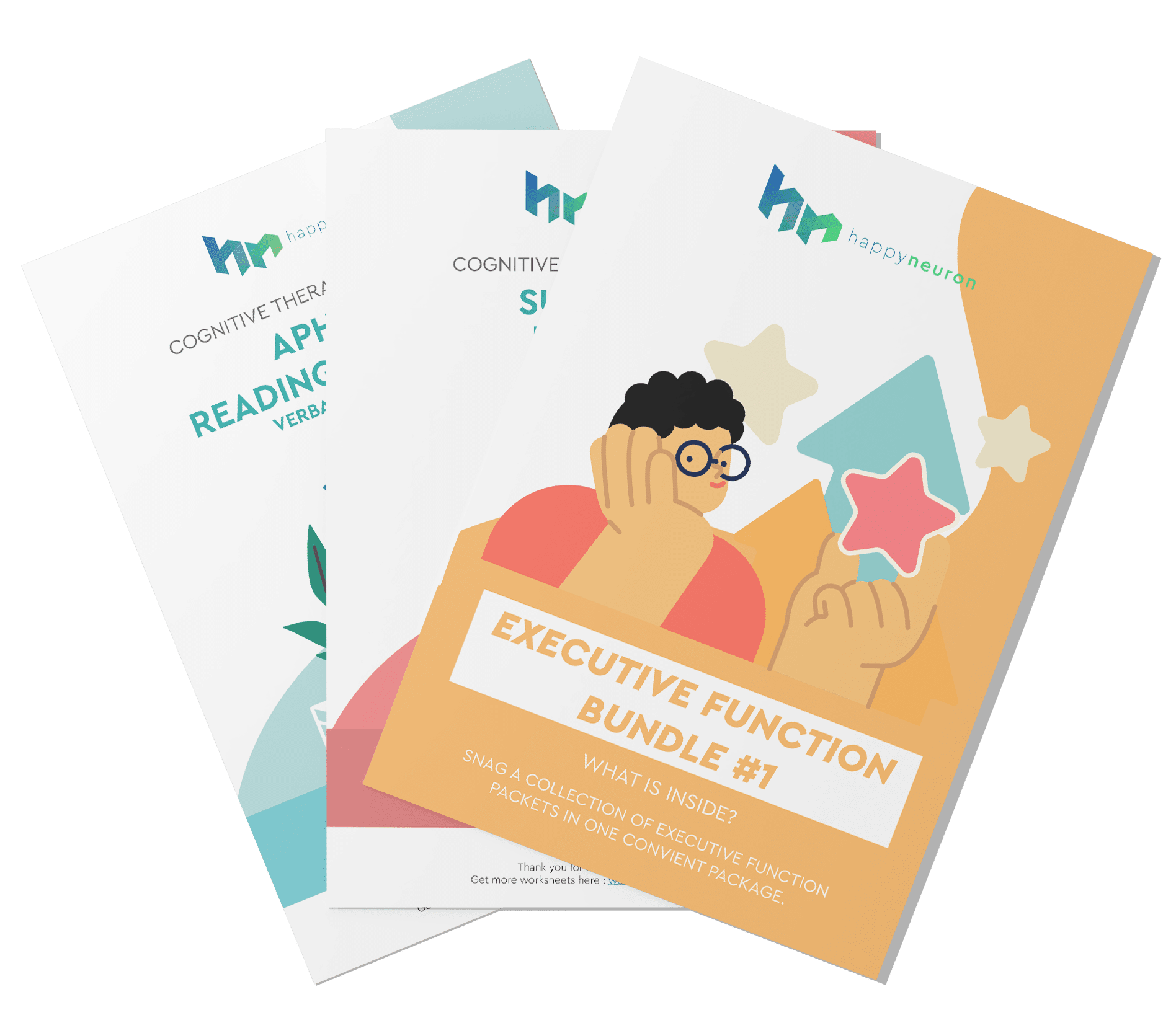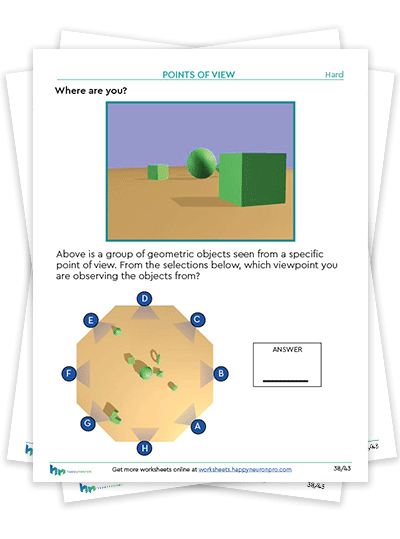 This packet aims to help individuals recognize items to improve their spatial awareness by studying unique key features of different objects. We hope your patient can better find themselves on a map. 
We started this packet with an ancient writing task. In this task, your patient must study figures and discover which character does not appear in the section above. This will challenge their attention and working memory. Sleight of Hands is the next task. This exercise challenges your patient's visual-spatial ability by having them mentally compare and decide if the picture displayed is a left or right hand. After that, Gulf Stream is the next task in this packet. Gulf Stream challenges your patient's ability to remember objects and recall them as they appear on the screen. This printed version will challenge your patient's ability to identify and find a snowflake in a mess of other snowflakes. Finally, the final exercise will test all the skills used in the previous activity. Points of View will challenge your patient's spatial ability as your patient will try to figure out where you are on a map of objects. 
In conclusion, we believe your patient will have fun completing this packet. The tasks are interactive and enjoyable, from noticing and remembering small details to mentally manipulating objects. Working on all the exercises in this packet may improve your patient's spatial awareness. We recommend this packet for kids aged 6+, non-verbal individuals, and individuals who want to get better at figuring out where they are in time and space. 
Included inside: 39 worksheets and bridging questions.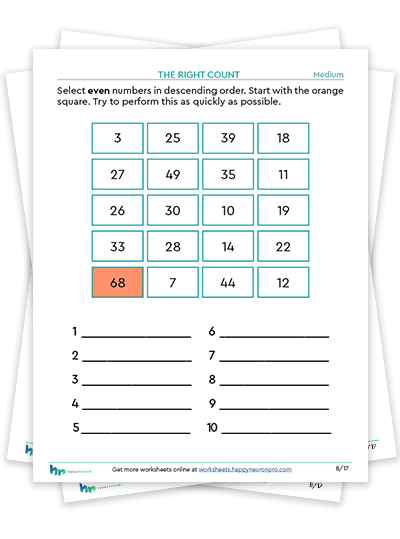 Counting down the New Year just got fun with this printable version of our digital exercise, The Right Count. Your patient's Executive Functions may just be fully engaged with these worksheets. Your patient will have to read a box of numbers, remember where odd and even numbers are, and then sort them according to the instructions. This packet will progressively get more challenging as the quantity of numbers increases and the gaps become larger. For added challenges, try using a timer and see how long your patient takes to complete this task.
We hope your patients will enjoy this New Years themed packet! Perfect for warm-up, groups, non-English speakers, and children learning numbers.
Included: 12 worksheets, answer key, and bridging questions.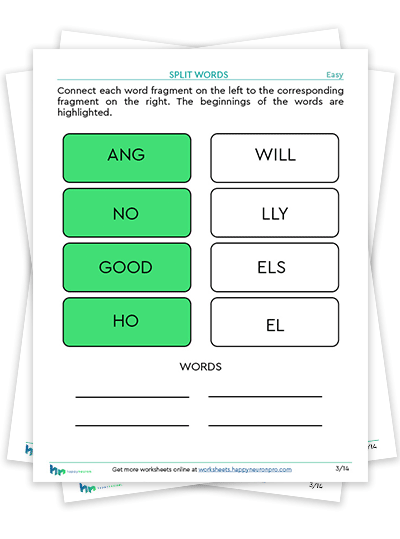 A wintery wonderland fills the pages of this holiday-influenced language-based worksheets packet. Your patient's verbal memory will be engaged with this fun Split Word influence packet. This packet will progressively get harder as the puzzles continue. What may seem as easy will soon become tough as the fragments of words become more, and the hints become less. We hope your patients will enjoy this holiday-themed packet! It will be great to use as a warm-up or in a group setting!
This packet is great for kids learning how to spell, adults working on language recall, and anyone who wants to engage their brains.
Included: 9 worksheets and bridging questions.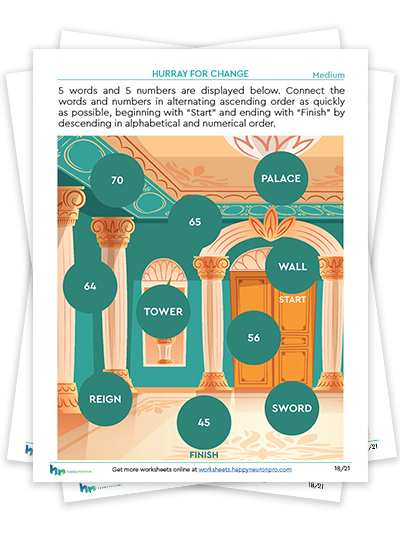 Verbal Focus and Recall are the focus of this fun packet of worksheets. Your patients will have 35 unique pages of language-based exercises that may help with these skills. This packet will start by warming up their attention and sorting skills with some fun Private Eye and Hurray for Change exercises. After they complete those two segments, the harder verbal focus and recall exercises will begin. Your patient will decode a box of letters to find what word is embroidered within the grid. Verbal attention and verbal recall are challenged with these Embroidery exercises. Lastly, your patient will have to solve some Writing in the Stars exercises. Writing in the Stars will challenge your patient's verbal processing, verbal attention, and verbal planning skills. 
We recommend this packet for kids aged 8+ and individuals who want to work on their verbal skills. 
Included inside: 35 worksheets and bridging questions.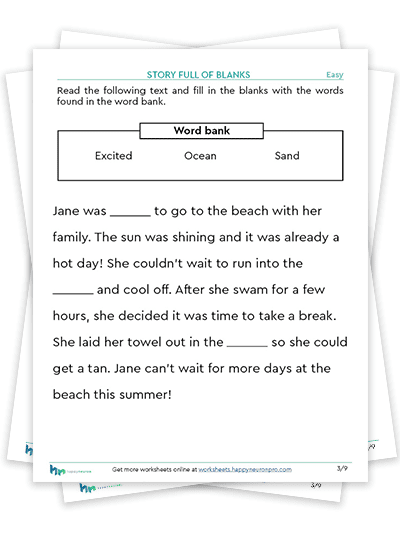 Ready to be an editor? Miss MadLibs? Read different passages and fill in the blanks with this fun verbal reasoning activity. This exercise focuses on executive functioning skills such as working memory, attention and metacognition. This is perfect for anyone looking to hone their verbal processing skills as well as working memory abilties!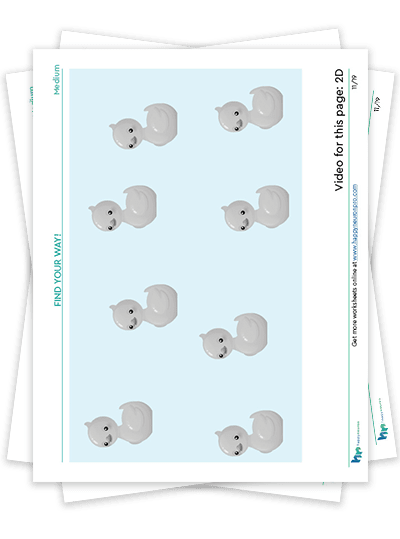 Ready for a memory challenge? Engage your client's attention and working memory skills using this mini hybrid packet. Find Your Way takes on a new face (or should we say bill) with this cognitive exercise packet. This activity primarily exercises executive functioning skills such as your client's Attention Skills.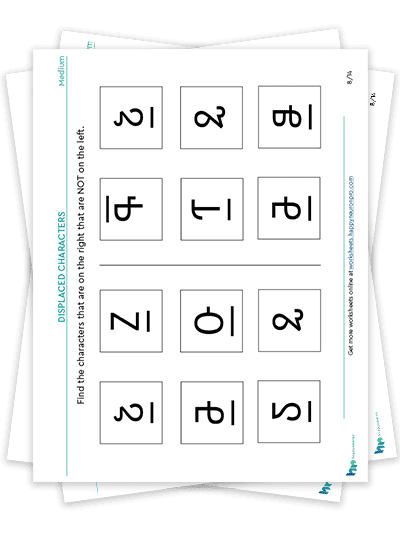 Ready for to challenge your attention and memory skills? Inspector Gadget may have an eye for detail, but do you? With this mini packet based on the visual attention exercise Displaced Characters, you can practice your attention to detail and ability to detect anomalies. This visual memory worksheets packet also utilizes executive functioning skills such as concentration and attention, and is great for anyone looking for a challenge!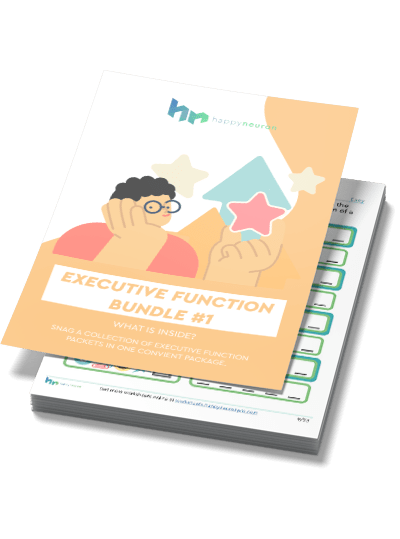 This bundle is a collection of packets that target Executive Functions skills. Executive function is essential for us to plan our day, engage with complex tasks and make decisions. Without executive function skills, we may become poor managers of our money, struggle to decide, or have difficulty planning our day. This is the most general bundle of executive function worksheets we've collected.
Bundle + Save
Bundles are a great way to buy more and save more! If you were to buy all of these packets separately, you would pay more than $55. Because we've bundled it, you're getting an instant saving of over 20%! Our bundles are designed to help you buy workbooks for your patients.
What's included inside: Instant PDF downloads of 6 packets or 85 unique worksheets.  
Answer a few questions about yourself and get at $15 credit for any purchase!