Cognitive Worksheet Packets
Worksheet packets for all areas of cognition.
Explore our entire library of cognitive worksheet packets. We have big packets, mini packets, bridging packets, and bundles that focus on specific cognitive functions, medical conditions, or themes. Join our monthly newsletter and get free packets directly in your inbox 2x a month.
Interested in the digital versions of our exercises? Try them here.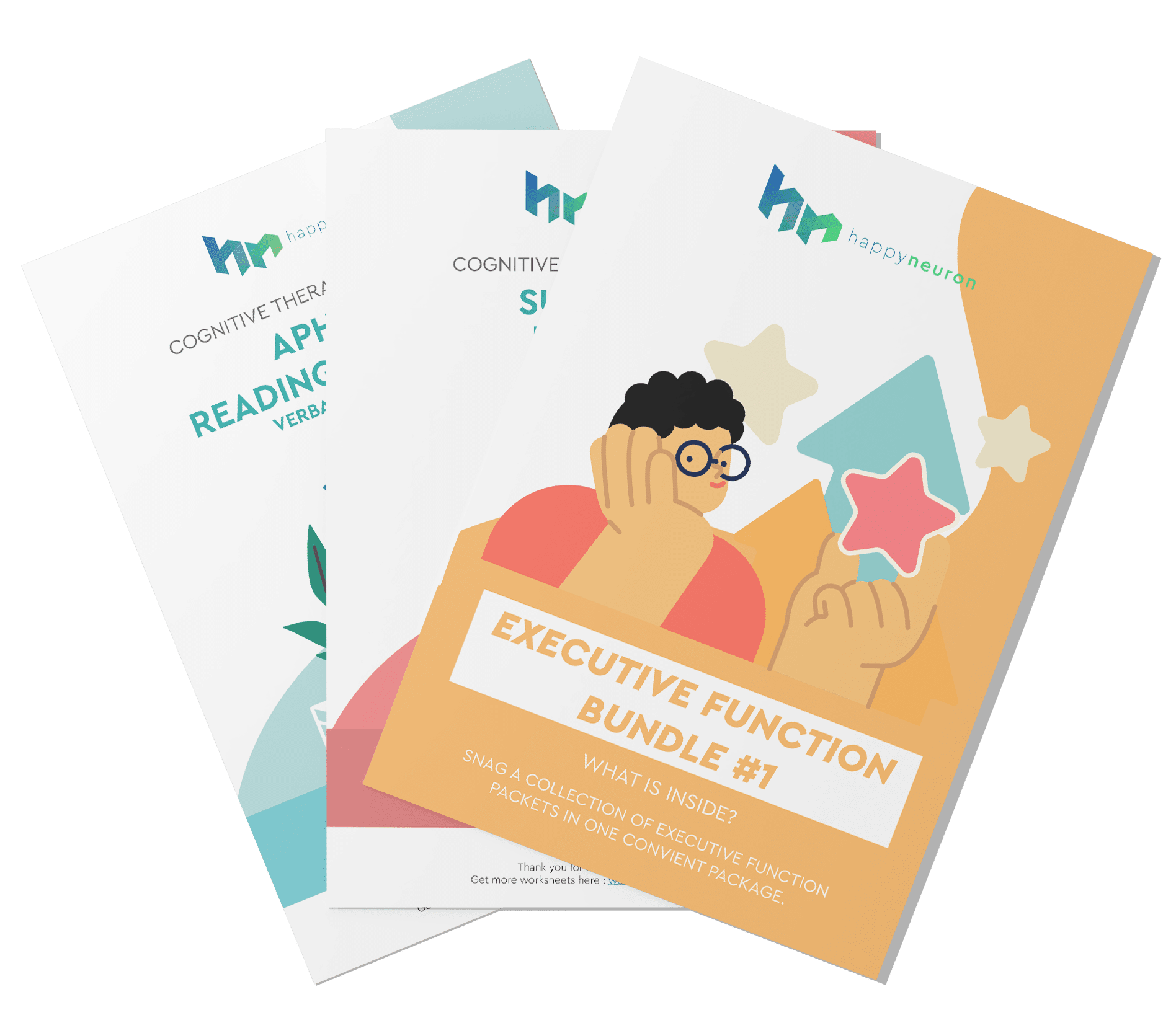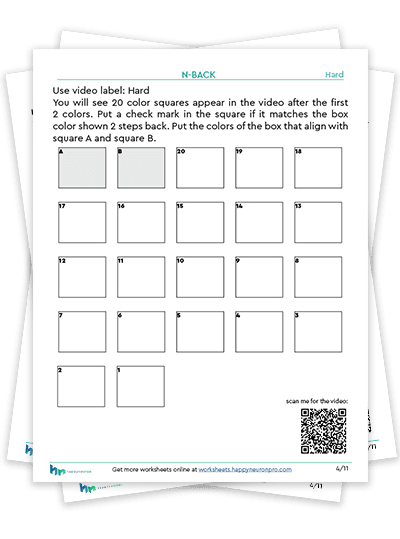 How good is your memory? Test your working memory and recall abilities in this hybrid memory packet based on the exercise N-Back. This packet utilizes executive functioning skills such as working memory, metacognition, and concentration. Try this packet for working memory activities and test your memory skills!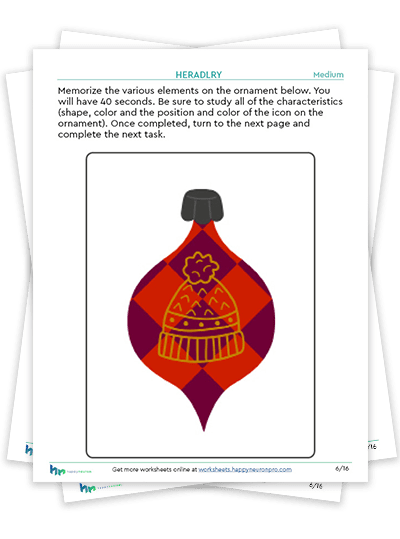 Try your hand at making your own holiday ornaments, and recalling what they look like. This holiday themed packet will challenge your visual memory as you create and recall different ornaments. This packet uses executive functioning skills such as working memory, metacognition and organization.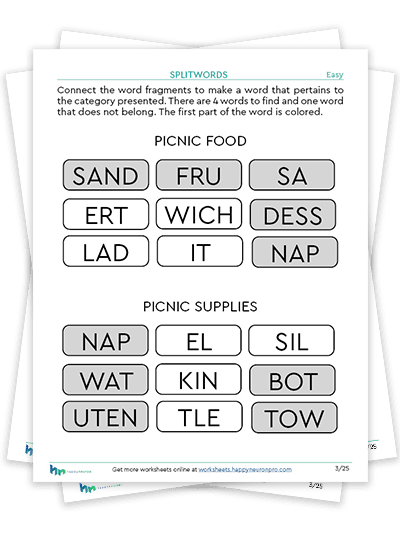 We designed this packet as a life skills activity workbook that may improve verbal working memory skills. This packet aims to challenge your client's ability to remember, recall, and relocate words. Individuals in the food service industry often use these skills.
The first exercise will challenge your verbal memory as your patient combines fragments to make logical words. This progresses from easy two-fragment words to three-part fragmented words. In the next exercise, you must produce words with only a set letter or letter combo. After your verbal recall is warmed up, the second to last section will challenge your ability to place words within a grid. This will require you to use both verbal memory and spatial memory. Finally, the last exercise combines these skills into a real-world experience on printed paper. Working in a restaurant requires both verbal and spatial memory skills. These adapted Restaurant exercises will help you practice all the skills used in this packet as you recall names, orders, and positions.
This packet is great for individuals with learning disabilities, students eight years or older, or individuals recovering from a stroke. Try it as a bridging activity as well.
Included inside: 20 worksheets and bridging questions.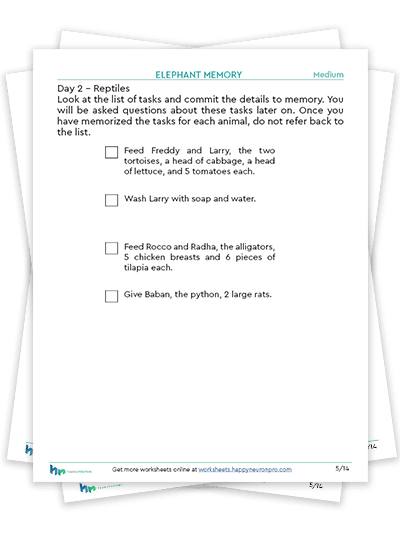 Are you a good pet sitter? Try taking care of zoo animals! By working on your verbal and sequential memory, you will be asked to remember the task list of a zookeeper. Clients will practice skills such as organization and working memory by completing this exercise!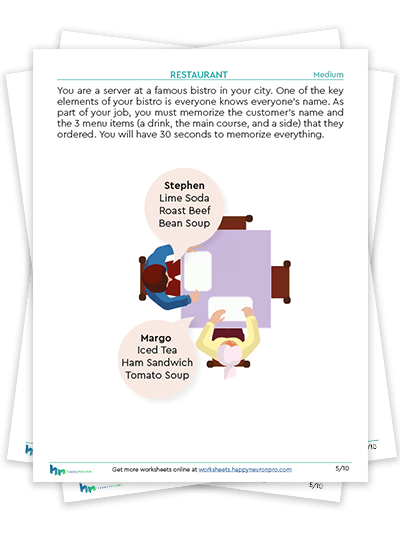 Think you can be a server? Try remembering the orders of diverse clients in this memory focused packet! Clients will focus on executive functioning skills such as organization and attention. This Mini Packet is great to help clients feel more confident on organizing and adapting to new changes at a quick pace!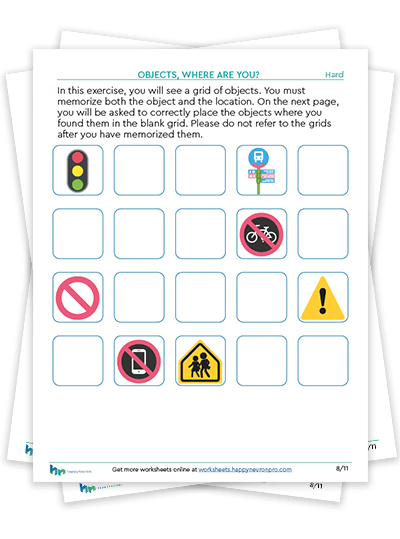 Let's get this show on the road! Work on your visual memory by recalling different road signs and their locations. Clients will utilize executive functioning skills such as attention and working memory. This exercise will help you learn the strategies needed to recall signs you have just seen in order for you to make decisions on the road.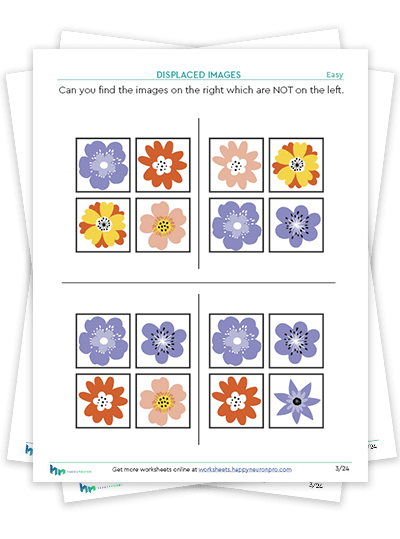 If your patients love flowers and all things around spring, they will love this packet. This attention packet is an excellent workout for your patient's brain. Visual attention is required to do many different cognitive tasks. When strengthened, it may help all areas of cognition.
To help you provide therapy for your client working on their visual attention skills, we have provided 4 exercises that target different cognitive skills involved in this visual attention packet. A keen eye for detail is key to succeeding at these attention-grabbing problems. The first exercise group is a floral adaption of Displaced Images. You'll have to pay close attention to be able to spot the odd flower out. Next, You'll have to jump through words in alphabetical order as quickly as possible. Be careful; the distracting floral background might slip you up! Next, we will combine your visual attention skills and spatial memory in a flowery Chunking exercise. This exercise requires you to pay close attention to where flowers are on a grid and carefully recreate them afterward. We've left some empty grids so you can make your own. Lastly, we will see how well your visual skills and memory are in Shapes and Colors. This exercise works your visual attention and memory skills as you try and decide which flower is the correct one.
This packet is great for non-speakers, kids, preschoolers, individuals who need attention skills, and anyone looking to engage their brain with a flower-themed packet!
Included inside: 19 worksheets and bridging questions.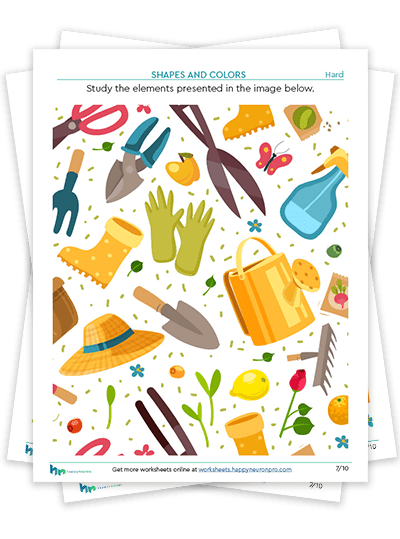 Ready to test your brain? Practice your visual memory by picking out and recall different gardening tools and plants in this fun springtime mini worksheet! Clients will use skills such as attention and organization in order to complete this exercise! This Mini Packet is perfect for those who are looking to hone their attention to detail and memorization skills!
Answer a few questions about yourself and get at $15 credit for any purchase!
HappyNeuron's cognitive worksheet packets
HappyNeuron Pro worksheets are based on exercises from our digital tool. They are designed to be used by clinicians to help clients stimulate, build, or rebuild the foundation of different cognitive functions.
Cognitive therapy may lead to an improved quality of life for patients. We aim to empower clinicians by helping them save time and making it easier to provide cognitive therapy. Therefore, we design our worksheets and digital exercises to be engaging and relevant. Through our tools and the cognitive therapy that clinicians provide, patients can practice the cognitive skills needed for daily functioning and may see improvement.
Find the perfect cognitive worksheet packets for your client
We create a wide variety of worksheets for numerous cognitive domains and conditions. If you're searching for a specific cognitive skill, use the filters on the left. If you're looking for worksheets to help with a specific condition, we recommend you look at our worksheet bundles, which are collections of packets to address specific skills or conditions.