Cognitive Worksheet Packets
Worksheet packets for all areas of cognition.
Explore our entire library of cognitive worksheet packets. We have big packets, mini packets, bridging packets, and bundles that focus on specific cognitive functions, medical conditions, or themes. Join our monthly newsletter and get free packets directly in your inbox 2x a month.
Interested in the digital versions of our exercises? Try them here.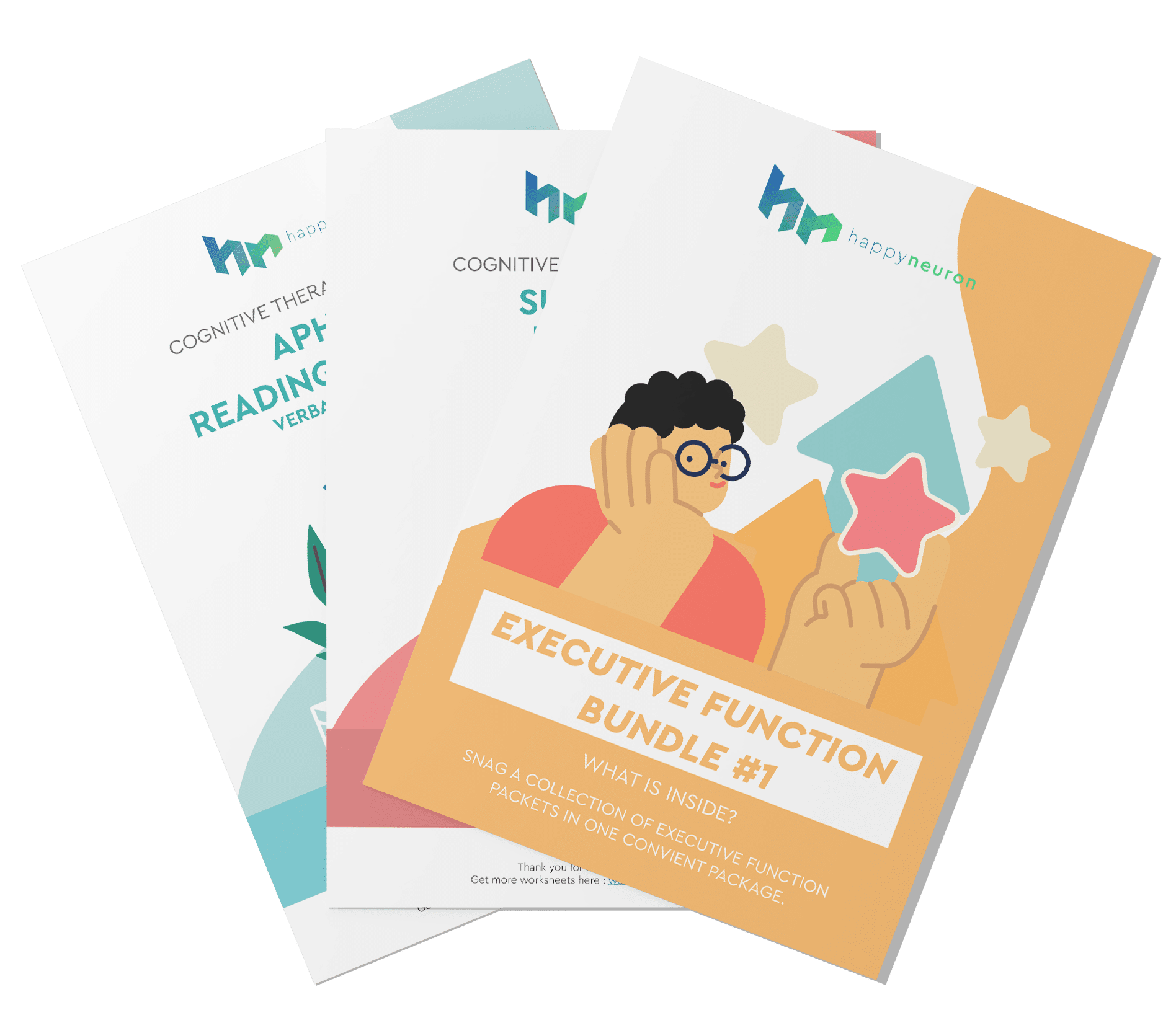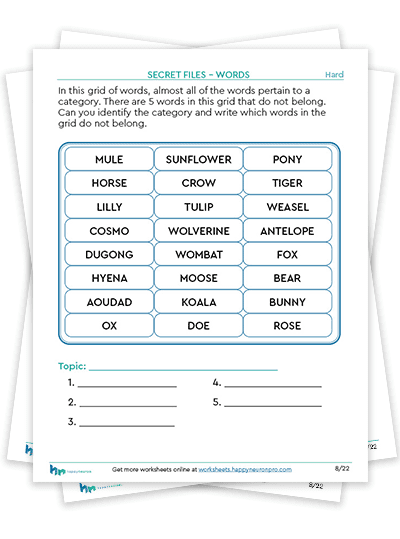 We designed this packet to stimulate visual skills related to verbal attention. The goal of this packet is to engage all aspects related to verbal and visual attention skills. We believe Verbal and visual attention skills are essential to all cognitive functions, especially those around social cognition and language. This packet will start by challenging your patients with two different adaptations of our digital exercise Private Eye. In this first exercise, your patient will have to find perfect circles. The following exercise will challenge their ability to recognize the correlation between words and their meaning to determine which words do not belong. The following exercise is a modification of Elephant Memory. This modification requires your patient to study a scene and answer questions.
The last two exercises are focused directly on verbal attention. This last section starts with an adaption of Restaurant. This adaption aims to engage your patient's ability to compare and contrast two recipes. Looking side by side, your patient will identify what was different between the recipes. Finally, your patient will have to read a passage and find the typos and errors in this modified version of This Story is Full of Blanks.
This packet is an excellent resource for teachers who want to challenge their students' ability to process visual-verbal information. Therapists have also used this packet to help stimulate patients with brain injuries that affect their verbal attention skills or aphasia.
Included Inside: 13 pages and bridging questions.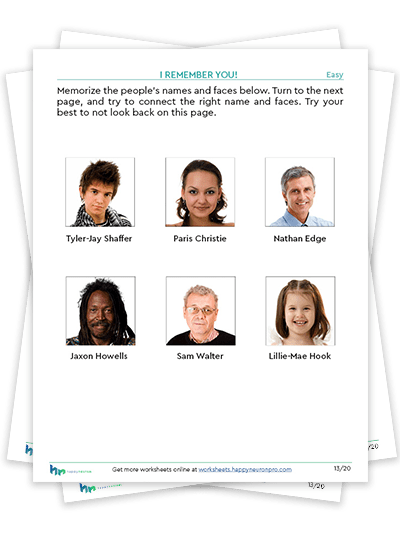 Information retention and recall are essential for everyday tasks. In this packet, your client will be challenged with tasks that will help them remember the locations of words and objects and recall orders and names. The exercises in this packet will target their verbal memory, spatial memory, working memory, and word association.  They will start the packet with their verbal and spatial memory challenged with a Words, Where are You? exercise. Next, they will have to recall orders of a group of people at a Restaurant. Then they will get a short break from words as they just have to recall the shapes from one page to the next. Finally, they will have to recall people's names. This worksheet is helpful for anyone who would like to improve and adapt their strategies for memory.
Included inside: 15 pages and bridging questions.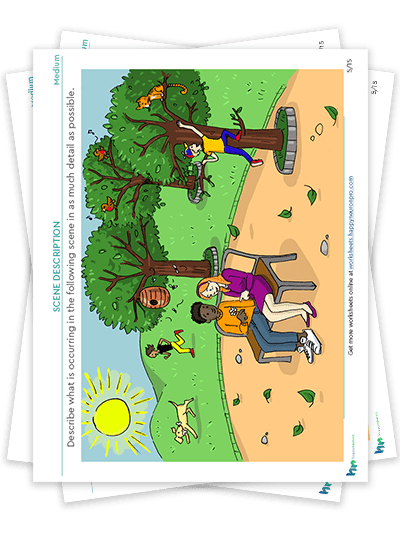 Are you looking for verbal fluency activities for aphasia patients? If so, look no further. Verbal Fluency is a complex cognitive skill. It involves executive functioning, memory, and visual and auditory processing skills. Individuals who have acquired Aphasia often struggle with verbal fluency. It could be word retrieval, sentence comprehension, or word choice. For this reason, we developed this inclusive verbal fluency packet for aphasia patients.
This packet will be great for a warm tool, group therapy, or one-on-one. This packet can be used by kids aged 8+. If you like the root it out or embroidery exercise, try them on our digital tool!
Include inside: 7 worksheets and bridging questions.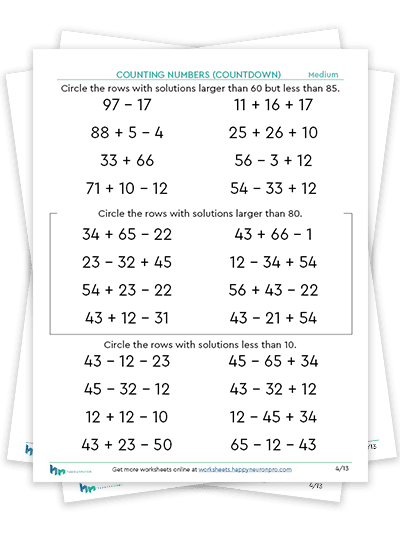 Are you looking for fun math worksheets for your elementary school-age students? Then look no further than this printable math worksheet! This workbook starts with a basic comparison of numbers and progresses into comparing equations. Next, your student will have to figure out the numbers in this adaptation of Countdown. Lastly, this packet will end with some simple word problems.
You can work on mathematical and computational skills and strategies with your clients in this worksheet. This can be used with children and adults who have difficulty with math! If you love this packet, you'll enjoy our other mathematical-based packets. 
Included inside: 9 pages and bridging questions.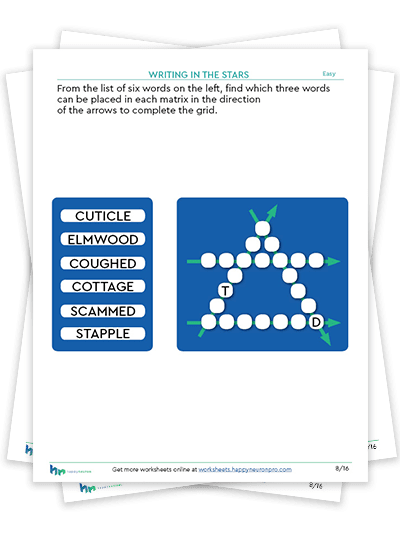 These linguistics worksheets involve memory, attention, executive functioning, and auditory processing. You can use this packet to work with your clients on relevant cognitive skills to improve their linguistic abilities. This might help them improve their language comprehension and usage. If you enjoy the Writing in the Stars exercises, you'll love using them on our digital platform with your patients.
Great for students age 10+, individuals with aphasia, or anyone wanting to improve their linguistic skills.
Included inside: 7 worksheets and bridging questions.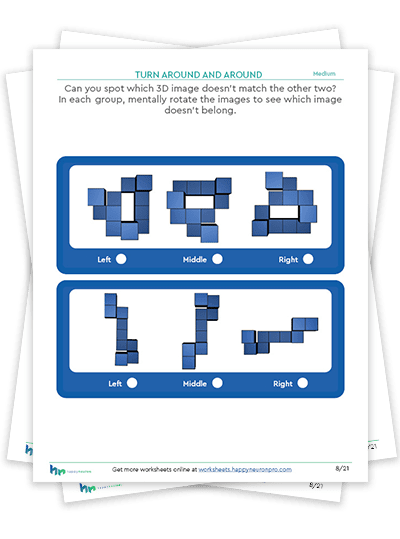 These spatial awareness worksheets will help your patient practice mentally rotating objects and understanding spatial relations. Our Sleight of Hands exercise allows you to have a printable version comparing left and right hands. Your client will be challenged to learn effective strategies to manipulate and compare objects mentally. These are great printable spatial awareness worksheets to add to your collection. To increase the bridging aspect, we recommend you have your client construct a figure using blocks like the examples in Turn Around, and Around.
This packet is great for non-English speakers, children, individuals who have had a stroke, or anyone looking to improve their spatial awareness skills.
Included inside: 12 pages and bridging questions.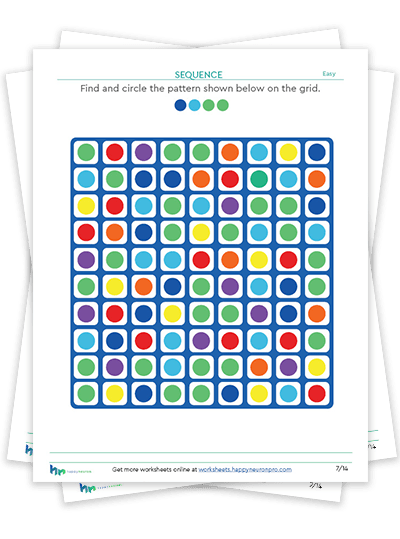 Does your client find focusing tough? What about recognizing patterns or pattern recognition? Do they struggle with paying attention to details? If so, then this packet will be a great tool to use with them. These attention-focused worksheets will challenge your patient to strengthen their attention skills. If you find the Find your Way exercise enjoyable, you'll love the digital version.
This attention packet is an excellent workout for your client's brain, as they must have a sharp eye to solve these attention-grabbing problems in this packet! If you like this pattern recognition packet, explore our other attention worksheets below or here.
Included: 8 worksheets and bridging questions.
Answer a few questions about yourself and get at $15 credit for any purchase!
HappyNeuron's cognitive worksheet packets
HappyNeuron Pro worksheets are based on exercises from our digital tool. They are designed to be used by clinicians to help clients stimulate, build, or rebuild the foundation of different cognitive functions.
Cognitive therapy may lead to an improved quality of life for patients. We aim to empower clinicians by helping them save time and making it easier to provide cognitive therapy. Therefore, we design our worksheets and digital exercises to be engaging and relevant. Through our tools and the cognitive therapy that clinicians provide, patients can practice the cognitive skills needed for daily functioning and may see improvement.
Find the perfect cognitive worksheet packets for your client
We create a wide variety of worksheets for numerous cognitive domains and conditions. If you're searching for a specific cognitive skill, use the filters on the left. If you're looking for worksheets to help with a specific condition, we recommend you look at our worksheet bundles, which are collections of packets to address specific skills or conditions.