Cognitive Rehabilitation Exercise Worksheets Shop
We offer science-based printable worksheets for cognitive rehabilitation and remediation therapy.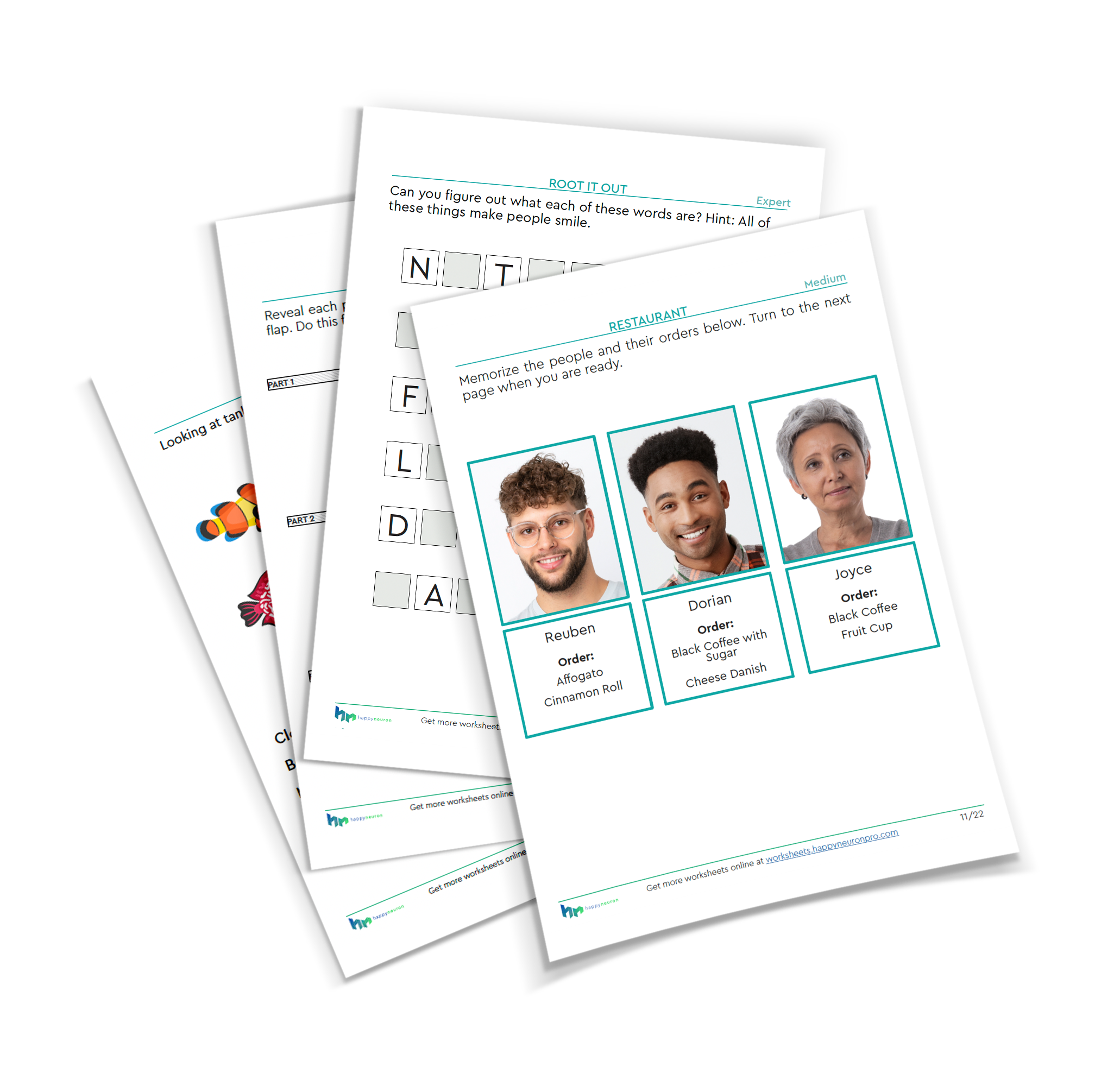 Don't just hear it from us. Read what both clinicians and caregivers have to say about our worksheets!
Connie B
Occupational Therapist, USA
I love the worksheets and as a school-based OT (who works across the life span) they are super versatile.
Donna W
Caregiver, Australia
This is a wonderful site for my husband who had a TBI earlier this year. They really helped him more than the speech therapist we were going to.
Praise and gratitude from here in Texas. My patients have shown substantial progress thanks to the free printable worksheets they have completed and we have done together during our speech-language and cognitive therapy sessions here in the SNF setting.
Take our quiz and see which packets are recommended for you!
Become a member and get free worksheets!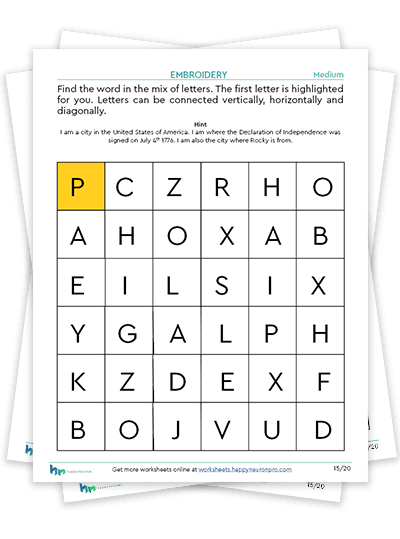 Are you looking for language activities for dementia patients? Language is a complex cognitive skill. It involves executive functioning, memory, and visual and auditory processing skills. Sometimes, people with dementia struggle with one or more aspects of language, such as word retrieval. That is why we developed this packet. We wanted to create a packet to help improve language skills that are often inhibited in individuals with dementia.
In this workbook, we have provided 4 exercises that target different cognitive skills involved in language skills. We have a verbal memory exercise, Words, Where are you? We have a visual attention exercise, Private Eye. Additionally, we have a word-categorizing activity, Secret Files, and lastly, a language-inferring activity, Embroidery.
This packet will be great to be used for seniors, anyone looking for printable activities for dementia patients, or anyone looking for language-based activities. If you love this packet, we highly recommend you try our digital program. Each one of these exercises is even better on the digital program. 
Included inside: 13 worksheets and bridging questions.
Why Cognitive Rehabilitation Exercise Worksheets? 
At HappyNeuron Pro, we're dedicated to enhancing the lives of clinicians by developing tools that help them act on their ability to transform lives. Our worksheets are a printable version of our digital tool, HappyNeuron Pro. Since 2018, we have developed worksheets from HappyNeuron Pro so clinicians can spend less time looking for resources and more time doing the things they love. All of our cognitive rehabilitation exercise worksheets are easy to use and print. We offer two free worksheets a month. Make sure to join our newsletter to gain instant access to them. 
How do people use HappyNeuron Pro?
HappyNeuron Pro is a digital cognitive therapy tool clinicians use for cognitive rehabilitation, remediation, and stimulation. Learn more about it here →
Individuals use these worksheets as supplemental tools, warm-up exercises, therapeutic interventions, or homework. With this in mind, imagine how you could implement these in your practice – using our worksheets might just give you back your Sunday afternoons!