Scientifically Designed Worksheets 
These packets include at least 4 different exercises with each having several difficulty settings and bridging activities. Each packet focuses on a cognitive function, a medical condition, or a theme. 
We release a new packet once per month and you can subscribe to get them directly in your inbox.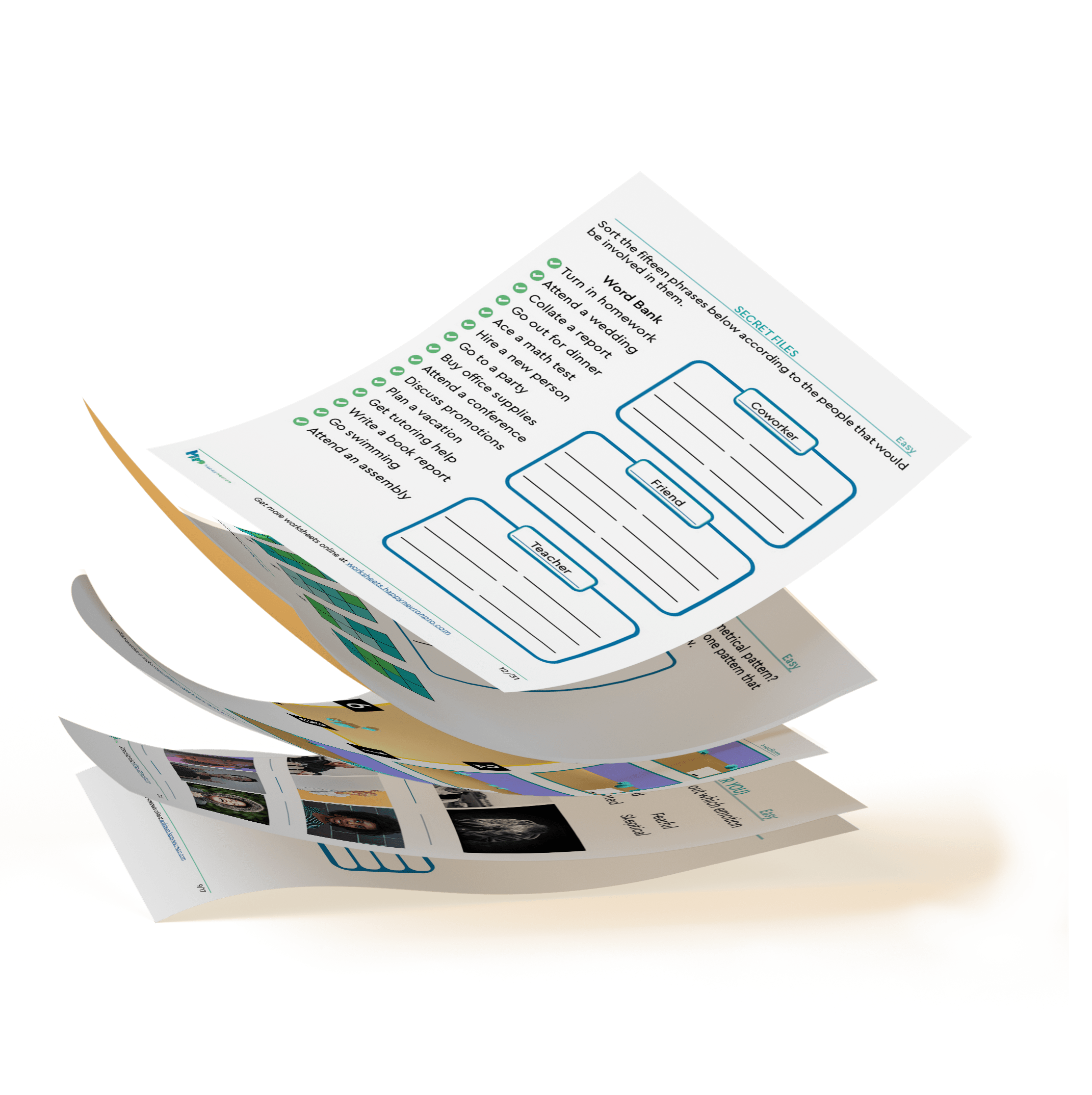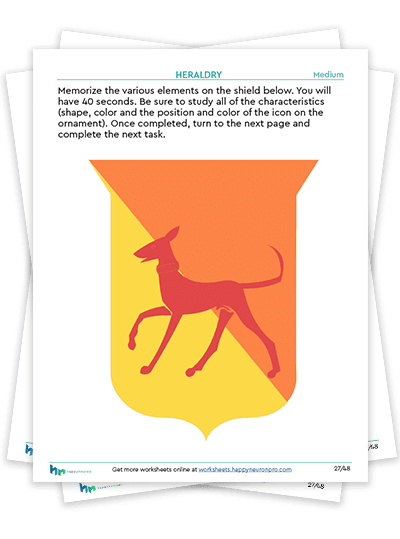 Does your patient struggle to memorize and focus on comprehending visual information? This packet will test and engage your patient's visual memory and attention skills. In this packet, your patient will start with a simple chunking exercise, where they must remember the shapes on the grid. Once completed, your patient's attention skills will be next for stimulation. They will have to pay attention to details as they figure out which item doesn't belong and find the one icon in a mess of different icons in the private eye exercise. After that, they will have to carefully count the number of ladybugs found on the pages in a print version of catch the ladybug. This version of Catch the Ladybug will challenge their memory and attention. Lastly, the packet will challenge them to recall designs on a shield from memory in Heraldry.
Included inside: 31 worksheets and bridging questions.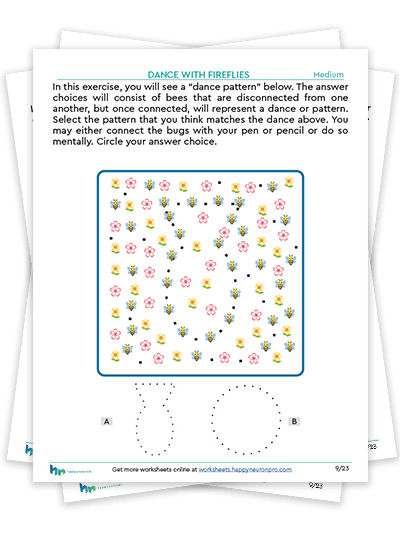 Does your patient love to be in the garden or outside? Does the sight of butterflies and bugs bring them joy? If so, download this fun and engaging visual attention worksheet packet. This completely non-verbal packet will help build anyone's attention and executive function skills.
This packet starts by challenging your patient's ability to spot the difference in a bug-themed Private Eye activity. The next activity will be the dance of the bugs. Each bug will dance a specific pattern in a sea of bugs. Your patient will have to figure out which bug is dancing which dance. This activity uses attention, executive function, and deductive reasoning skills. The following exercise group involves attention and deciphering skills when your patient has to figure out which piece is missing from which bug. Your patient must study the potential pieces and determine which will solve the broken butterfly. Finally, the last exercise section will use their fine motor and attention skills. Catch the ladybug becomes printable and colorful in these last activities. Your patient will have to ignore the additional bugs to find all of the ladybugs in the images.
In this packet, you will be challenged to complete attention-based skills. You will practice staying on task, finding anomalies in a set of information, recognizing patterns, and comparing and contrasting objects. This packet is an excellent workout for your frontal lobe. This packet will be great for preschoolers to seniors. Anyone who loves summer or bugs will enjoy this packet as well.
Included inside: 18 worksheets and bridging questions.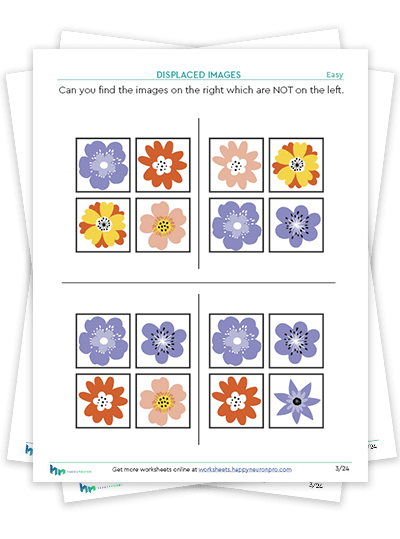 If your patients love flowers and all things around spring, they will love this packet. This attention packet is an excellent workout for your patient's brain. Visual attention is required to do many different cognitive tasks. When strengthened, it may help all areas of cognition.
To help you provide therapy for your client working on their visual attention skills, we have provided 4 exercises that target different cognitive skills involved in this visual attention packet. A keen eye for detail is key to succeeding at these attention-grabbing problems. The first exercise group is a floral adaption of Displaced Images. You'll have to pay close attention to be able to spot the odd flower out. Next, You'll have to jump through words in alphabetical order as quickly as possible. Be careful; the distracting floral background might slip you up! Next, we will combine your visual attention skills and spatial memory in a flowery Chunking exercise. This exercise requires you to pay close attention to where flowers are on a grid and carefully recreate them afterward. We've left some empty grids so you can make your own. Lastly, we will see how well your visual skills and memory are in Shapes and Colors. This exercise works your visual attention and memory skills as you try and decide which flower is the correct one.
This packet is great for non-speakers, kids, preschoolers, individuals who need attention skills, and anyone looking to engage their brain with a flower-themed packet!
Included inside: 19 worksheets and bridging questions.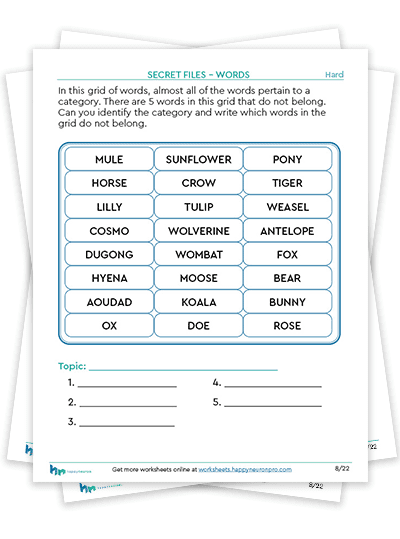 We designed this packet to stimulate visual skills related to verbal attention. The goal of this packet is to engage all aspects related to verbal and visual attention skills. We believe Verbal and visual attention skills are essential to all cognitive functions, especially those around social cognition and language. This packet will start by challenging your patients with two different adaptations of our digital exercise Private Eye. In this first exercise, your patient will have to find perfect circles. The following exercise will challenge their ability to recognize the correlation between words and their meaning to determine which words do not belong. The following exercise is a modification of Elephant Memory. This modification requires your patient to study a scene and answer questions.
The last two exercises are focused directly on verbal attention. This last section starts with an adaption of Restaurant. This adaption aims to engage your patient's ability to compare and contrast two recipes. Looking side by side, your patient will identify what was different between the recipes. Finally, your patient will have to read a passage and find the typos and errors in this modified version of This Story is Full of Blanks.
This packet is an excellent resource for teachers who want to challenge their students' ability to process visual-verbal information. Therapists have also used this packet to help stimulate patients with brain injuries that affect their verbal attention skills or aphasia.
Included Inside: 13 pages and bridging questions.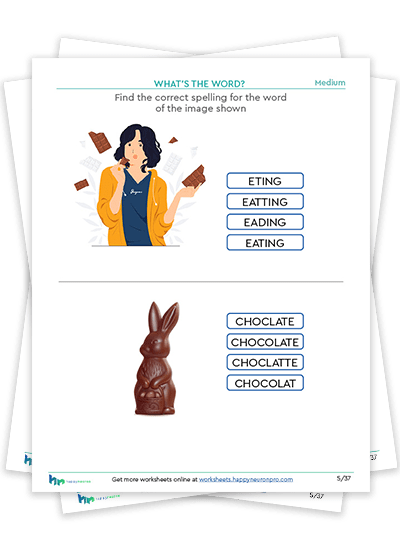 We designed our packet to foster cognitive development with a fun Easter theme! We aimed to target visual attention, stimulate language skills, and enhance visual memory in a fun-themed way! This comprehensive worksheet package consists of five engaging and unique exercises designed to challenge and captivate individuals of all ages.
Exercise 1: Semantic Language Puzzles The journey begins with exercises that test patience and semantic understanding. Participants will see an image and have to decipher the correct spelling of the associated word beneath it. These exercises stimulate cognitive functions while providing a fun linguistic challenge.
Exercise 2: Image-Based Questions In this section, participants answer questions based on images they have previously studied. This Easter-themed activity reinforces memory retention and encourages critical thinking.
Exercise 3: Lexical Semantics and Attention One key image becomes the focal point in this exercise. Participants must apply their lexical semantics and attention skills to select the correct answer. This may help promote language development and visual attention.
Exercises 4 and 5:  The Easter spirit is infused into the last two exercises. Participants must carefully study a group of eggs and identify the new addition, strengthening their visual memory. Finally, In the final exercise, participants are tasked with recalling the locations of Easter eggs on a grid. Based on our digital exercise chunking.
Included: 27 worksheets and Bridging Questions.
Are you looking for other working memory worksheets? Check out or library of working memory worksheets here →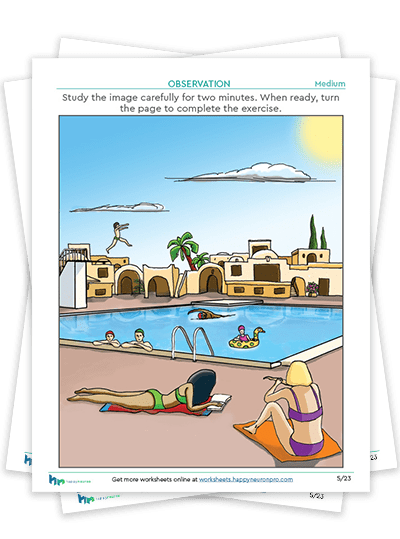 Visual attention is the focus of this cognitive rehabilitation worksheet packet. If your patient finds it hard to pay attention, add this packet should be in your collection today.
This packet has a variety of exercises. Our Mosaic exercise will challenge your patient's ability to visually find an object among a bunch of rotated things. Visual remember elements of an image with our Observation exercise. Next, your patient must distinguish icons on one side of a graph or image and the other side in our Same or Different and Displaced Characters exercises. Lastly, your patient must recall the steps taken in our Find Your Way exercise. This visual attention packet is an excellent workout for your client's brain after a brain injury or if they have difficulty paying attention. Patients must have a sharp eye and strong attention to solve these attention-grabbing problems in this packet!
If you like this packet, explore our library of visual attention worksheets! Try our digital program if you would like to try our other attention-based exercises that may improve your patient's ability to pay attention.
Included inside: 14 worksheets and bridging questions.
Buy 3 packets and get the 4th one FREE!