Worksheets for all areas of cognition.
Explore our entire library of cognitive worksheets. We have big packets, mini packets, bridging packets, or bundles that focus on a cognitive function, a medical condition, or a theme. Join our monthly newsletter and get free packets directly in your inbox 2x a month.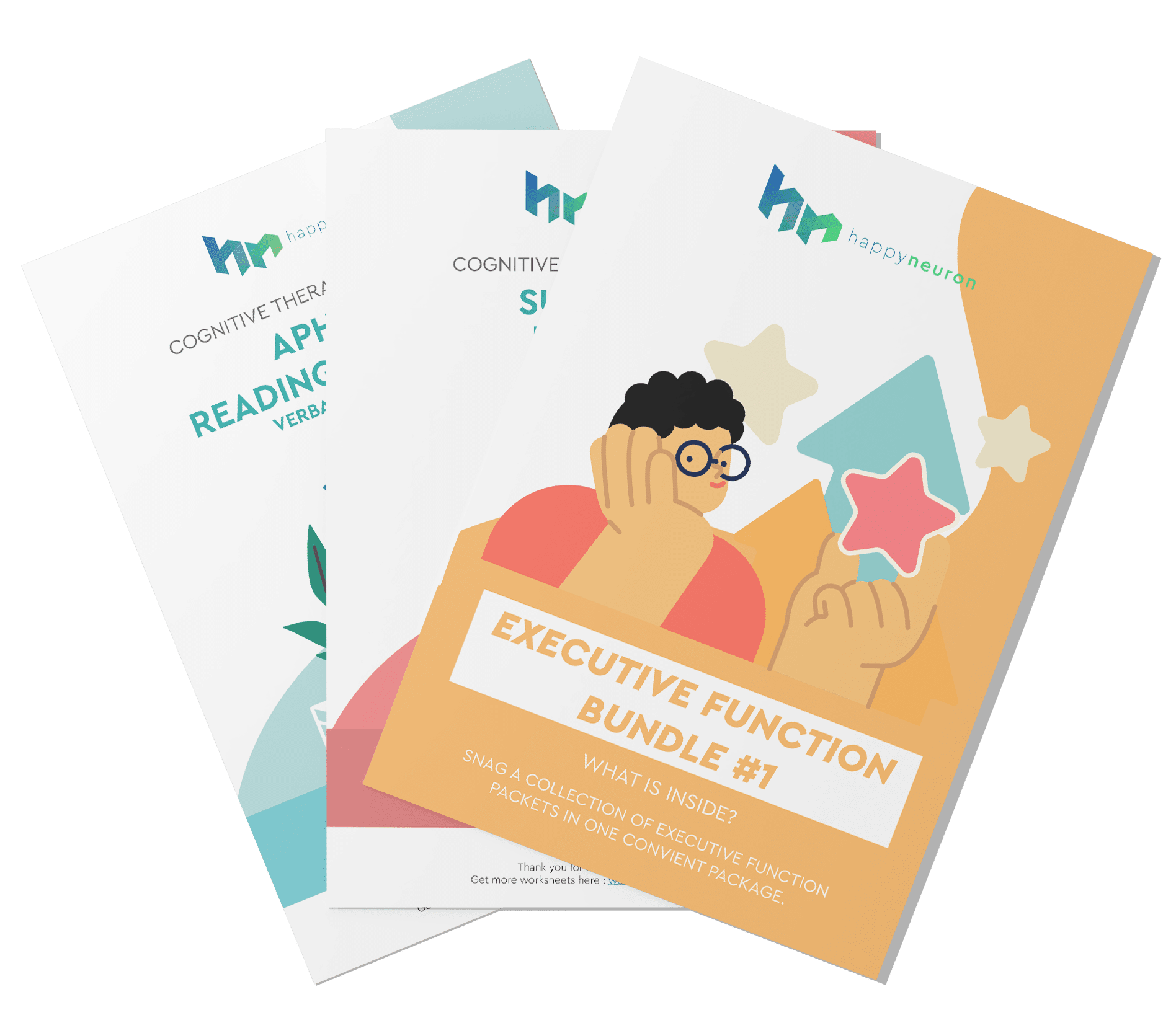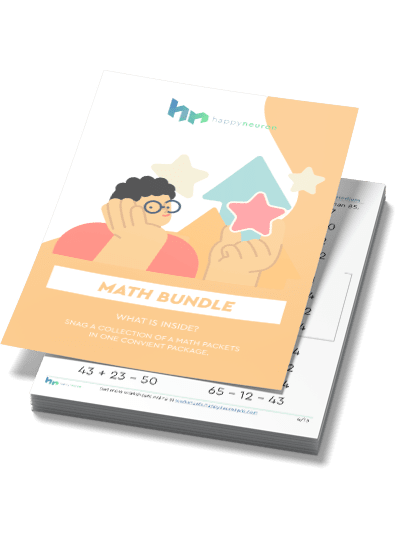 This bundle contains our first series of math and computational skill worksheets. This bundle is the first in our math series. It is excellent for students learning math, re-introducing simple computational skills after a brain injury, or helping an individual's math skills stay sharp.
Bundle + Save
Bundles are a great way to buy more and save more! If you were to buy all of these packets separately, you would pay more than $50. Because we've bundled it, you're getting an instant saving of over 20%! Our bundles are designed to help you build a unique workbook for your patients.
What's included inside: Instant PDF downloads of 3 packets and 3 minis or 49 unique math worksheets.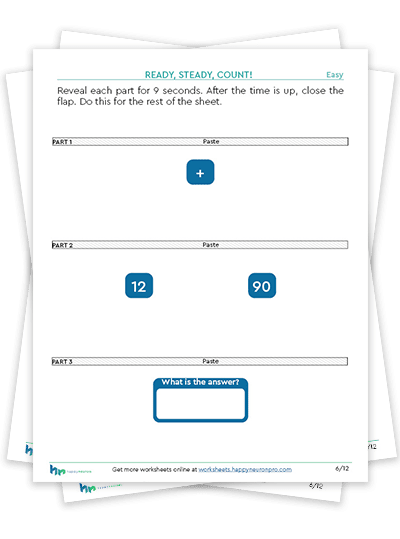 Think you have what it takes for a mathematical challenge? Put together numbers and operators to solve equations! Practice your math skills with this logic focused cognitive packet. This packet will help reinforce executive functioning skills such as planning, organization and metacognition. Challenge yourself by completing this logic based packet!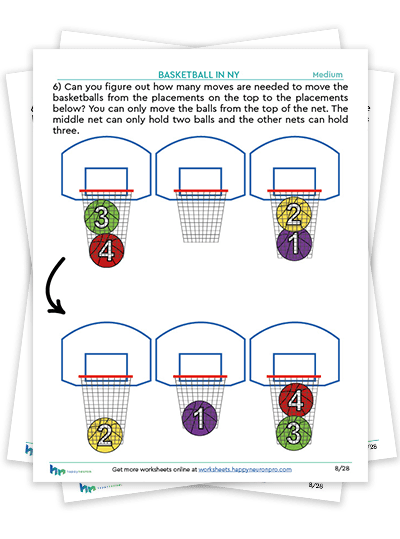 Deductive reasoning is the main focus of this packet. Deductive reasoning is used during any planning and decision-making cognitive functions. In this packet, your client will perform varying exercises. They will have to move basketballs mentally. Decipher what a symbol could symbolically mean in a mathematical equation. Complete a variety of mathematical equations ranging from easy to complex. And lastly, move rings on a stick to build various towers. These exercises will challenge their abilities to inhibit unwanted responses, shift between tasks, perform mental manipulations, and make choices.
Your students will enjoy the mental challenges needed to complete these tasks. This packet is great for clients with attention deficit disorder, brain injury, stroke, or experiencing cognitive difficulties related to psychosis.
included inside: 20 worksheets and bridging questions.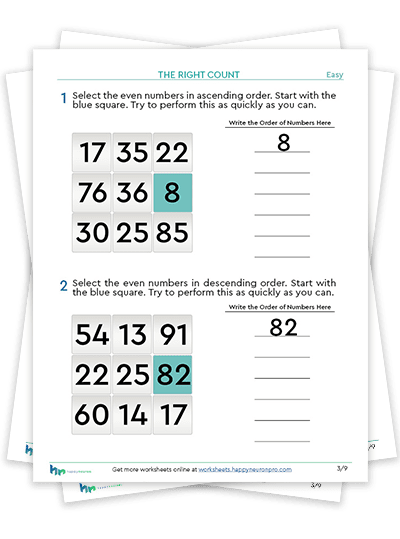 Can you remember the number line? Sort even or odd numbers in ascending or descending order. This packet will help you learn to sequence numbers and distinguish between even and odd numbers. Clients will practice organization and focus in this number filled Mini Packet!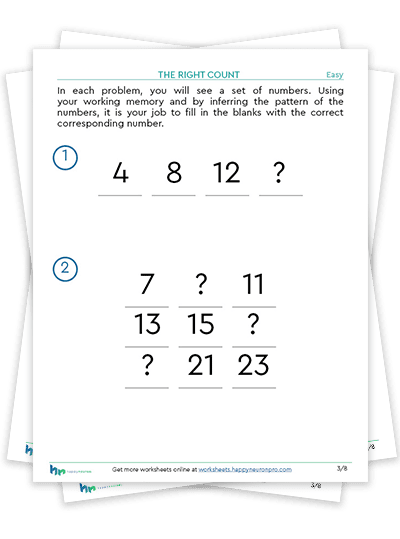 Can you remember the number line? Sort even or odd numbers in ascending or descending order. Clients will use executive functioning skills such as attention and working memory as they work to complete the exercises. This packet will help you learn to sequence numbers and distinguish between even and odd numbers.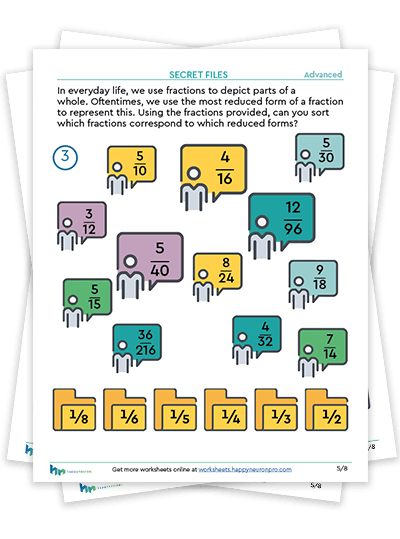 Math expert? Try your hand at sorting like fractions with each other! This assists clients with skills such as attention, working memory and metacognition. Children will feel more confident about utilizing math skills in daily life as well. This a great packet to use with children learning the basics of mathematics and fractions.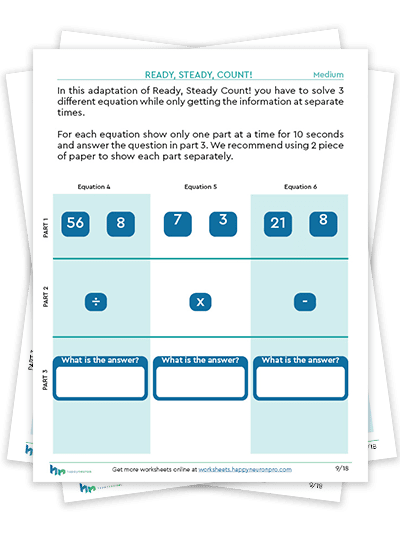 Having functional math skills is important. Many people have trouble learning math in school, which sometimes continues into adulthood. Math is integral in our daily lives, so it is essential for individuals to practice and sharpen their math skills. We use math when we need to compare prices at a store, take measurements in our homes, and calculate change owed after a transaction. 
In this worksheet, we provide you with 4 exercises to use with your clients to practice strategies related to math. Your client will be exposed to different task requirements, all sharing the underlying component of math. We challenge your clients to practice their computational skills, math fluency, mental computation, and quantitative reasoning using our exercises. Make sure to check out how a digital tool can help build math skills. 
If you like this packet, explore our other functional math skills worksheets!
Include inside: 13 worksheets and bridging questions.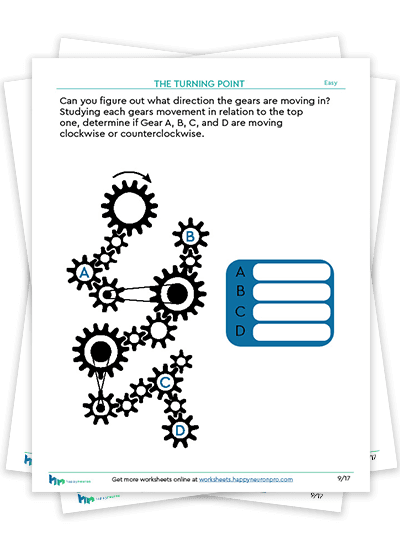 Executive functioning occurs in the frontal lobe of the brain. It involves planning, task-switching, decision-making, and so much more! We've taken the idea of inhibition and inspired parts of this packet. If your client loves a good mystery, then they will love Decipher. In this exercise, your patient will have to infer what each symbol could mean as a letter. Additionally, in the turning point, your patient will have to infer which direction each gear is turning. We have a large collection of executive functioning worksheets; make sure to check them out here.
Included inside: 8 pages and bridging questions.
Answer a few questions about yourself and get at $15 credit for any purchase!